In 2 years, the price of my security cameras increased by almost 300%!!! So I bought some second hand ones but..

Have a look at the price of this security camera on Kogan.com: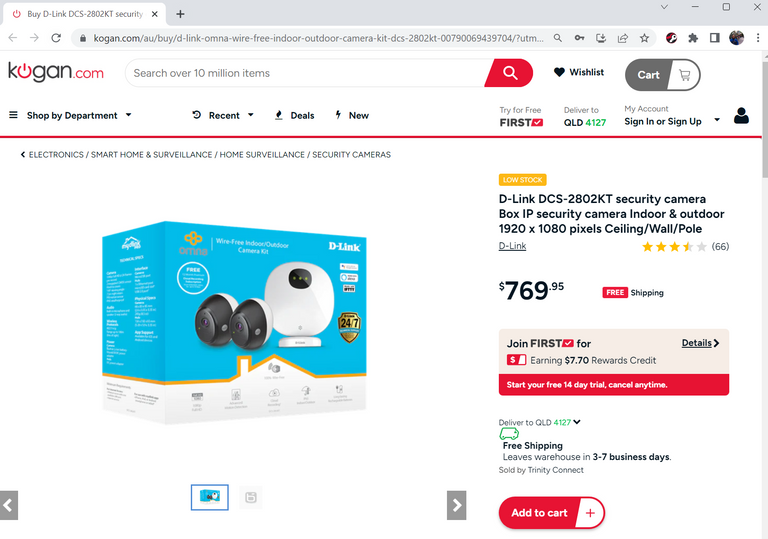 Now, have a look at how much I bought it for:
So, what happened?
$769 / $199 = 3.86
The new price, 2 years and 5 months later, is almost 4 times the original price!!!
What happened?
Basically, since this is a discontinued product, there are not as many around on the market anymore. But, because it is a really good product (if you are lucky enough to not get a defective one), people are now paying almost 4x the price to buy what is left on the market.
The kit (DCS-2802KT) came with 2 cameras (DCS-2800LH) and a Hub (DCS-H100), as you can see in the photo. One Hub can connect to a maximum of 4 cameras, but the kit only comes with 2 cameras. Unfortunately one of my cameras broke, so I only have 1 functioning camera. I had to find a replacement. I didn't want to buy a brand new kit for almost 4 times the price, so I found a seller selling second hand cameras on eBay.
Now, here's the funny story. I bought 3 second hand DCS-2800LH cameras from eBay, hoping that they would pair with my Hub and work with my current system. 1 of them worked instantly and paired to my Hub. However, 2 of them will not pair to my Hub at all. After talking to the ebay seller about them not working, I thought I would make a video to show them that I have done everything they've said, but the camera just won't pair. The purpose of the video was to help me get a refund.
Guess what? At the same time as I was filming the pairing process failing, it suddenly decided to work.
So I wrote to the seller: "hey, just letting you know it started working, thank you, I will give you a 5 star review". Gave them a 5 star review, and put this video up on Youtube to help others that can't pair the camera. The secret lies in holding down the SYNC button for 60 seconds for a factory reset - this info is NO WHERE ON THE INTERNET!!
Thank you for reading.
---
---