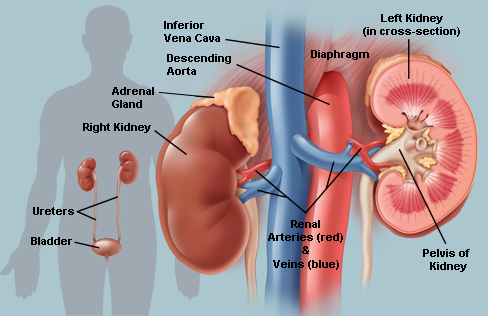 Most humans are born with two healthy kidneys.  The most important job of the kidneys is to balance the water level in our bodies.  It removes excess water, or retain water when the body needs more water.  Our kidneys help to balance the minerals in our bodies and to keep the blood and body fluids at the correct levels to function normally. The kidneys also remove waste products such as urea and creatinine. 
Creatinine is a breakdown product of creatine phosphate in muscle,  and is usually produced at a fairly constant rate by the body. 
 Urea, also known as carbamide, is an organic compound with the  chemical formula CO(NH₂)₂. This amide has two –NH₂ groups joined by a  carbonyl (C=O) functional group. 
The kidneys adjusts the levels of calcium, phosphate, sodium, and potassium.  An excess of these minerals leave the body in the urine.  All these minerals are needed for normal bone growth.  
Another very important function of the kidneys are the hormones created by the kidneys.  These hormones circulate in the bloodstream and regulate calcium balance, red blood cell production and blood pressure.  
If the kidneys are not working properly the body can become unbalanced.  Too much calcium in your blood can cause bones to weaken, create kidney stones and even interfere with the function of your heart and brain.  
Kidney stones
Kidney stones are very painful and can cause permanent kidney damage.  Personally I have lived with kidney stones since I was twelve years old.  I had my first I.V.P at twelve and as a result of negligence of a doctor, I have permanent kidney damage in my left kidney.  
I have had many operations to try and save the left kidney but it has now come to a point where I am left with only ten percent kidney function.  Currently I have a permanent J-stent that needs to be changed every six to eight months.  The stent helps to keep my kidney open so that it can drain successfully.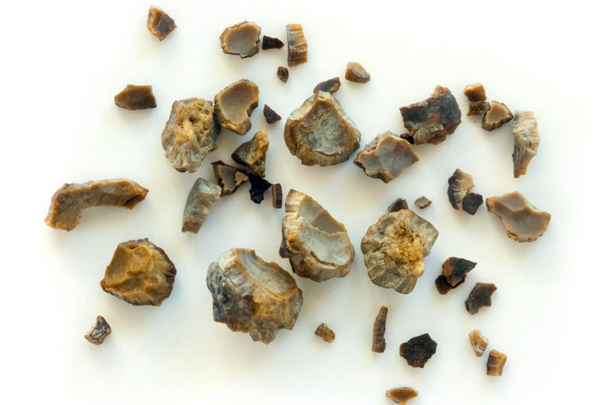 An intravenous pyelogram (IVP) is an x-ray examination of the kidneys, ureters and urinary bladder that uses  iodinated contrast material injected into veins. An x-ray (radiograph)  is a noninvasive medical test that helps physicians diagnose and treat medical conditions.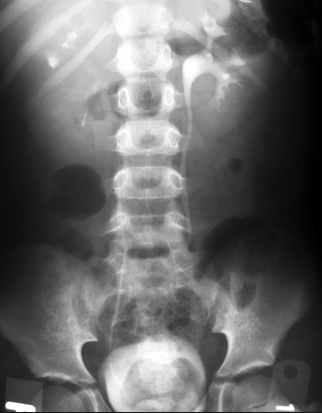 What happens in the body if only one kidney functions properly?
Some people are born with only one kidney and they function normally.  The fact is that we actually only need one working kidney.  People donate kidneys all the time and they live a normal healthy life.  More precaution is needed to protect the one kidney that is left, but it does not have such an significant effect on the body.  No special diet is needed and the body adjusts itself to the whole "one-kidney-situation". 
Is it possible to live without kidneys?
Most people don't know this but it is in fact possible to live without kidneys.  Dialyses would be needed on a regular basis.  
Dialyses is the clinical purification of blood by dialysis, as a substitute for the normal function of the kidney. 
If your kidneys fail, dialysis helps to keep the balance in your body by removing waste products, extra water and salt. It basically does exactly what your kidney was supposed to do.  Dialyses also helps to control your blood pressure as this is a serious side effect of living without kidneys.  
People who had both kidneys removed due to medical reasons do not urinate anymore.  They need to limit their fluid intake as they need to wait to go for dialysis to get rid of the excess water in the body.  Most people that had both kidneys removed are on the transplant list to receive a new kidney.  After the transplant the body can start regulating the water levels again and no dialyses is needed.  
Is kidney failure permanent?
Kidney failure is not always permanent and can be turned around.  If you have a kidney not functioning it is sometimes needed to place a stent in the kidney to help drain the fluid in the kidney.  
A blocked kidney is extremely painful, and even worse than a kidney stone.  The fluid stays inside the kidney and has nowhere to go which causes extreme pain. This is called hydronephrosis.  The kidney blows up like a balloon and can cause a severe infection which could require hospitalization.  When the stent is placed in the kidney, the kidney can drain again and the pain subsides. 
The stent that is used is called a J-stent or a double J-stent.  There are also some more permanent stents that is placed that can stay in for up to a year.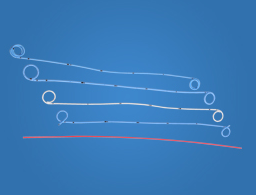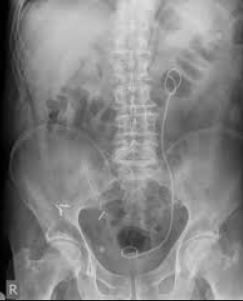 Are there other organs that humans can live without?
Yes, people can survive without certain organs.  
Kidneys
Spleen- if you lose your spleen you might be more prone to infections. 
Lungs-  People can survive with only one lung.  You might not be able to do strenuous exercise but you can live a fairly normal life. 
Reproductive organs
Colon
Appendix - These days they take out the appendix automatically during a cesarean section to prevent future operations. 
Gallbladder