Normally I would have written this post tomorrow, around half way the month. But because after work a nice and long weekend will start for me, I will write this post today!
Steem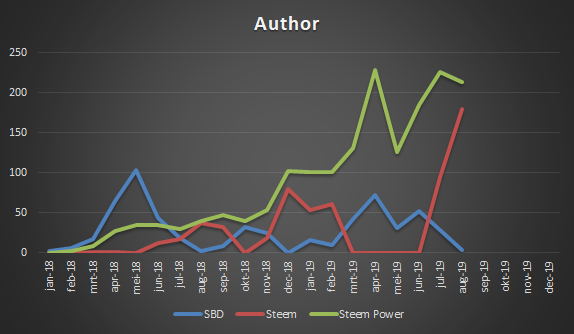 Let's start with the mother of all Scott tokens Steem.
At the beginning of the month, I do own 5261 SP. Now when writing this post it has increased to 5571 SP. That is a boost of 310 SP or a 5% increase. Which is good enough for me! I didn't set any goals for the remainder of the year, so I will go with the flow!
The curation is staying behind. This is mostly my own fault. I did stop some time back with the curation game. I know I could earn more SP with curating then I am doing at the moment. This month I did earn 8.267 SP with curating. With the SP I am holding, I should be able to earn around 20 SP per month!
The value of Steem had a tough first half of the month. Loosing day after day. Not only against the USD but also against BTC. Today is a better day for Steem.

Last week I wrote a post with the question what the reason was for this decrease and I did promise to give away 1 Invite token to the best answer. The best answer according to the Jury (aka Me) was from @cpufronz. Well if you look into Steem-Engine you will find an Invite token which belongs to you! You can use it at will or sell it!
Tokens, tokens everywhere!
Well I did record my tokens holdings at the beginning of the month! So, it is time to check how they did!
This is only a snapshot of the tokens I am holding at the moment. There could be tokens out there who are performing much better!
At the beginning of the month the total value of the tokens was $110.11 or 579.527 STEEM. Although I do have more tokens now, this did decrease to $69.78 or 367.288 STEEM.

Most tokens did decrease in Value. Most of them around 40%. I do only have 2 tokens which did increase in value. Those are ZZAN and Invite.
My token leader is SPORTS. Not abnormal because I do write a sports posts from time to time. I do follow lots of Steemians who do post posts with the sportstalk tag to it!
If we look at the $ and Steem value of the tokens, PAL is my most precious token. This has a value of $35.93. Which is a decrease of 43% compared to last month. And I do stake all my earned PAL tokens.
3 new tokens are being staked at the moment. These are STEM, MARLIANS and TRDO.
TRDO: No idea how I do earn TRDO but they show up each day. I do know that when you have staked 1000, you can start to handout these tokens by writing a comment on a post, which you think should belong in trending.
STEM: Maybe I should try to curate these posts a little bit more. It is more a technology tribe. Becuase I am interested in this topics there should be some posts which I enjoy!
MARLIANS: not clue what it is! But I can claim a small part of these each day!
If we do have a look at the most users which do stake a certain coin, TRDO comes first with 977 users, closely followed by ENOXAG with 910 users.
If I exclude the INVITE, which is earned by delegating and the gambling tokens I have, I am highest on the staking leaderboard of PAL. So I also should increase my attention to this!
For 6 tokens to holding value did increase. This mostly because I did have a healthy increase in those tokens. These are Battle, NEOXAG, SPT, ZZAN and CCC.
Overall it is nice to have these tokens. they did change the game of Steem. Due to this suddenly more people are posting a daily post, trying to earn some more tokens from a certain tribe. But this has also the side-effect, like @abh12345 once wrote that the tags aren't tags anymore. You can't distinct based on the tag about what a post will go. And yes, the same goes for my posts!
So, that is it from now. Now I can move the left side of the table to the right side and check again at the end of the month!
Cheers,
Peter