For those who don't know, steemfollower is a place you can vote value in exchange for value. SSteemfollwer was created by @mahdiyari
Unfortunately the number of users using it now is small, and I would like to see more people using it.
Granted, I don't use steemfollower everyday. But, when I do, my first votes will be towards those who witness voted for the community witnesses.
That means I will literally, unless I recognize the name, use https://steemian.info/whovotes to check who a person witness votes for. I will vote for those using community witnesses first. Sadly there are still a few people who haven't voted for the community witnesses yet.
For those who don't somehow know, there are tron sock puppets and now tron appointees who've engaged in a hostile takeover. The evil witnesses are those presently running 22.5-or conveniently color coated in Red on https://steemian.info/witnesses. So make sure you are voting for anyone except the red bots.
Red bad, blue good.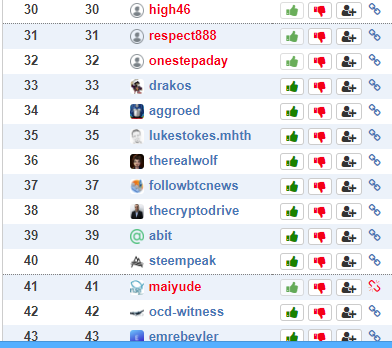 By voting for those who vote on community witnesses it helps ensure that new steem issued from the rewards pool goes to help push the sock puppets out.
I am not sure how over the course of 3 years the equation may have changed that penguinpablo provided. But I'll be assuming things haven't changed.
The head_block as of last look is:
41,678,702
the total_supply of steem+convert_sbd_to_steem(sbd) is
382,619,068
so (978-head_block/250000)
yeilds an inflation variable of 811.285..., the rate is 8.11285, but you'll see @penguinpablo didn't use the 9.24 in his next equation but 924 to get the steem produced per block. So some 3 years after his calculation:
811.285192*382619068/(10000x10512000)=2.9529412485277878234398782343988 steem/block.
There is a block ever 3 seconds, or 20 every minute.
so 2.9529412485277878234398782343988x(20x60x24)=85,044.708 steem produced a day.
Back then, and I don't know the number now, 75% went to the content produced/voted on. So about 63,783.531 steem can be pumped into the community a day-but it takes 7 days to completion. Let's say those supporting the tron witness bots is 20%; that is still a next positive of about 50k steem A DAY that could go to those supporting the community witnesses at optimal levels. So about a 38k net gain a day (64000(2(1-.2)).
Still 21,261.177 steem gets mixed between the witnesses and stakes SP. Unless someone else cares to do the math, I will assume for arguments sake the net displacement is about 0.
Unless Justin Sun starts voting with the developers stake, if we all treated this like a war, and voted for those who voted for community witnesses Justin Sun would have to invest close to 270k per week in steem just to play catch up. Perhaps this is why he is so eager for the chains to power down so quickly and why we shouldn't budge on a 13 week cool down-but maybe that would be giving him too much credit. @ausbitbank @aggroed
I'm Look into see if someone can create a curation trail that only votes on those who witness voted for the community witnesses. Also At the moment I only control about half my sp. The other half is almost all delegated to a dapp, but voting.
It's been tempting to buy more steem, especially when btc dipped to 4k. But the future is still uncertain with a fork still possible or btc miners turning off their gear. The Corona numbers in the USA doubles every few days, halving happens in two months, so maybe there will be a chance to be tempted again.
So anyways. When voting on a post, please look at who a person is voting for. It matters too.