My progress as of 18/07/19
Мой прогресс состоянием на 18/07/19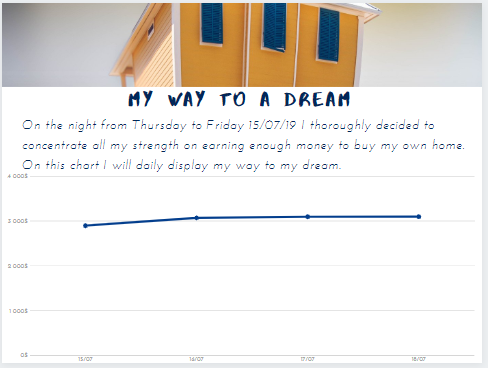 From 15.07.19, I will publish a regular linear graph, which should help me better visualize my process of achieving my goal. I'm not going to sell all my STEEMMONSTERS cards and lower STEEM POWER to zero, on the contrary, with their help I am going to earn the missing part to $ 20 thousand.
С 15.07.19 я публикую обычный линейны график, который должен помочь мне лучше визуализировать свой процесс достижения поставленной цели. Я не собираюсь продавать все свои карты STEEMMONSTERS и понижать STEEM POWER в ноль, наоборот, с их помощью я собираюсь заработать недостающую часть к 20 тисячам $.
Many thanks to everyone who supports me with their votes, following and commenting. Your every voice brings me closer to my goal. Your attention is a kind of battery that feeds my strength. I appreciate any support on the STEEM blockchain, I will also be grateful for my twitter subscription - Cranium and youtube - Cranium
Огромное спасибо всем, кто поддерживает меня своими голосами, следованием и комментарием. Каждый Ваш голос приближает меня к моей цели. Ваше внимание своеобразный аккумулятор, который подпитывает мои силы. Я ценю любую поддержку на блокчейне STEEM, также буду благодарный за подписку на мой twitter - Cranium и youtube - Cranium
In order to start playing you steemmonsters just need to buy a starter kit with 30 cards on the official website steemmonsters.com.
Для того чтобы начать играть в steemmonsters вам достаточно купить стартовый набор с 30 карт на официальном сайте steemmonsters.com
Here are my active cryptocouples, if someone wants to help financially.
Вот мои активные криптокошельки, если кто-то желает помочь материально.
Bitcoin - 13ThgzPuVeEVCnzVR6FJRR9P516rskMvwY
Bitcoin diamond - 1KNTGUc2fbb1Da1Tyqw8Z6ZdWf23YR4GTE
Dash - XkZbwjG8kCBcd5FaRV3fY9h6jXsBTMh6oV
Bitcore - 2Y6tD9PZKRkgkKzKsE4do7BYVDzZSipSUX
Ethereum - 0x2ba0d50ef513da7ed8c0e6da5f02c72d4b9b5d64
Horizen - znY35TKN8uQsYHCci3ijPpNfkADu4wZitFT
Litecoin - Lf7ZpnJ29q16MhVFayVSQgf1bofHYUcKXG
NEM - NAROAZYBBGAZOYIFVDNYUZKQZWEUIHSV3EVXNC3X
Tezos - tz1ajAgY5guWcLjdeHu677JnwESdSYuYSAuE
Wawes - 3P454bDMSXkLEqzQKqLxp5fqe3627u7sTM3
Tron - TP9yo7m4HnaxvWUf2PnLA15gaCg2MqNij2
Binanse - bnb1zr7zxvpa6xcpcxhag850xvl6w99quk6dstcxvr
Zcoin - aNhTCzmb6vzTsMv2wSzk2U51ZAFqb5k8yw
EOS - craniumsteem
Appreciate life. Good luck to you.
Цените жизнь. Удачи Вам и добра.
Я в discord - cranium#9430
Я в youtube - Cranium
Я в facebook - Cranium33
Я в twitter - Andruto2
Я в instagram - alexeyborsth
Я в steemmonsters - cranium