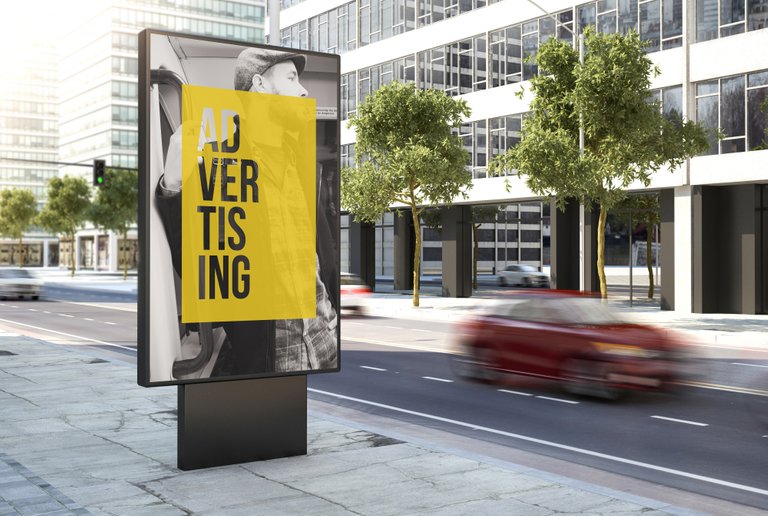 Advertising is about grabbing the attention and motivating your target audiences to take action through persuasive, influential, and memorable messages. Through advertising, businesses can:
Raise brand awareness
Introduce new and existing products and/or services
Promote key brand differentiators
Pique interest of potential customers
Boost sales and foot traffic
There is a wide range of mediums, techniques, and strategies to use advertising to your advantage. However, with a myriad of options, it can be a little bit overwhelming for small businesses to decide which approach would best fit the company's needs.
Although no one medium can promise results, some can work more effectively for small businesses—especially those looking for massive reach—including outdoor advertising.
What is Outdoor Advertising?
Outdoor advertising, also known as out-of-home (OOH) advertising is becoming increasingly popular. It describes any advertising that targets and reaches customers who are out and about, away from home.
For several consecutive years now, it has been the second-fastest-growing medium in the industry, just behind digital advertising, due to various reasons. It is highly visible, cost-efficient, and effective. Outdoor advertising is worth investing in because it is also extremely versatile—the most common types include:
Traditional and digital billboards
Bus stop posters and bus wraps
Mall banners and standees
Vehicle ads
Street furniture ads (bicycle racks, phone booths, kiosks, benches, etc.)
Fly posters
Airport and taxi banners
In-store ad (digital ads near shopping checkout counters)
Outdoor Advertising in the Digital Age
Outdoor advertising has evolved with the times, unlike other traditional advertising mediums that crumbled in the digital age. Although outdoor ads like billboards, posters, and banners are usually tangible and static, it has adapted to technology by way of OOH location-based targeting.
By enlisting hundreds of millions of geolocation data points and tracked using the location services of mobile phones, OOH can effectively target and feed ads to the right people at the right time. This can be carried out through convenient SMS promo reminders, in-app prompts, and competitor-based ads.
How Can Small Businesses Profit From Outdoor Advertising?
● Improve brand awareness
With huge, attention-grabbing billboards, outdoor advertising can boost brand awareness and recognition, which helps in keeping your business top of mind when customers need products and/or services that you can provide.
Be it announcing your store opening or a new product launch, out-of-home advertising can effectively promote your content and feature your expertise to get noticed and attract customers.
● Demands attention
Unlike TV, radio, and some video ads, outdoor advertising can't be turned off on demand. It can actively call the attention of people because the view has no control over the ads. More often than not, it is a high impact tactic because outdoor ads can't be turned off; there is no 'skip ad' button either.
● Increase foot and web traffic
Outdoor advertising can be as basic as signs, banners, and stickers, to as elaborate as in-store ads, digital billboards, and vehicle ads. Letting your customers know vital information about your business—where your store is located, how you can help them, and where to find you online—will lead to an exponential increase in foot traffic and website visits, and allow you to generate and convert more qualified leads.
● Build a loyal, local customer base
Boosting your brand presence with OOH advertisements can help your business reach local customers and build a loyal customer base. To successfully be noticed by your target market, the key is to plan out where to place your ads strategically. You can consider putting up large banners or posters in busy streets and highway routes that are usually taken by your potential customers.
● Target specific demographics within your local area
Less targeted advertising mediums, such as TV and radio, can cost your small business thousands more and still deliver low returns. It is crucial to have a clear understanding of the target demographic and the community they live in to create impactful ads that ensure high returns on investment.
By learning these factors, you'll know when, where, and how to present your brand and predict what triggers their need for your products and or services. Say, you own a gym and would like to boost membership applications, you can consider placing ads near local parks and sporting goods stores in the area.
● Stir connections and leverage strong partnerships
OOH advertising can help lift your brand's image and attract industry partners. By establishing strong connections and long-term partnerships within the community, you can jumpstart your business, reach sales targets, and thrive in today's ever-competitive market.
Outdoor advertising definitely plays a vital role in the whole marketing mix. Being highly versatile and cost-effective, it can work well with a broad range of advertising mediums, campaigns, and strategies.