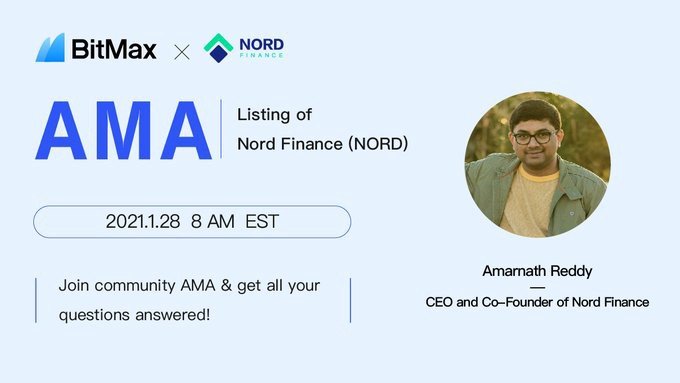 On the 28th of January, 2021, Amarnath Reddy, Co-Founder of Nord Finance, was live on the BitMax Telegram group, to provide the community with insights on what Nord Finance is all about, details on their recent partnership with BitMax, and also attend to their questions and queries. The session was moderated by Bonna Zhu, a moderator of the BitMax Telegram Community.
In order to ensure clarity to my readers, this article has been divided into two segments; the first segment, gives full account of the questions asked by the BitMax team, while the second segment gives account of the questions asked by Telegram community members.
SEGMENT 1
Bonna Zhu — We are honored to joined by Amarnath, Co-founder of Nord Finance to share a lot of insights on the project! Amarnath Reddy. Welcome!
Amarnath —
Thank you for inviting us and happy to be here.
Bonna Zhu — As usual, We will start things off with some basic questions from my end, and then we'll hand over to the community for Q&A session.
Amarnath —
Got it , lets start.
Bonna Zhu — If you don't mind, let's start with an introduction of Nord Finance and the team?
Amarnath —
Nord Finance, a blockchain agnostic platform, is an advanced decentralized financial ecosystem focusing on simplifying decentralized finance products for users by highlighting traditional finance's key attributes. Deployed on the Ethereum Network, it integrates multi-chain interoperability, thus proposing a plethora of financial primitives, which constitute savings, advisory, loans against assets, investment/funds management, and swaps.
My self Amarnath CEO of Nord Finance Co-Founded Amesten Asset (crypto Hedge fund) taking care of operations and Research analyst for early-stage blockchain startups. After leaving from Amesten in Sept 2020 , I have Co-founded Nord Finance along with Jignesh Vasoya, who is lead Developer at Tezos India Foundation , he also worked on financial platforms with Ethereum & Hyperledger Fabric.
More about our team can be found here.
Bonna Zhu — Sure, so I see this as all in one DeFi platform correct?
Amarnath —
Yes right!
Bonna Zhu — Would you mind elaborate a bit more on each function of the platform? Such as how will the platform provide savings, advisory, loan services to users?
Amarnath —
Our Key Products are as below.
Nord.Savings: Earn highest risk-adjusted APYs across chains.

Nord.Advisory: Risk profile based Robo Advisory.

Nord.Loans: Overdraft crypto loans/loans against portfolio

Nord.Swap: Multi-chain asset swap facility for DeFi users

Nord.Savings:
Allows optimizing returns through a multi-chain yield-farming mechanism for stable coin farming with the highest possible risk-adjusted returns. To maximize returns, the protocol employs the highest risk-adjusted APY's. Whereas it leverages the DeFi Score framework to assess and analyze the dynamics of protocol risks. Nord.Savings provides a seamless interface to access the world of DeFi-based yield farming effortlessly without any technical implications as the traditional financial counterparts.
An inbuilt robo-advisory service designed to chalk out profitable and customized strategies for users to hold better positions based on their financial goals. The automated robo service analyzes the user profile and evaluates personalized solutions that will help accomplish the users' financial goals by employing a diversified portfolio. The data-driven proprietary algorithms facilitate unleashing the potential of a certain portfolio by executing smart tactics. This service is a revolutionary move as the technical nitty-gritty of the DeFi landscape might seem a bit complex for novice users, thus demanding assistance for the same.
DeFi users can leverage their crypto assets to their greatest potential by pledging them in smart contracts to avail loans for unanticipated circumstances. The process to avail of an instant over-collateralized loan is quite uncluttered and hassle-free. This is a smart alternative to borrowing loans without liquidating the crypto assets to meet financial obligations. It also offers a personal overdraft facility with the benefit of paying interest while withdrawing the amount.
Built on the Ethereum Network, Nord.Swap is a blockchain agnostic permissionless instant swap protocol driving cross-communication and interaction of virtual digital assets effortlessly. The future of decentralization rests in multi-chain. Therefore, Nord.Swap powers innovation by offering a multi-chain swap facility for DeFi users. This is one of the essential aspects of a decentralized future.
Bonna Zhu — How do view the competitive landscape of for example, DeFi service aggregators, which I do believe Nord Finance could potentially fall under? How do you see Nord being unique?
Amarnath —
We are a cross chain Interoperable platform providing onestop solution for user needs . To be precise we wanted to build a investment banking on DeFi . Our flagship robo advisory which is due for launch in Q3 will be 1st of its kind . We want to fulfil all user needs at one place than searching different places for individual financial needs .
Bonna Zhu — Noted. My next question is about the NORD token, could you share a bit more about its utilities, economics, and how will token holders benefit from the expansion of the platform?
Amarnath —
The total supply of Nord Finance is capped at 10,000,000 $NORD.
Strategic Partners, Early Backers and Public Sale:
2,100,000 $NORD are allocated to various purchasers, including the early backers, strategic partners, and public sale.
Tokens allocated to early backers and strategic partners are vested for 12 months. 15% Tokens will be unlocked on the listing date, with the remaining 85% distributed daily from Day 31 onwards for the next 11 months.
100,000 $NORD tokens are allocated as public sale tokens. They are 100% unlocked on the day of listing.
Reward Pool & Ecosystem Funds:
3,500,000 $NORD is allocated for the community as a reward pool and ecosystem.
Initial circulation supply of $NORD token will be 714,761, i.e., 7.147% of total supply, out of this 300,000 tokens are allocated for liquidity provision and locked on exchanges. Effective Initial Circulation supply is 414,761 $NORD.
$NORD token has various utilities in the Nord Finance financial ecosystems:
In order for the Nord Finance ecosystem to function properly, users would need to be incentivised to play the role of liquidity providers and stake their digital assets into the market making pools. As compensation for opportunity costs as well as impermanent losses, these liquidity providers which help to promote adoption of the Nord Finance ecosystem by staking or including assets to liquidity pools would be rewarded with $NORD tokens (i.e. liquidity "mining" programs on the Nord Finance ecosystem), according to each user's relative contribution after various adjustment and correction parameters.
Users can earn $NORD token incentives by participating in the platform, for example trading/exchanging, or development of new strategies for the vault.
Distributing Fee Rewards:
In order to stimulate participation in the platform , $NORD token will be distributed as rewards to users for various contests and community giveaways.
Community governance incentives:
The $NORD token holders will earnestly participate in the protocol's governance by voting on various proposals regarding product upgrades. Users will be required to stake their $NORD tokens in the staking program to participate in governance and vote on proposals, and as a reward they will be able to earn additional $NORD tokens proportionate to their contributions.
For the services rendered a small fee/profit share would be charged by the protocol in $NORD. These fees will be retained in the protocol treasury.
Using the $NORD token as the base platform currency, $NORD will expedite digital asset swaps between compatible blockchain seamlessly.
---
SEGMENT 2
Community Question 1— What incentives do liquidity providers receive to help advance the Nord Finance ecosystem by placing assets or including assets in liquidity pools?
Amarnath —
Liquidity Mining: In order for the Nord Finance ecosystem to function properly, users would need to be incentivised to play the role of liquidity providers and stake their digital assets into the market making pools. As compensation for opportunity costs as well as impermanent losses, these liquidity providers which help to promote adoption of the Nord Finance ecosystem by staking or including assets to liquidity pools would be rewarded with $NORD tokens (i.e. liquidity "mining" programs on the Nord Finance ecosystem), according to each user's relative contribution after various adjustment and correction parameters.
We have included 10% of supply i.e 1,000,000 NORD for this rewards program and once we have our platform live users who supply their stable coins will not only get highest APY from different lending platforms also will get rewarded with NORD token as per the daily emmission.
Community Question 2— What is the role of the community in governance by protocol? Can NORD token holders vote on various proposals for NORD FINANCE product updates?
Amarnath —
The Nord Finance recent upgrades and launch strategies will navigate under the centralized authority of the protocol. Since the protocol is yet in its nascent stages, the centralized control will assist in driving initial decisions ideal for the protocol's growth. These will primarily include exercising major decisions such as selecting lending platforms, deploying advisory contracts, deciding on the integration of overdraft facilities, and other initial decisions to drive the protocol's success.
However, gradually as things fall righteously, Nord Finance's governance will be transferred completely to the community and stakeholder control. Certainly, the future of Nord Finance lies in absolute decentralization.
Community Question 3—You are surely aware of it, "Security" has become an important issue. As defense measures improve, the types of attacks increase. It is really difficult to resist these attacks. How will NORD FİNANCE meet this challenge?
Amarnath —
The Nord Finance team is always on a hunt to join forces that could bring out the best in the decentralized space. Today we undertake a crucial strategic partnership with Zokyo's Blockchain Security team, a well respected and well renown team of white-hat hackers, cryptographers, security researchers, and blockchain engineers. Forging ahead, Nord Finance will have its entire product portfolio audited by Zokyo in a long term strategic security move. A partnership with Zokyo reinforces our security posture in the decentralized finance space. More Info.
Community Question 4—Not sure if totally but your system seems to mostly focus on stablecoins. Stablecoins act like a bridge and usually equivalent to fiat currencies. Although they are crypto technically, almost same with fiat in practice (not so exciting). So why did you prefer stablecoins? Will you expand your system with other crypto tokens?
Amarnath —
As we are building investment banking kind of ecosystem from traditional finance, we want our savings product to take stable coin as supply. However, our other products like advisory and loans will have volatile assets like BTC / ETH and other assets as well.
Community Question 5— Nord Finance announced a strategic partnership with aggregator DEFI Frontier. What is the purpose of this partnership and what do you plan to achieve together?
Amarnath —
The partnership with Frontier will enable access to Nord Savings on Frontier Mobile interface. Users will be able to access Nord Savings by connecting mobile wallets with the Frontier DeFi interface.
Key Features
Nord Savings Product —
Users will be able to deposit Stablecoins and earn High APY + farm $NORD tokens.
Positions Tracking —
Users can track positions in Nord Savings protocol by connecting any Ethereum wallet by entering ENS or Ethereum wallet address.
Liquidity Mining —
Participate in liquidity mining via Frontier's mobile interface and earn $NORD governance tokens.
For more information on the partnership, visit here.
Community Question 6— Do you have a plan to attract non-crypto investors to Nord Finance? One could argue that the success of a project depends on attracting investors who have not yet entered the world of crypto. What plans do you have to raise awareness about Nord Finance outside the crypto space?
Amarnath —
We do have this plans to attract with FIAT user from non crypto asset class . we may have to work closely with local authorities and follow regulations specific to the country including full KYC and AML polices . This will be long journey before we have all the regulations in place.
Community Question 7—What is your short / long term strategy to get liquidity and drive adoption?
Amarnath —
Our main strategy is highest possible risk-adjusted returns across our different product portfolio . We believe in growing organically and slowly with respect to our liquidity drive and bring adoption to the users by additionally rewarding them to stay with us in long term perspective .
Community Question 8— Great user experience is important to all customers, what solutions does Nord Finance have to improve user experience?
Amarnath —
User experience is at our core strategy , we are building simple yet intuitive UI for the ease of access . We are going to launch our community beta testing program to have constructive feedback from the real users.
Community Question 9— What does it mean to be an interoperable blockchain agnostic platform? How does this unique feature influence the vision of Nord Finance?
Amarnath —
Yes in simple terms we meant to be a cross chain Interoperable solution for the needs of users , by saying so we wanted to be onestop solution for user needs and provide access to different blockchain compatible DeFi protocols.
Nord.Bridge
Designed as a unique combination of smart contracts to facilitate cross-chain transactions to enhance platform's utility and drive functionality. Therefore, there are two significant aspects to consider to implement the use-case of the protocol — atomic cross-chain swaps followed by cross-chain bridges.
The Atomic cross-chain swaps facilitate token exchange from one blockchain network to another. In comparison, the cross-chain bridge serves as an instant transaction mechanism across different blockchain networks.
The Nord.Bridge mechanism allows connecting the ERC20 contracts to other compatible blockchain and side chains such as Binance Smart Chain, Matic Network, and others. The Nord.Bridge is designed to deliver the best of both worlds by promoting token swaps in real-time and depositing/withdrawing funds across compatible blockchains. This fuels adoption as it helps integrate seamless access to financial markets and different financial instruments under one roof.
The Nord.Bridge and Nord.Controllers are interoperable as the former facilitates the latter to extract the APY details across different compatible chains. Thus, making the process easier as all relevant data is available at the same place in real-time.
Community Question 10— Why did you decide to rebrand and change the name from Slick Finance to Nord Finance? How does the new NORD brand reflect your vision?
Amarnath —
We believe the brand name should truly represent the purpose of the brand. With that thought, we felt that as we evolve our brand-name should evolve with us.
As we searched for our new brand-name, NORD resonated with our core objectives: Inclusiveness, Community Governance, Maximization & Security.
You can read more here
For more information and resources about Nord Finance.