Corona has changed my life. Not the beer, the virus. Before the outbreak, I maintained some confidence in peer review to ensure that research published in journals dedicated to hard sciences remained fact based. I had noted that the 'soft' sciences, like the humanities, had never been so constrained, and the sophistry of statistics alone lent them any semblance of scientific probity.
Even the most elegant maths are no substitute for empirical evidence. Without that direct evidence they could simply be pretty designs on paper without actual relevance to the subject of the research, and all too often are. More than half of published research recently cannot be reproduced. Now political lies have taken over, and none of it can be believed.
History is a game of politics, and has serially plunged archeology into political cesspits of psychological manipulation. It takes decades to grasp that the wonderful tales we learn when we first become interested in history are usually no more true than fairy tales, and is only ever grasped by folks with open minds who become convinced by archeological evidence suppressed by gatekeepers.
At this point, folks are radicalized politically, because it is to deceive and manipulate people that history and archeology are overwhelmed by lies, and only honest people ever grasp this truth, who are innately averse to lies.
Then, two paths are available to them, both of which are prepared for them by their enemies. They can choose to work hard to separate facts from lies, which requires dedication and long research to dispel vast reams of drivel, or they can just assume any claims that are opposed by the official narrative must then be true.
The latter is the reason for the reams of drivel actual researchers must negotiate, because psyops are all about astroturf and gaslighting, nowhere more prevalent than in pseudoscientism. There are probably people that aren't knowingly lying that believe in Flat Earth and Aliens - even both at the same time, despite that being self-contradictory.
Not everyone is intellectually competent to grasp scientific research, but everyone has an opinion on it.
When the first papers on the outbreak of SARS2 were published in the wake of the alarming Chinese lockdown and response, I had that naive confidence in peer review to keep research factual. I was utterly misled. The Lancet, JAMA, NEJM - journals with decades, even centuries, of demonstrated adherence to factual publication, spewed drivel straight out of the mouths of political agencies intent on manipulation and lies.
It's unprecedented, and can't be undone. We are witness to the end of institutional science, that has driven the technological advance and betterment of human civilization for centuries. It has become today a weapon intended to render us susceptible to mandatory injection of DNA altering 'vaccines' that will literally and actually turn human beings into GMOs.
No sane person would not fight to the death to prevent evil overlords from doing that to them, so every possible means of preventing sane people from understanding that is their purpose is being undertaken.
The civilization we have lived in, our common bonds, institutions, and social mechanisms, are all over, just like science. They've all become psychological tools liars use to keep us from grasping that we are to be genetically altered and transformed into servile property. It is the end of civilization as we have known it for thousands of years, the end of humanity as sovereign persons, and the attempt to create a species of slaves to serve the masters the current overlords seek to become.
They want to become the gods they see themselves as. They are psychopaths, mentally deranged and incapable of sane and rational understanding. Their derangement has enabled them to seize political power, by enabling them to do any evil necessary to destroy those in their way, but this same derangement makes them incapable of devising functional society.
Everything you knew is obsolete. Everything you are told is a lie - if you can't prove it is factual. No mechanism of deception is being left unused, as an attempt is being made to create a new form of civilization in which only those now overlords are even human beings, and the rest of us either useful slaves, or killed.
There are no political parties, there is only deception. There are no public schools, there are only indoctrination centers. There is no public science, there is only psychological manipulation. There is no news, there is only propaganda. Soon there will be no social media, there will only be lies and censorship.
The old world has passed away, and hell has come to Earth to replace it. Our rapacious overlords believe they are making heaven for themselves, and don't care a whit they send us to hell. That disregard is why they became overlords, after all, singlemindedly driven to seek their own power, willing to do the most criminal and violent things to get it, and this is what has qualified them to become the only people with rights in the world they are building.
It will be no heaven they imagine it will. Only psychopaths could gain their power, and heaven designed by psychopaths will be a hell sane people cannot imagine.
Today if you want facts, you will have to prove them yourself. If you want products, you will have to make them yourself. If you want food, you will have to grow it yourself. In the world that is becoming, there will be no factual reporting, no mass marketing of products, and no agricultural industry. The lockdown is the beginning of the end of those things.
The civilization you will have you will make. None will be available to the genetically altered slaves, and their masters aren't going to share.
The tools you need to grow food yourself in your home exist. The tools you need to provide your own medical care exist. The tools you need to craft a home secure from assault that provides the goods and services you require exist, but they aren't free, and you will have to figure them out yourself - because the slavemasters only want slaves, not free societies.
The fewer masters there are, the more wealth the masters individually are able to possess. The less competition for their wealth the better, from their perspective.
The death of science is the death of free society. It is the final straw that breaks the back of civilization, for without science the technology to build it cannot exist.
If you intend to live in a free society, you will have to make it, and keep it as well. You will have enemies, and they are powerful and unrestrained by principle whatsoever.
In the ancient prophecies, seers and madmen claim a god has offered you a choice: life or death. I cannot confirm any god laid this out, but you indeed have that choice. To live, to be human, you must choose to do so. Any course you set must provide the means to achieve it. The blessings of civilization that free societies have offered one another are being destroyed by the covert overlords of our world.
They intend your death. If you do not choose to die, you will have to choose to make your life worth living.
Whenever humanity has faced powerful enemies, many people have died, and these enemies will be no less deadly than those our forefathers faced. We have better technology today than before in history, so our present enemies may well be far more deadly than those of the past.
Civilization has fallen before. Dwarka sank beneath the waves ~9000 years ago, and you can see it was highly civilized.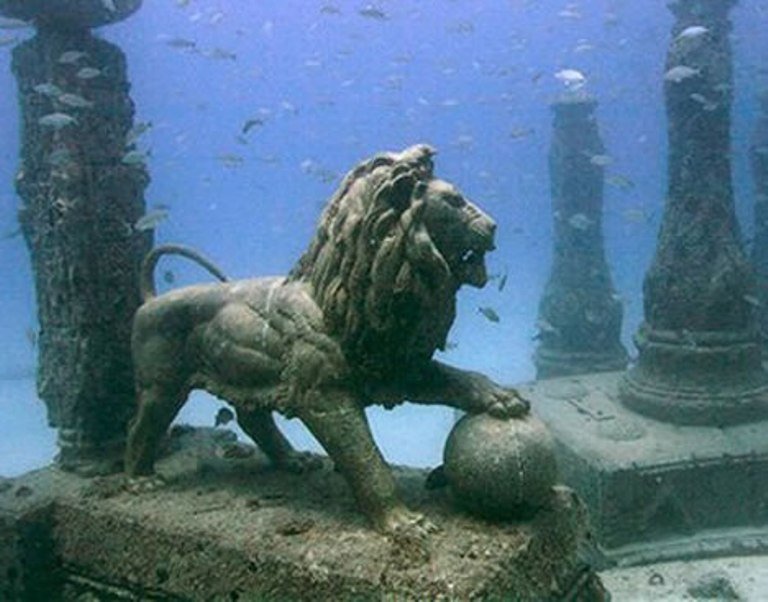 IMG source - AllThatsInteresting.com
The heaven of psychopaths did not avail them then, and their deranged considerations have not better enabled them now to make one. Again, we face global collapse of civilization and reduction of society to pointy sticks to scratch food from the dirt.
If you want more for your children, you will have to make it available to them. Your masters will not, and they cannot even save themselves from what they are wreaking. They have not before, and they will not now. It will take sane and good people to preserve civilization, not psychopaths and overlords.
They have chosen death. They will drag any they can into hell with them, because they are mad.
Choosing to live requires you to make life possible.
Choose life.