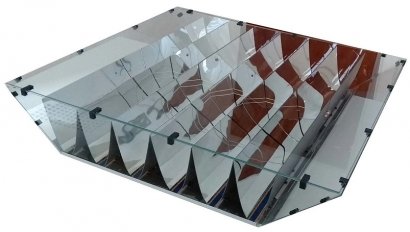 Sourcee
At the Intersolar North America fair in San Diego, a low concentration solar device was presented that ensures that the efficiency of a traditional photovoltaic cell can be multiplied by twenty.
It is an encapsulated solar module that incorporates conical reflective channels that multiply the sun's rays by 20, resulting in lower cost and improved performance.
The generator set is made up of reflective aluminum panels with an inverted conical shape at whose apex, that is, at the base, the cells are mounted.
It has an aluminum base that serves as a heat sink, so that the photovoltaic cells do not overheat and lose efficiency and all encapsulated to avoid dirt.
The creative company is the canadian Innovative Solar Power, who ensures that the technology applied is patent pending.
Source: ispsolar.com, read original article
http://ispsolar.com/isp-intensifying-solar-panel/


Versión en español