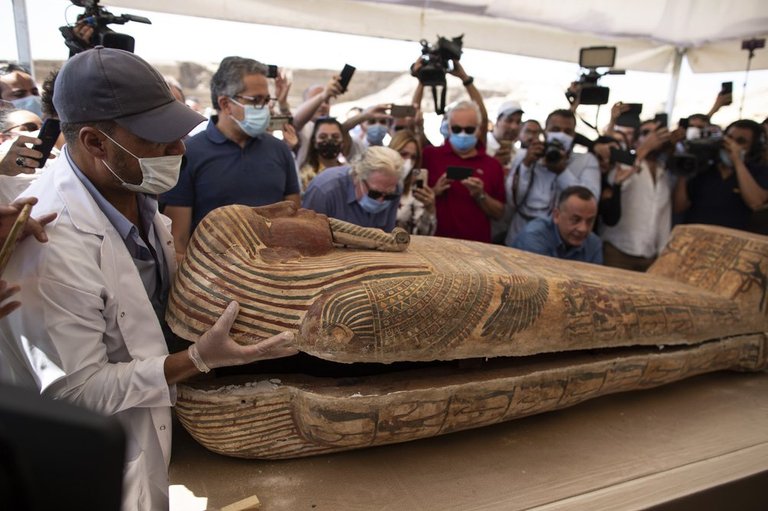 59 well-preserved and sealed wooden coffins were recently discovered by archeologists in Egypt, and it is possible that there could be even more waiting to be discovered.
Three weeks ago researchers first announced that they found 13 coffins, and then further searches in the area revealed that there were even more. Scientists estimate that the coffins were buried over 2,500 years ago, and some of the remains were wrapped in burial cloth that showed hieroglyphic inscriptions.
The discovery was made in the burial ground of Saqqara, which is located just south of Cairo, near the 4,700-year-old pyramid of Djoser.
"We are very happy about this discovery," said Mostafa Waziri, secretary-general of the Supreme Council of Antiquities in the Egyptian government.
Tourism and Antiquities Minister Khaled al-Anani said that the coffins can be dated back to the Late Period of ancient Egypt, which is estimated to be from the sixth or seventh century BC.
"I have witnessed the opening of one of the coffins … the mummy seems as if it was mummified yesterday," al-Anani said, according to Aljazeera.
Other artifacts have been discovered as well, including a bronze figurine depicting Nefertem, an ancient god of the lotus blossom, as well as mummified animals like snakes, birds, scarab beetles. Dozens of statues were also found in the same area that the coffins were discovered.
It is suspected that the coffins belonged to high ranking figures in ancient Egyptian society, likely from the 26th dynasty.
The coffins will be taken to the Grand Egyptian Museum on the Giza Plateau, which is currently being built. The museum is expected to open soon, but the opening has already been delayed several times. At this point, the most recent opening date for the museum is planned for 2021.
The museum will feature an entire hall dedicated to the sarcophagi that were found in the region, and this hall will reportedly hold the new discoveries.
Saqqara, where the discovery was made features numerous pyramids, including the world-famous Step pyramid of Djoser, which is sometimes called the Step Tomb due to its rectangular base, as well as a number of mastaba tombs.
Saqqara and the surrounding areas of Abusir and Dahshur suffered damage by looters during the 2011 Egyptian protests. Storerooms were broken into, but the monuments were mostly unharmed. A series of discoveries have been made at the site in recent years. Some findings have been dated back to as far as 4,000 years ago.