Finally after waiting several years since India as the first Asian country whose spacecraft successfully entered the orbit of planet Mars on 24 September 2014. finally one of the rich countries in the Middle East, United Arab Emirates (UAE) managed to enter the orbit of planet Mars on 9 February 2020. This is the greatest achievement of the country in its space mission.
What the UAE has achieved is truly impressive. I actually doubted a little that they would be successful in their first mission. because previously China and Japan had failed in the same mission, to enter the orbit of the red planet. Previously Japan was the first Asian country to launch their spacecraft to do the Mars Mission on July 3, 1998 however, this mission failed because their spacecraft ran out of fuel before entering Mars orbit. then China with a spacecraft named Yinghuo-1 with the same mission, to orbit the planet Mars, but again this mission failed to bring China as the first Asian country to enter the mars's orbit.
practically only India, an Asian country that succeeded in their first mission to enter mars's orbit, before the UAE also finally succeeded in doing the same thing on February 2020. The success of India and the UAE also proved that space missions were no longer dominated by western countries as as we know before.
a day after the success of HOPE (UAE's Spacecraft) entering the orbit of the planet Mars, China also finally managed to enter the orbit of the red palnet. This is China's second attempt on a Mars mission, after having previously failed on their first trying. and unlike India and the UAE, China is aiming for something bigger than just sending spacecraft to orbit the red planet. They also plan to land their spacecraft on the planet in 2021. Therefore, until today there have been 3 Asian countries that have succeeded in orbiting the red planet.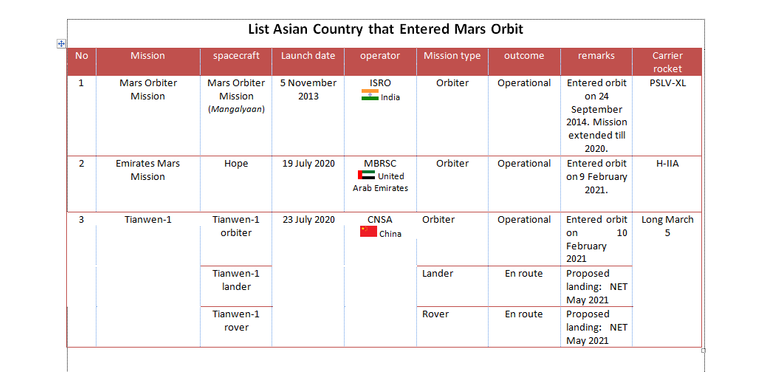 source : wikipedia
The success of the UAE in this mission seems to further strengthen the country's plans to explore more. even they've planned to build human habitation on Mars in the future as said by their vice president, Sheikh Mohammed bin Rashid al-Maktoum, during the "5th World Government Summit in Dubai.
however, seems nothing difficult for the oil-rich country such as UAE. we hope that their programs will be successful and bring benefits to mankind.