Walking around any sea beaches is everyone dream or may be the happiest moment for many. The White sea waves splashing the foot and the wet sand sweeping over your legs. It is indeed a best time live around the sea shore. The waves that came out of sea tides are generally appears to be White. The natural phenomenon that occurs everywhere.
However, recently people in Chennai were surprised to find "Blue Waves" glowing at night around the sea shore.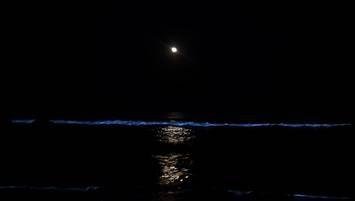 Image Credit
Many visitors have witnessed the Blue glowing Shimmer on the waves in "Injambakkam" beach and "Besant Nagar's Eliot's" Beach on August 18 in Chennai
Indeed it was another natural occurence which makes the beaches more attractive and makes many to wonder how the White waves suddenly turned into Blue. The radiating and glowing Blue Waves in Chennai becomes a point of talk across the city. Many started clicking the Blue waves and posting across the different social media as a proof of witnessing something different in their life. I came across many posts and article about the magical Blue Waves.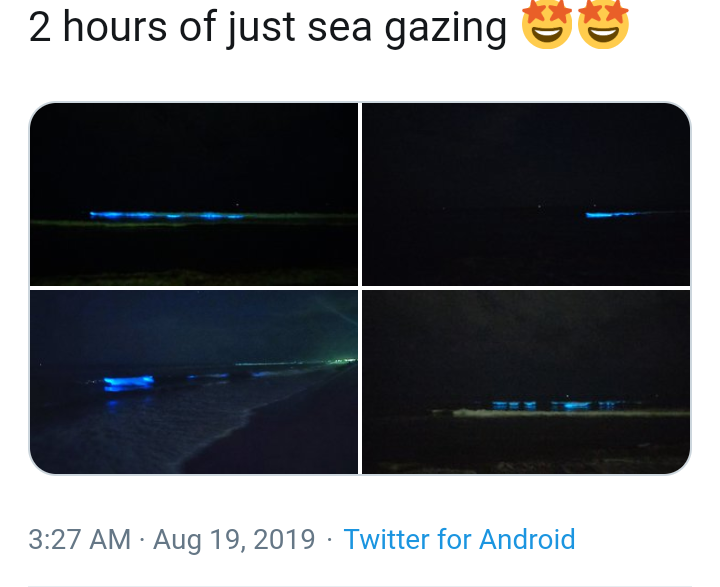 Many scientist too becomes more concerned and curious over the natural development. It was something which never been seen across any Indian states covering the sea shore. Later, the scientist have comes up with a term called "Sea Tinkle" also known as bioluminescence. Such phenomena is caused by the presence of Noctiluca algae. These algae biologically produce light when disturbed.
The light is produced by a chemical reaction in the presence of oxygen involving an enzyme called "luciferase".
When the waves hit the shore, Noctiluca algae converts their chemical energy into electrical energy causing it to emit a blue glow on the face of the waves. These waves are also considered to be harmful and caused due to global warming. Such phenomenon is not good news for the marine life as it may disturb the marine eco system.
What shines is not always gold. The Blue waves is quite attractive and making a beautiful set up at the sea shore is very harmful for the sea life. Not only this these phenomenon is caused due to human negligence which causing the global warming. Whatever is attractive now may prove to be very harmful in future. As a responsible human we need to take up these situation seriously and make efforts to prevent to cause much harm.
Stay Calm....
Keep Steeming...Steem On !!!
---
My Witness Votes
@firepower , @enginewitty, @blocktrades , @gtg , @helpie, @abit, @c-squared , @jackmiller, @ura-soul, @blockbrothers, @ocd-witness @bobinson, @jatinhota, @curie, @adsactly-witness, @therealwolf @patrice @reggaemuffin @c0ff33a @thekitchenfairy @drakos @roelandp @good-karma @yabapmatt @partiko @steemcommunity @qurator.
---