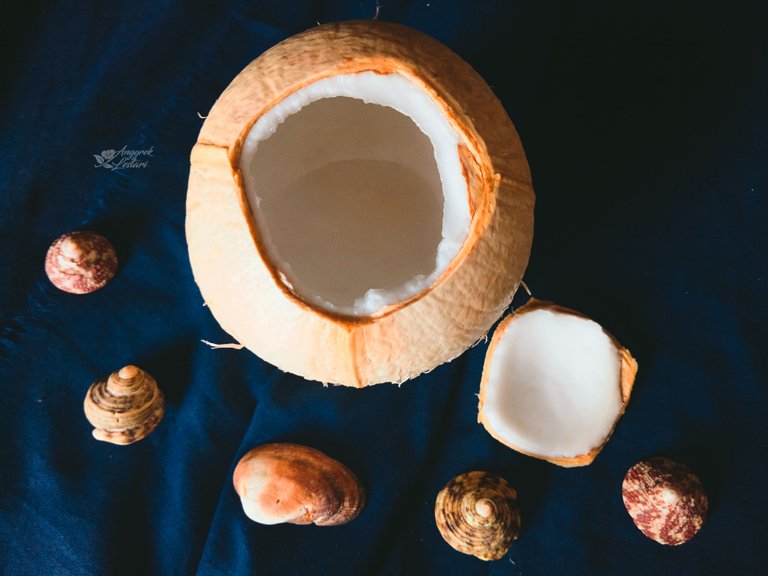 Thai coconut? What is the difference between native coconut from Indonesia? For a long time, I have always been looking for ice cream served in the young coconut, typical of Thailand. Starting from this, I am always curious about how the real taste and texture of coconut from Thailand.
Today feels like my lucky day! I went shopping at a supermarket that I had not visited for almost 3 years in the city of Binjai, North Sumatra.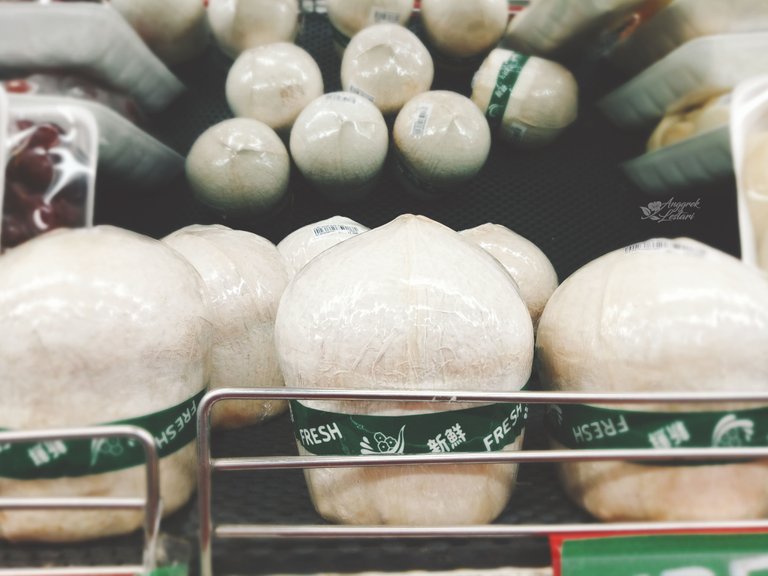 Finally, I found Thai coconut in the fruit stand lineup! Without thinking I also bought the Thai coconut.
One Thai coconut is worth 12,500 Rupiah or about 0.89 USD. I am very happy to have been able to buy Thai coconut which is smaller than Indonesian coconut.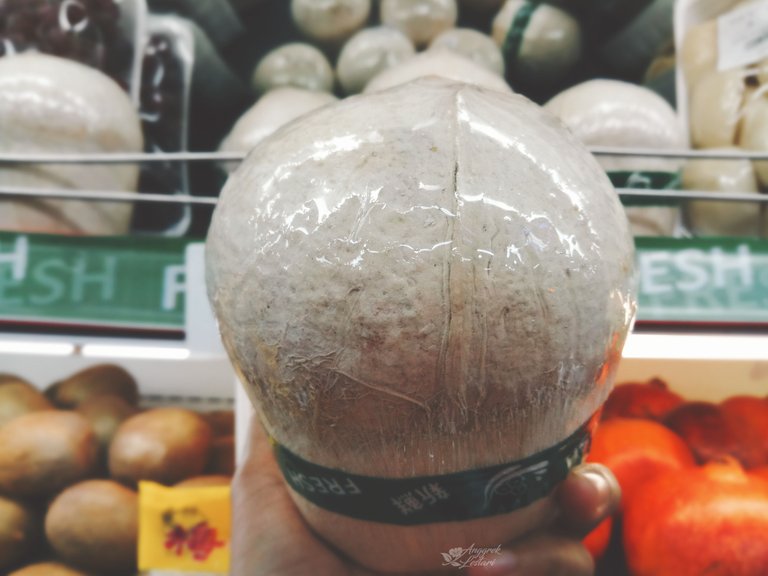 This is my first time holding a Thai coconut! I am also quite grateful to have been able to buy coconuts today because coconut water is indeed very good for women, especially for menstrual cramps.
Coconut Water as a Natural Medicine to Reduce Menstrual Cramps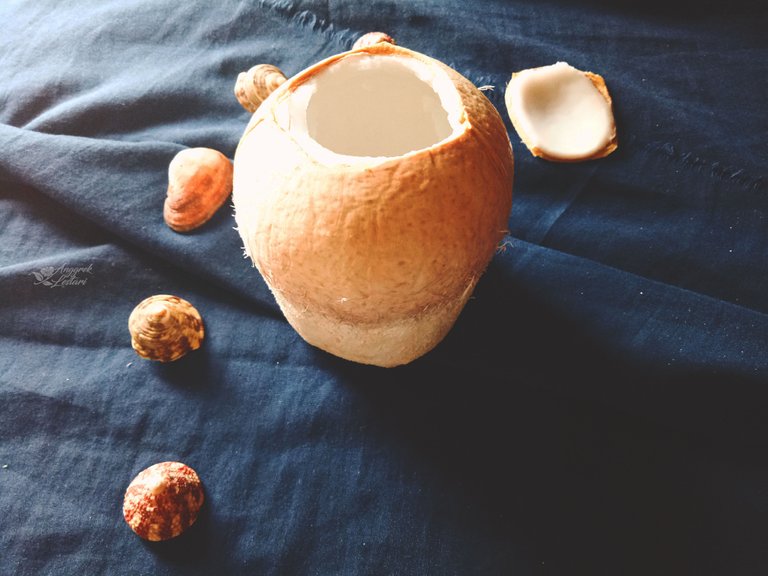 Menstrual pain usually occurs before the menstrual period and 1-4 days during menstruation. This pain can be very painful and can have negative consequences on emotional as well. This will have a dramatic effect on reducing mood and disrupting productivity in daily work life.
The use of modern medicines usually causes dependence and also side effects. An alternative option is to use medications that are obtained from natural sources and offer good nutrition.
Quoted from the page Coconut Water Life said that alternative medicine that offers a good source of nutrition is Coconut Water.
Coconut water is a rich natural blend of PF phytohormone, sugars, and minerals. It provides nutrients for coconut seedling in the harshest of environments and has many proven clinical applications for different conditions including PMS. It is rich in vitamins, specifically vitamins A, E, and B complex and minerals such as potassium, iron, zinc, and phosphorus.
With regular consumption of coconut water, menstrual cramps can be reduced as the nutrients present help the body regulate its hormonal balance. It's a natural source of folic acid, which reduces hot flashes and is essential for several metabolic processes.
So, let's open the Thai coconut from the package!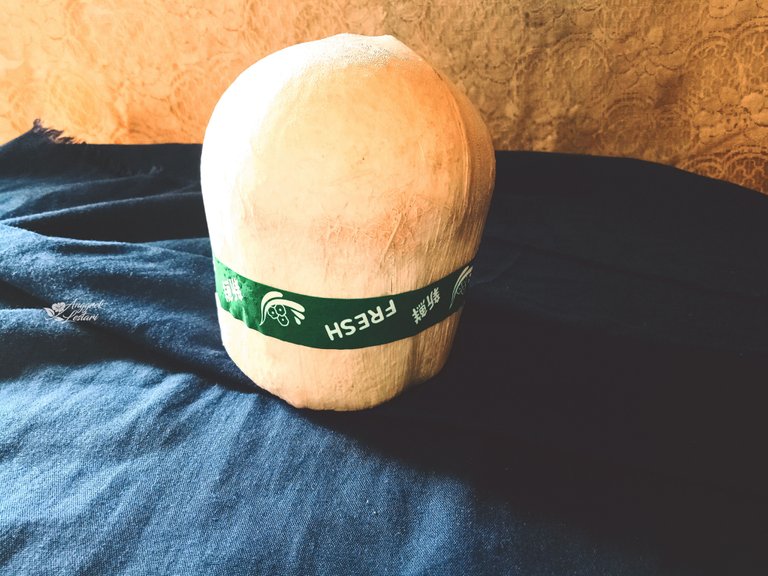 The Thai coconut that I bought was wrapped in a thin plastic package so that we could still see clearly the shape and texture of the fruit.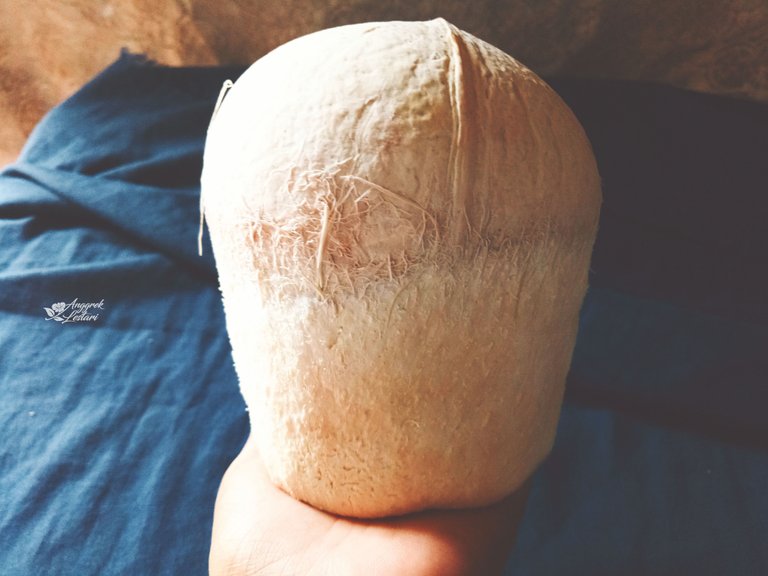 Let's discuss the Thai coconut pros as follows:
Shape of Thai Coconut from the Outside
The shape of the Thai coconut, in my opinion, is very cute! Looks suitable to serve as a place for serving a variety of foods will beautify your dining table!

Coconut fibers look softer than fibers in Indonesian coconut.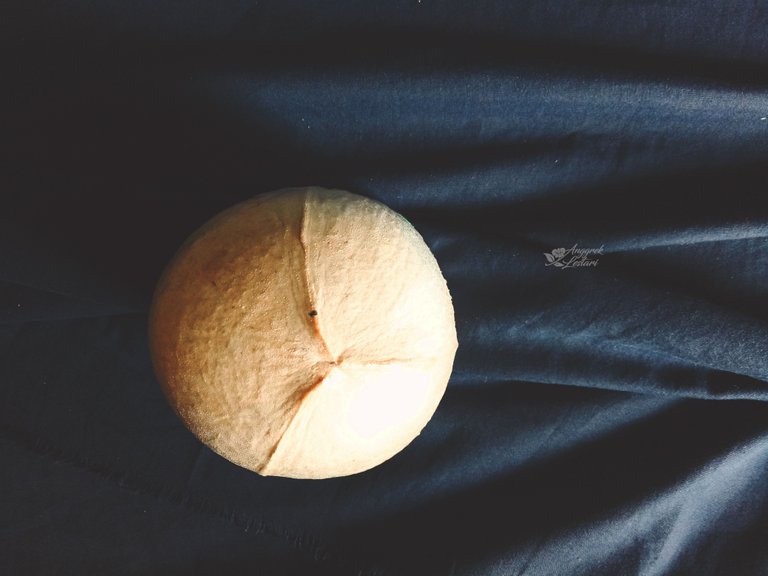 Taste and Aroma of Thai Coconut
After I opened the plastic packaging, I then opened the top part of the coconut. Look at the inside of this coconut meat.
The coconut that I bought is classified as young coconut so it is suitable to be enjoyed naturally without being processed.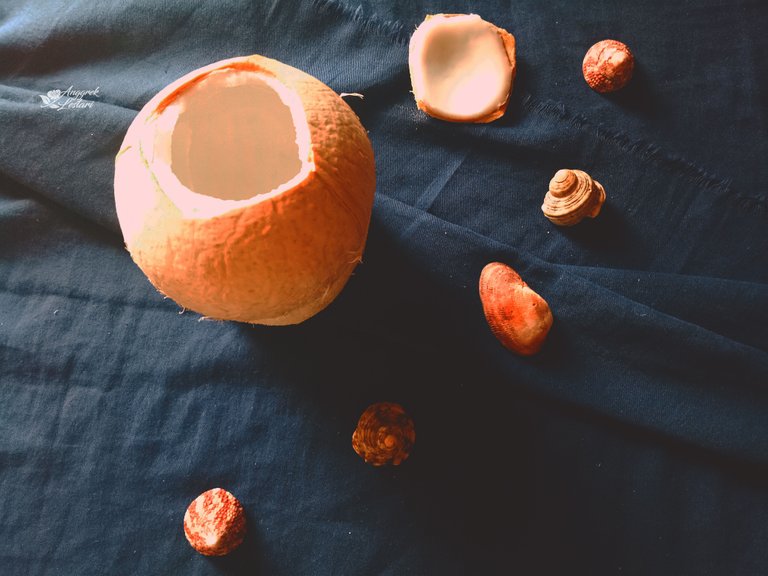 The portion of coconut meat looks right, not too thick or too thin because it has the right "young coconut" phase.
The taste of water from Thai coconuts is sweeter compared to Indonesian coconuts. It tastes exactly like an isotonic drink sold on the market in general, but of course, it tends to be sweet, and a little close to the saltiness.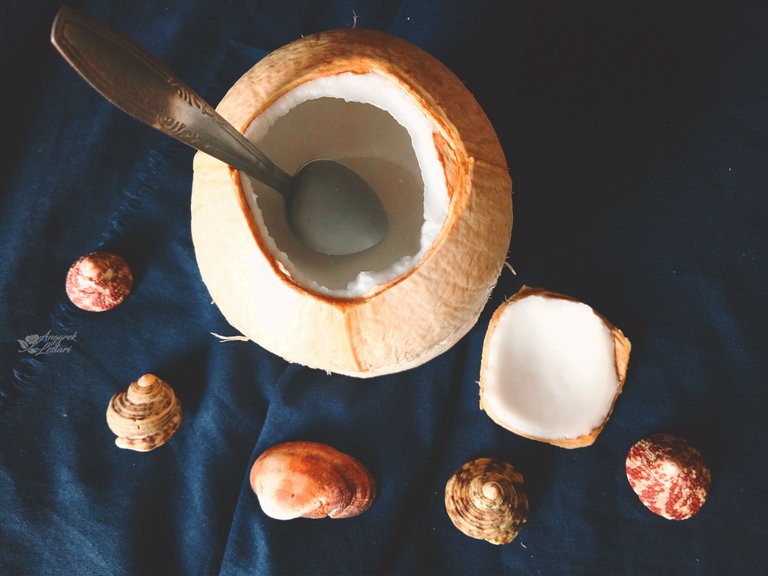 Besides having a sweeter taste of coconut water, Thai coconut also has a sharp aroma, very characteristic. Yummy, this makes Thai coconut superior because it also tastes sweeter.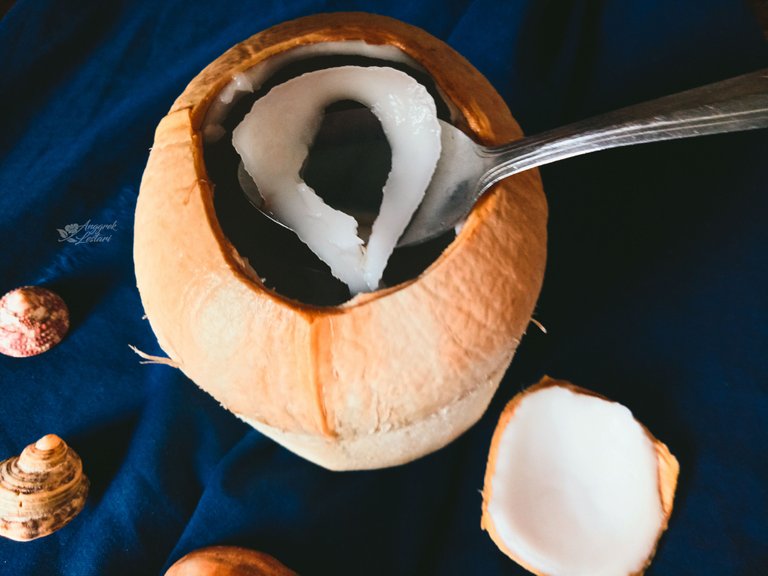 Young coconut meat that is not too thick, but also not thin, and is accompanied by a softer texture compared to the coconut that I have generally eaten.
This makes Thai coconut a source of natural medicine full of delicious nutrition. :)
Cons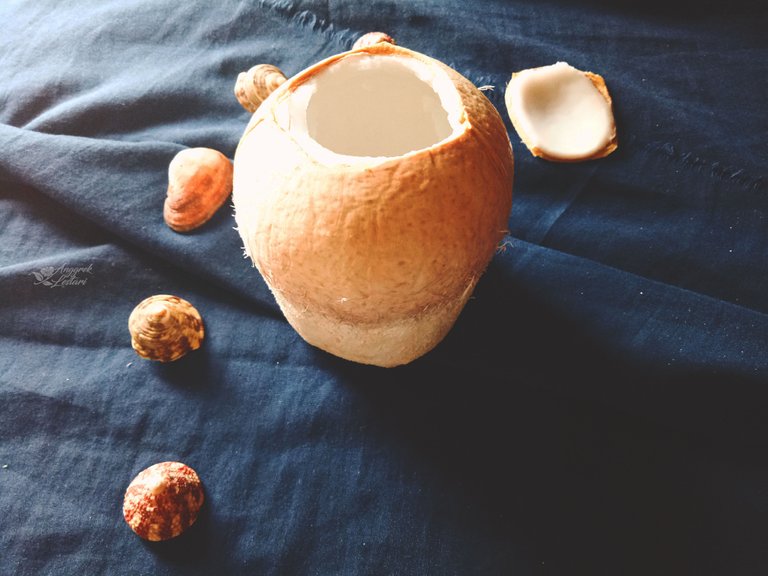 This is indeed my first time buying Thai coconuts and experiencing firsthand the difference with Indonesian coconuts.
There are several things that become cons after I enjoy the Thai coconut that I bought from this supermarket.
Coconut fiber will give off an unpleasant aroma if it is moist
Be careful when opening the top of the coconut. If too much water is spilled, this will cause the coconut fibers at the bottom to get wet and absorb too much water, so it will be moist.
This moist condition will cause the coconut aroma to be less pleasant. So maintaining the condition of this coconut remains dry is the best way to get the maximum condition of Thai Coconut.
Thai Coconut Prices Are More Expensive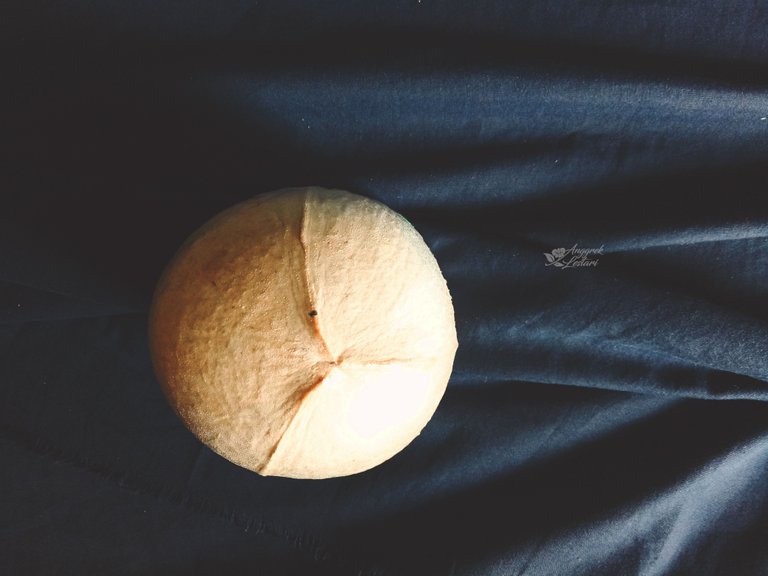 With the size of a smaller Thai coconut, the price is more expensive and this is sometimes a con for some people.
But in my own opinion, this is not too problematic because I enjoy its superiority.
Will I Buy Thai Coconut again?
Definitely, I will buy Thai coconut again! In addition to being enjoyed while relaxing, Thai coconut can also be used as an attractive food photography property. :)
That was about the review of Thai coconuts that I bought today. Good enough! Hope you also enjoy "the dish" from my post today.
!steemitworldmap 3.610791 lat 98.493175 long Suzuya Plaza Binjai d3scr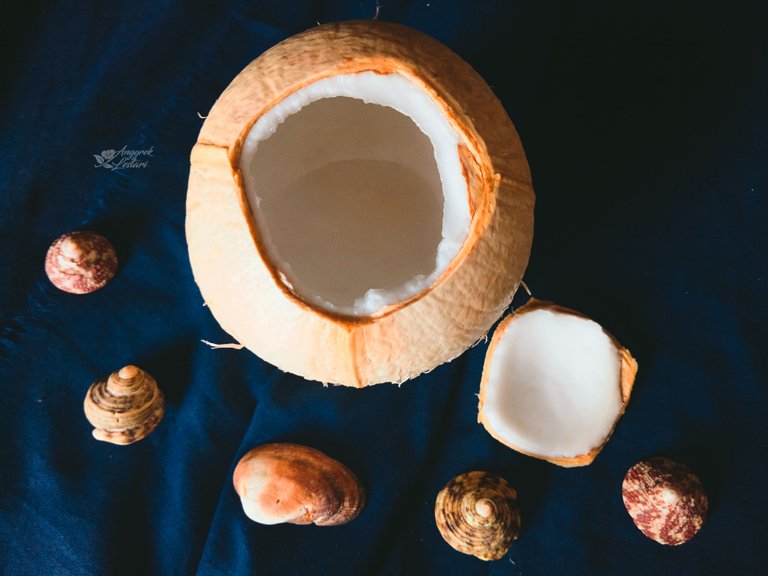 Keep Steem On!
Regards,
A Content Writer and A Social Media Manager From Indonesia


A Proud Member of @naturalmedicine Community


A Part of @NaturalProducts curator. Natural Products is a new community site focused on natural products and healthy lifestyle, and Rewarding Creative User With NATRL tokens


A Part of Realityhubs Curator. Join Realityhubs: A platform for rewarding reviewers. @realityhubs.info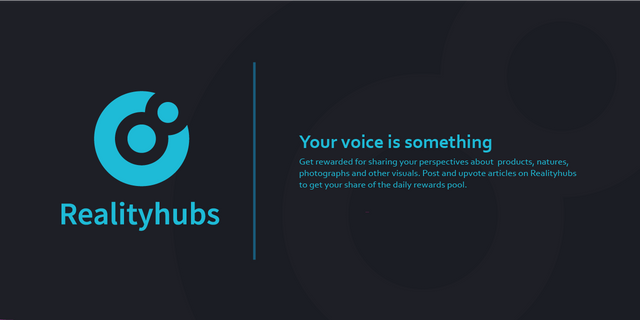 Creative Coin Crypto: Rewarding Creative User With @creativecoin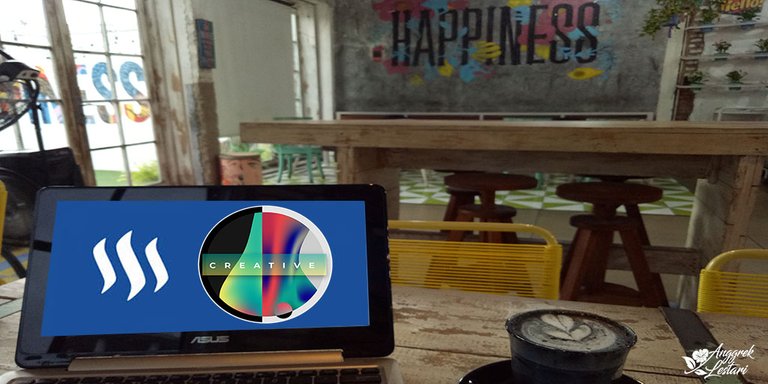 @stemgeeks is a Steem community focused on STEM content (Science, Technology, Engineering, Math).