A lot of people around the world depend on their mobile phones to access online websites and services, especially in developing nations throughout Africa and South-East Asia. While many of the Steem-based dApps are great on a laptop or desktop computer, trying to access these on a smartphone can be challenging.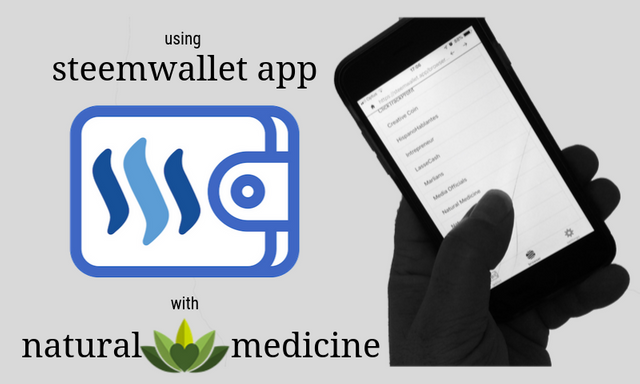 Now especially with the rise of the various SCOT-Tribe platforms — such as naturalmedicine.io — Steemians want to be able to switch between various front-ends and not have to depend on having to enter their posting and active keys to login all the time.
Keychain has been bloody awesome, especially for flicking between accounts, and also when needing to broadcast various transactions on the blockchain, such as sending tokens, voting for witnesses, or even setting approvals for other dApps. The only problem is keychain isn't available on mobile.
Thanks to witness @roelandp, we now have the SteemWallet app available for both iOS and Android. The new version (v2) not only acts as a mobile wallet for your STEEM, but also now comes with a browser to access all the best Steem-based websites and dApps....
..... It also comes with Keychain!!!.......
Multiple accounts
First things first. Add your accounts. All of them. Technically you can add any account you like (not necessarily yours) and see how much STEEM or SBD they have. It doesn't show any staked STEEM (SP), nor does it show any SCOT tokens.
But, if you want to send/receive using the wallet, you need to enter your private keys, which you do via settings. You can either enter the keys via your Master key, or manually enter your (private) Posting, Active, and Memo keys.
For iPhone users, it will even ask if you want to use your Touch ID, so your fingerprint lets you login to the wallet, once your keys have been entered.
Using the browser
When you open the Browser, you'll be shown a list of Steem dApps. At the top you hav the interfaces Steemit, SteemPeak, DTube, and TravelFeed. Under that you can access games such as Splinterlands and Next Colony, or tools such as Steem-Engine or SmartVoter.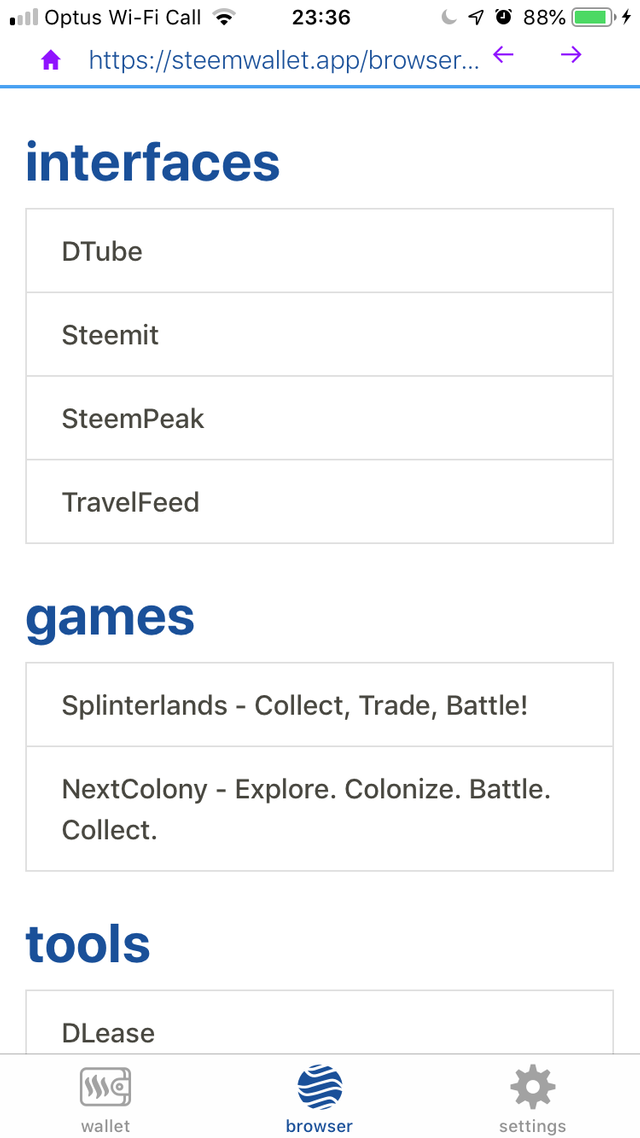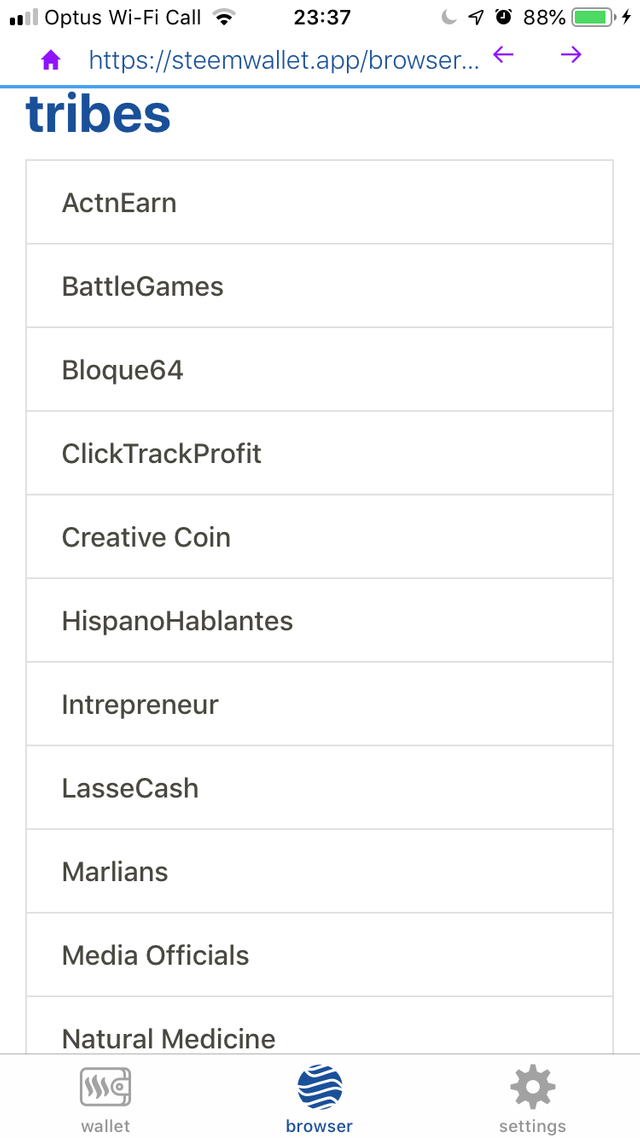 Scroll further down, and you'll find the list of Tribes, such as Natural Medicine.
When you go to login to any of these for the first time, it will ask you whether you want to login with Keychain or Steemconnect. Enter your account name and click on Keychain, and you'll come to a window with the usual blockchain transaction message.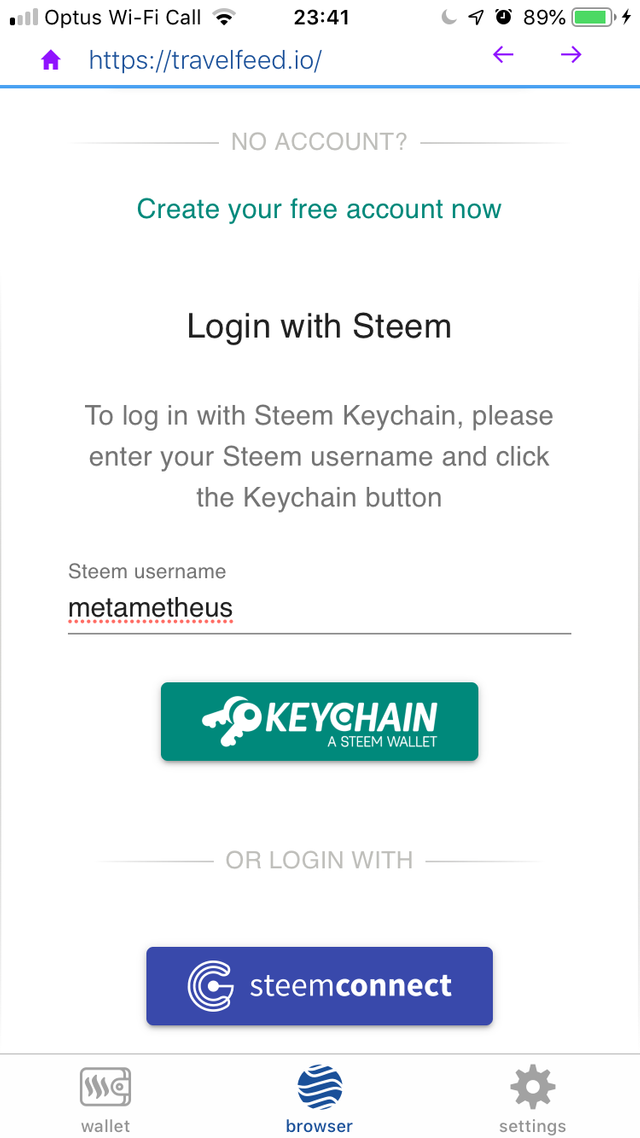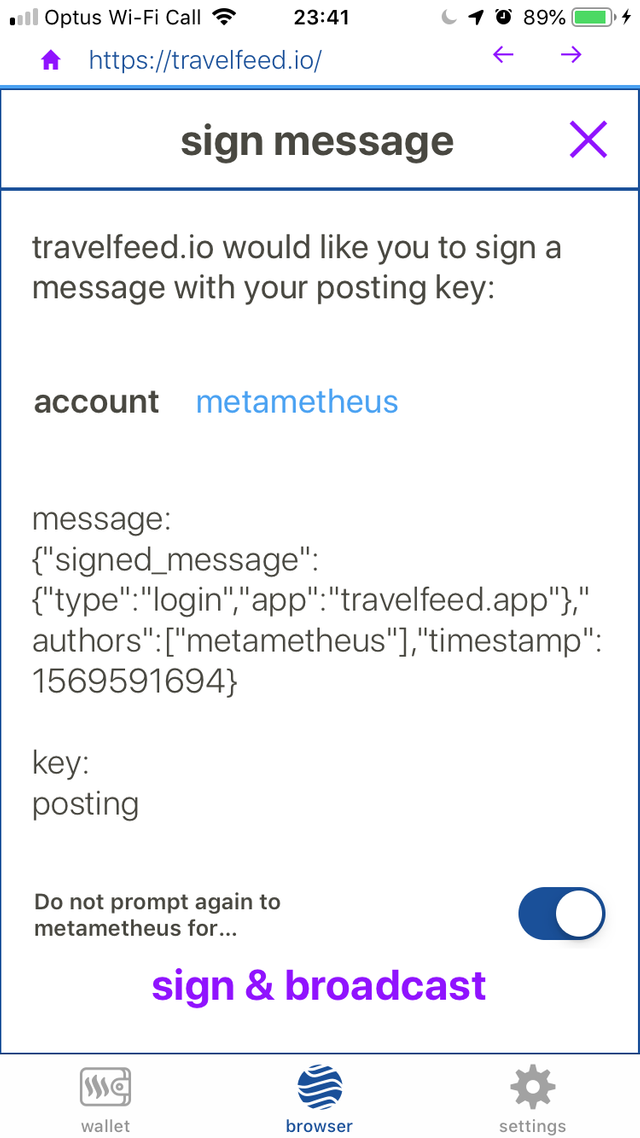 If you click the button marked "Do not prompt again to...", then it remembers this so every time you use the Browser in this app, it will log you straight in.
The beauty of this is especially if you have multiple accounts (many curators do), and even wish to access different Tribe front-ends. Just like on a laptop/desktop, once you have entered your private keys into Keychain, you can easily switch between accounts and dApps without needing to enter the keys all over again.
And of course, if you are an iPhone user, then you have the added security of your Touch ID, which it will ask for every time you switch.
Other settings
There are four different colour themes you can choose, you can set which (fiat) currency it shows STEEM/SBD values in, and you can even choose which node to use, and even an option to buy STEEM, which takes you to Blocktrades.
The cons
This app is still no perfect. I've had to delete the app and re-install once, as it wouldn't update my wallet, and the dApp list wouldn't come up on the browser. But if you have your Master key, it loads all the other private keys anyway. I also couldn't get it to work properly on my iPad, not sure why. But it works fine on my iPhone.
I imagine @roelandp could use some support to keep this app working properly and updated all the time. I'm not sure if he's put a proposal up to the SPS... but if he does, then I'll definitely vote for it.
This app is vital for those who depend on their smartphones to access Steem, which I'm certain would be lots.
I'd love to see the wallet also include SCOT tokens, and have the ability to claim rewards (STEEM and SCOTs), stake and send tokens. I'd also love to see my SP also.
I imagine all of these features need some work (read: time and money) put into it. Given he's busy also organising SteemFest, I'm sure he has enough on his plate right now.
If you haven't got the app, go download it right now and start using... and make sure you let @roelandp know how much you love this app. Go vote for his witness!!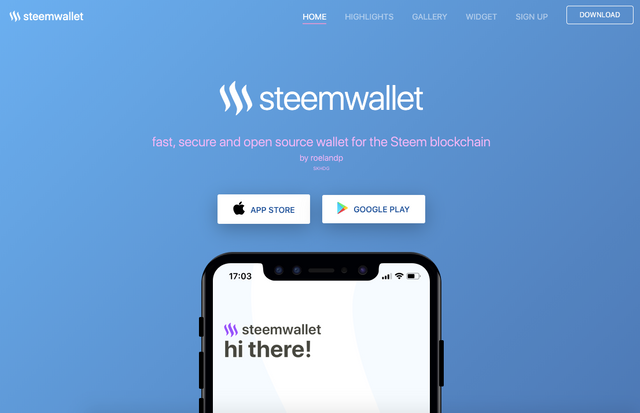 Image courtesy of steemwallet.app
All other images are original screenshots
---