Introduction
Greetings one and all. I am mixing a new song by @theturtleproject, an absolutely brilliant singer-songwriter based here in the UK, whom we have been working with for a number of years. He is a massively talented musician and lyricist, and we love his intimate vocal style.
Check out his Spotify here:
https://open.spotify.com/artist/062cY7RGKXM9XJyWM1VCXa?si=3kJEPcDqQQCc4vyU9VvSpg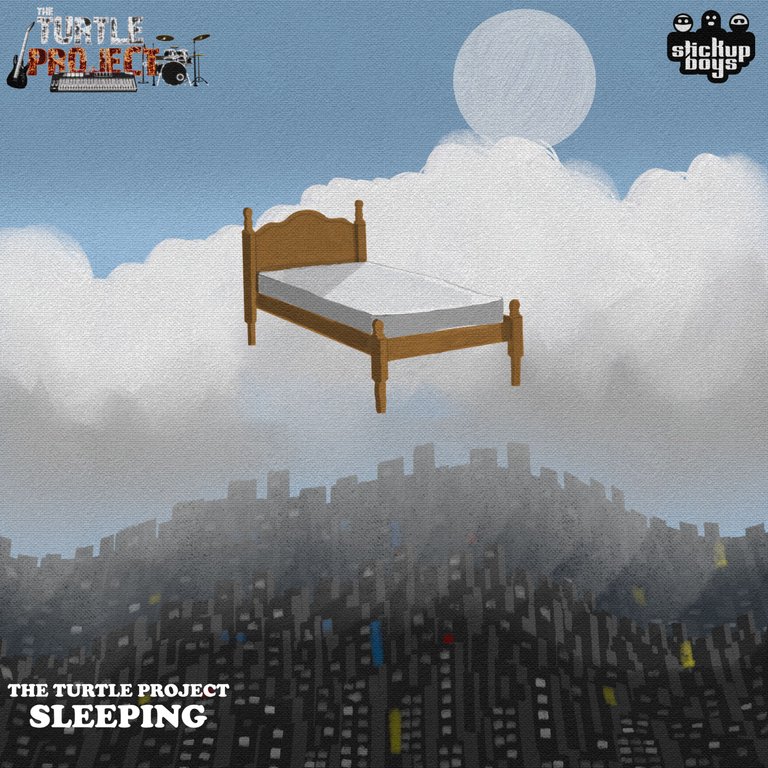 The Song
Title: Sleeping
You can find Sneak Peek pre-master of it here on soundcloud:
https://soundcloud.com/stick-up-boys/sleeping-sneak-peek-050522?utm_source=clipboard&utm_medium=text&utm_campaign=social_sharing
Please leave a comment on anything you like or think we should change. We love getting feedback. Seriously!

The Set up
Photo from Cubase 10.5: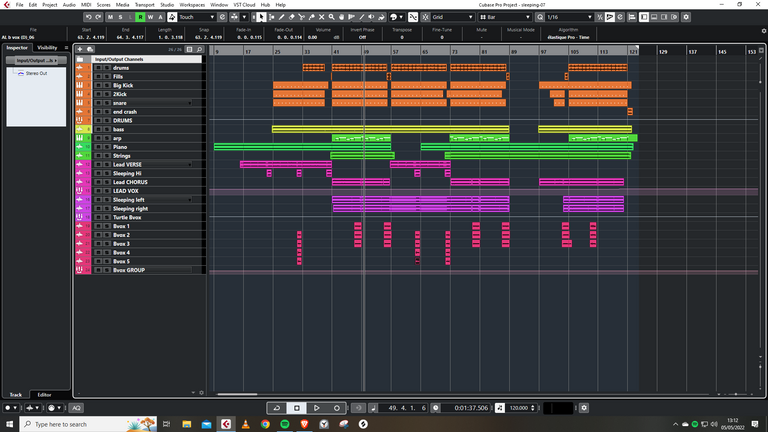 As you can see, there really isn't an awful lot going on in this song. Hopefully the pared back production suits the song's intimate style. What do you think?
Drums (in orange)
I kept Turtles' original drums on here for the toms, high hats and cymbals, and underneath I added a big phat kick drum (standard Stick Up Procedure) and an air-sucking, 80's inspired, snare. Across the master drum bus I added a touch of deep, slow compression, doing no more than about 4db of gain reduction, with a release time synced to the tempo of the song (nerdfact: quarter notes).
Bass (in yellow)
Yet again this is the original bass, beautifully played by Turtle. I added a touch of compression, side chained from the new kick, as is de rigeur these days. Gotta keep the kids happy! Also a touch of subtractive eq to allow the kick and the snare to poke through it slightly.
Keys/Synths (in greens and purples)
The beautiful, delicate piano part, and minimalist string arrangement, again all by Turtle. I did some slight re-arranging, and some subtractive eq around 600hz and 2kHz, as these frequencies were masking the vocal. I compressed the piano, and listening back to it now, I think I over-did this, as it seems a little too 'dense', especially in the intro. Let me know what you think in the comments below.
Vocals (in pink)
The star of this song without a doubt! To get the intimate sound he wanted, Turtle was practically eating the microphone, which presents some difficulties at the mixing stage (and digestive stage I should imagine). To counteract the proximity effect (https://en.wikipedia.org/wiki/Proximity_effect_audio) Turtle had employed a fairly heavy low frequency cut on his recording. However, this had removed some of the "body" of his vocal, and I felt the end result was too washy and whispery, so I applied a slight bass boost and treble cut, 'tilting' the general tone of the vocal to be darker. I added a touch of chorusing (the effect) in the verses, with a little more in the chorus and ending, which helps to push the vocal back in the mix slightly. I also used some multiband compression to tame some of the higher frequencies (basically a de-esser), and added a very small amount of a short plate reverb.
Finally, some uncharacteristically subtle backing vocals were added by @stickupboys.

My mixing highlight
The lesson for me in this one came from having to mix with far fewer elements than I am used to. (Check previous posts in this series for examples of our typically larger projects). In some ways it was much easier because there was less for me to screw up, but it also means that any mistakes I made are much more obvious. I can hear a couple listening to it right now. Can you?
Big up all the music on Hive.
Stick Up Brains

Check out more about us and follow us everywhere.....https://linktr.ee/StickUpBoys