Introduction
Back in May 2021 we ran a social media campaign for the excellent mental health charity https://www.youngminds.org.uk. To promote the campaign we released a song called Make Me Beautiful, and we had a number of remixes done by various Stick Up Boys Associates (TM) including fellow Hivians @ambrosechappel and @gribbles which are all collated into a playlist here:
This song heavily features a synthesizer by the German company Waldorf called Streichfett, which Google translates as "fat spread". Mmmmm.......

Spread that fat wide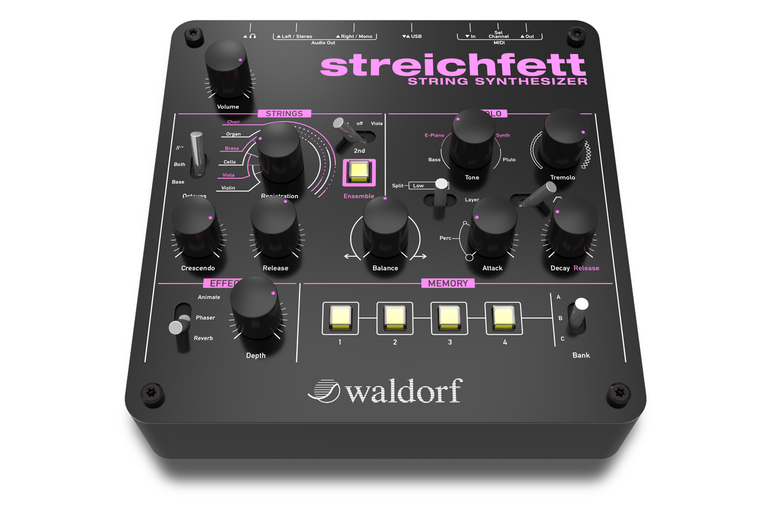 The Waldorf Streichfett (https://waldorfmusic.com/en/streichfett-overview) is a digital homage to the String Synthesizer, a type of synth manufactured in the 70's and early 80's. Remember the classic riff in the chorus of Joy Division's Love Will Tear Us Apart Again? That is a string synth. Anyone with a penchant for vintage adult cinema will also be very familiar with the sound!
You can hear the Streichfett in action at the start, and throughout, Make Me Beautiful. It is in fact the cornerstone and star of the whole song. We created the sound with some random knob twiddling (smirk), which is one of our favourite things to do. The big stereo sound stage was created by maxing out the depth of the "Animate" effect which is on the bottom left of the machine, as well as engaging the "Ensemble" button in the middle of the panel.
At the mixing stage there was no further processing, except a little bit of sidechain compression from the kick and the lead vocal.

Fatal Attraction
This little pink beauty is a lot of fun. The available controls are sensibly labelled and invite experimentation, and it is quick and easy to get a good sound, which for us is very important (we are lazy and impatient - a terrible combination!) For lush, vintage-esque strings/pads/soundscapes this thing is great. It can go very stereo and wide without sounding phasey when collapsed to mono, which is a real bonus, especially for a digital synth of this price.
So. We sold it! Despite it's lovely lushness and gorgeous pink lettering, the 'Fett, as we liked to called it, had a fatal flaw: a constant USB ground hum/buzz. We tried everything to get rid of this but we never succeeded. Those of you with a decent monitoring system may be able to hear it very faintly in the song, when the Fett is playing. Whilst there are some types of atonal noise, such as tape hiss, which can be good in some circumstances, the buzz from the Fett was not of this type, and thus we parted ways. I guess spreadable fat is not as great as it sounds after all.
Sorry Fett, it's not you, it's us.
But really, it is you.
If you have a great piece of music equipment you think we should have a look at then leave a link in the comments!
Big up all the music in the cosmos!

the Stick Up Boys
Connect with us on different platforms! https://linktr.ee/StickUpBoys