Tune in
I am remixing a song called "I am an Antenna" by Black Eye Butterfly (@ivanc) and wanted to share some of the mixing with you. Some of you may be familiar with Black Eye Butterfly's original mix of the song, which is an NFT in the awesome https://www.risingstargame.com/ from @risingstargame.
@ivanc himself is also a legendary card there: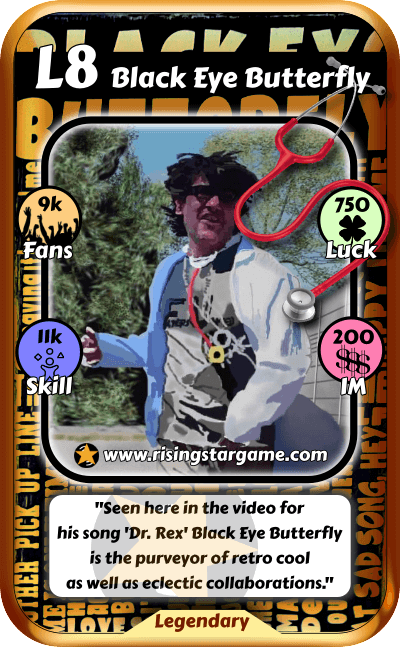 Deploy your antenna
You can find our remix on soundcloud here:
Please leave a comment on anything you like or think we should change.

Frequencies
Pictogram from Cubase 10.5:
Drums (in orange)
We replaced some of the original drums with samples from the SUB staple, NI Battery 4, to try and give the song a little more of an electronic SUBs vibe. The snare roll, cymbals, and incidental noises are all from the original.
I added some fairly heavy distortion to our snare, and mashed the drum bus with some slow, parallel compression using the rather tasty Kush Audio AR-1 (https://thehouseofkush.com/products/ar-1). Stats for nerds: It's doing no more than 5db of gain reduction, and the wet/dry is at about 60/40, attack time is 5ms, release is 900ms.
Bass (in yellow)
This is the original bass, which I gated to remove some noise, and did a huge -15db high shelf at about 250hz to massively reduce the top end. This gave the bass it's own space in the mix and stopped it stomping over everything else, which it really wanted to. Bad bass! Go to your room!
Guitars (in blue)
Again these are all original. I did various bits of subtractive EQ on the main guitar to remove some "boxiness" from the sound, and because it was masking the bass, vocals and well, everything really! I then added some additional, hi-passed distortion to give it extra bite. The other guitars I left au naturelle.
Synths (in greens and purples)
Mostly incidentals, I just did a bit of tidying up with these, reducing excessive low and high frequencies.
Vocals (in pink, purple and grey)
Verse:
There was a little too much reverb on the verse vocal for my taste, so I used a downward expander to "de-verb" it a little bit. This a little bit like gating, but not as strong. You can find a pretty decent description of how to do this here: https://reverb.com/uk/news/5-ways-to-use-audio-expansion-to-enhance-your-drum-tracks in the section at the bottom titled Removing Reverb Tails. I also used a touch of multiband compression to tame some tonal inconsistencies, and used some fairly heavy volume automation to give the lyrics a little more clarity.
Bridge:
I added some distortion and a bit of a low end boost to push the vocals a little more up front.
Chorus:
Only a touch of compression here to even out the levels.
We also added some backing vocals, courtesy of @stickupboys, just to highlight the "I am an antenna" line in the verses, and to beef up the chorus.

Full Transmission
The stand out of this song for me is definitely the wonderful vocal performance and awesomely catchy chorus from @ivanc. Although it may seem like we did a lot of work on the vocals, this work is "the final 1%", on top of a solid 99% already provided by him.
Very happy to hear any thoughts or comments about the mix and discuss equipment.
Big up all the music on Hive!
Stick Up Brains

Check out more about us and follow us everywhere.....https://linktr.ee/StickUpBoys