Morbex Introduction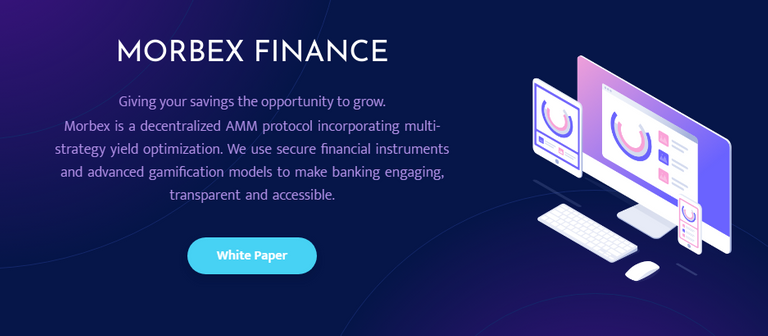 Morbex is a decentralized AMM protocol incorporating multi-strategy yield optimization. We use secure financial instruments and advanced gamification models to make banking engaging, transparent and accessible.
Trade
Instantly swap crypto tokens: no registration or account needed.
Low fees
Why pay more? Morbex runs on Binance Smart Chain, a blockchain with much lower transaction costs than Ethereum or Bitcoin.
Trading fees are lower than other top decentralized exchanges too, so that's a double win for you!
Decentralized
Trade directly from your wallet app.
Unlike centralized exchanges like Binance or Coinbase, Morbex doesn't hold your funds when you trade: you have 100% ownership of your own crypto.
💸 Earn
Earn BEX and other tokens for free with super high interest rates.
Earn tokens with Staking Pools
Stake BEX, earn free tokens. It's really that easy.
New projects also joins the platform, so you can earn more, for even longer.
Earn BEX with Yield Farms
Stake LP tokens, earn BEX. You take on a little more exposure to market fluctuations than with the Staking Pools, but can earn higher APR to offset the risk.
Earn Trading Fees
No farm? No problem. Even if your trading pair isn't supported on the Farms page, you can still earn trading fees when you stake your tokens in Liquidity Pools (LPs).
Is it safe?
See for yourself:
Transparent:
We're built on open-source software: our site and all our Smart Contracts are publicly visible for maximum transparency.
Our contracts are verified on BscScan so you know that what you see is what you get.
Security best practices:
The dev team use multi-signature for all contracts.
Farming $BEX
Go to MORBEX Farm Page
You must first have the appropriate LP, which can be created at MORBEX
Approve your desired farm
Deposit your LP tokens
That's it, you're farming now!
MORBEX Private Sale Will Start on 30thJUNE

Tokenomics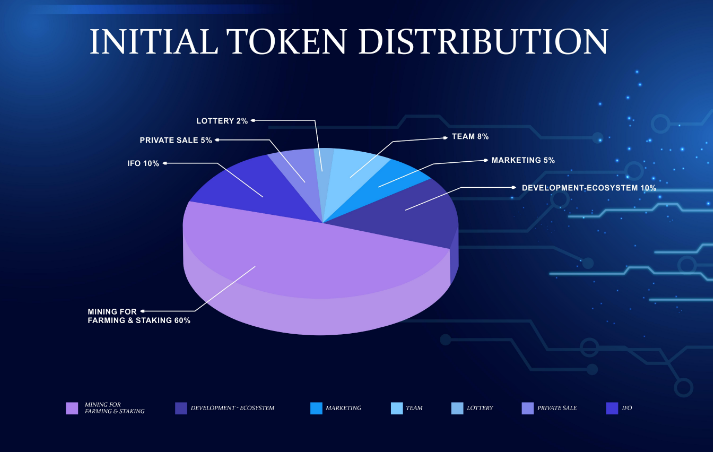 Ticker: BEX
Max Supply: 10,000,000 BEX
Chain: Binance Smart Chain (BEP-20)
Mining: 60%
IFO: 10%
Private Sale: 5%
Ecosystem: 10%
Team: 8%
Marketing: 5%
Lottery: 2%
What is BEXFLIP?
When you stake your $BEX, you auto-magically receive $BEXFLIP that will be used as proof-of-stake.
With the $BEXFLIP received you are able to stake for rewards in the Staking Pool.
What happens if I sell my BEXFLIP?
Please do not sell/exchange your $BEXFLIP.
If you sell your $BEXFLIP you won't be able to unstake your $BEX as you need the same amount of $BEXFLIP to do so.
How can I stake BEX?
You can stake your BEX on the "Staking" page by clicking on the little "+" sign after approving the contract, choose the amount you want to stake and confirm.
What is the max supply of BEX?
10,000,000 BEX
You can view more detailed information about this project below:
https://morbex.finance
https://morbex.gitbook.io/morbex-finance/
https://bitcointalk.org/index.php?topic=5344013.0
https://t.me/Morbex_Finance
https://twitter.com/morbex_finance
https://medium.com/@Morbex_Finance
https://www.facebook.com/MorbexFinance
https://t.me/joinchat/auxOML9q2RExMzYx
https://www.reddit.com/user/morbex_finance/
https://www.youtube.com/channel/UChT7rCLWmawJTGrsX67QRhA
Bounty: https://bitcointalk.org/index.php?topic=5344509.0
#MorbexFinance #Morbex #BEX #blockchain #cryptocurrency #technology #bitcoin #money #crypto #Binance #BNB #cryptocurrencies #fintech.
► Author:
My Forum Username: CR 7
My Forum Profile Link: https://bitcointalk.org/index.php?action=profile;u=3356354
My ETH Wallet Address: 0x27C0928A9A1c2cD629C7B8f95413d114Ab4D9560