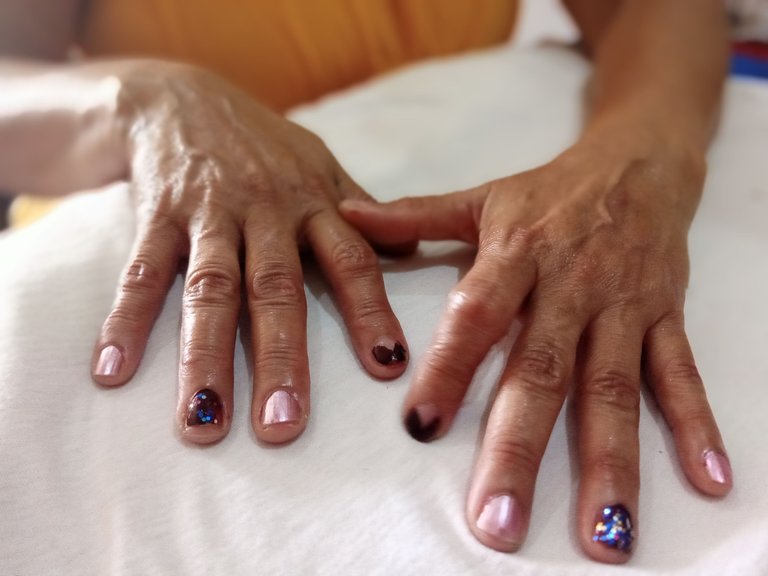 Exfoliación y Manicure
Exfoliatión y Manicure
Hola amigos y amigas de la comunidad. En esta ocasión les traje como relajar y exfoliar nuestras manos.
Hello friends of the community. This time I brought you how to relax and exfoliate our hands.

Materiales.
Materials.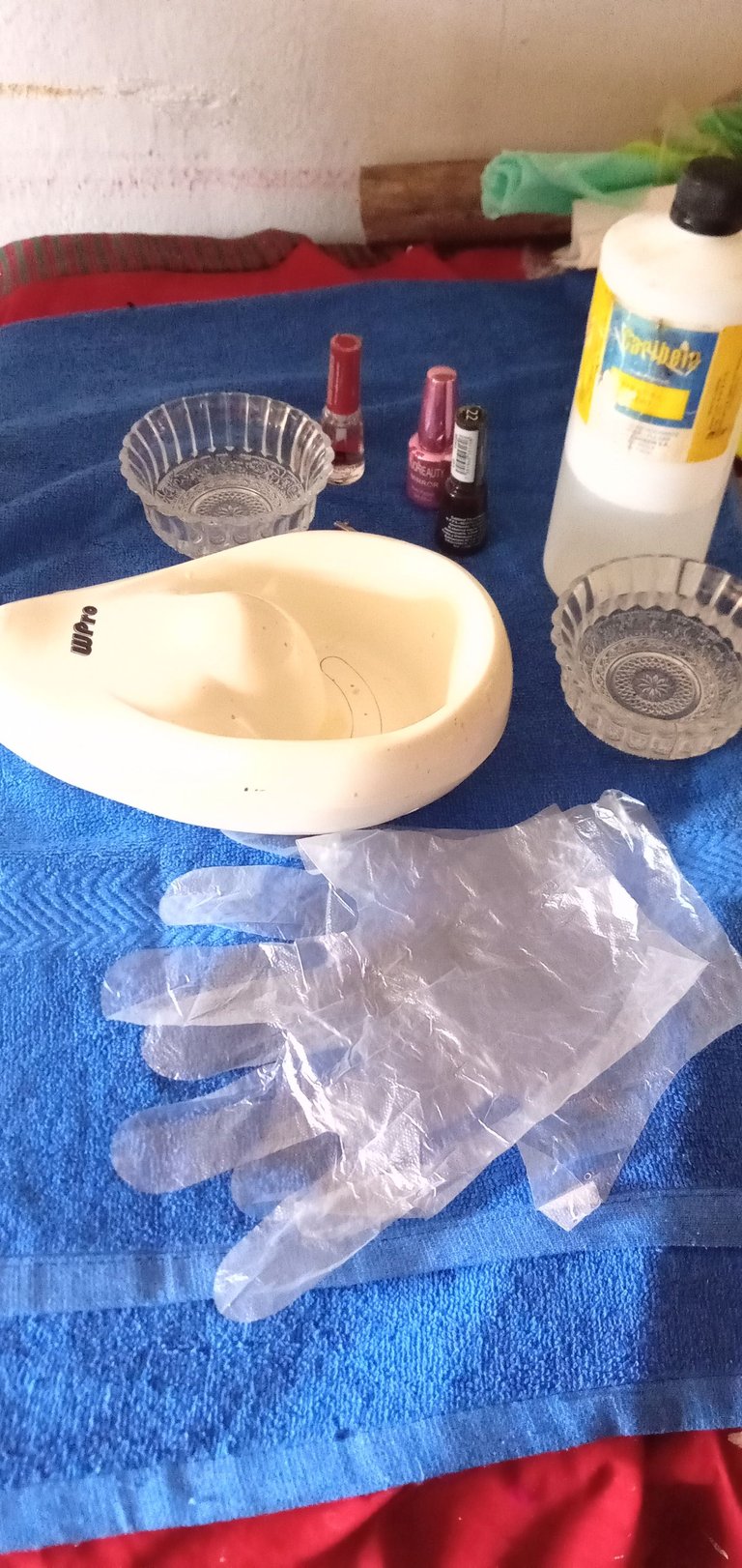 Imagen de mi autoria / Image of my authorship
1 par de guantes o envoplast.
1 Pair of gloves or paper Envoplasts.
2 Cc de parafina liquida.
2 Cc of liquid paraffin.
1 Cucharadita de sal.
1 teaspoon salt.
2 Taza de Agua tibia.
2 cups of warm water.
1 Corta uñas.
1 Nail clipper.
1 Brocha o Pincel.
1 Brush.
1 Brillo o Esmalte.
1 Gloss or Glaze.
1 Esmalte escarchado o escarcha
1 Frosted enamel or frosting
1 Cucharadita de café.
1 teaspoon of coffee.
1 Cucharada de azúcar
1 tbsp sugar
1 Cucharada de bicarbonato.
1 tablespoon of bicarbonate.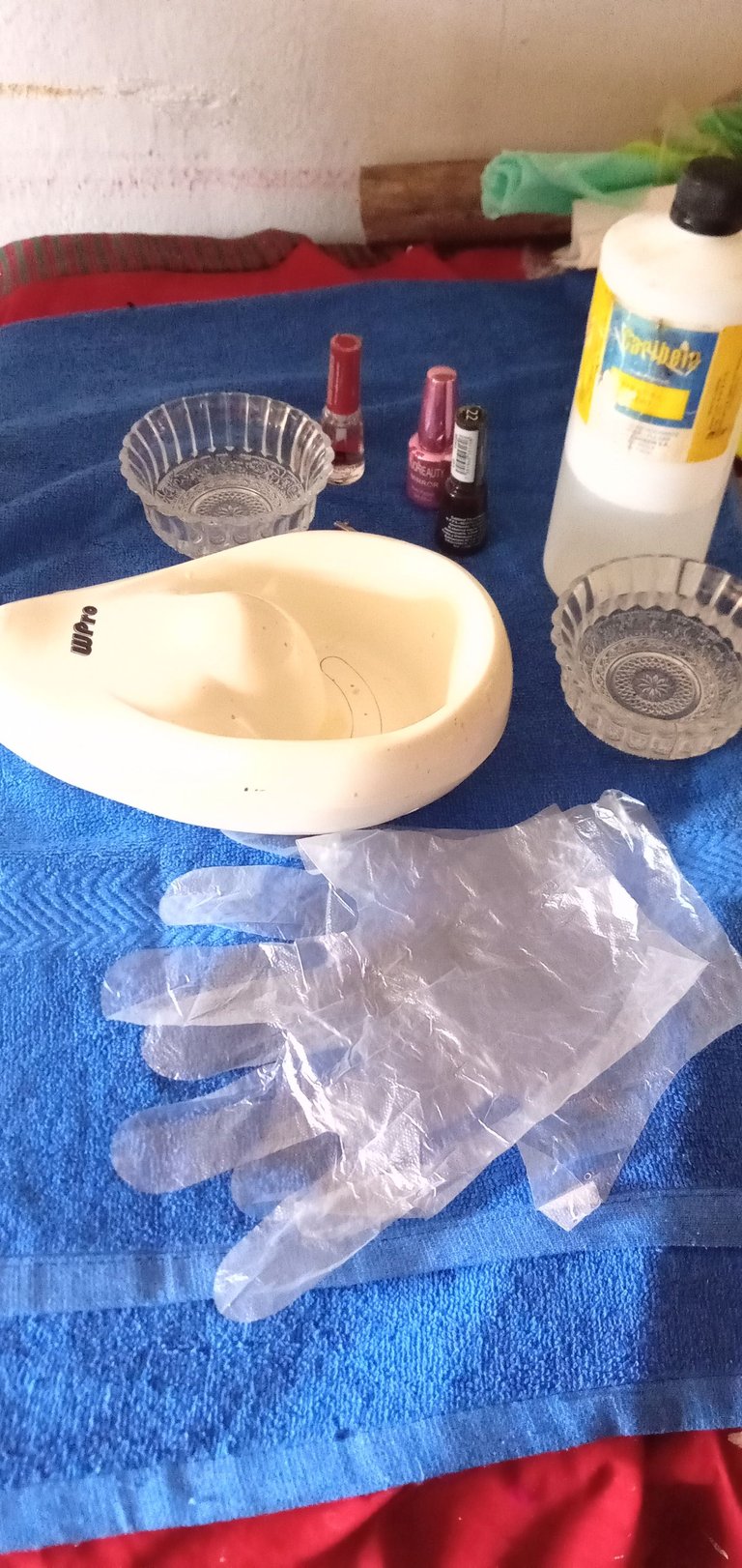 Imagen de mi autoria / Image of my authorship
Para realizar nuestra exfoliación lo primero que debes hacer es retirar anillos, Pulseras y retirar y quitar esmaltes, Una vez terminado llevaremos el agua tibia a nuestra tina o tazón,
To perform our exfoliation the first thing you must do is to remove rings, bracelets and remove and remove enamels, once finished we will take the warm water to our tub or bowl,
Ahora pasamos a añadir en nuestra tina o tazón la cucharadita de sal, esta para ablandar nuestra cutícula y remojar, la sal con el agua tibia es ideal para sacar uñeros, debido a que nuestras uñas se debilitan y evitamos dolor y molestia, a la hora de retirar la misma.
Now we add in our tub or bowl the teaspoon of salt, this to soften our cuticle and soak, the salt with the warm water is ideal for removing nails, because our nails are weakened and we avoid pain and discomfort, when removing the same.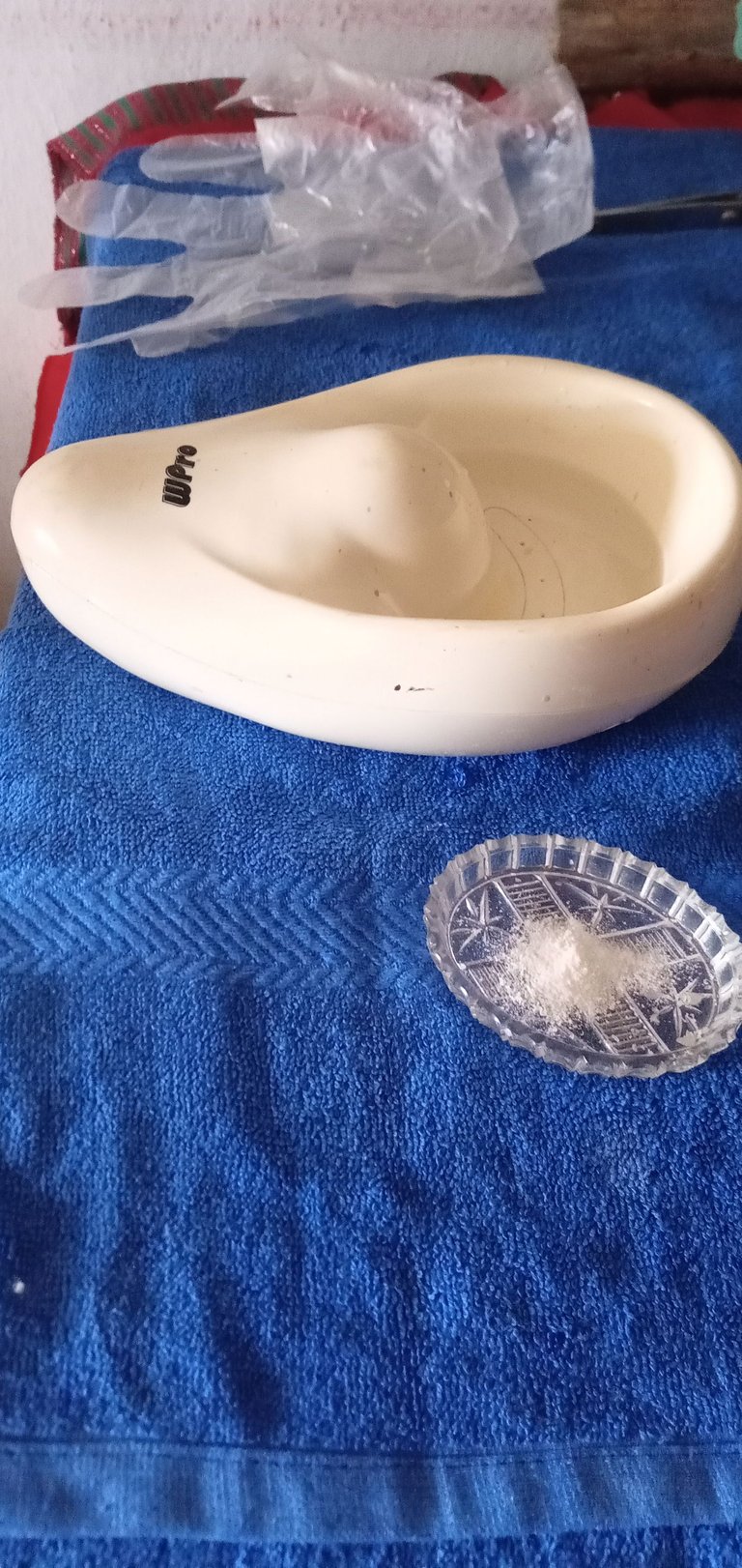 Imagen de mi autoria / Image of my authorship
Una vez limada nuestras uñas pasamos a remojar nuestra manos, al terminar aplicamos la exfoliación con la preparación de azúcar, café y bicarbonato para una mejor absorción de la parafina, y la introducimos en la bandeja, lavamos y secamos las manos y uñas, de tal manera que apliquemos la parafina liquida y se absorba rápido y un mejor resultado.
Once we have filed our nails we soak our hands, when we finish we apply the exfoliation with the preparation of sugar, coffee and bicarbonate for a better absorption of the paraffin, and we introduce it in the tray, wash and dry the hands and nails, in such a way that we apply the liquid paraffin and it is absorbed quickly and with a better result.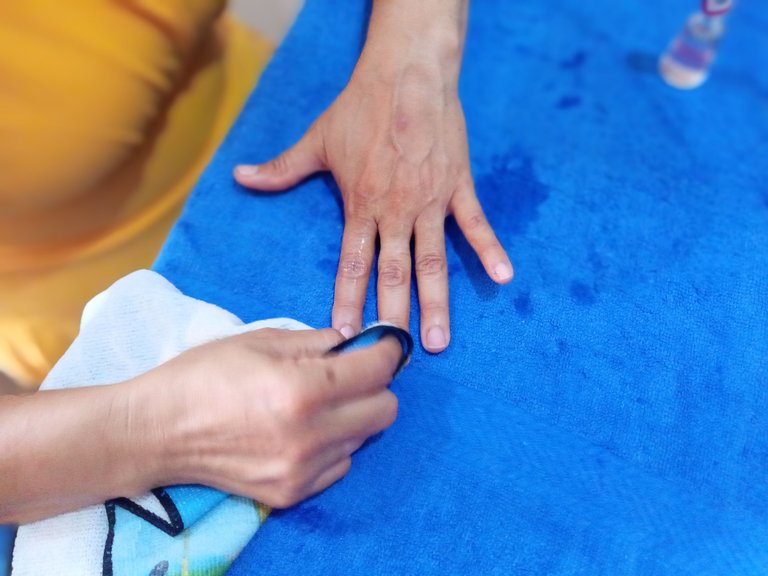 Imagen de mi autoria / Image of my authorship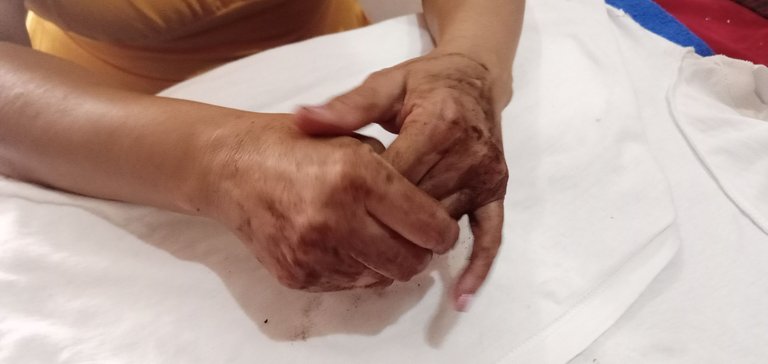 Imagen de mi autoria / Image of my authorship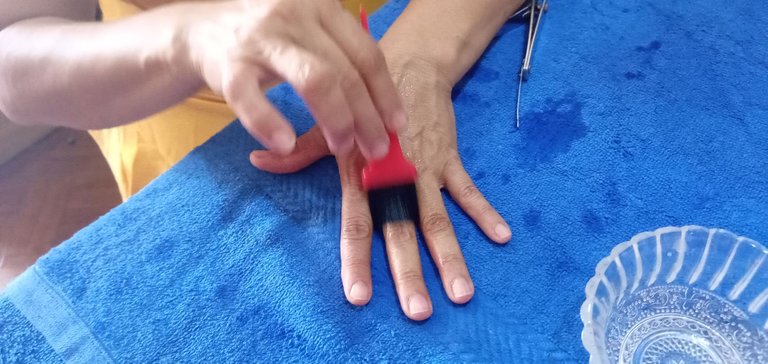 Imagen de mi autoria / Image of my authorship
Una vez aplicada nuestra parafina, lo recomendable es colocar guantes plásticos o envolver en envoplast para así darle calor y activar la misma, dejada un mínimo de 3 minutos debemos envolverlos en un pañito cada mano, ahí si el tiempo que veas que la parafina penetro en la piel.
Once applied our paraffin, it is advisable to place plastic gloves or wrap in envoplast to give heat and activate the same, left a minimum of 3 minutes we must wrap them in a handkerchief each hand, there if the time you see that the paraffin penetro in the skin.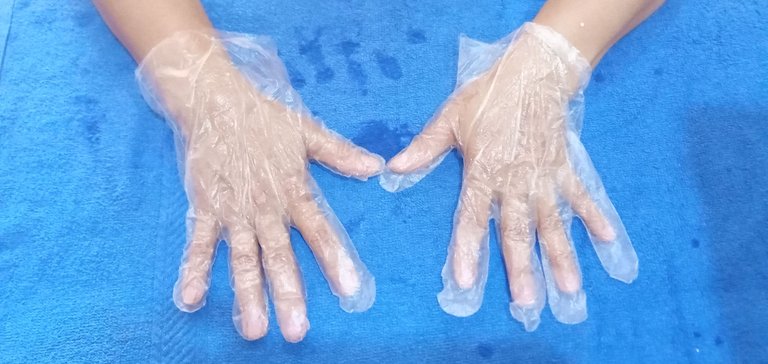 Imagen de mi autoria / Image of my authorship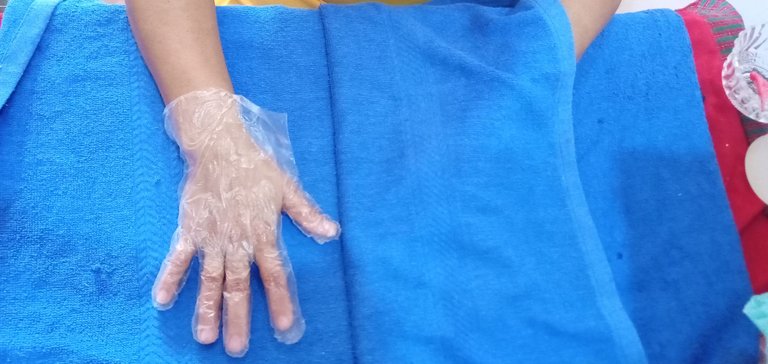 Imagen de mi autoria / Image of my authorship
Una vez terminada de aplicar la parafina debemos limpiar la superficie de arriba de las una con un pañito para un mejor agarre de los esmaltes y decoración,
Once we have finished applying the paraffin, we should clean the top surface of the wax with a cloth for a better grip of the enamels and decoration,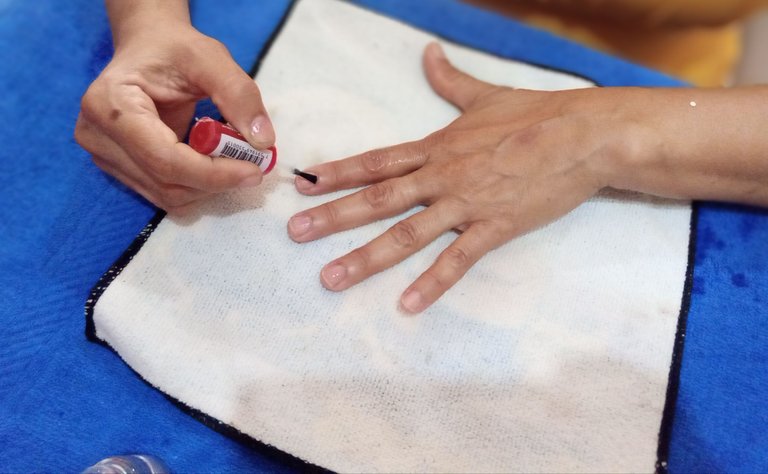 Imagen de mi autoria / Image of my authorship
También es recomendable usar de base brillo o hidratante para que las uñas no se manchen,
It is also advisable to use a base coat of gloss or moisturiser to prevent the nails from staining,