In der vergangenen Woche habe ich mir immer wieder Zeit genommen um im Internet nach Gewinnspielen zu suchen und mit zu machen.
Tatsächlich ist der Punkt Zeit wichtig, denn es braucht sehr viel Zeit um 100 Gewinnspiele zu finden und daran teilzunehmen.
Da mir wichtig war das alle einen Einsendeschluss im August haben ist die Suche natürlich immer schwieriger geworden. Die letzten 15 Gewinnspiele die ich gemacht habe haben wahrscheinlich fast so lange gedauert wie die ersten 85.
Find the English Version below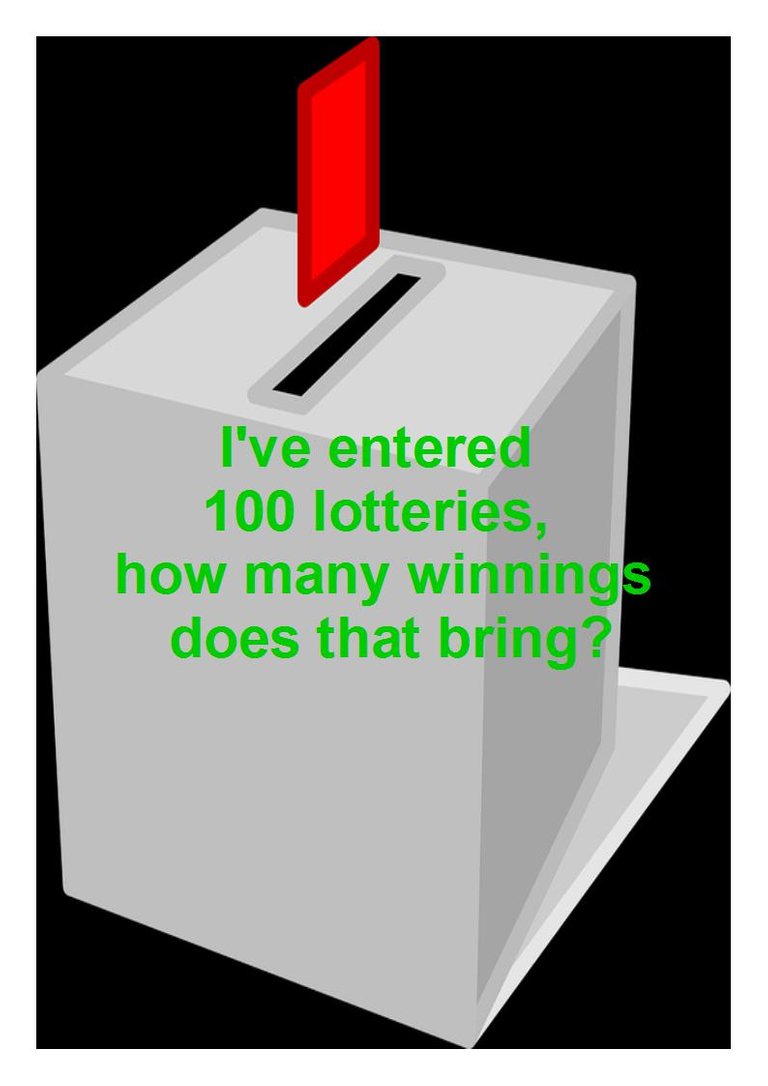 Quelle
Bei der Auswahl der Gewinnspiele habe ich durchaus nicht jedem Gewinnspiel Vertrauen geschenkt. Darum sind größtenteils recht bekannte Markennamen darunter.
Von Hugendubel bis Rossmann oder Kaufland bis Bahn und Eichbaum gibt es eine breite Auswahl an Firmen die Preisausschreiben anbieten.
Ich habe auch nicht davor zurück geschreckt Schminck und Beautysets zu gewinnen.

Wenn ich die möglichen Gewinne sehe sind durchaus praktische Sachen dabei, aber ich muss auch zugeben das es viel gibt das ich nicht brauchen werde. An dieser Stelle möchte ich aber klarstellen falls es zu solchen Gewinnen kommen sollte werde ich allem einen sinnvollen Zweck zukommen lassen.
Im Zweifelsfall werde ich es unter Steemians vergewinnspielen.
Um es nur ganz kurz anzureisen es gibt z.B. Wertgutscheine, Fahrräder, Reisen, Hotelübernachtungen, Grills, elektr. Zahnbürsten oder Schneebesen und Strandkörbe zu gewinnen.
Es ist noch wichtig anzumerken das es bei den meisten Gewinnspielen mehr als nur ein Gewinner gibt. So verlost Real z.B. 222 Plüschkissen, die Chance etwas zu gewinnen im kleinen Rahmen ist dann doch gegeben.

Alle Teilnahmen habe ich dokumentiert um nachvollziehen zu könne wo ich mitgemacht habe. Eine Extra e-mail Adresse habe ich dafür angelegt da man wohl davon ausgehen kann das dieser Account mit Werbung nicht zu knapper Art bedient wird. In vielen Fällen musste man einen Newsletter abonnieren, zustimmen das Ditte dich mit Werbung vollkacken usw.
Manchmal musste man kleine Spiele wie Memory oder Minesweeper machen um mit zu spielen, oft gibt es Preisfragen die manchmal sehr einfach teils aber auch schwer zu beantworten bzw. die Antwort schwer zu finden ist.
Im großen Ganzen hat es Spaß gemacht, meine Hoffnungen etwas zu gewinnen sind allerdings eher mäßig, auch wenn es wirklich viele Gewinnspiele waren. Meine Erfahrung sagt mir das es ein großer Zufall ist bei so etwas zu gewinnen.
Ich werde eine @dpoll Umfrage starten wie viele Gewinne ich einfahren werde.
Hier wird der Link zur Umfrage erscheinen wenn er gepostet ist!
https://dpoll.xyz/detail/@siphon/ive-entered-100-lotteries-how-many-winnings-will-i-have-dpoll-survey/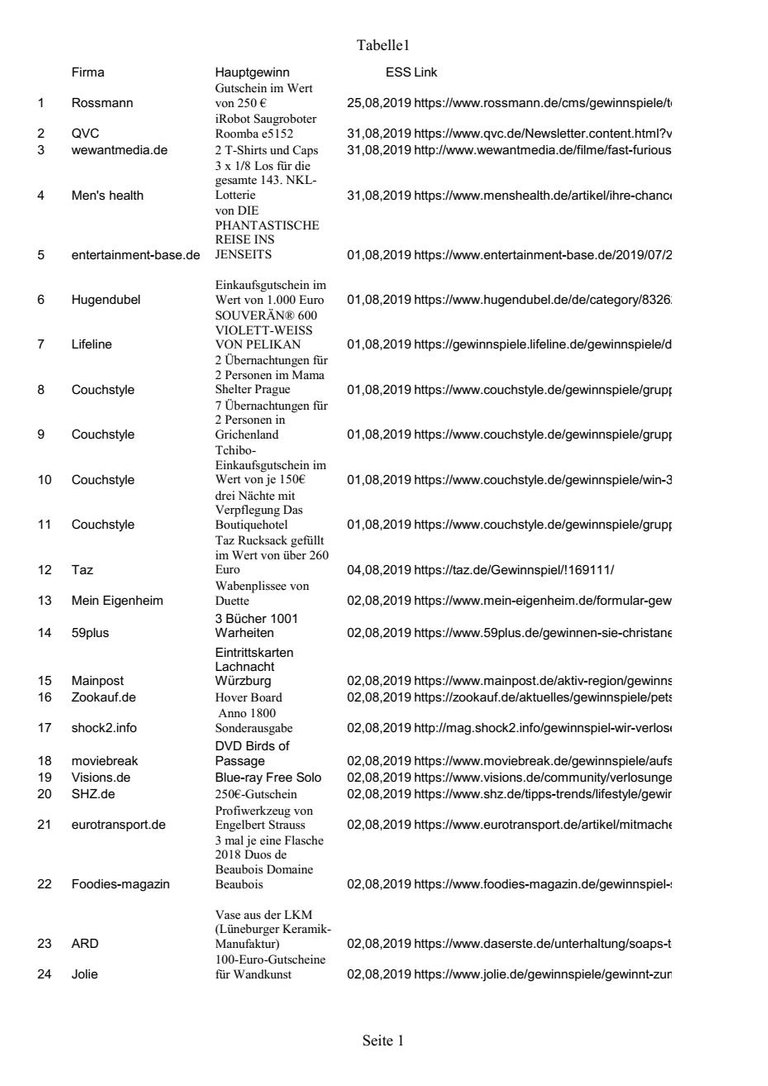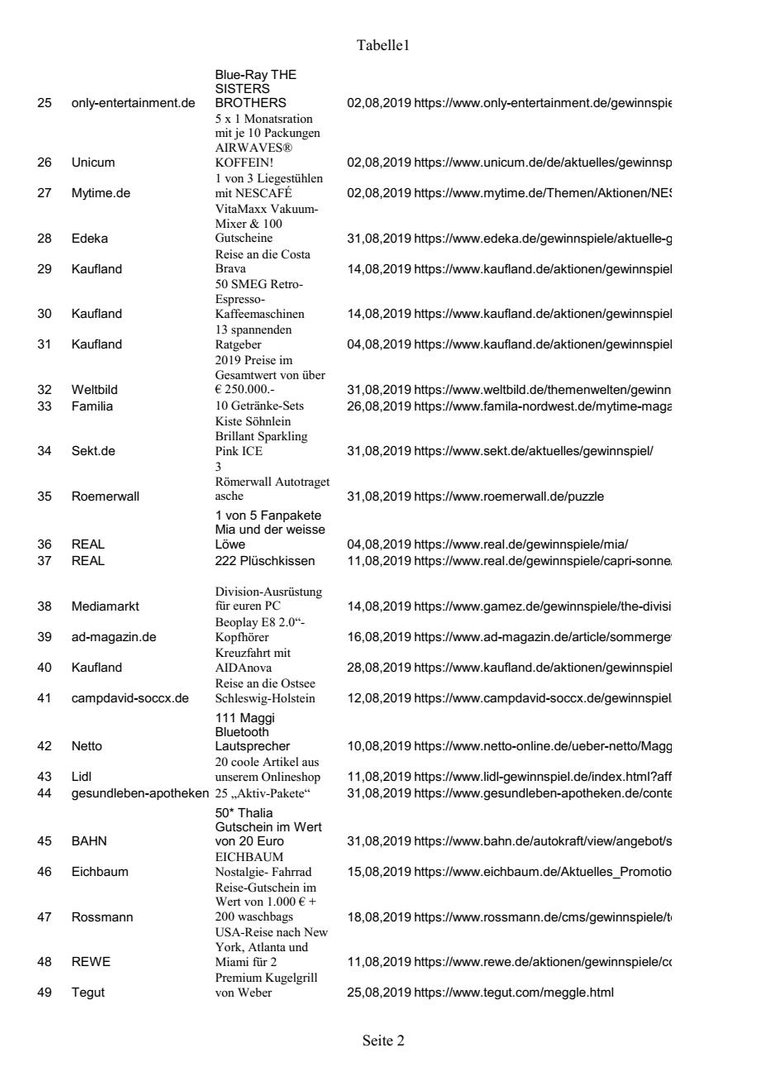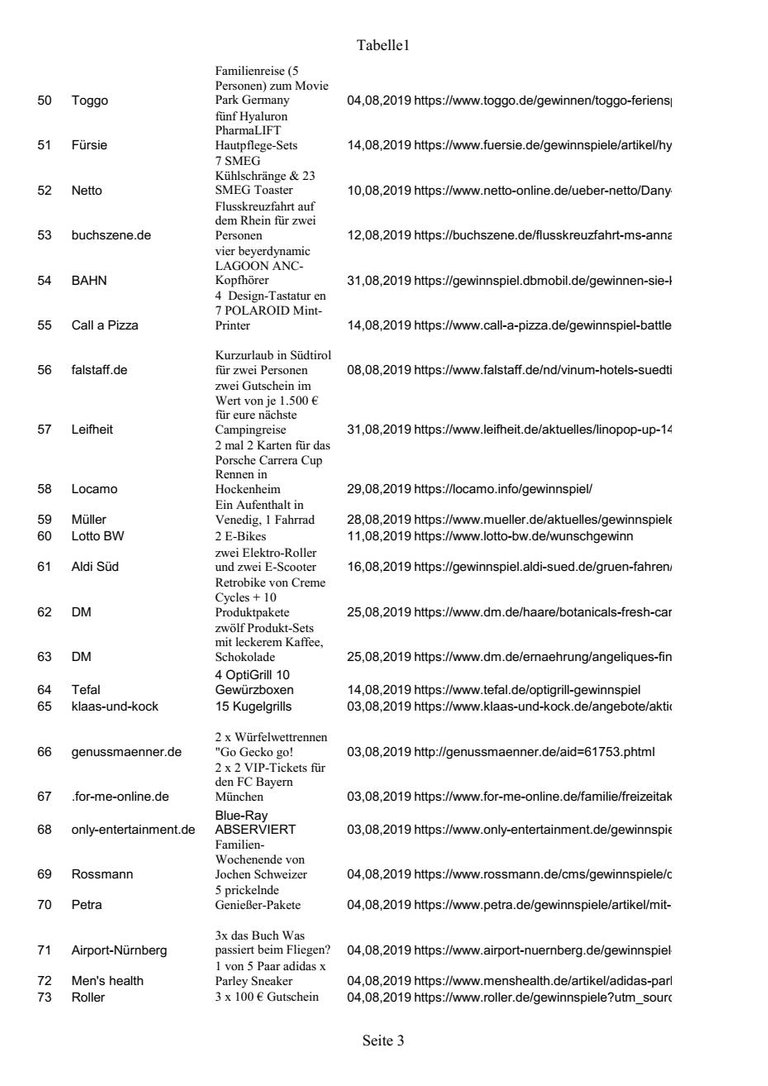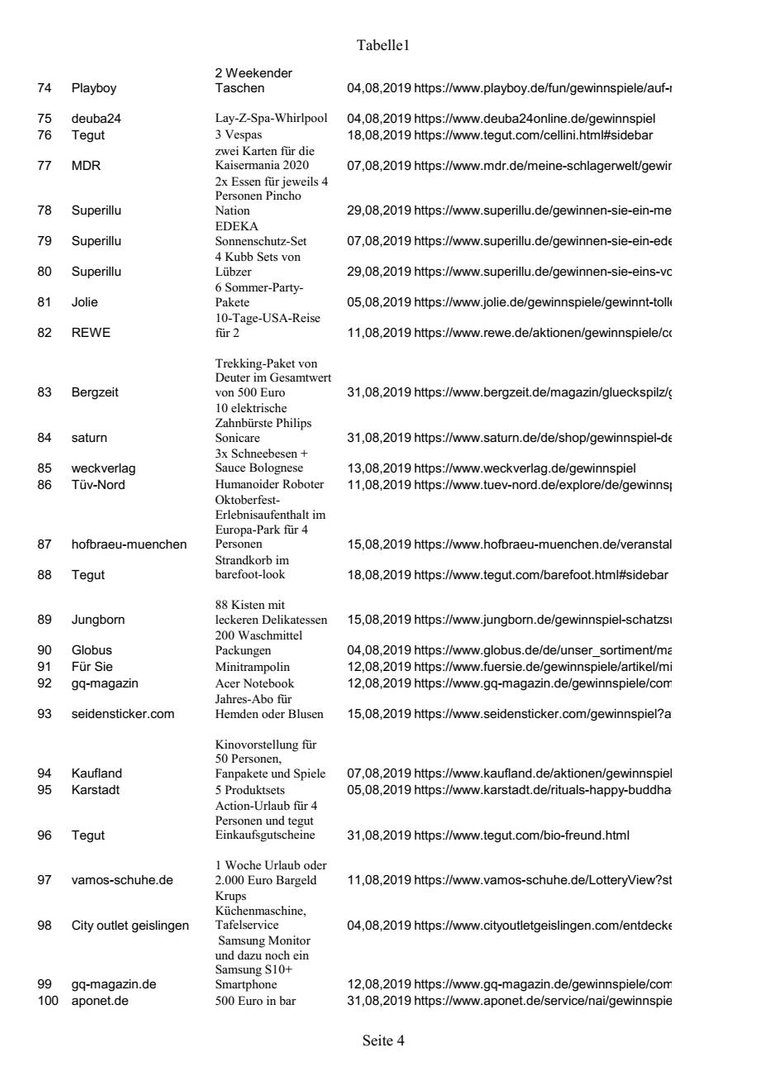 In the past week I have taken myself again and again time for raffles to search and to participate.
In fact, the point time is important, because it takes a lot of time to find 100 lotteries and participate in them.
Since it was important to me that everyone had an entry deadline in August, the search has of course become more and more difficult. The last 15 raffles I made probably lasted almost as long as the first 85.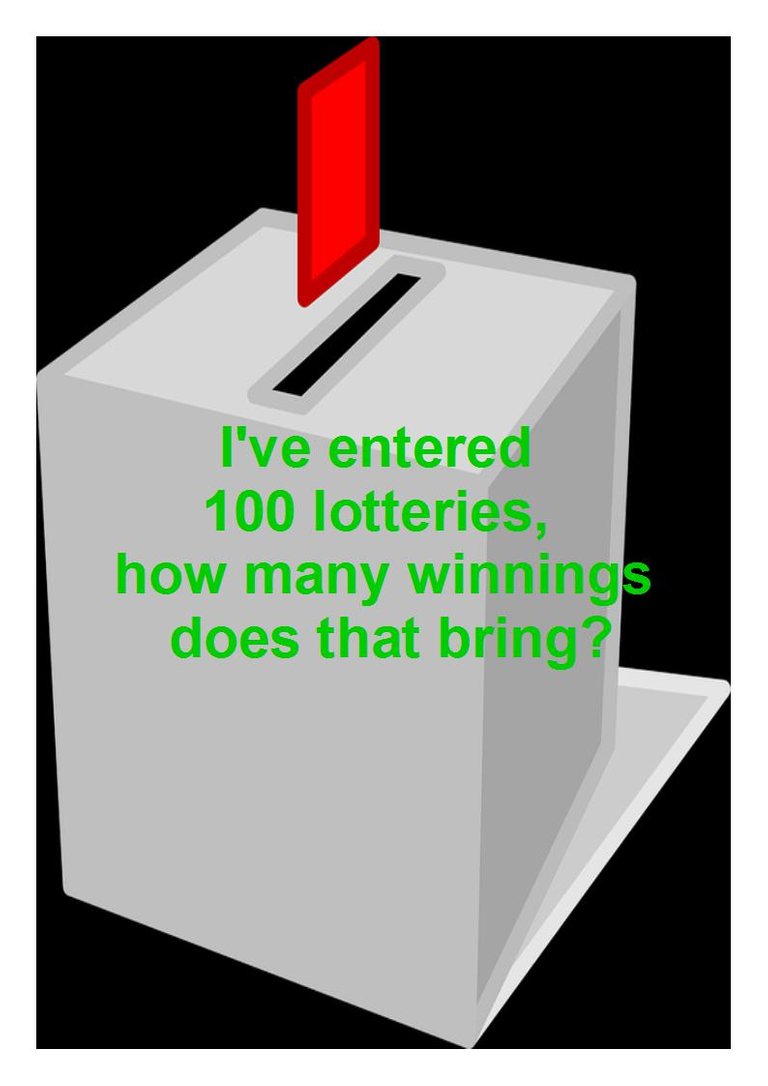 source
When selecting the lotteries I did not trust every lottery at all. That's why most of them are quite well-known brand names in Germany.
From Hugendubel to Rossmann or Kaufland to Bahn and Eichbaum, there is a wide selection of companies offering lottery contests.
I was not afraid to win make-up and beauty sets.

When I see the possible prizes there are practical things, but I have to admit that there is a lot that I will not need. At this point I would like to clarify however if it should come to such gains I will give everything a meaningful purpose.
In case of doubt I will raffle it under Steemians.
To address it only very briefly there are e.g. vouchers, bicycles, journeys, hotel overnight stays, grills, electric toothbrushes or whisks and beach chairs to win.
It is also important to note that most competitions have more than one winner. So Real e.g. raffles 222 soft pillows, the chance to win is given.

I documented all participations in order to be able to understand where I entered. I have created an extra e-mail address for it because you can probably assume that this account will receive quite a lot publicity. In many cases you had to subscribe to a newsletter, agree that third parties send you advertisements, etc.
Sometimes you had to make small games such as Memory or Minesweeper, often there are questions, sometimes very simple but sometimes difficult to answer or the answer is hard to find.
All in all it was fun, but my hopes to win something are rather moderate, even though there were a lot of lotteries. My experience tells me it's a big coincidence to win something.
I will start an @dpoll survey on how many prizes I will win.
Link to the poll will appear here when posted!
https://dpoll.xyz/detail/@siphon/ive-entered-100-lotteries-how-many-winnings-will-i-have-dpoll-survey/
Thanks to @pacolimited for this nice banner!