---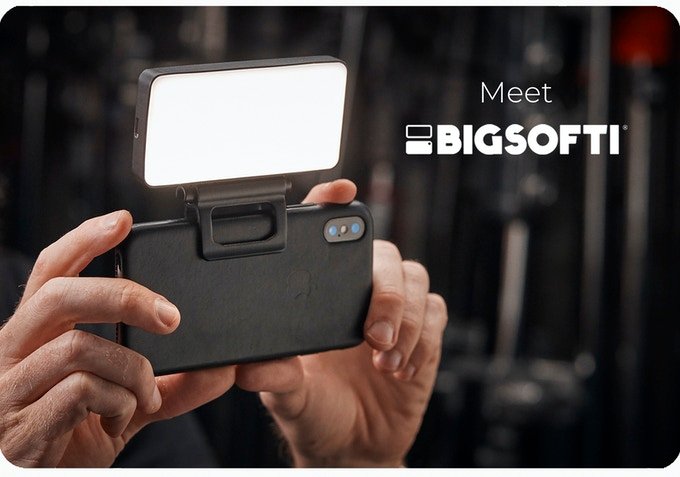 ---
I clicked
The other day, browsing on IG and I came across one of the ads. I normally just scroll down and don't care but this.. this caught my attention.. not just spends a few seconds paying attention to it but I ended up clicking on the link.
BIGSOFTI
This project is funded after 45 mins after released on Kickstarter!
That's the name of the product. It's pretty much a pocket version of a professional studio light that will give you great lighting with a soft shadow. I love the idea of how tiny and light-weight it is that you can fit it in your pocket and bring it around everywhere. As an itchy-feet content creator, I feel like this is something I want to get.
One more cool thing is there universal clip that you can slide it in and attach it easily with the BIGSOFTI. Then, you can clip it on all devices like, phone, tablet, laptop or a notebook. Whatever you feel like.
I'm telling you.. It's one cool equipment!
Why am I telling you this?
A lot of you here on Hive, I'm sure you're a big content creator yourself and as mentioned, best lighting for the best photos and videos.
The project was so successful that they have set a stretched goal. They were looking to fund just $12,590 but now, $391,627 has been reached. Whattt!?
So, they came up with this idea of funding even more then all the BIGSOFTI will be upgraded with bigger battery..
If the campaign can hit $550K AUD, we can upgrade every BIGSOFTI from a 1000mAh battery to a 1200mAh battery. Already reached this stretched goal.
so now..
If the campaign can hit $650K AUD, we can upgrade every BIGSOFTI from a 1200mAh battery to a 1500mAh battery.
I'm truly excited!
Fingers crossed on the creator getting more pledges and us backers higher batt capacity.
I have backed this campaign for $70 for one full set of BIGSOFTI with EARLY BIRD DEAL 30% OFF Includes 1 x BIGSOFTI Lighting Module with 3 x Accessories (Universal Clip, Camera Shoe with 1/4"-20 & 3M Adhesive Mount).
I'm happy to see one stretched goal has been reached so that means the light will last 1.2x longer. Now, I'm hoping for the 1.5x battery life..
Somehow, I just fell in love with the project and really hope it would go big! Proud to be one of the backers and hope some of you here will become ones as well. Check out the project guys..
This is a great invention to step up our content creating game!!
♡ Get $55 TRAVEL CREDIT
♡ EARN CRYPTO while browsing
---
All copy and photos are original content by me.

TO SUPPORT WITH LOVE ♡ PLEASE SUBSCRIBE!!! TO MY SUPER DUPER FOOD CHANNEL AND ASMR CHANNEL