Good evening, fellow HIVE users as well as dear readers outside of HIVE! For today's fourth special post here on my HIVE blog, I decided to share my May 2022 Youtube creator statistics. I've been less active on Youtube lately, but I still manage to attract a little bit of attention on behalf of several new visitors/watchers/users.
Therefore, that being said and without any further needless ado on my behalf, I wholeheartedly decided to share a snapshot of my Youtube creator statistics for May 2022.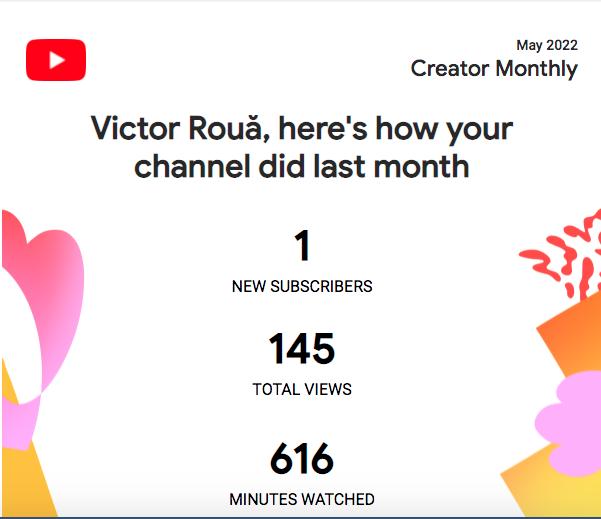 My monthly Youtube creator statistics. Image source: personal screenshot from my e-mail
I truly hope you liked the statistics above. Thank you very much for stopping by, for your precious time, and for reading this post here on my HIVE blog. All the best and God bless you!
Many blessings your way, all the best once again, much health, take care, stay safe, and, just as in the words of Ringo Starr, peace and love your way! Great peace and a lot of love your way, I might add! Have an excellent and most peaceful day along with your close/dear ones! Namaste and great peace your way once again! 😊🙏✌️☮️
Also, please don't forget to keep praying for Ukraine and its people! Much love, blessings, and peace to Ukraine and the Ukrainians as well! May the war stop very soon! 💛💙🇺🇦
P.S.: Thank you very much for all your support, readership, attention, precious time, appreciation, re-blogging, and feedback here on HIVE. 😊
Stay blessed, loved, well, and safe along with your family and friends! Cheers and please stay tuned for more amazing content on my HIVE blog! 😊