Good evening, fellow liberal arts students on Coursera, HIVE users, and dear readers from both HIVE and outside of it! For today's special life-based post here on my HIVE blog, I will be discussing my latest academic endeavours on the Coursera e-learning platform.
In preparation for completing my studies on digital media, I have decided to also make an extra step forward and add another noteworthy certificate in my 'academic arsenal', so to put it, which is going to be represented by 'Digital Transformation', as offered by Dartmouth Engineering/Dartmouth College from the U.S.
That being said, before attending the course proper on Coursera next year in 2022, I will be attending my very first online academic webinar (at a very serious, prestigious international level) on November 22, a decision which I am proud of and an experience which I will certainly benefit from and never forget! :)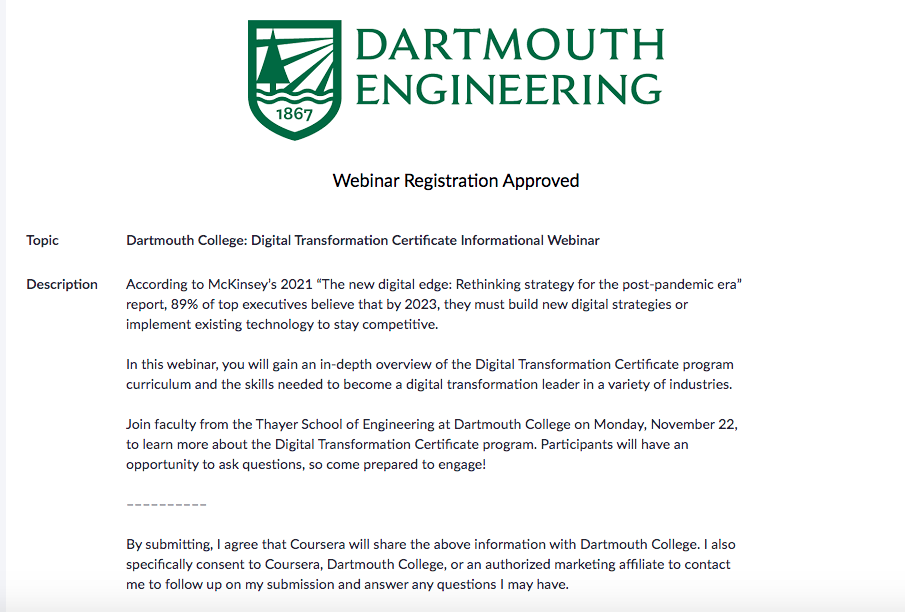 The proof that I will be attending a webinar on digital transformation by Dartmouth Engineering quite soon this month, more specifically on November 22. It is a great honour for me to do so, given the fact that Dartmouth College is one of the oldest institutions of higher education from the United States (more specifically the 9th overall oldest institution of higher education) and a prestigious liberal arts college on the East Coast dating to 1769.
P.S.: Thank you very much for all your support, readership, appreciation, re-blogging, and feedback here on HIVE. :)
Stay blessed, loved, well, and safe along with your close ones! Cheers and please stay tuned for more amazing content on my HIVE blog! :)