I finally managed to find the time to set myself up an ickle device-charging station yesterday...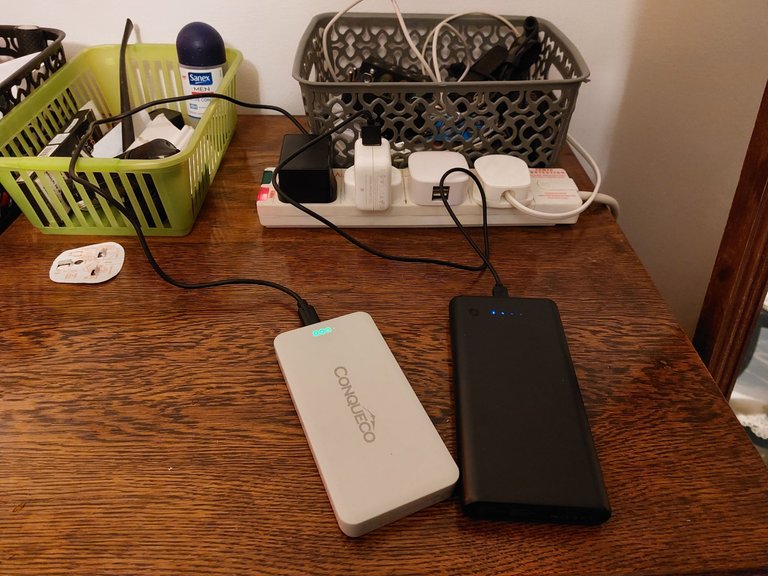 It's an extremely simple affair, consisting of just one four way extension lead, three sockets of which are available for device charging purposes.
I've opted to put in...
One fast charger - I've actually got three of these - which fit my main phone and two of my charging bricks with came with my heated body warmers.
One single USB plug charger - which I've plugged an old micro USB charger into - I need this for just about everything other than the stuff above - old phone, headphones (when I find them, currently lost!), two main charging bricks and a few other bits.
One double USB plug charger - I'll plug one of those three way extensions into this, the type you can get from Poundland for, ironically (?) £1.50.
I'm not too fussed about fast charging - I really have no need of it TBH, but what I am enjoying about this set up is the simple fact that it's at waist height.
Believe it or not up until now I'd been charging my devices just straight from whatever wall socket or extension socket was near or on floor level, and all that bending down and fiddling around (oooh eer missus) has been doing my head in if I'm honest.
Even after just one day I'm loving this new set up - everything in one place, batteries, bricks and spare cables in a nice neat tub behind the 'charging array' - NICE!
I mean OK it could be even more functional and aesthetic but TBH this does everything I need it to - functional comfortable charging and enough ports for me and a friend or two!