Hey Quantum-J's
Each day since the day we were born we've made certain choices that have lead us to today and will continue to do so until one choice has us ending up dead. Life is a game of Minesweeper in a sense but we do not give it much thought.
We concentrate so much on the physical world/3 dimensional world and all its distractions that we never stop to think if there is something beyond this, bigger than what we're mindlessly and aimlessly doing each day.
Let's face it as special as we claim our lives to be, a lot of it is rudimentary repetitive tasks with a few elements of life-defining choices that we make in between.
What is Quantum Immortality?
Quantum immortality is an idea that claims that the consciousness stays alive even though the conscious being dies. It relies on the many-worlds interpretation being correct. - Source: simple.wikipedia.org
How this would play out would be if someone shoots a victim, that victim survives in an alternate universe by being injured but living, or by the gun not going off. The person continues to survive in alternative universes where the decision or life event happened differently since all possibilities are played out.
This brings to the many-worlds concept into view and how there can be infinite worlds because each choice provides an alternative linear line that runs concurrently with the already established ones.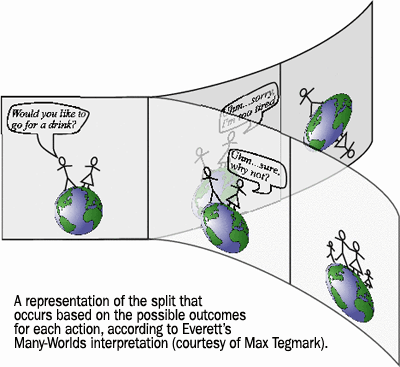 Image source: - science.howstuffworks.com
Would you want to view your quantum life?
So if we had some sort of AI that runs on some sort of quantum spectrum and it would allow you to either run the simulation or view the direct many worlds. Would you want to know how it all ended up?
How would your life have changed if you made the alternative decision? What would that decision have been? Seeing that play out could bring you closure or it could harness regret. Would you be willing to take that chance? Or do you find peace and contentment in having one linear path you've chosen to follow? That you have control over and you push it towards its eventual ending.
What do you think? Hit me up in the comments.
Image source: - lesswrong.com
Joe "Can't stop getting his mind blown" Rogan
If you want to know more about the subject check out this podcast that really took me down the rabbit hole.
Let's connect
If you liked this post sprinkle it with an upvote or resteem and if you don't already, consider following me @chekohler


---
| Buy & sell STEEM | Donate LikeCoin For Free | Earn Interest On Crypto |
| --- | --- | --- |
| | | |