Das Liberale Institut aus Zürich hat ein neues Paper veröffentlicht, geschrieben von Thorsten Polleit (deutscher Ökonom; Chefökonom Degussa Goldhandel, Partner der Polleit & Riechert Investment Management LLP, Präsident/Gründer des Ludwig von Mises Institut Deutschland; Honorarprofessor Universität Bayreuth; http://thorsten-polleit.com/):
https://www.libinst.ch/publikationen/LI-Paper-Polleit-Kritischer-Rationalismus-Volkswirtschaftslehre.pdf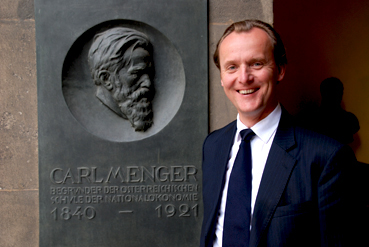 Zusammenfassung
Die moderne Volkswirtschaftslehre folgt einer wissenschaftlichen Methode, die in der Naturwissenschaft erfolgreich angewendet wird, und die weitgehend den Vorgaben des Kritischen Rationalismus (oder auch: Falsifikationismus) folgt, wie er insbesondere von Karl R. Popper formuliert wurde.
Die naturwissenschaftliche Methode lässt sich jedoch in den Volkswirtschaftslehre nicht sinnvoll anwenden. In den Naturwissenschaften lassen sich Experimente wiederholt und unter kontrollierten Bedingungen durchführen. Man verändert einen Erklärungsfaktor bei Konstanz aller anderen und erkundet, welcher Effekt auf das Untersuchungsergebnis resultiert. Das Untersuchungsobjekt der Wirtschaftswissenschaft sind jedoch handelnde Menschen, die sich durch Lernfähigkeit auszeichnen. Hier lassen sich keine gleichartigen Beobachtungssätze wie in Laborversuchen gewinnen, und folglich lässt sich auch die Richtigkeit oder Falschheit von ökonomischen Theorien nicht auf empirischem Wege ergründen.
Der Kritische Rationalismus leidet zudem an einer Reihe von inneren Widersprüchen. Zum Beispiel kann er seine zentralen Aussagen «Wissen kann nur aus der Erfahrung stammen, und die Erfahrung ist Überprüfungsinstanz für hypothetisches Wissen» aus sich heraus gar nicht überzeugend darlegen. Vielmehr behauptet der Kritische Rationalismus etwas, was er verneint (nämlich, dass es ein-für-alle-Mal gültiges Wissen gibt).
Die Volkswirtschaftslehre ist keine Erfahrungswissenschaft, sie lässt sich widerspruchsfrei nur als logische, als apriorische Handlungswissenschaft konzeptualisieren – wie es beispielsweise der Ökonom Ludwig von Mises in seinen Arbeiten aufgezeigt hat. Danach kann die Wahrheit oder Falschheit ökonomischer Theorien durch strenges, widerspruchsfreies (handlungs-)logisches Denken gewonnen werden, nicht aber durch empirisches Testen.
Disclaimer: Der Text ist nicht von mir, sondern vom Liberalen Institut. Sobald das Liberale Institut (oder der Autor des Textes) einen Account bei Hive hat, sende ich die Rewards für diesen Post (grosszügig aufgerundet) zu dessen Account.
---
The Liberal Institute from Zurich has published a new paper, written by Thorsten Polleit (German economist; Chief Economist Degussa Goldhandel, Partner of Polleit & Riechert Investment Management LLP, President/Founder of Ludwig von Mises Institute Germany; Honorary Professor University of Bayreuth; http://thorsten-polleit.com/):
https://www.libinst.ch/publikationen/LI-Paper-Polleit-Kritischer-Rationalismus-Volkswirtschaftslehre.pdf
Summary in English:
Modern economics follows a scientific method that has been successfully applied in the natural sciences, largely following the guidelines of Critical Rationalism (or: Falsificationism), as formulated in particular by Karl R. Popper.
However, the scientific method cannot be applied meaningfully in economics. In the natural sciences, experiments can be conducted repeatedly and under controlled conditions. One explanatory factor is changed when all others remain constant and the effect on the result of the experiment is investigated. The object of investigation in economics, however, are acting people who are characterized by the ability to learn. Here, it is not possible to obtain observation sets similar to those obtained in laboratory experiments, and consequently the correctness or falsity of economic theories cannot be empirically established.
Critical rationalism also suffers from a number of internal contradictions. For example, it cannot convincingly explain its central statements that "knowledge can only come from experience, and experience is the reviewing authority for hypothetical knowledge". Rather, Critical Rationalism asserts something that it denies (namely, that there is once-for-all valid knowledge).
Economics is not an empirical science; it can only be conceptualized without contradiction as a logical, a priori action science - as, for example, the economist Ludwig von Mises has shown in his work. According to this, the truth or falsity of economic theories can be gained by strict, contradiction-free (action-)logical thinking, but not by empirical testing.
Disclaimer: This text was not written by me, but is from the Liberales Institut (a classical liberal think tank from Zurich). As soon as Liberales Institut (or the author of the text) has an account with Hive, I will send the rewards for this post (generously rounded up) to its account.