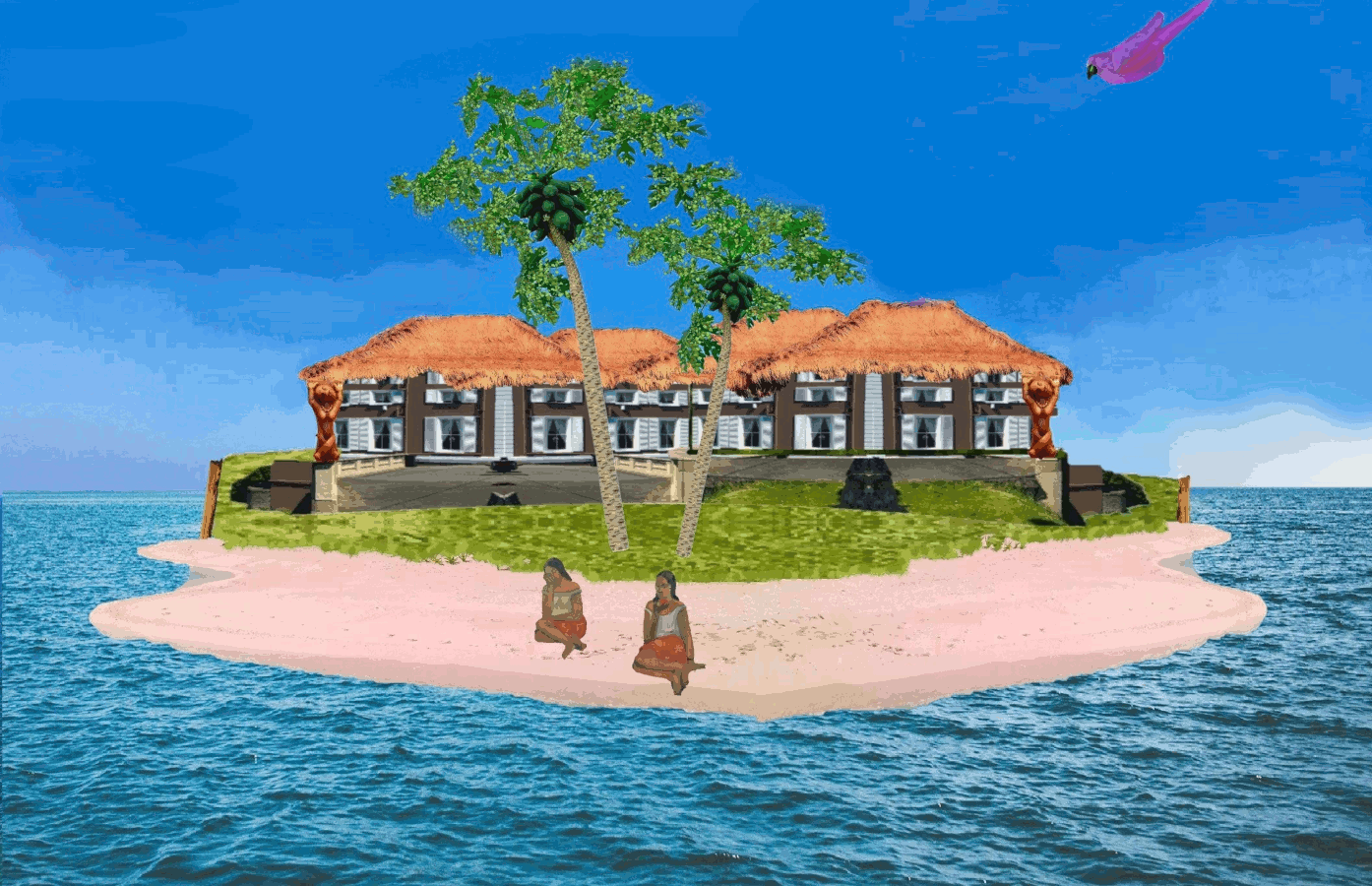 I fell asleep last night while watching a Youtube video on my iPad. When I woke the iPad was still on, and it was playing a video about Paul Gauguin. I knew at that point I would use something from Gauguin in my collage. The two women sitting on the beach in my collage are from Gauguin's painting Sacred Spring, Sweet Dreams (Nave nave moe).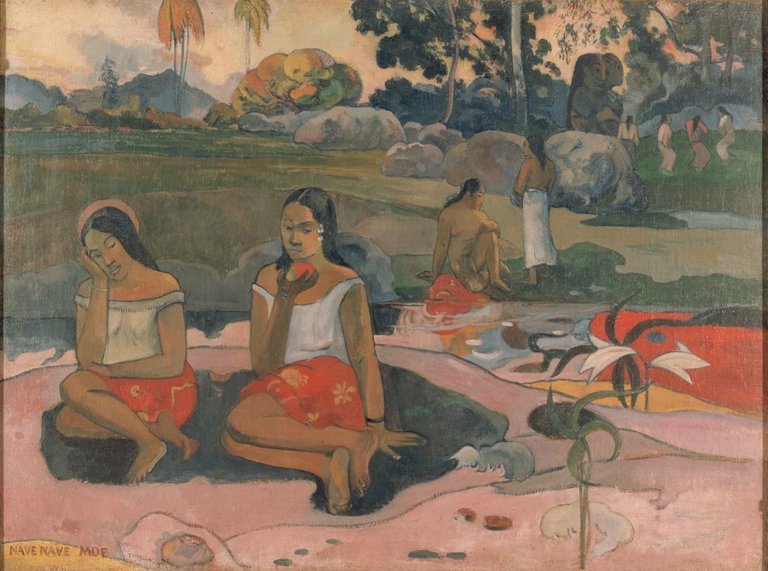 Image credit: Paul Gauguin, Hermitage Museum, Moscow. Public domain
I also knew I would want my blog to be about Pacific islands. I remembered reading about Vanuatu, the island that was sinking into the sea. But, it's not just Vanuatu that is sinking. Islands throughout the Pacific are evacuating people because the sea is claiming their homes.
Solomon Islands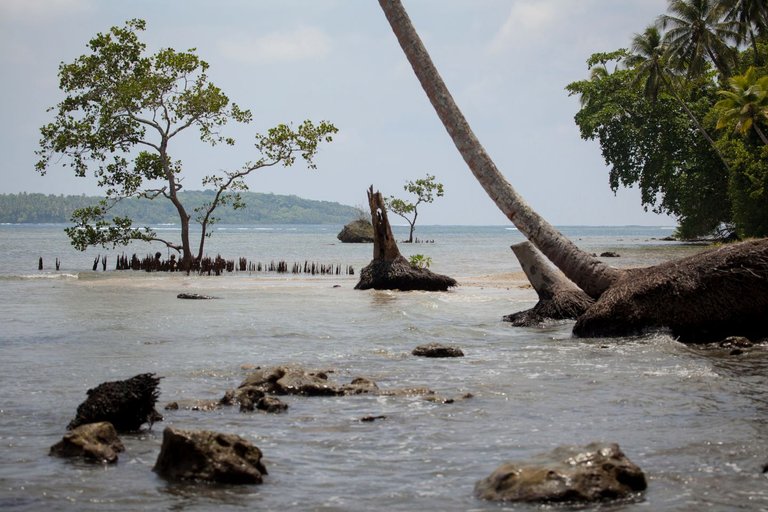 Image credit: Alex Deciccio. Used under CC 4.0 license. Caption reads: "...submerged shoreline with exposed rock and fallen or dead trees as the shoreline is swallowed by the sea at alarming rates." Nggatokae Island, Western Province, Solomon Islands.
A Case Study: Kiribati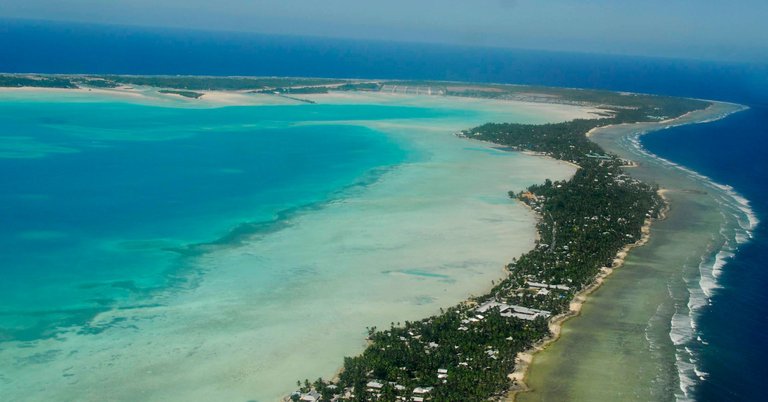 Image credit: Photo taken by Government of Kiribati employee in the course of their work. Used under CC 3.0 license. Caption reads:"South Tarawa is a narrow strip of land between the lagoon and the ocean".
Kirabati is an island nation made up of 32 atolls (although one site I consulted claims there are 33). South Tarawa is the capital of Kiribati, and its most populous island. The highest point on South Tarawa is just three meters about sea level. The president of Kiribati has negotiated with Fiji to buy land so that people may be evacuated there as land in his own nation becomes uninhabitable through flooding.
People from Kiribati explain their personal experience in this Youtube video:

The effort to buy land on higher grand echoes interest by another island nation, the Maldeves, to buy land on higher ground as its own territory is threatened with sinking into the sea. The Maldeves is considering buying land in Australia, Sri Lanka or India.
The potential loss of habitat is not the only danger suffered by Kiribati because of rising seas. Contaminated water and disease are other dangers that currently plague the island. The headline in a 2017 World Bank Article, Water Water Everywhere and Not a Drop to Drink, sums it up. As tides and storms flood the islands, fresh water is contaminated. Compounding this lack of fresh water is the periodic occurrence of drought, which dries up wells.
Kiribati-Bairiki-Betio Causeway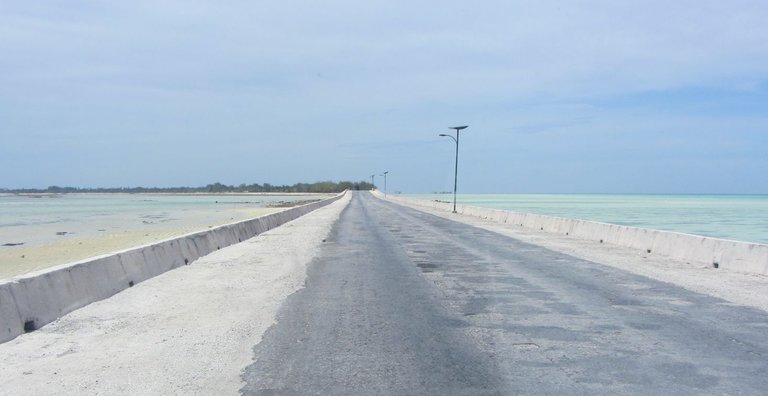 Image credit: Flexmaen. Used under a CC 4.0 license. This is the only road connecting the densely populated communities on South Tarawa, Betio and Bairiki. In 2015, the road was destroyed by flooding and had to be closed.
A 2016 report by the Borgen Project states: "Kiribati is stricken with a hefty mix of diseases that are communicable and non-communicable". Population density, poor sanitation and water borne diseases contribute to this high disease burden. Diarrhea, dysentery, conjunctivitis, rotavirus, giardia and fungal infections number among those that take a toll most severely on children under the age of five. The overall life expectancy in the communities is lower than in surrounding island nations.
A Kiribati Village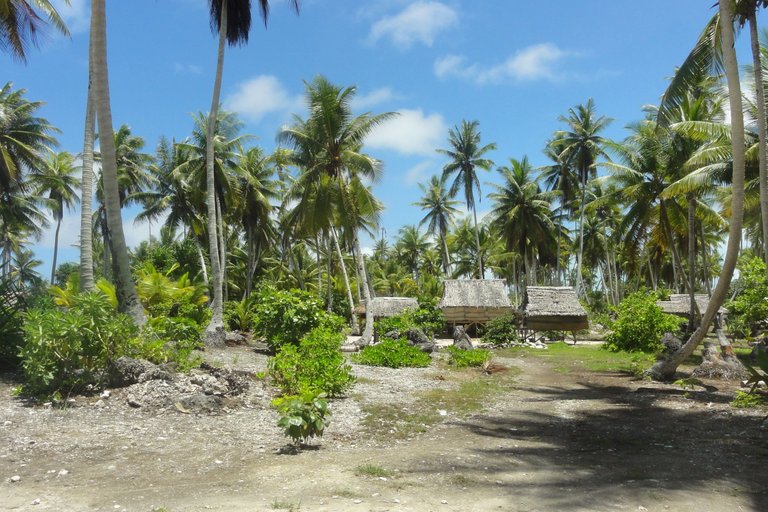 Image credit: Attribution: Erin Magee/DFAT. Used under a CC 2.0 license.
In addition to suffering from water borne diseases,the people of Kiribati suffer a high incidence of infectious diseases due to overcrowding. It is one of the few places in the world where leprosy is still a significant issue. Tuberculosis is rampant. Kiribati has the "highest incidence of Tuberculosis (TB) among its neighboring Pacific island countries..." This is directly related to population density.
Vostok Island, Kiribati, Uninhabited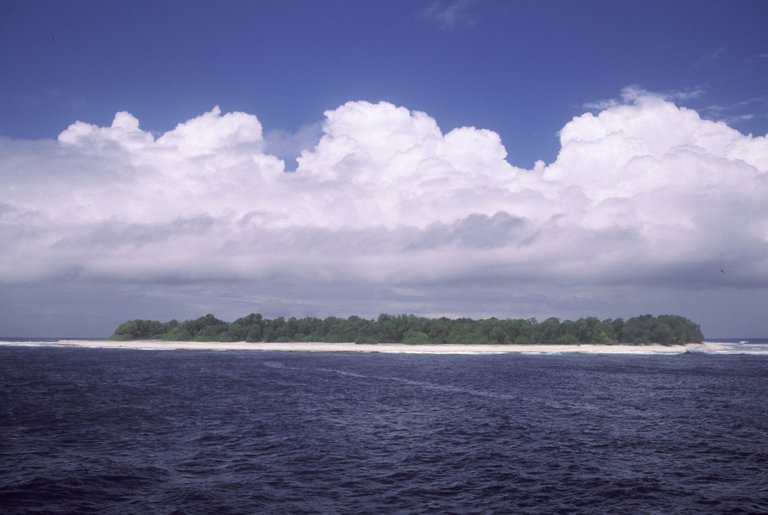 Image credit: Angela K. Kepler. Public domain.
My Collage
I started of course with @shaka's stunning photo: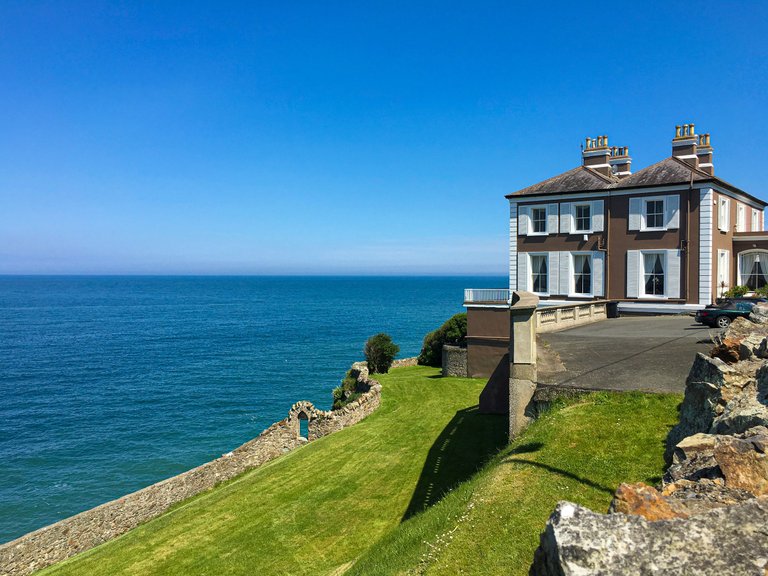 I knew I wanted to keep the overall sense of peace. I knew water would be everywhere. I wanted a bird, but could only find a black bird,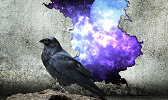 so I colored it in.
I found a beach walerkssk on Pixabay
A thatched roof coffee on Pixabay
The figures from Gauguin public domain, on Wikimedia commons
Ethnic statues public domain on Wikimedia Commons
Cliff enriquelopezgarre Pixabay
The Papaya tree, by Nanthapongs on Pixabay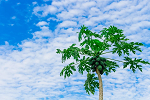 branches had to colored in a bit, and the trunk expanded
________________________
As always, I had fun. Thank you @shaka, for the opportunity and for doing the work it takes to make the LMAC community a viable, welcoming place.
The rules for LMAC may be found at @shaka's blog.
Our school, run by the inimitable @quantumg may be found here.
And our Discord Channel is open for community members to touch base.
Good luck, to everyone!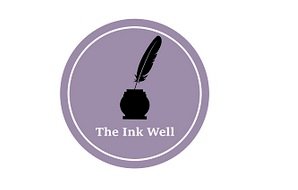 Thank you for reading my blog
Hive on