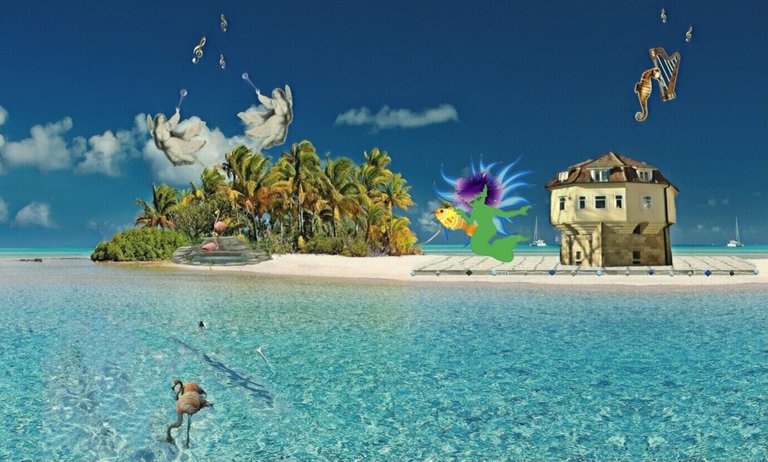 Is the music in my picture real? Is it a gift from on high? Is it a chimera? Does it exist only in a perceived universe and not in an objective reality? How does one distinguish between these states? It's not easy. For those who have visual or auditory hallucinations, there is often no way to distinguish the subjective reality from the objective reality experienced by others.



The most important job I ever had, besides raising my own children, was working with other children. Some of these were challenged in extraordinary ways. One I recall had auditory hallucinations. She heard sounds in the absence of external auditory stimulus.
This child was most remarkable. She had the sweetest temperament and never alluded to her distraction. But her face would cloud as she struggled to block out voices that were very real to her. Medicine helped, but it also clouded her thinking and placed a virtual wall between her and her physical environment.
There are many kinds of hallucination. The most common is auditory (as compared to visual, somatic/tactile, olfactory and gustatory). While my student heard voices, a small minority of auditory hallucinations are musical in nature. Hearing voices, and hearing music are phenomena which may have different origins.


A wide range of factors cause musical hallucination. According to the journal Brain, hallucinations have been linked to, among other things, "psychiatric and neurologic disease, brain lesions, drug effect, and hearing impairment". Determining an exact cause, however, in a specific case, can be challenging. Even in death, after an autopsy, confusion and disagreement about a diagnosis may remain. Note the examples of Robert Schumann and Bedřich Smetana, two preeminent nineteenth-century composers who are profiled below.
Both musicians suffered from dementia, and both experienced musical hallucinations.

Daguerreotype of Robert Schumann (1810-1856)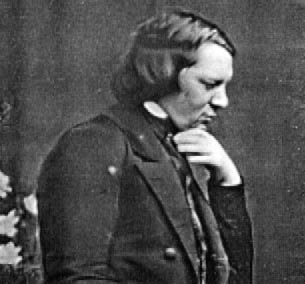 Public domain. Uploader, Nocturne at German Wikipedia
It has widely been reported that Robert Schumann suffered from syphilis, and that the disease eventually manifested as neurosyphilis. Only a small percentage of syphilis cases advance to this stage. When they do, the result can be dementia, paralysis and death. Schumann spent the last years of his life in an asylum.
Before Schumann's illness became incapacitating he experienced severe and unremitting tinnitus. This condition contributed to his musical hallucinations. He heard "...a musical pitch or an entire orchestra..." The music went on sometimes "...for days." Schumann incorporated these hallucinations into his Violin Concerto in D minor.
YouTube video of Schumann's Concerto in D Minor

Schumann continued to compose as his health deteriorated, until the last few months of his life.
In 1973, Schumann's long-standing syphilis diagnosis was turned on its head. His autopsy report was unearthed. According to this report, "findings...provide no compelling evidence for a resolved or on-going chronic inflammatory process." There was, though, a gelatinous mass observed at the base of his brain.
Robert and Clara Schumann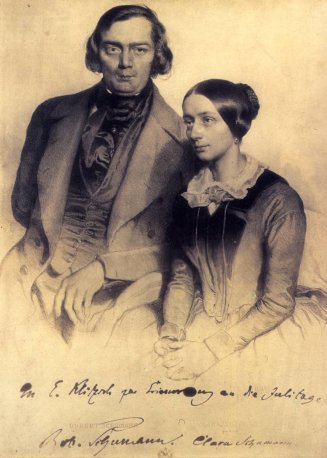 Image credit: Edward Kaiser, 1847. Public domain Schumann's wife, Clara, was an accomplished pianist. After Schumann was admitted to an asylum (voluntary), he feared he might hurt his wife. For the last two years of his life he did not see her, although just before he died his wife did visit.
Did the mass discovered at the base of Schumann's brain cause his dementia? Did Schumann suffer from bipolar disorder, and did this bring about hallucinations and dementia? No one can say for sure. What is certain is that in the last years of his life Schumann suffered from dementia. He hallucinated and believed ghosts were dictating music to him. He died of pneumonia, while still in the asylum, in July of 1856.

Bedřich (Frederic) Smetana (1824 –1884)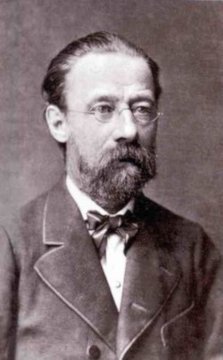 Image credit: Unknown. 1878. Public domain
Bedřich Smetana was a Czech composer who is widely credited with being the founder of the Czech school of music. Post mortem autopsy revealed he was also ill with syphilis, although there are those who challenge this diagnosis. Findings from the autopsy included: "atrophy of the cortex and acoustic nerves, changes accounting for his deafness and compatible with tertiary neurosyphilis"(From Hektoen International)
An article in Psychiatria Danubina reports that Smetana's earliest auditory hallucinations appeared when he was thirty-eight years old. He described hearing "a duet of male voices and a sound of an organ in the noise of a running train". At this early stage of his illness Smetana had insight into what happened. He realized he had not actually heard music.
Provisional Theater of Prague,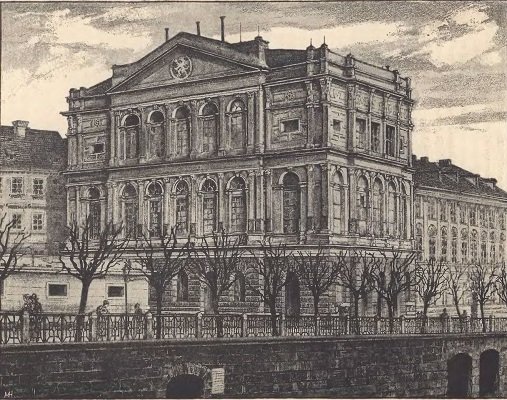 Image credit: Bohumil Roubal 1881. Public domain In 1866 Smetana was appointed Conductor at the theater.
In the summer of 1874, Smetana became deaf and had to give up his position as conductor of the Provisional Theater in Prague. However, he continued to compose. Between 1874 and 1879, he composed Má vlast ('My Fatherland')--a series of six symphonic poems which have been described as "a quintessential work of Czech musical culture".
A performance of Smetana's symphony, Moldau, at the Kennedy Center in Washington, D. C. (USA)

According to an article published in Psychiatria Danubina, despite Smetana's deafness in 1874, he "retained his auditory imagination and continued to compose".

My Collage
I began this blog with a fanciful collage, which was inspired by @shaka's lovely template picture for LMAC #71.
The template photo by @shaka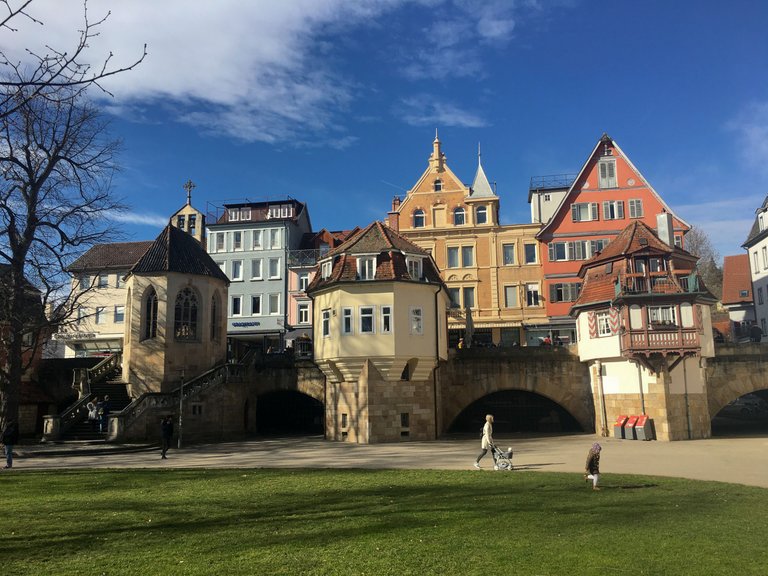 As I created the musical fantasy, my mind wandered to thoughts of my former student. I remembered how vividly she experienced her hallucinations. And so I began to read a bit about musical hallucinations. What amazes me is that after all this time, and all the suffering of countless people, there is still poor understanding of the phenomenon. More importantly, there is not yet a cure, or treatment that carries few side effects.

I would like to thank @tormenta (she will be a beneficiary on this post) for giving me the idea for my collage. I saw her seaside vacation home and decided to design my own.
I found (on Pixabay):
A Polynesian wonderland
Flamingos
Golden music notes
A harp
A colorful mermaid
On Wikimedia Commons I found a public domain
Wandering sprite
The rest of my elements came from Paint 3D. I used Paint 3D, Paint, Gimp, and Lunapic to manipulate the image.
Illustration in the blog not otherwise credited
Accent GIF
derived from Pixabay picture



Thank you, @shaka for all the work it takes to keep this community growing. Thank you, LMAC community, for the fellowship and inspiration. Readers of this blog can join in. The rules for participation may be found at @shaka's blog. You can stop in at the LMAC Discord channel to chat or ask questions. We have a school, with lessons created by talented @quantumg, to help you realize your collage vision. And please check out the other collages in this week's round. Amazing creativity, enthusiasm and skill on display.

Thank you for reading my blog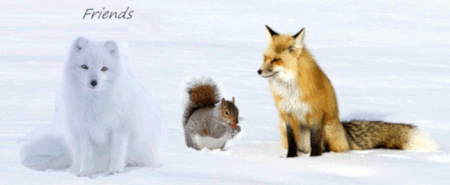 Hive on!