A sort of stablecoin known as a "gold-backed cryptocurrency" is one in which each token is backed by actual gold. Compared to Bitcoin or other altcoins, there is less price fluctuation because the token price is tied to the current price of gold.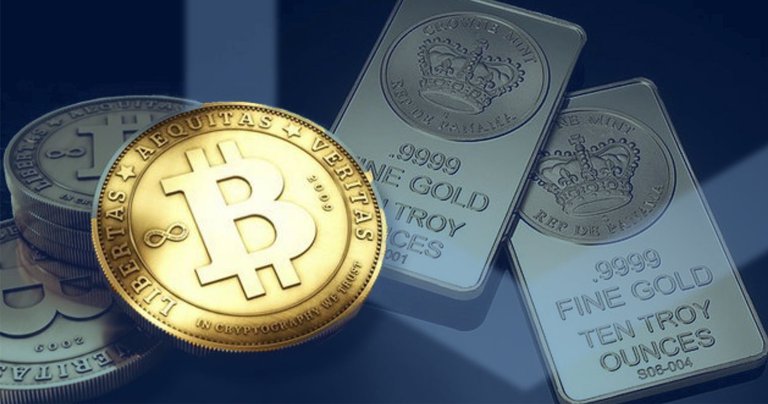 Tether (USDT) is the largest stablecoin (by market capitalization), with each Tether token theoretically being backed by one US dollar. Technically, any asset might be used to support a cryptocurrency, but after fiat money, gold is the most apparent option.
Crypto aficionados have referred to bitcoin as the new gold, and in 2017 the cost of one bitcoin equaled the price of one ounce of gold (by ounce in USD). Around this period, interest in the idea of cryptocurrency backed by gold increased. It's becoming commonplace to purchase gold online.
The ultimate resource on gold-backed cryptocurrency is this article. It includes both inactive and abandoned initiatives in addition to all active gold-backed cryptocurrency projects.
An overview of digital gold money history
Almost as old as the internet itself, the concept of a digital gold money as an alternative payment mechanism exists today. E-Gold, the first digital currency totally backed by gold, appeared in 1995, not long after the internet became widely used. Millions of users from all around the world were utilizing this service at its height before it was shut down.
There have been other attempts to create a digital gold standard, but those were made before Bitcoin. A new age of gold-backed digital currencies has evolved as a result of the widespread adoption of Bitcoin and the validation of blockchain technology as a secure accounting mechanism.
With a wide variety of gold-backed tokens available, the crypto industry is experiencing a metaphorical (and actual) gold rush. Even nations want to launch their own gold-based cryptocurrencies.
The fundamental idea is undoubtedly appealing. A token or coin that symbolizes the value of gold is released (for example 1 gram of gold equals 1 coin). A dependable custodian (ideally a third party) holds the gram of gold, which is exchangeable with other coin holders.
The cost of the coin will always be at least equal to the spot price of gold. The value of the coin could theoretically rise above the value of gold if cryptocurrencies gain popularity. If the cryptocurrency doesn't catch on, its value will always be equal to the price of one gram of gold. It resembles an integrated stop-loss.
Of course, there are risks as well. While the coins are tracked by the blockchain, tracking gold that has been physically held is a different issue. Consider who actually owns the gold and how it is stored when analyzing such tokens. Is there actual gold present, or is it more like a gold ETF that merely tracks gold prices?
In this regard, BullionVault, a partner in online gold trading, serves as a solid illustration of responsible gold storage. Make sure you own the gold before assessing a gold cryptocurrency. This article will show you how many coins have been interred at the crypto graveyard. The crypto developer cannot seize the gold if they go out of business if it is not legally their property.
Gold-backed cryptocurrencies
Here is a list of cryptocurrencies that are backed by gold.
AABB Gold
Asia Broadband, Inc. created the AABB Gold (AABBG) token, an ERC-20 token, on the Ethereum network. One AABBG token is equivalent to 0.1 grams of gold, and all tokens traded are fully collateralized by physical gold. Through the AABB Wallet available on the Google Play Store or Apple App Store, tokens can be traded.
Anthem Gold
A cryptocurrency called Anthem Gold was created by Anthem Vault Inc. One gram of real gold is used to back each ANTHEM (AGLD), which is safely vaulted by a nonbank operator and covered by comprehensive insurance. In April 2019, the AGLD token was introduced.
Aurus
The token AurusGOLD (AWG) is backed by gold. Each AWG token is fully backed by and exchangeable for 1 gram of 99.99% LBMA-accredited gold that is stored in vaults that have undergone audits and insurance. AWG's fees are allocated to AurusDeFi holders in proportion to 50%. (AWX).
The European Union regulates BlockNote, a cryptocurrency that is entirely backed by solid gold. Each BlockNote is worth 0.01g, and the client's individual gold deposit account is credited with them. Purchased through an LBMA member with a UK address, physical investment gold is vaulted and insured in Zurich, Switzerland.
BlockNote
BlockNote is powered by BlockBen, an internal blockchain platform. The platform serves as an infrastructure, a secure database, a blockchain, a digital wallet, and a means of validating transactions and smart contracts.
BlockStock
The technical cryptocurrency used by BlockBen, BlockStock, is in charge of validating each transaction that takes place on the site. Initial funding for BlockStock is 10% gold, with future expansion coming from transaction commission and charge fees on the BlockBen platform. The system deposits commission payments in gold into a pool that is shared evenly by all BlockStocks.
CACHE
One gram of gold is represented by one CACHE Gold token. Every token is backed by real gold that is safely kept in a vault. There are audits and insurance on all gold. By visiting the CACHE Explorer, anyone can at any moment see the gold behind the CACHE Gold tokens.
Cash Telex
A diverse pool of real assets is directly pegged to Cash Telex (CTLX coin) (gold, diamond, silver and real estate).
ComTech Gold
One CGO is equivalent to one gram of 100% allocated pure gold. completely controlled, redeemable, and backed. The XDC Network is the foundation for the ComTech Gold system.
DGLD
Each DGLD token denotes ownership of a fraction of an ounce of pure gold. Gold that has been certified by the London Bullion Market Association (LBMA) as London Good Delivery is distributed and stored in PAMP's Swiss vaults prior to the production of a new token. Then, DGLD is created and delivered to a wallet that is on the DGLD whitelist, representing that particular gold.
A group that included CoinShares, Blockchain, and MKS (Switzerland) SA formed DGLD.
Digital Gold
The GOLD token stablecoin is backed by actual gold bars kept in BullionStar's secure and auditable vault storage. A GOLD token is equivalent to one gram of actual gold. The coin is created and maintained by the DIGITAL GOLD LTD organization and is based on the Ethereum blockchain (ERC-20 standard).
Digix
One DGX equals one gram of gold. Blockchain technology ensures that every gold bar used to back DGX is always available for public verification. The Singapore and Canadian Digix vaults are accredited members of the Bullion Association and are completely insured.