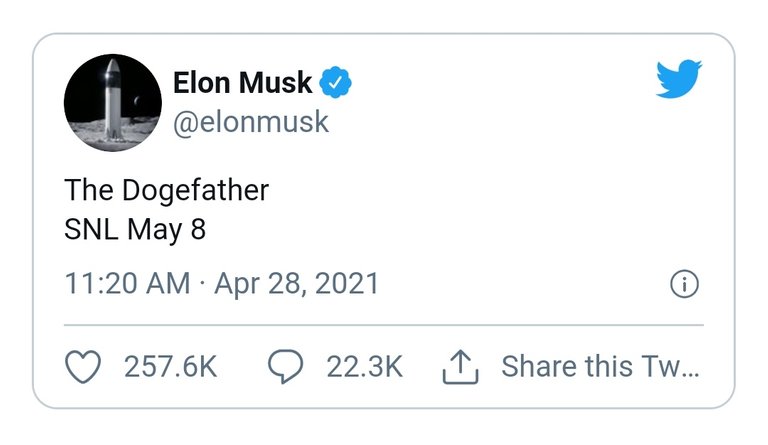 I see that a tweet from someone like Elon Musk can help in spiking the prices of a coin, of course I am talking of Dogecoin.
I think it's just a non sense to go invest in something which has only been mentioned in a tweet. Why not do your own research and convince yourself investing in something?
I am not against Dogecoin but it doesn't mean that if it's mentioned by a billionaire in his tweet then we should invest in it.
Crypto market is a huge market, you have plenty of other cryptos who are doing well, why not go study it and then take the decision of investing after a thorough research.
The best thing about Hive coin is that there ain't any risk involved in here, you just earn it by blogging, how fantastic is that. Not only Hive but other tokens like Leo, POB, Sports etc adding their tags.
You can login from these host websites, start publishing and earn your tokens.
Leofinance.io
Proofofbrain.io
https://ctptalk.com
https://sportstalksocial.com
https://stemgeeks.net
I mean we are lucky to have some good talent here who are providing a bundle of earning ways to the Hive community.
Kudos to the developers.
Thanks
Follow me @aftabkhan10.