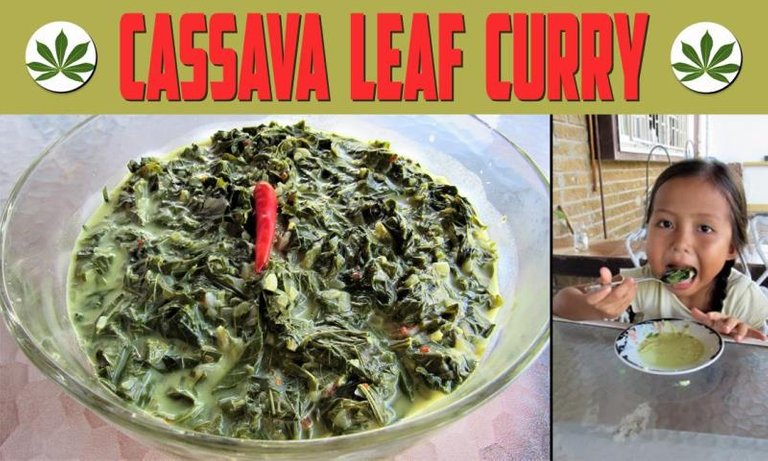 Another #Ital recipe for you all to enjoy, and a food most Rastas don't know is edible. Cassava leaves are poisonous if not prepared properly, and that is probably why they aren't yet a staple food around the world, especially here in the Caribbean. However, don't let this deter you, cassava leaves are really easy to cook, delicious and full of protein. If you live in a country where the locals consider cassava leaves inedible, then you can likely acquire them free of charge.
     In this post, I will share with you some interesting nutritional facts about cassava leaves, how to safely prepare them for consumption and a delicious Indonesian Cassava Leaf Curry recipe from our Ital restaurant in Cambodia.

🔬 A LITTLE SCIENCE 🧪

| ❶ |      The roots and leaves of poorly processed cassava plants contain a substance that, when eaten, can trigger the production of cyanide. Long-term low-level cyanide exposure can lead to the formation of goiters and/or tropical ataxic nerve neuropathy. Severe cyanide poisining can lead to konzo, and in some cases, death, especially within populations with a low-protein diet. REF |
| --- | --- |
| ❷ |      The cyanogenic compounds within cassava leaves can be reduced to harmless levels through various preparation methods, including boiling, pounding, washing, sun-drying and combinations of these methods. REF |
| ❸ |      Cassava leaves contain extremely high levels of crude protein (around 30% dry weight) compared to traditional vegetables, and dietary fiber is also very high. REF |

👨‍🌾 HOW TO HARVEST CASSAVA LEAVES ✂️

     We live in an apartment within our landlord's house here in Suriname, and there is quite a lot of space for gardening. I have been tending to some abandoned sweet cassava, and after some mulching, pruning and a little love, this little patch has been producing enough leaves for to feed our family of 4 once a week.
---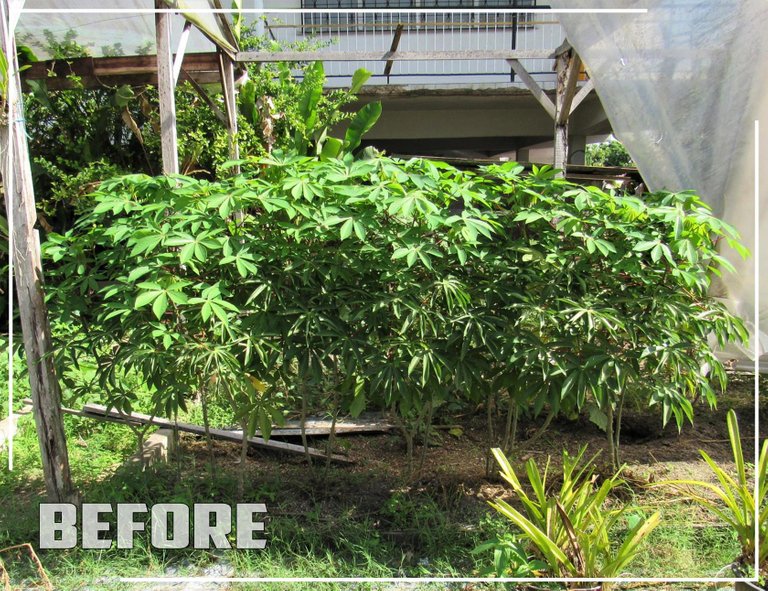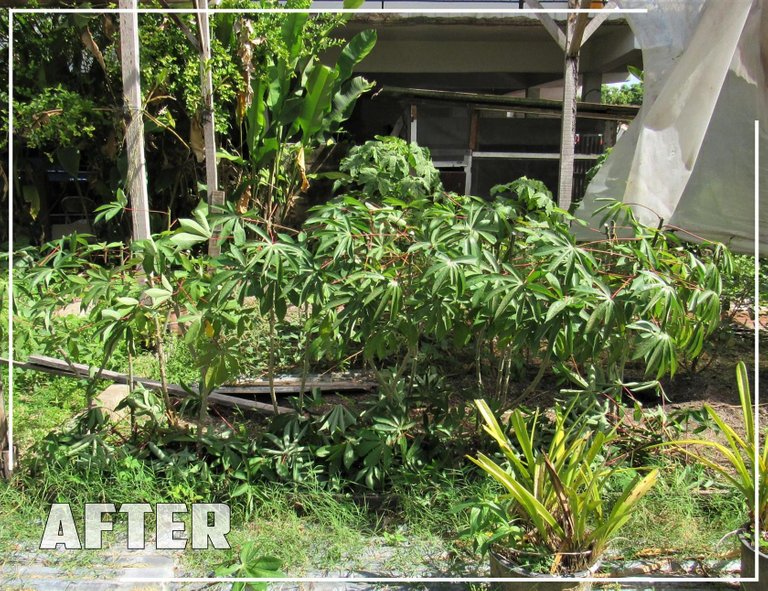 ---
     If you look carefully look at the before picture, you will see a layer of brighter leaves on the upper portion of the plants. These brighter colored young and tender leaves are the ones you're after. During our harvest, I actually did some pruning to encourage more branching and leaf production.
     Be sure to pick the stems along with the leaves, as plucking the leaf stem will encourage new growth to return much faster. I took way more than we needed, but returned all the older darker leaves and trimmings to the base of the plants.
---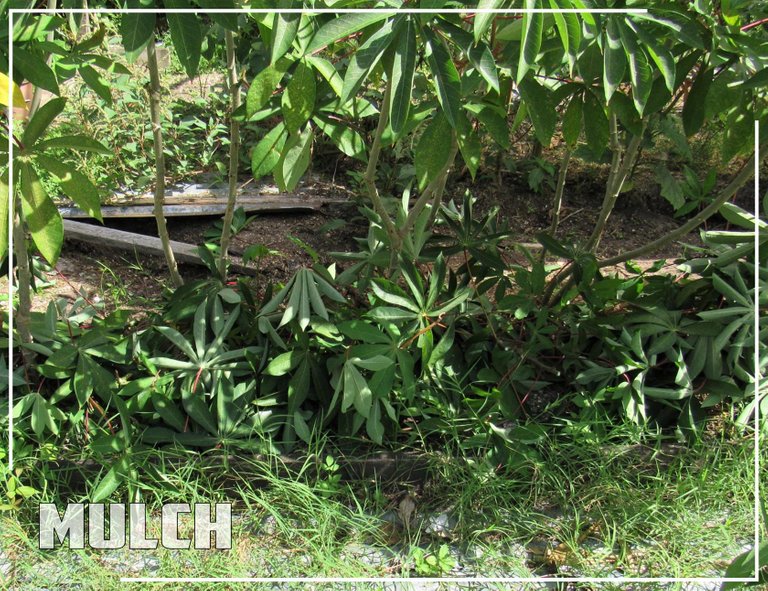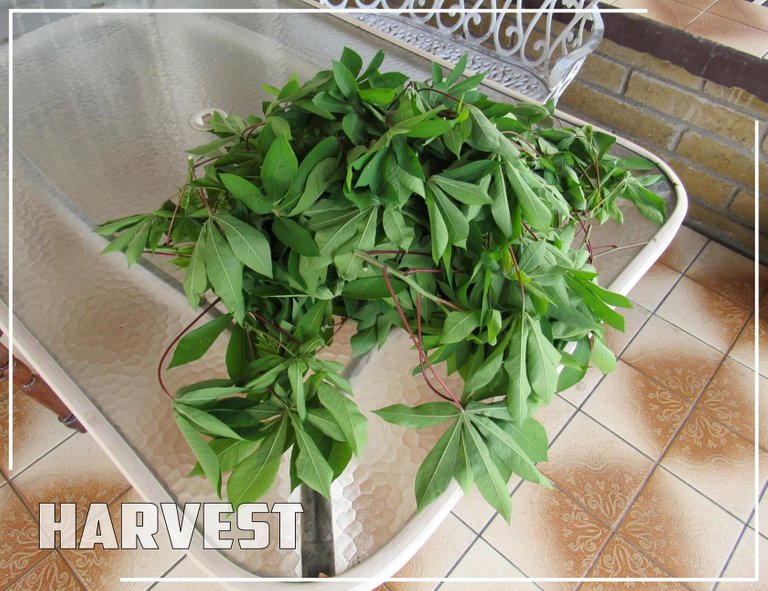 🧅🌶️ INGREDIENTS 🌿🥥

SPICE PASTE
3x sᴍᴀʟʟ ʀᴇᴅ ᴏɴɪᴏɴs (ᴏʀ 10x sʜᴀʟʟᴏᴛs)
4x ɢᴀʀʟɪᴄ ᴄʟᴏᴠᴇs
2-3x ғʀᴇsʜ ʀᴇᴅ ᴄʜɪʟɪᴇs
1/2 ᴛsᴘ ᴛᴜʀᴍᴇʀɪᴄ ᴘᴏᴡᴅᴇʀ
---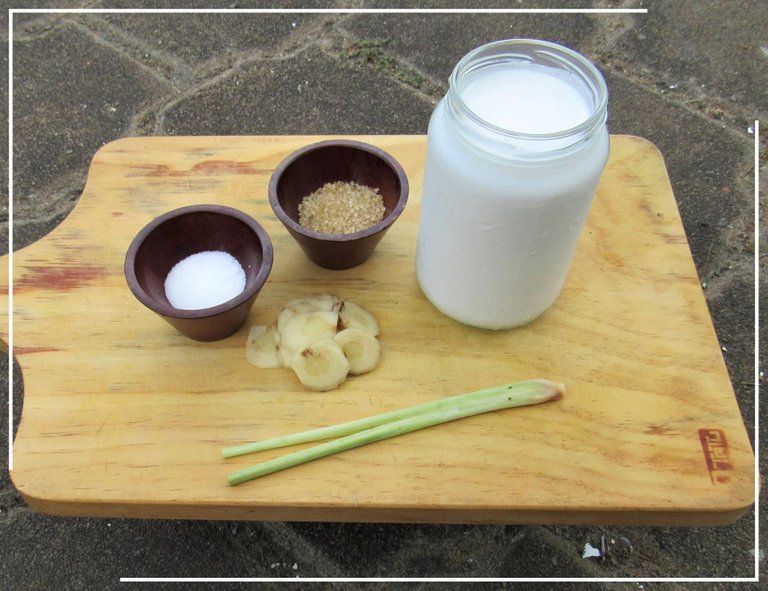 Fresh coconut milk, galangal, lemongrass, palm sugar and sea salt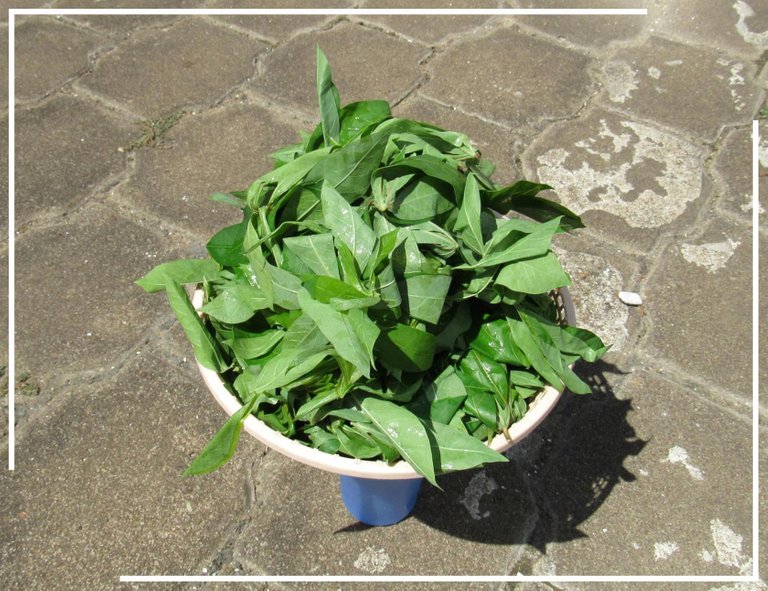 Cassava leaves washed and ready to cook
FOR SOUP
2x ʙᴜɴᴄʜᴇs ʏᴏᴜɴɢ ᴄᴀssᴀᴠᴀ ʟᴇᴀᴠᴇs (300ɢ)
1x sᴛᴀʟᴋ ʟᴇᴍᴏɴɢʀᴀss, ʙʀᴜɪsᴇᴅ
3ᴄᴍ ғʀᴇsʜ ɢᴀʟᴀɴɢᴀʟ, ᴛʜɪɴ-sʟɪᴄᴇᴅ
1x ᴛsᴘ ᴘᴀʟᴍ sᴜɢᴀʀ
sᴀʟᴛ ᴛᴏ ᴛᴀsᴛᴇ
500ᴍʟ ᴏғ ᴡᴀᴛᴇʀ
2x ᴛʙsᴘ ᴄᴏᴄᴏɴᴜᴛ ᴏɪʟ

⏲️ PREPARATION 🔪

Bring a big pot of water (the more water the merrier to reduce the cyanogenic compounds) with a little salt to a boil.
Add the washed cassava leaves, boil for 5 minutes, strain the water, reserve the leaves.
When the leaves are cool enough to handle, roughly chop them and then keep aside.
Take all the spice paste ingredients and blend them in a food processor, or do it the traditional way and use a mortar and pestle.
As we are still immigrants without the well-equipped restaurant kitchen we had in Cambodia, we have neither, so I laboriously chopped everything as small as possible.
Bring a wok or karahi to heat on a high flame and add the coconut oil.
Give the coconut oil a few seconds to come to temperature, then add the spice paste ingredients, galangal and lemongrass.
Fry the ingredients briefly on high heat, then reduce flame to medium and fry until fragrant and oil has separated from the paste.
If you are like me and have no mortar and pestle or food processor, but you do have a sous-chef, allow your sous-chef to supervise your spice paste reduction.
Have your sous-chef fry the finely diced ingredients on a low flame, adding small amounts of water as needed until it gets as pasty as it's going to get.
Now add the water, bring to a boil, cover and simmer for 15 minutes stirring occasionally to make sure there is no burning.
Add the cassava leaves and coconut milk, bring back to a simmer and cook for 5 minutes.
Remove from heat and serve this delicious Ital Cassava Leaf Curry to fellow human beings.

🏁 END RESULT 🏁

DRUM ROLL 🥁🥁🥁......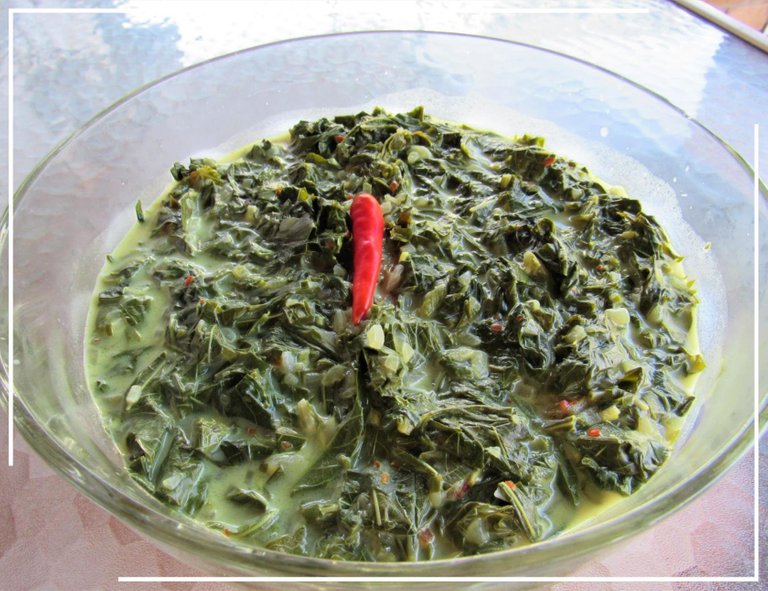 Ta-Da!! 🎊 Serve with brown rice for a delicious balanced meal 🍚
🎆🤝 A SATISFIED MONKEY B 🤝🎆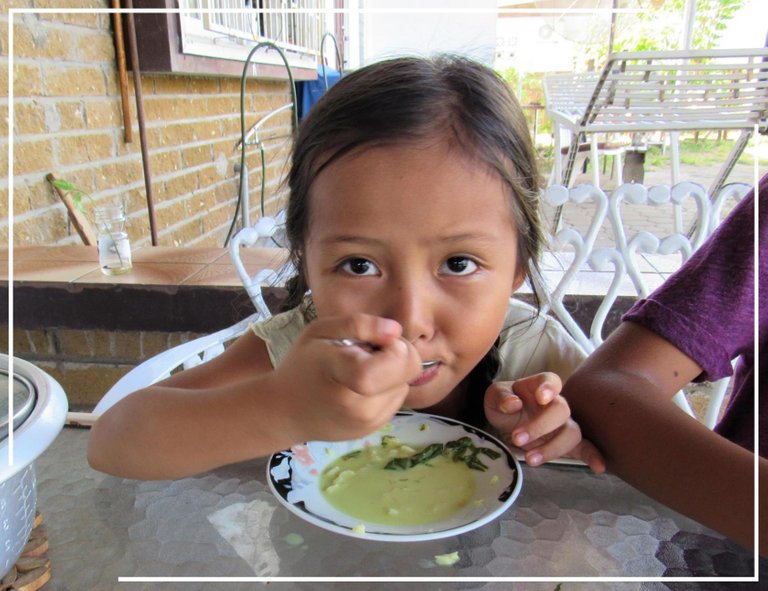 To maintain employee morale, do feed your sous-chef 🍴😃
     I hope you have found this recipe to be simple but delicious. Make it once to see how you like it, then make it again in the future and adjust the amounts of lemongrass, galangal, sugar and chilies to your liking.
     I hope I have not scared away from eating cassava leaves. Cassava poisoning is really rare and not something you should fear as long as you follow the correct preparation techniques and maintain variety in your diet. Please enjoy this ITAL CASSAVA LEAF CURRY.

THANKS FOR READING
Please tell me what you think of this recipe in the comments below.
If you like it, please UPVOTE and RESTEEM.

ɪ sᴜᴘᴘᴏʀᴛ ᴀɴᴅ/ᴏʀ ᴅᴇʟᴇɢᴀᴛᴇ ᴛᴏ
@joshman ✭ @canadian-coconut