A 41-year-old woman recently tweeted a celebration for her law degree. It focuses on her being single and without children--that people like her aren't recognized enough.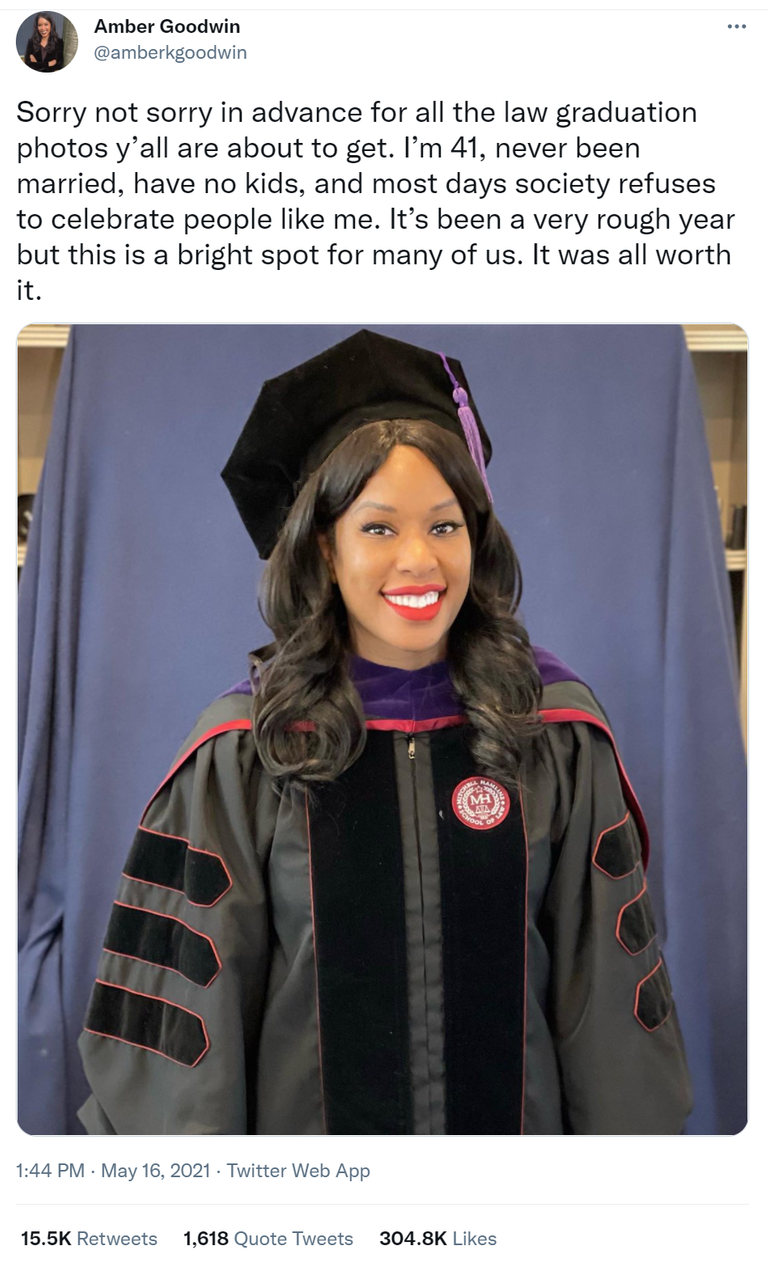 With that, a tide of support rushed in, with many echoing their own experience holding off on family for other life pursuits.
The most popular response, though, took things a step further.
"YOU are the apex of womanhood," it read in part. "Fully liberated w/choices and life that our female ancestors couldn't even fathom. You represent the fullest potential of womankind."
A reply to this tweet stated: "...single womanhood is an exalted state..."
And then another person replied to this reply by writing, "'Single womanhood is an exalted state.' That's one of the best things I have ever heard! And it's true!"
In what I assume was a case of getting caught up in celebration, these three indicated that having children makes you less of a woman (not the apex), that motherhood represents a lesser form of womankind, and having children keeps women in a lesser state.
And thousands of people offered these sentiments their support.
In trying to empower women, all these individuals came together and belittled and dehumanized hundreds of millions of women at once.
The internet is powerful and new to humankind, and we're letting it exploit our weaker tendencies. We say and support things before thinking, we pile into social movements that are counterproductive, and we let these movements form us into combative groups.
Author Douglas Murray writes extensively about this general concept (as well as the specific movement of belittling mothers) in his clear and eye-opening 2019 book, The Madness of Crowds". Give it a read: https://www.amazon.com/Madness-Crowds-Gender-Race-Identity/dp/1635579988/ref=sr_1_1
The internet isn't the first societal development we're struggling to manage. Food abundance gets the better of many who eat much more than they need or choose to eat unhealthily.
Both food abundance and the internet are (hopefully) not going away. So we need to learn how to moderate them, or they will continue to be toxic forces individually and collectively.
(Link to the tweet:
1394000731506679813) twitter metadata:YW1iZXJrZ29vZHdpbnx8aHR0cHM6Ly90d2l0dGVyLmNvbS9hbWJlcmtnb29kd2luL3N0YXR1cy8xMzk0MDAwNzMxNTA2Njc5ODEzKXw= ~~~