Its been quiet sometime posting any update on the latest events around Blockchain topics, probably the prices had kept the people busy in the real life rather than the crypto world. The market and the coin prices may be sluggish but not the original technology behind the cryptocurrency - Blockchain. The technology is being experimented and adopted by major companies(technical and non-technical), to name a few - Microsoft, SAP, IBM etc. Not just the tech industry but the major universities have also shown interest in the Blockchain technology. Many thesis papers are submitted by students in leading Universities.
I have brought you an update on the upcoming conference - Genesis DevCon - being held in Bangalore, India at the prestigious IISc(Indian Institute of Science). The event is to be held on 24th & 25th November 2019.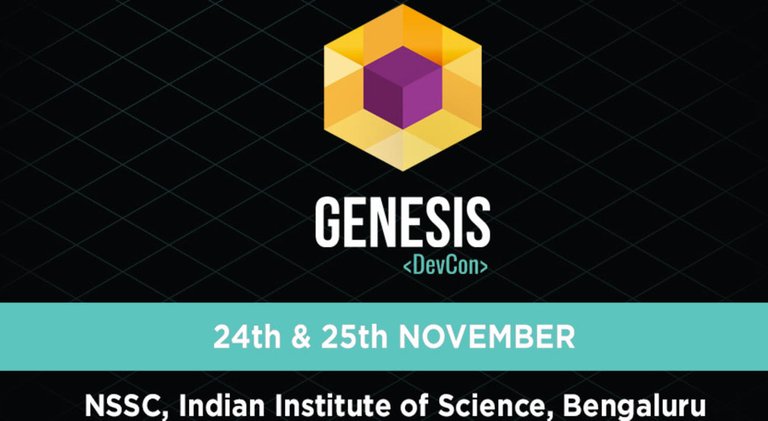 Genesis DevCon is focused on the technical experts, developers. There is a huge line-up of talks, workshops, hands-on sessions. The speakers across various industries/companies, across the world will be delivering speeches and share the latest trends in Blockchain technology. I have already registered for the event, if you happen to be in Bangalore(India) then you can plan to attend.
Some of the topics in the conference are - Decentralized Identity Management using Distributed Ledger Technology, Blockchain in Supply Chain, Blockchain Microservices, Blockchain startup ecosystem in India, Security issues in Blockchain, Legality of blockchain in India, Blockchain + AI, Trusted Computing etc.
The event has already for media coverage in leading news publishers. YourStory is the official media partner, so you can expect more coverage after the event as well. The other sponsors for the event are Tezos, Microsoft, Aeternity, Tech Mahindra, Nucleus etc.
Date: 24th & 25th November, 2019
Venue: IISc Bangalore, India