Several exceptional innovations continue to emerge in the cryptocurrency community with different objectives and qualities best suited to tackle problems affecting modern society. The intense hype of blockchain innovations has led to increase growth of the crypto market, enabling companies, countries government and interested persons to engage into any type of cryptocurrency business with aim of being part of this unorthodox profitable trend taking the world by storm.
Engaging in cryptocurrency involves managing, trading and investing with digital currencies, thus cryptocurrency exchanges were introduced to serve as the reliable open digital market infrastructure that permits easier access to trading and purchase of digital assets regardless of cryptocurrency enthusiasts location.
Nonetheless, every digital currency in existence need to be traded by crypto users in same manner as fiat money is exchanged for other national currencies in traditional central banks. Trading in a suitable exchange with beneficial and up-to-date mechanics is recommended for cryptocurrency users. A team of experts have created a favorable solution in form of a new blockchain based cryptocurrency exchange known as Burstex to allow traders perform digital assets trading activities with ease.
ABOUT BURSTEX
Burstex is developed as the world's first decentralized cryptocurrency trading platform that run on it's own blockchain. Burstex will be a crowd owned exchange which implies that profit generated from the trading structure shall be allocated to holders of Bex token.
Hence, being a genuine participant of Burstex exchange assures customers of steady income distributed from Burstex profit pool as long as the user purchases and maintains ownership of the token launched within Burstex decentralized framework.
As stated earlier, the exchange operates on it's own blockchain called Burst. The team implemented the use of Burst blockchain to tackle the problem of excessive energy consumption pertaining to numerous blockchain in the crypto sphere.
Burst blockchain created by a community of professional developers will be eco-friendly, economical, scalable and utilizes hard drive that consumes less energy which serves to be highly profitable to miners.
The blockchain operates with Proof Of Capacity concept that permits instant transactions and scalability within the network, thus exhibits immense advantage against current blockchains.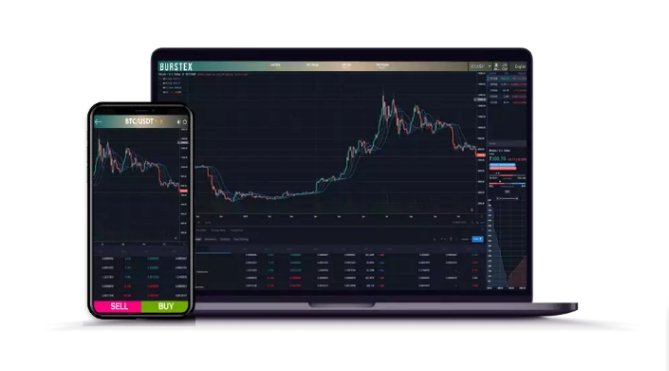 ADVANTAGES
Many exchange platforms are developed with crude infrastructures that creates difficulties in trading activities for users. However, Burstex is outfitted with best technologies and systems suitable for cryptocurrency trading, made available to all users within Burstex framework.

Insecurity is a major problem affecting various types of exchanges. Burstex exchange will be a secure environment for cryptocurrency users because the team initiated innovative steps to protect user's funds regularly. These involves integration of Multi-sig wallet with insurance to safeguard all funds 24/7 with interest while control over personal assets will be given to users via ownership of private keys.

Burstex is developed as a regulated cryptocurrency exchange with decentralized architecture. These features ensures that government entities are unable to monitor and control users transactions while users will be assured to receive access to the platform's capabilities without registration of their private data.

Crypto traders can make a lot of profit from Burstex exchange via Margin trade. Burstex offers up to 200 × leverage trade for users which yields profit while increasing volume and depth of market trades.

Unlike several exchanges with poor customer service, Burstex fully operates with professional customer service which comprises of 24/7 chat support, operational email and phone customer support. Interestingly, this customer service is made available in Multilingual support such as Russian, Chinese, Korean, English and so on.
FINAL THOUGHT
Undoubtedly, Burstex displays incredible features that aims to solve the drastic challenges faced by cryptocurrency traders in the blockchain space while providing financial worth and security to users inside the framework. I sincerely hope this article have attracted your attention and fueled your curiosity to understand more about Burstex cryptocurrency exchange.
Thanks for Reading.
website : https://burstex.io/
For more information about Burstex and Team members, Kindly use the links below :
Website: https://burstex.io/
Whitepaper: https://burstex.io/wp-content/uploads/2020/03/Burstex-Whitepaper-Final.pdf
Bitcointalk ANN: https://bitcointalk.org/index.php?topic=5218386.0
Linkedin : https://www.linkedin.com/company/burstex
Twitter: https://twitter.com/Burstex_io
Facebook: https://facebook.com/burstex
WRITER DETAILS,
Bitcointalk Username : Johnson Knight
Bitcointalk Profile URL : https://bitcointalk.org/index.php?action=profile;u=2326370;sa=summary
Wallet Address : BURST-V94Z-D7U3-ANQG-6Q8XE