Artificial intelligence is a rapidly advancing field of science, the progress of recent years is so important that it covers many areas of our daily lives.
It is said that we are at the doors of a new industrial revolution, with AI technology at the head of all industrial projects in the near future.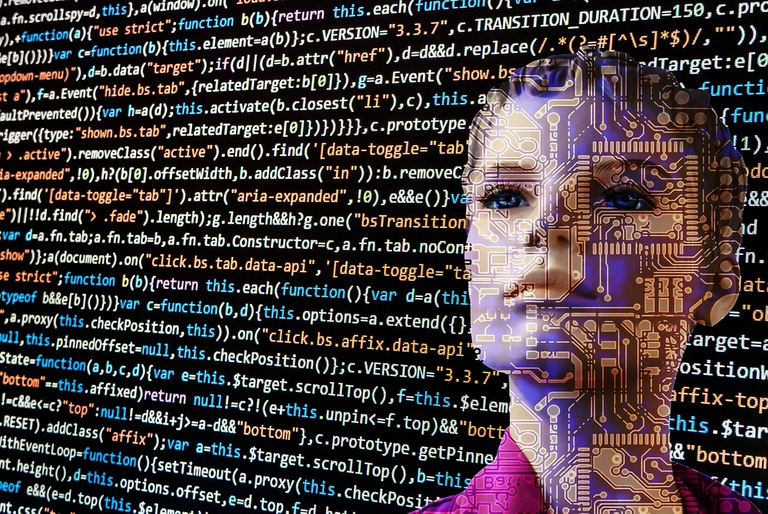 Fuente
Not surprisingly in the automotive industry we witness a significant advance by having 500 autonomous vehicles from around 50 different companies.
This article collects data from the Artificial Intelligence Index Report 2019, a report published last year that records the activity in the field of artificial intelligence in the world.
Highlights.
To focus on the aspects that I want to highlight, it is necessary to remember that artificial intelligence has three technologies or branches in which more advances or greater development and attention are recognized, these are: Machine learning, Object recognition and Augmented reality.

Fuente
One of the aspects that stand out in this report has to do with the dissemination, the published information referring to AI in the world, according to the report the publications that refer to this technology tripled between 1990 and 2018, reflecting an increase in the interest in artificial intelligence.
"Between 1998 and 2018, the volume of peer-reviewed AI papers has grown by more than 300%, accounting for 3% of peer-reviewed journal publications and 9% of published conference papers."
"Attendance at AI conferences continues to increase significantly. In 2019, the largest, NeurIPS, expects 13,500 attendees, up 41% over 2018 and over 800% relative to 2012. Even conferences such as AAAI and CVPR are seeing annual attendance growth around 30 %. "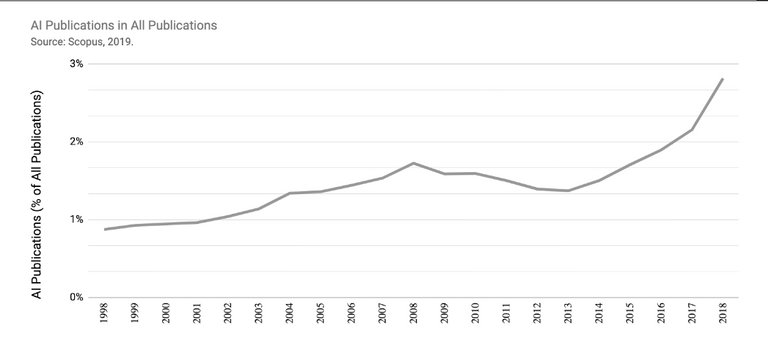 Education
Education is another element to highlight, since it perfectly reflects the advancement of this technology, the report reveals that university offerings for studying AI-oriented careers have increased considerably.
"At the graduate level, AI has rapidly become the most popular specialization among computer science PhD students in North America, with over twice as many students as the second most popular specialization (security / information assurance). In 2018, over 21% of graduating Computer Science PhDs specialize in Artificial Intelligence / Machine Learning. "
"Industry has become, by far, the largest consumer of AI talent. In 2018, over 60% of AI PhD graduates went to industry, up from 20% in 2004. In 2018, over twice as many AI PhD graduates went to industry as took academic jobs in the US. "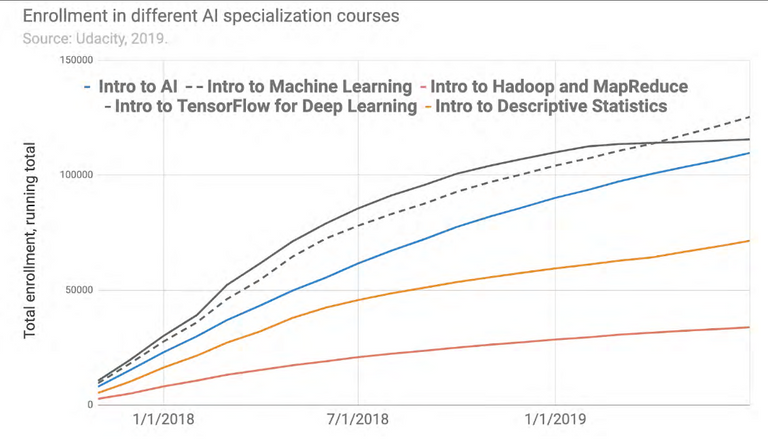 Economy.
As for the economy, the report reveals the increase in jobs in the AI ​​industry, and the increase in investment of the different companies and states that are committed to the development of artificial intelligence.
"In the US, the share of jobs in AI-related topics increased from 0.26% of total jobs posted in 2010 to 1.32% in October 2019, with the highest share in Machine Learning (0.51% of total jobs). AI labor demand is growing especially in high-tech services and the manufacturing sector. "
"In 2019, global private AI investment was over $ 70B, with AI-related startup investments over $ 37B, M&A $ 34B, IPOs $ 5B, and Minority Stake valued around $ 2B."
Conclusions.
To read the full report you must follow this link: Artificial Intelligence Index Report 2019
This report reveals the progress, the leaps and bounds that AI is taking at this time, and is evidence of the importance and prominence that artificial intelligence demands in our environment, the AI-based industrial revolution seems to be on its way and can be a reality in a few years.
For the moment, let's enjoy and admire every achievement achieved by artificial intelligence and be responsible for what you are giving us and what you will deliver to us in the future.
Let me know your opinion regarding this topic, I value and read every message you want to make and share with me.
Partners supporting my work:
---
Visit our website