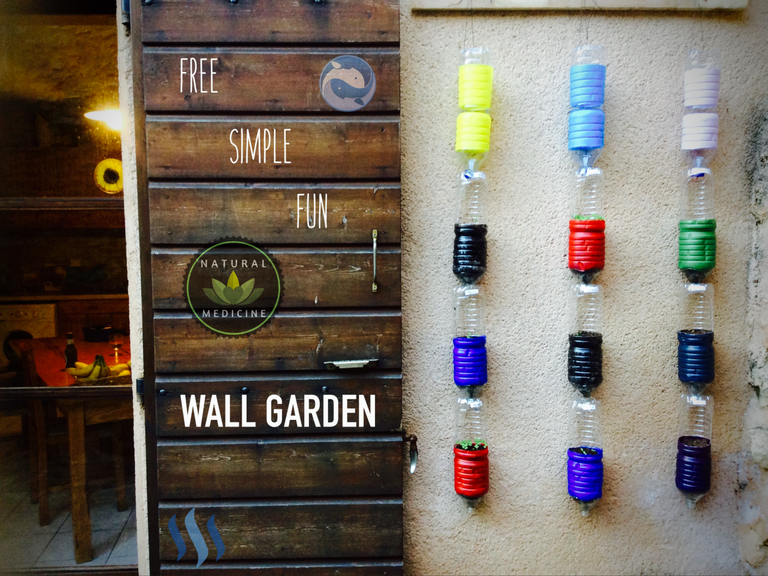 I recently bought a 42 piece professional wall garden and finally got round to installing it yesterday, using two old palettes to safely attach them to the wall. It took much longer than expected but we got there in the end.
Here you can see Esteban (my trading genius) posing with his latest Bitcoin prediction in front of it. In case you are wondering, his new chart shows Bitcoin's parabolic trajectory up to the $100,000 mark. He was very clear about this figure!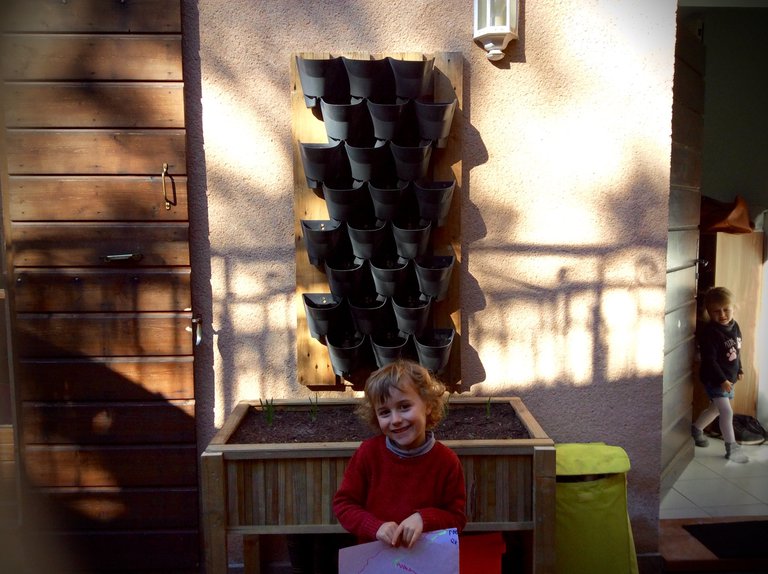 I like this potting system because it is all connected and all we have to do is water the top level and it will filter down through the others and into the grow table under it.
24 pieces were used to create a vertical alignment next to our front door, as you can see above.
The other 18 pieces were used to create a horizontal alignment with the intention of adding further plants into the top of the palette.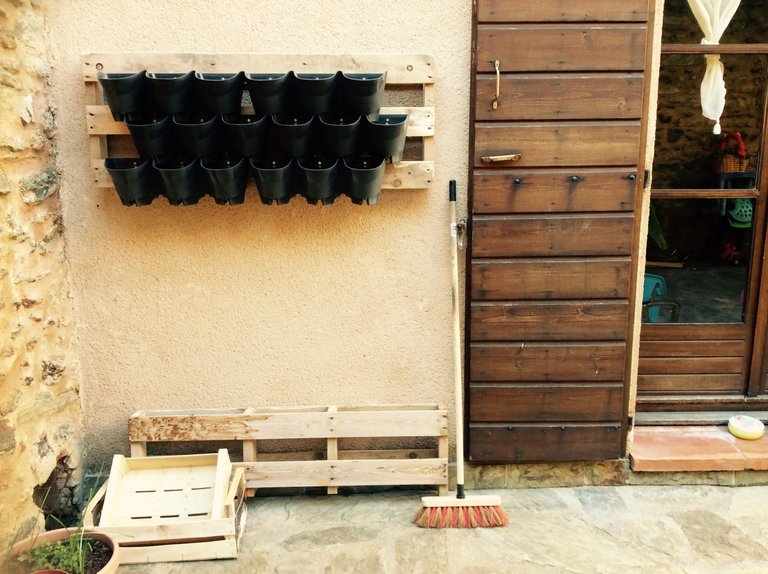 That last bit of palette at the bottom we are going to use on the ground, boarded up and full of soil.
Each pot has a little reservoir at the bottom, which is useful because the sun gets very hot here in the summer and I think the plants will need this.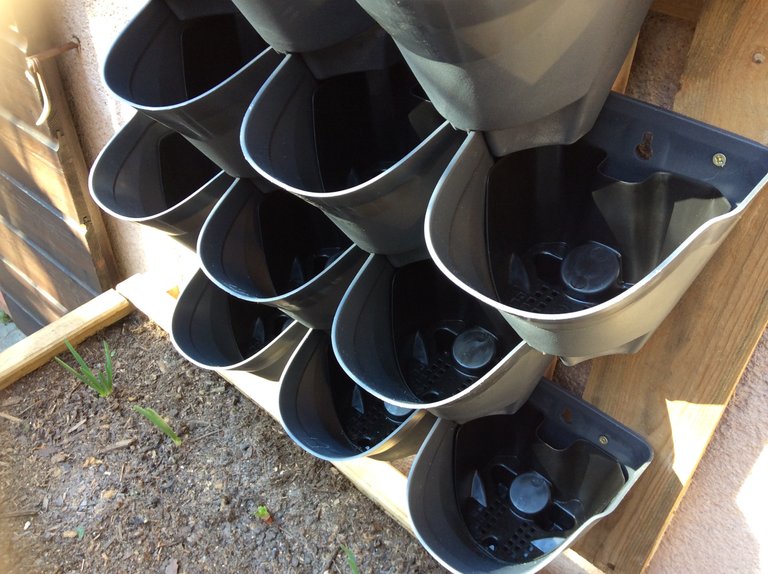 The Sam Version!
Inspired by my new investment I set about creating something similar.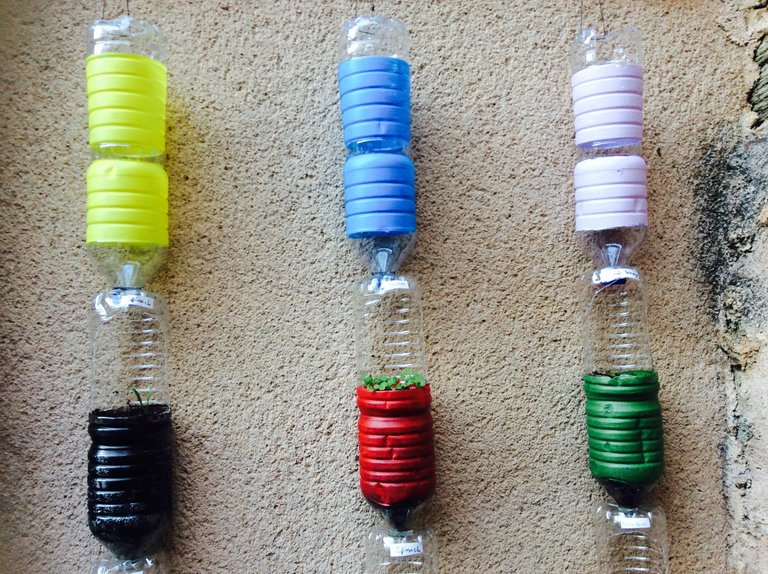 Okay, mine are not expected to last any longer than a few seasons but unlike their rather expensive brothers, these babies are free because we produce around 10 plastic water bottles a week.
Finally I can see their greater purpose & value!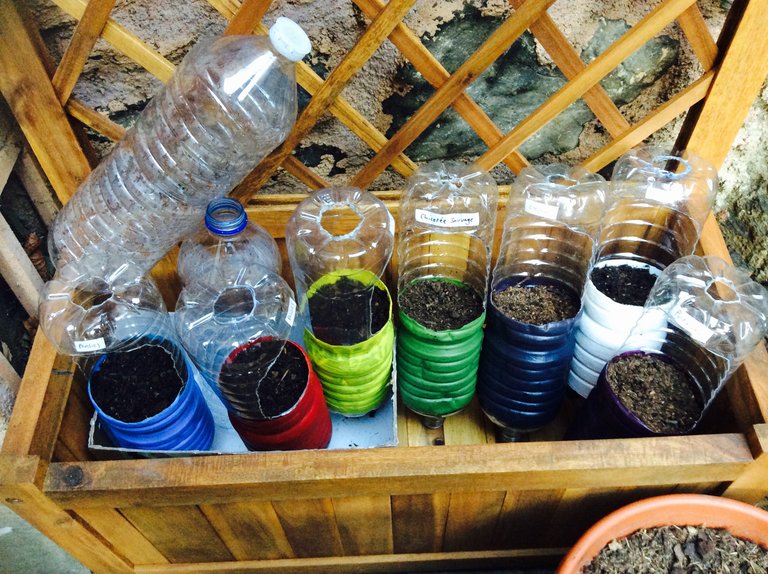 The bottles at the top will be used to feed each column.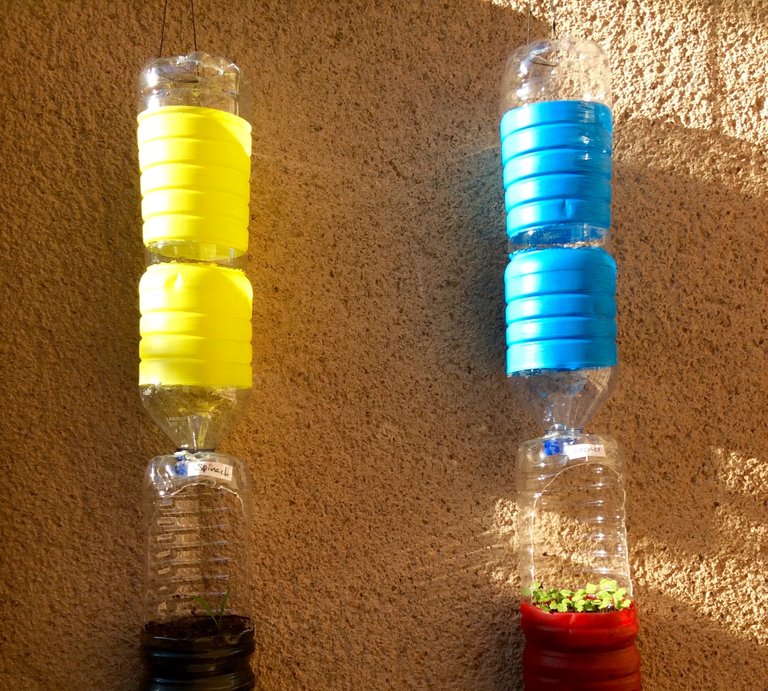 Fill these up through the hole in the top and the pin prick in the bottle top will drip feed the rest over the course of around 30mins.
For now my plants are small but in time they will completely fill this space.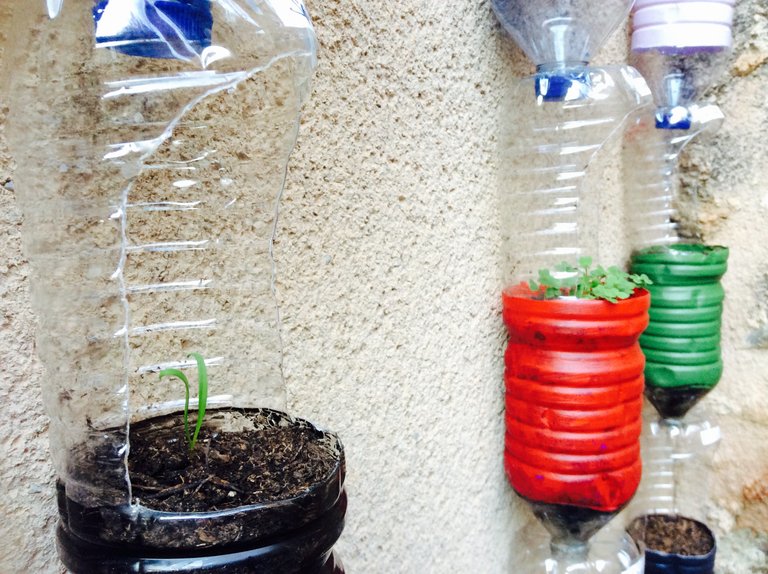 And we will eat them all Summer!
We currently have a total of 51 places for plants on our south facing wall and as you can see I am busy planting seeds in preparation for this.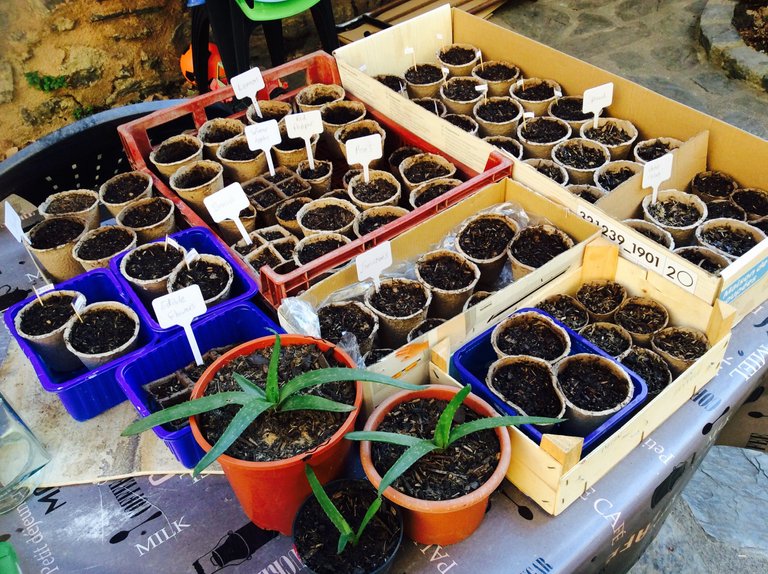 If I use all the wall space in our courtyard (which I intend to) we will have room for at least another 100 plants.
And by the way, I will also be using some of the available floor space for plants which require bigger pots. Specifically potatoes, carrots, radishes, onion, garlic, shallots and ginger.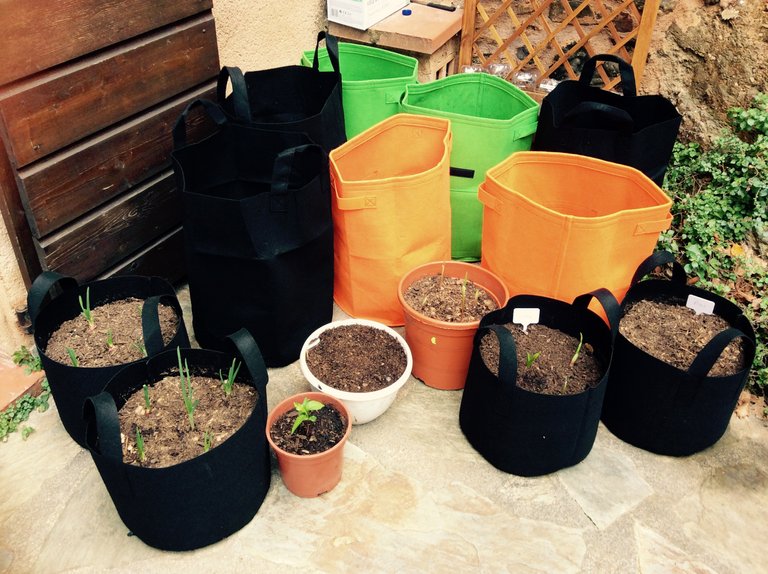 Had never used these material pots before and I love them!
I particularly enjoy the convenient access flap for the carrots & potatoes.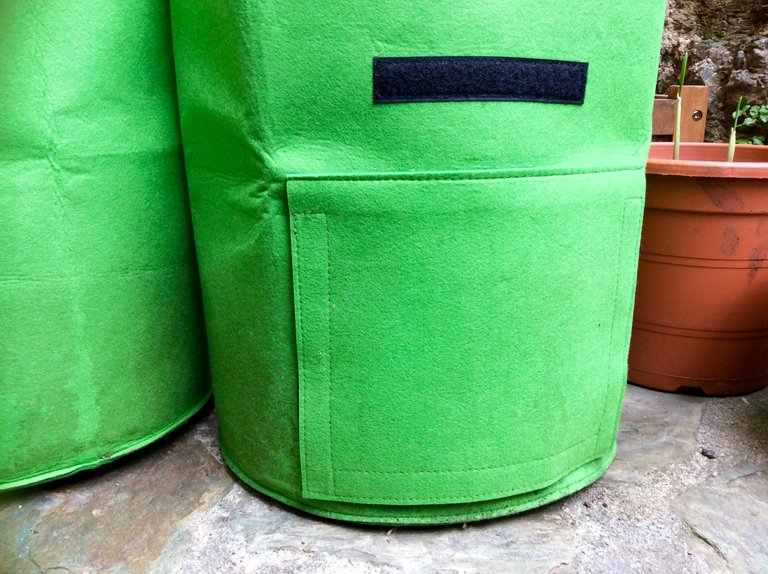 We also have a large allotment which I am yet to show you, so I feel confident now that we will easily reach our target of eating 50% home grown produce by the end of the year. This is more an exercise in learning than anything else, but if it all goes well we will be handing out a lot of food to our friends & family here later this year :)
I will be sure to keep you informed on how everything progresses!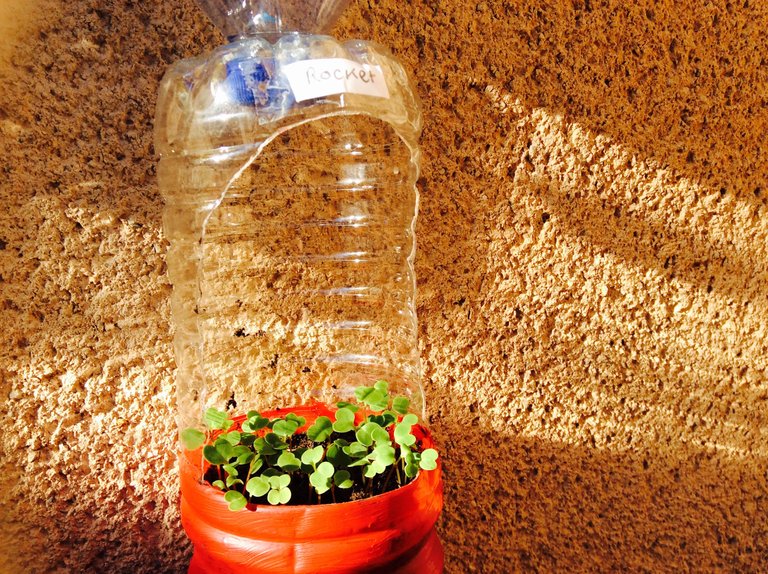 He was a London based filmmaker until he sold everything and set out on a barefoot journey around the world, currently based in the south of France.

He is travelling with his partner & two children and with no bank account he has been living on crypto for over two years.

Sam supports @naturalmedicine because they are seeking to help us in ways which go far beyond money. Please come and join us on Discord

All content created for this account is 100% original (unless otherwise stated), produced by @samstonehill who invites you to use & share freely as you wish.

All non original photo sources can be found by clicking on the image