Feedback from the October 1st Hive Power Up Day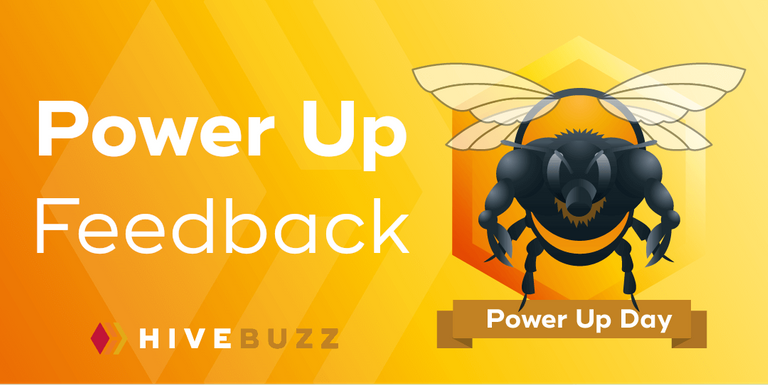 The October 1st edition of the Hive Power Up Day was both good and bad.
Good because the number of participants has remained fairly stable, even better than the previous edition. Add to this that we have just finished a funny but long and stressful Power Up Month Challenge (you can read the results of the challenge here) and still had that many participants.
Bad because it is the worst score in terms of the amount of HIVE powered up on Power Up Day.
That being said, the most important thing for us is how many people have fun participating. So in a way, our goal is achieved.
A few words from the PUD organizers

@traciyork
Happy October everyone!

Last month I mentioned how much chatter there was about Power Up Day and it turned out that we did end up having more participants even though the overall total powered up was lower. This month I was a bit preoccupied doing my Love Sniper and PoSH curation stuff for OCD all day Friday, and wasn't able to keep a super close eye on how things were going on Twitter and onchain (plus, seems like the nodes were being a bit grumpy again).

However, just based on all the people I saw talking about it in the days leading up to today, I think we're going to have another great month like September - lots of Hiveans joining in, even if the total doesn't break any records.

It's also been lots of fun watching the progress of the first ever Hive Power Up Month, put together by the Hive Buzz team (even if I had to watch through tears since I messed up early...lol). I think that had a great deal to do with getting people excited to power up (even if it wasn't on the first) so I can't wait to see what all the numbers say.

And as always, a big THANK YOU to everyone who participated in Power Up Day by powering up, posting, and/or shouting out on all traditional web 2.0 social media. All of those things help shine a light on our blockchain home, which in turn helps to grow our community. Special thanks to @hivebuzz for always BEEing such an incredible buzz-maker for Hive Power Up Day. And here's to all the happy Hiveans who are increasing their voting power and influence on the blockchain!
What are the PUD stats of this month?
Before going straight to the volume and participant stats, let's start first with those who choose to help others grow, the Power Up Helpers as those are the ones who deserve the most attention.
We have 17 users who have made a power-up to another account and have thus allowed 21 people to get their PUD badge.
Special kudos to those who helped several accounts: @dreamingirwin (7), @traciyork (4), @pegarissimo §2) and @jacobtothe (2).
Together, the helpers gifted 240.533 HIVE!
Here is the complete list of helpers and their donation:
@traciyork (33.33), @qwerrie (20.20), @cmplxty (20), @steevc (20), @tattoodjay (20), @dawnoner (15), @pegarissimo (11), @seryi13 (11), @chacald.dcymt (10), @chisdealhd (10), @hiveupme (10), @maonx (10), @marcurio (10), @menzo (10), @muscara (10), @tdctunes (10) and @trippymane (10)
A huge thank you to them all for their generosity! Show them some love by upvoting one of their recent posts.
We now have 156 users who helped at least one less powerful user who never got any power-up from anyone. These benefactors got the so coveted Power Up Helper badge: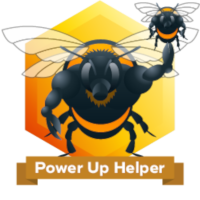 Congratulations to @traciyork (25), @junkfeathers (10), @tazi (9), @melinda010100 (9), @reiseamateur (8), @dreamingirwin (7), @victoriabsb (6), @qwerrie (6), @pegarissimo (5), @primersion (5), @louis88 (5), @ybanezkim26 (4), @bashadow (4), @french-tech (4), @ahmadmanga (4), @revisesociology (3), @sandymeyer (3), @carlagonz (3), @scorer (3), @straykat (3), @jacobtothe (3), @kubak (3), @dawnoner (3), @ecency (3), @fraenk (3), @breelikeatree (2), @remenzer (2), @menzo (2), @maonx (2), @notak (2), @tibaire (2), @saleg25 (2), @pusen (2), @kwame89 (2), @immanuel94 (2), @blocktrades (2), @lesiopm (2), @schlafhacking (2), @trangbaby (2), @schlees (2), @p3ntar0u (2), @shmoogleosukami (2), @sammie (2), @silversaver888 (2), @gr33nm4ster (2), @trumpikas (2), @jossduarte (2), @condeas (2), @brittandjosie (2), @dannewton (2), @muscara (2), @derangedvisions (2), @justclickindiva (2), @oliverschmid (2), @cmplxty (2), @fw206 (2), @chacald.dcymt, @dontcare89, @beanz, @theguruasia, @jesuspsoto, @dreemport, @ctrlyse, @xyba, @chibititan, @podping, @hiveupme, @mimerr, @elemarg25, @tdctunes, @dreemsavingsfund, @chisdealhd, @penderis, @marcurio, @acidyo, @pizzabot, @seryi13, @wedacoalition, @bighungrypanda, @tattoodjay, @skylinebuds, @manuelmusic, @tribesteemup, @sydney.potts, @fronttowardenemy, @trippymane, @tsunsica, @thatcryptodave, @ctrpch, @ramzimo68, @littlenewthings, @keco, @stormcharmer, @soulturtle, @vokus, @charsdesign, @dwinblood, @nomad-magus, @androshchuk, @emsenn0, @successchar, @russellstockley, @tarazkp, @phoenixwren, @steevc, @ph1102, @techcoderx, @stayoutoftherz, @perceval, @quekery, @ryivhnn, @pixiepost, @satren, @walterjay, @happyfrog420, @richardfyates, @madefrance, @yolimarag, @recording-box, @zirky, @valerianis, @alexvan, @jacuzzi, @jznsamuel, @joanstewart, @ervin-lemark, @inertia, @felander, @jeffjagoe, @fermionico, @elianaicgomes, @forykw, @elizabeths14, @death-and-taxes, @brianoflondon, @blue.rabbit, @jeanlucsr, @laloretoyya, @jesusalejos, @deepresearch, @jongolson, @arcange, @eliezerfloyd, @acguitar1, @ksteem, @iamraincrystal, @engrave, @improv, @maruskina, @pavelsku, @miriannalis, @gregory-f, @cryptictruth, @hive-data and @pardinus.
(List by number of helpees)
Remember that the number of people you are helping will significantly influence the delegations we will do to you.
Let's now take a look at how you did against the previous editions: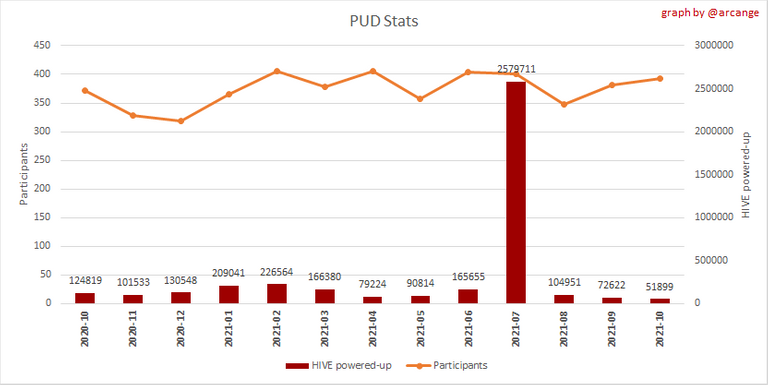 Let's be honest: this is the worst edition in terms of volume of HIVE powered-up, barely 51899 HIVE. The recent bear run that we have endured is very likely to have something to do with this.
Another factor may also be the fact that several users participated in the Power Up Month Challenge the previous month and may have found themselves running out of HIVE on the 1st. On this subject, you can read the results of the PUM challenge in this post
However, what is quite pleasing is to note that the number of participants remains stable and has even increased compared to the previous edition with 393 users who still performed a power-up.
Let's now look at what happened with the distribution of power-ups: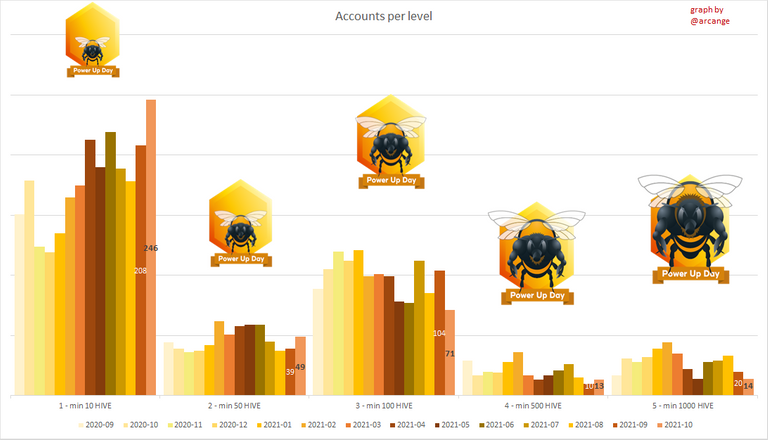 Congrats to @kryptodenno (5203,767), @tdctunes (3027,478), @vanje (1691), @hansgans (1386,669), @walterjay (1130), @schlunior (1120,65), @ewkaw (1100), @hatoto (1100), @pouchon (1016,735), @primersion (1001,218), @deepresearch (1001), @tattoodjay (1000) and @tarazkp (1000).
They powered up at least 1000 HIVE and got the Jumbo-Bee badge.
Hive Power delegations
Since the beginning of this year, we are rewarding regular participants and those who have also been generous in helping others by offering a 3 weeks Hive Power delegation.
To be eligible for a delegation:
you must have participated in this Power Up Day.
You must have performed at least 5 power-ups on Power Up Day. Power-up received from another user is not taken into account.
4 of these 5 power-ups must have been done on the last 5 Power Up Days (including this one).
To compute the amount of HP delegated to each user, we use the following criteria:
The number of power-ups performed.
The number and levels of power-ups you have performed (ex: you made two "level 3" and three "level 5" power-ups).
The number of people you helped to power up and the amount involved.
This month we will delegate 5357 HP to 118 users
Congratulations to all of you and enjoy our delegation!
See you on November 1st for the next PUD!
---
HiveBuzz is a project created by @arcange
---
---