Woke up this morning and I'm feeling great! I've been in need of some tech upgrades for about a year or so! When Hive was at 13 cents I bought a little over 1000 of them and said when HIVE hits $1 I'd buy a new computer! We'll last week we touched on a dollar, I didn't sell the HIVE I was hodling yet but I did decide to start computer shopping.
So while I'm getting ready to upgrade my old computer stuff I thought it would be fun to talk a little about the old tech I've been using for both trading, coding, and posting to HIVE :)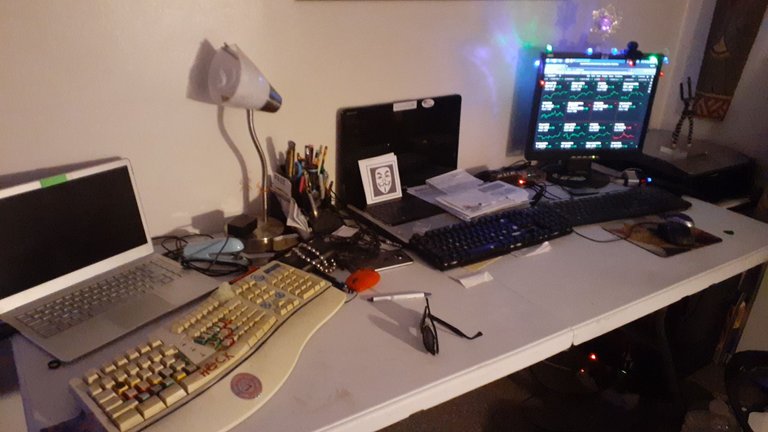 This is my current setup. It's a little ghetto but it has served its purpose well. I'll start with the silver computer on the left. That's a Jumper EZ book. It's a Chinese built laptop and I think I paid under $200 for it brand new. Here are the basics copied and pasted from Amazon.
Jumper EZbook X4 14 Inch FHD Laptop IPS Screen 128GB 6GB Intel Celeron J3455 Metal Case Notebook Backlit Keyboard Dual Band WiFi Ultrabook
I bought that back in May of 2019. The big Dell Inspiron in the center had broken and I needed a quick replacement. Unfortunately, as these things happen, they never break at a convenient time and I was pretty strapped for cash. I took a chance on ordering a $200 temporary computer and for the most part I loved it! It was just powerful enough for trading and doing what I needed it to do.
The Jumper EZ-Book lasted about a year absolutely trouble free. It was light, fit in my backpack and followed me everywhere I went. About a year later the battery went. I bought a new battery, then the keyboard went. I AM TERRIBLE WITH Keyboards hence the external keyboards spread out across the table.
After the keyboard broke I had shelved it and picked up that used Dell Inspiron 1750 sitting next to it. I did manage to fix the keyboard at a later date but plugged that old Windows ergonomic keyboard into it. The laptop keyboard is in a fragile state.
So for the last days of it's life the Jumper EZ-Book staked OKcash and has been operating as a dedicated computer for a couple different crypto currency wallets.
On a side note: I've had that old ergonomic windows keyboard since the mid-90s. It's the only keyboard I haven't been able to kill. I'm actually curious about how long it can survive now. 🤣 It was purchased in the closeout bin at CompUSA back when they were a store. They had a scratch and dent crate in the back of the store and I'd stop in there from time to time and go through all the parts looking for deals. It was like $150 dollar keyboard that I got for $10 bucks. My friend worked at the store and said a customer returned it with a damaged box and that it probably worked fine but they couldn't put it back on the shelves with the new stuff! SCORE!
The Dell Inspiron 1750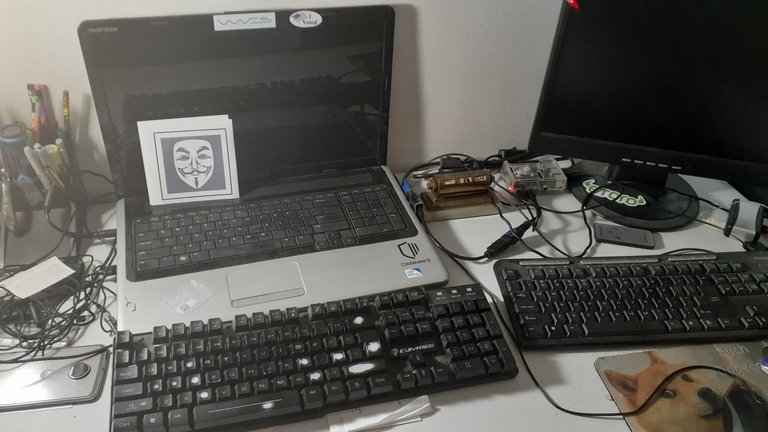 This was the first laptop I ever owned and so far my favorite. So I bought the Jumper EZ-Book to replace the original Dell Inspiron 1750 I had. As usual the Jumper died at the most inconvenient time. I thought I'd try a used laptop on Ebay and found this Inspiron. I still had the original one I bought and thought it would make a great parts computer so I bought this one.
Intel Pentium Dual Core T4200, 500GB HDD, 4GB
I immediately upgraded the memory from my old computer. I'm guessing this computer has to be close to 10 years old. I'm running Kubuntu Linux on it and in all honesty it probably still has a lot of life left in it. IMHO it's big and clunky and two heavy to tote around in a backpack. It's not quite powerful enough for editing video. It also crashed on me a couple times when the order books got to crazy in the middle of trading. I'm guessing all those orders load into upper memory and if I had a couple exchanges open the computer couldn't handle it. It's the main reason it's getting replaced. It actually costed me dearly a couple times when it crashed! So I'll probably figure out a way to repurposed it, I'm thinking maybe keeping it on a shelf in the garage and using it for motorcycle manuals, music and movies. I spend a lot of time in the garage during the summer months. So this will probably become the garage computer!
The Raspberry Pi 3
To the right of the Inspiron is my Raspberry Pi 3. I'm running Kali Linux and that runs NewsCrypotBot on Twitter. It posts the bitcoin price every hour, a quote of the day, and news from several different industry specific sources. Although the monitor is off in that picture I also use it to keep the front page of cryptowat.ch open so I can keep an eye on the crypto prices.
The Pi3 is the only thing that's not getting replaced on the desk. On top of it's current use, I love tinkering around with that little computer when I'm bored!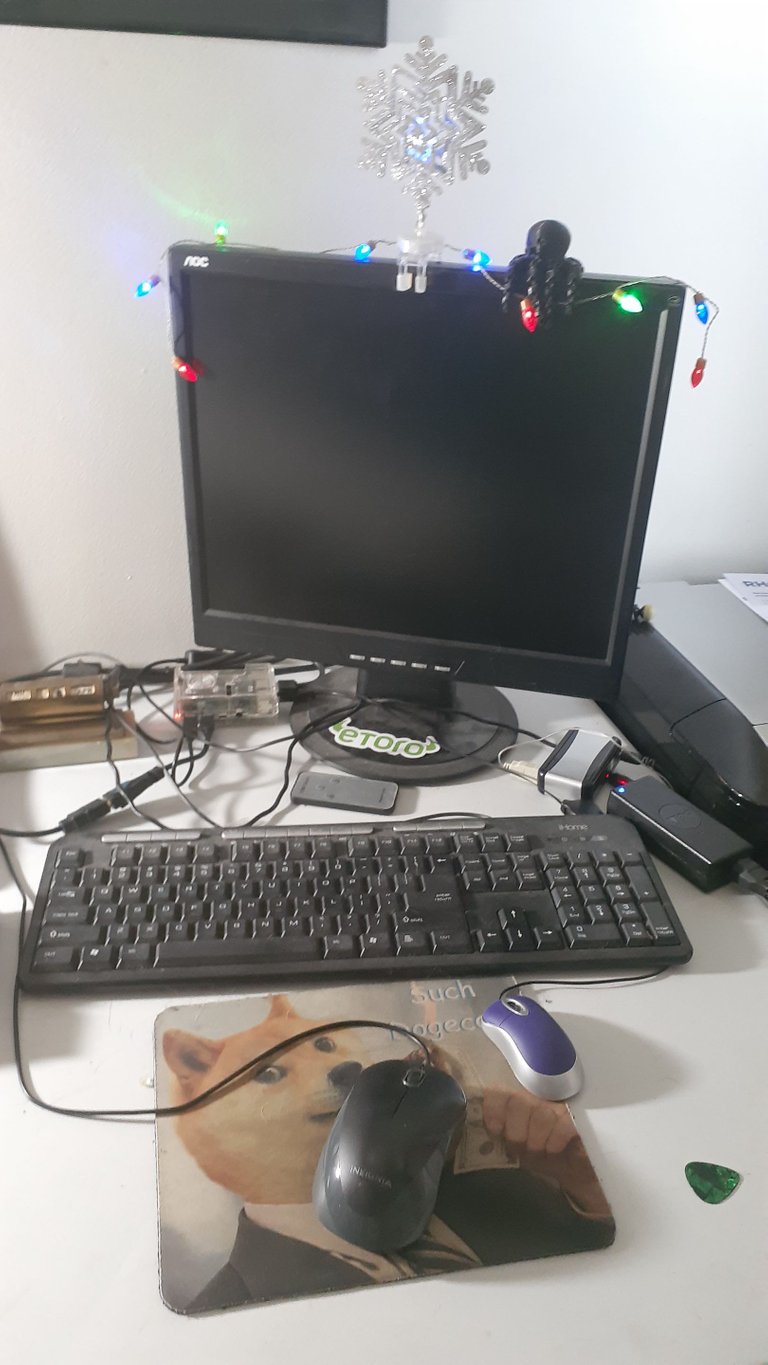 Samsung Chromebook XE500C13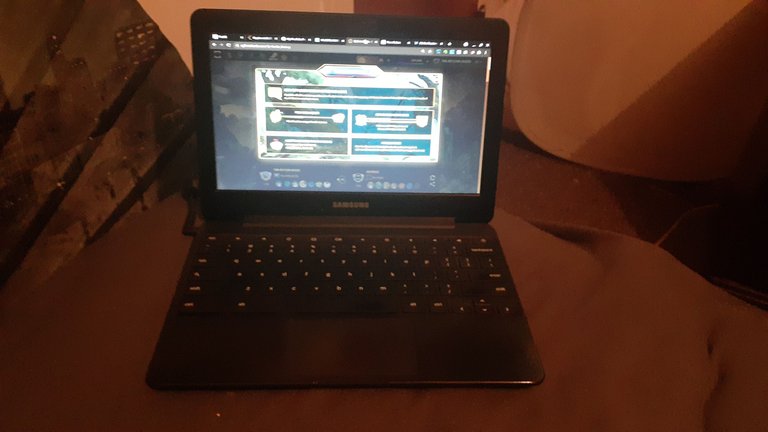 I have nothing but good things to say about this little Chromebook. I bought it about 4 or 5 years ago on a whim. I was shopping at Office Depot and it was a floor model on sale for $175. I had wanted a Chromebook for awhile and decided to buy it. I keep this next to my bed, I use it for Splinterlands, trading alarms on charts, a clock alarm for waking up in the morning, and also watching Amazon prime tv in bed. Hands down best $175 dollars I've ever spent. It's not very functional for coding, but perfect for everything else like Twitter, email, and making some quick trades late at night when the chart alarms go off! Love those Asian crypto markets! I've had zero problems with it, and give it a good factory reset about once a year! Great little computer for sure!
What Do We Have Here?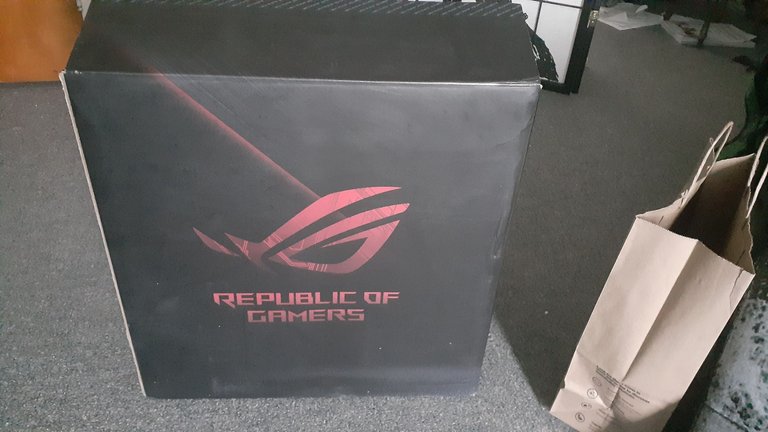 Here is the replacement! You'll have to wait until tomorrow for the big reveal. I'm still waiting for the new monitor and speakers to arrive. This is the much needed upgrade though. I'll be calling this the #HIVE computer seeing it was bought with HIVE gains! I haven't sold my HIVE computer fund yet, but HIVE was the inspiration for buying this. I can't wait to start posting with this bad boy and seeing what it will be capable of! Pretty excited! I may start doing more #3Speak stuff now too seeing I'll have a computer capable of editing video!