The annual Hivefest is for me always a great event for inspiration. Many people speak with all their passion about their apps (sorry: dApps). They not only show what they achieved but also what is coming up. Though most of it we can ve read in posts as well but am not sure how it is for all of you, but I seem to miss most posts. And when I read a post, I miss the context, the story, what's next, what worked, what didn't work and so on and so fort (I have a solution for this, just read further).
I'll not talk about Hivefest itself. Many others done so already and likely will do in the coming days. The only things I'll provide you about the event itself, are the two video recordings of all the presentations held last Friday and Saturday.
From all the presentations, one key aspect I took away: The HIVE Ecosystem provides lots and lots of opportunities.
Some of these opportunities are already spotted by the dApp team, others are not. I really like the approach of the 3Speak team, the willingness, the eagerness to work together, to create solutions that can be re-used by others. I have the feeling the HIVE Ecosystem is working in too many cells that not really try to leverage each other while various cells seems to develop similar features.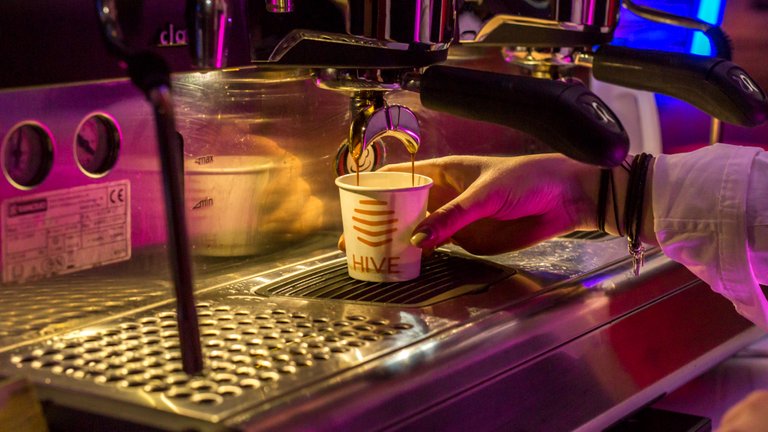 Not our HIVE logo: But a great image with our name in it! (source)
Of course it is not a problem when more teams are building solutions for the same problems, the same features. However, the HIVE ecosystem is not too big and hasn't established itself as a goto blockchain for the entire crypto universe and beyond. Therefore I think it becomes almost mandatory to work together on all fronts. Why building and maintaining some piece of code while the solution is already developed by another team? Why learning from scratch how to onboard people from outside the HIVE community, while we have a few dApp owners having lots and lots experience with that already? Working together is something the 3Speak team did propose a few times at Hivefest and I love them for that.
Opportunities?
Some of the opportunities I spotted, are listed below. A brief explanation can be found in subsequent 'tiny' paragraphs. For visibility of this post, I included the HIVE usernames of some of the relevant people, something I usually don't do. Sorry for that in advance; Plz don't hate me for doing so :)
Integrate content search in all blogging user interfaces by using Hivesearcher
Create a HIVE ecosystem Wiki / knowledge service
Integrate 3Speak video platform with all HIVE blogging user interfaces
Combine StemGeeks with StemSocial
Create an onboarding process that is optimal for signing up new users
Learn from Blurt's decentralised governance model around abuse
I can list a whole lot more, but these six take aways are all topics that touches my most inner self for more than a few reasons. Most of them are quick wins, easy to setup. Some may require more work, more thoughts, more discussions. Let's make this happen, together.
I'm not a developer, or software architect, therefore can't come up with my own technical solutions, but I can work with you, the dApp teams and other community members. Ping me (comments below, Discord edje42#3711) in case of interest or in case you like to pick my brains (note: I just have a few braincells, so please don't pick the cells itself :))
Hivesearcher for all HIVE UI's
This is a no brainer and I'm still baffled why only the owner of Hivesearcher @goodkarma build this into his own dApp Ecency.
During the presentation by PeakD, we could hear the guys stating: "Content search was never high on the agenda; Not by the team, not by feedback from the community".
Still, I truly believe well integrated content search is a MUST. It is the only way to keep older content (posts and comments) relevant.
People may not ask for it. Maybe because the feature is not in their face. Maybe because most of us got accustomed to HIVE without the ability to search older content. Maybe most are not interested in older content. Who knows?
Even when not so many users will start using the content search feature, the service is readily available. It has been for quite some time! It's free to use! Why not adding a little window in all the HIVE dApps to allow for users to plug in their search words?
Hivesearcher comes with a set of search commands making it super easy to find content (posts and comments) through filtering by authors, tags and/or communities.
PeakD (@jarvie) has search capabilities, but it's not implemented simple enough; Think of Google search; That's the user experience required. LEO (@khaleelkazi) doesn't have search.
Hivefest Day One
HIVE Ecosystem Knowledge Service (eg a Wiki)
Throughout the life of HIVE, I've promoted the need for a place to serve as a knowledge centre. First with HIVE and now also with Leo Finance: It's too hard to find the knowledge one needs of anything around the blockchain and our ecosystem. Either we need to go through a whole history of posts, and/or we need to subscribe ourselves to yet another Discord server (have way to many of them already), and sometimes a Telegram group (we can do with many less of these groups). These are all message based services of which the most recent posts and chats gets lost almost immediately after entering.
Why not learn from the best? Wikipedia showed the world, long before blockchains was invented, the power of a decentralised knowledge centre. We need one for sure! And we need all HIVE dApp owners to populate it with information. We need the HIVE community to populate it with content. It shall contain all sort of information, from facts to do's and don't, from user guides and experiences to listings of all the dApps including contact information of all the teams around in our ecosystem.
Some people reacted to me: "We don't need a Wiki. Let's write what we want in posts. Thats the way for newbies and more established users to learn about HIVE and LEO." Usually followed by the question: "When was the last time you check the FAQ of some service?" My usual answer: "Where is the button to the FAQ? I don't see it anywhere?" Another answer I give, is more like a question: "You don't use Google or any other search engine?"
The only thing the UI owners need to do, it to add a button to the many buttons and information fields we already have in the dApp UI's. A button that links to the knowledge centre. This button shall be placed at a logical location in the UI, with a logical description.
It's simply too easy, but I feel I have to spell this out and I feel a bit stupid by doing so.
Back in time when we had the blue colours, we had a Wiki, but none of the UI's integrated a link to that one. Why in the name of you know who, not? I really don't know. I was always dumbstruck something simple like this was never executed on.
It's maybe a little bit more complicated to come up with a good wiki with a solid reward system around it for those who contribute to new and changed content, the moderator teams that may be required and all. But why not starting with the experiences of the original founder of the other wiki we had before?
3Speak video platform integration with other UI's
During the Hivefest, the moment the PeakD team mentioned their users are requesting for the support of video, I thought of leveraging the platform of 3Speak. Another absolute no brainer! Fortunately @theycallmedan had the same in mind and offered PeakD to work together. Thank you Dan!
A day later when I listened to the 3Speak presentation by the other founder @starkerz, it became clear to me how obvious it is for the 3Speak team to enable all the other UIs with support for video. The team believes in open source (check), believes in re-use of technology (check check double check...hear hear), plans white labelled versions of what they develop (the way to go!) and is more than willing to co-operate with other teams. Win Win Win Win.
The time the PeakD team (and other UI developer teams) will win by not developing their own video platform, can be spend on more useful services while the time spend to the video platform by the 3Speak team will be turned into a higher level of usage because of the increased demands.
Hivefest Day Two
STEM: StemGeeks and StemSocial
STEM: Science, Technology, Engineering and Math.
We seem to have two teams trying to create some momentum in this area. Two teams that seem to take it slow. Who knows why? Maybe because to limited resources available in each team? Or too limited traction?
StemSocial is initiated and run by some scientists, researchers and professors @lemouth and @mobbs. They have their own website and they have a long standing proposal that doesn't seem to be attractive enough to get funded.
On the other hand we have StemGeeks, founded by @themarkymark with its own pre-hive.blog cloned user interface and its own token. Progress is also pretty slow with this project.
Both projects focussing on the exact same niche. Both projects acting on same or similar tags. Why not join hands and work together? The network of the StemSocial team is large. The monetary system is setup by StemGeeks. I can't see why this shall not become one and the same service, and why the proposal (maybe with some adjustments) can't be funded? Or am I missing something here?
Onboarding Tools optimised to our Ecosystem
The guys at Splinterlands (@yabapmatt) seems to have a lot of experience in onboarding crypto but also none crypto minded people. Recently the LEO team launched Twitter based onboarding. HIVE has this onboarding website, and some volunteers going through various social networks to try and attract users.
Why is this all so decentralised? Why are experiences of other teams not shared? Wouldn't it be better and way more efficient to centralised the whole onboarding and marketing aspects of HIVE and all the HIVE dApps? Shouldn't we bring the specialists in our community, and all the experiences in our ecosystem, together? Shall these experts not define best practices? Shall we not implement tools to support these best practices and execute them irrespective of the dApp involved?
I realise, not all dApps are the same, and different types of dApps may require (slight) different approaches and tools. Why not forming a team of experts who will advise and assist dApp teams, as a minimum. They can help the less experience teams the 'what' and 'how' around onboarding campaigns. They may even design and execute campaigns on behalf of the dApps!
Decentralised doesn't mean unstrcutured, is something I hear a lot. So let us create some structure then! :)
Multi dimensional Governance
You may know, Blurt was established last summer (July timeframe) as another spinout of the Steem chain. Their approach is quite different to the approach of HIVE, which is a good thing and we can learn from it.
For one, BLURT removed the downvote feature with the net effect the amount of abuse is high. BLURT's answer to this problem: A governance system very similar to our HIVE witnesses, but tasked not with running the blockchain but tasked with the decision to 'remove' (I suppose more like 'block') an account.
I believe the BLURT team implemented a consensus based on the 'ok' by 2/3 of the abuse control witnesses to nuke an account, before that action is actually executed.
We have our own Hivewatchers. Many are cool with them, other don't. Their operating model is transparent, however it's a centralised team. The way BLURT implemented abuse control is much more decentralised. Wouldn't the combination not be the best way forward for the HIVE Ecosystem?
I would like all of use to think about this together with the core team developers lead by @blocktrades and @howo
Final Thoughts and Offer
I think we are on the good track within the HIVE Ecosystem. However we can do so much more by really working together. By not inventing the same wheel over and over but help and support each other. Share information. Decide collectively to create the tools we need and share the developments. I think we will all benefit when we share or knowledge and experiences, not only in dev terms, but also on all business aspects of each individual project.
I was impressed by the capabilities of AltspaceVR. Marky was the one with experience with this VR room and helped to create the HIVE world. I believe we shall create more rooms, maybe a complete HIVE world with everything in it, from conference rooms, community areas, hangout and chill out spots, to stages with entertainment and when possible even a club. Though I don't own VR glasses and I'm not familiar at all with VR games and services, I'll make an effort to understand how to build these worlds and rooms. During Hivefest @ewkaw created a room showing the main stage on screen, through an integration with YouTube showing the livestream through that platform. How could would it be when we can get DJs streaming live sets? I'll be reaching out to a few of you I know already done something in this VR world. But first things first: I'll be trying to learn how to model a room, maybe even to try and model a world. Guess I need to ask for a very relevant gift by our guy from the North: VR glasses and controls. And maybe also a more powerful laptop, since mine was screaming a lot when attending Hivefest :)
My offer to all the dApp teams and all those who have great ideas, to get in contact and I'll do my best to help you in any way I can.
I'm experienced in the role of product manager (commercial and technical), solution consultant, solution architect and concept creator. The role of consultant (business, functional and technical) is born with me. I've gained loads of experience during the last 3 decades working for small and large multi nationals, from startups to early growth companies, from established companies, to runner ups and market leaders. I've engaged with and in many cultures around the world. Still learning, but with lots of knowledge and experiences. Added to that, I'm a problem solver, I'm creative. I'm someone who can dream and at the same time I'm very much grounded. Pragmatic and optimistic, does describe my character. Motivator and challenger at the same time.
I gladly spend time with your project, to help you as much as I can. Just let me know, and we'll be able to establish quickly if I can be of any assistance in bringing your project, concept or idea to the next level.
Let Us Work Together
special thanks to @roelandp for setting up and managing the Hivefest event

a HIVE original
all images by edje unless stated otherwise

qsounds music & story library | A...K | L...Z |
hive curator for curie