Hello Everyone ! I have 3 things for you :
Thank you very much
First of all, i need to thank all of you. The feedbacks of the first release was very great. I'm so happy for that. It's a really good thing for me and I want to show you the best for SuperHive.
The new version
Also, I've made some improvements about Web accessibility for SuperHive. I want to keep this tool compliant to Web Content Accessibility Guidelines. What's new in this small update ?
[Feature] Add Content Language option for better SEO
[Fix] Update to MarkedJS 4
[Fix] RSS & Sitemap
[Fix] Remove type attribute on textarea
[Fix] Add space between attributes on bambukah's theme
[Fix] Move <h1> tag into <article> tag
[Fix] Add LeftToRight dir attributes
[Fix] Add title for Social networks links
[Fix] Remove orphan div end tag
[Fix] Add src text before image display
[Fix] Add title to social networks icons
[Tweak] Clean meta html code
[Tweak] Remove some white spaces in CSS files
At this time, SuperHive can be read by screen readers for visually impaired users. Nice, isn't it ? For Web Standards lovers, SuperHive is also HTML 5 Compliant.
What's next ?
Finally, I worked on the official website. I can show you a small screen ;)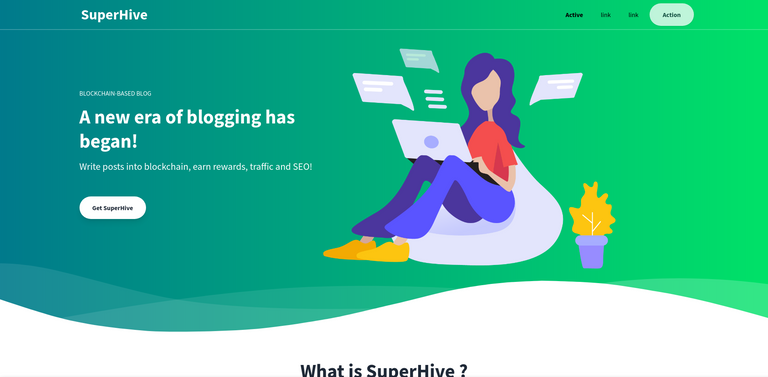 For the future, I'll be to HiveFest and I work on the Hosted version of SuperHive (imagine your blockchain-based blog but without any technical skills). If you have any feedback, advices or message for me, Go to the comments section ;) Have a nice day my friends !
---
BONUS
After many days and many questions about that, SuperHive have an Official Discord Server ! Join us to talk about Hive & SuperHive related topics ! See you soon ;)