HVAC Preventive Maintenance Vendor Selected
The only significant report I have for the work log today is that I have selected a vendor for preventive maintenance on our thirty rooftop units and three mini-split units.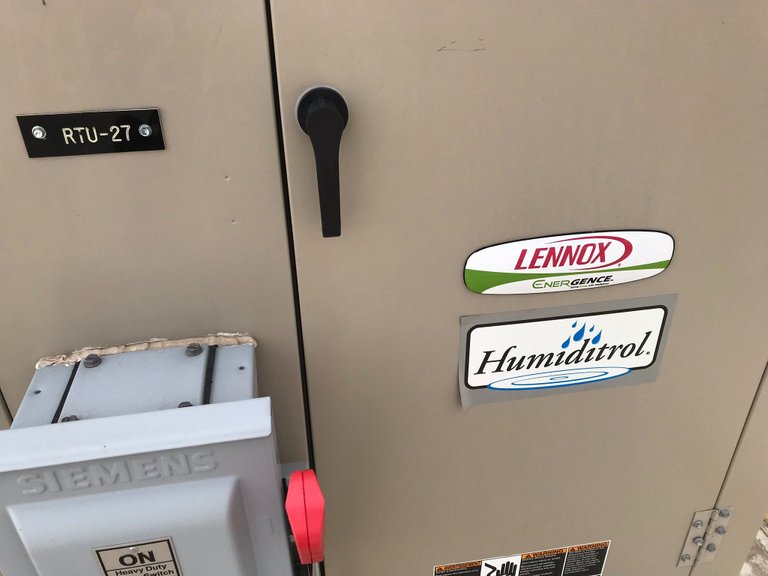 Mini Splits
The mini-split unit preventive maintenance includes the following:
Amp draw on
Blower motor
Condenser motor
Compressor and compare to MFG name plate
Check pressure (refrigerant) as per metering device
Adjust and balance blower wheel belt
Check all electrical components
Contactors
Transformers
Boards
Hi/lo pressure switches
Thermostat
Electrical disconnect boxes
Low voltage control wires
Tight as needed
Check evaporator coil to see if it needed to be cleaned
Check condenser coil to see if it needs to be cleaned
Check compressor cabin to see if it needs to be cleaned
Clean / clear out drain line
Rooftop Units
Preventive maintenance on RTUs includes:
System pressures
Supply and Return Air Temperatures (Diffenrential)
Superheat / Subcooling
Voltage, Amperage, microfarads and compare to listed manufacturer specs
Inspect system cleanliness, overall equipment condition, wear and tear, belts, filter dryers, contactors, transformers, electrical connections and components' operation.
Flush drain lines using vacuum or compressed nitrogen or CO2
Add pan tablets
Install customer provided replacement filter (if available during the time of visit)
Why We Do Preventive Maintenance (PM)
There are three main types of maintenance on a building.
You can do Break-Fix maintenance. When something breaks, you get it fixed. This can occur at inconvenient times and can cost more to repair in some circumstances.
You can do preventive maintenance. This requires that you do routine inspections to ensure that failing components are caught and replaced before they completely fail. This is slightly wasteful because you are spending on a replacement on a component that is still functioning. However, the advantage is that you choose when it is replaced. You can have the replacement ready to install, or replace the component before it fails. Or, alternatively, parts are replaced as they are approaching the end of their useful life when it is likely they would fail.
There is also Predictive Maintenance. Predictive maintenance is a bit more scientific in that it measures changes in the equipment that a typical inspection would not perform. This can include analyzing fluid samples or measuring vibrations, which might indicate imminent failure of some components. This is a bit more involved and costly to perform. However, it saves you from unnecessarily replacing equipment that is still performing well within specifications. And, you can still replace components before failure because you have advance warning, unlike Preventive Maintenance, which replaces components on a schedule.
Most Common Maintenance
Because of its simplicity, a majority of maintenance on building mechanicals is done as Break-Fix maintenance. You only incur costs when needed. And, you are only inconvenienced when the item breaks. However, if your business relies on predictability, break-fix could be a costly form of maintenance. Downtime would need to be scheduled or predicted to ensure efficiency in other parts of the business.
In our case, we are in the dog days of summer in Texas. Normally, this would be the hottest time of year. This year, we have been fortunate to have relatively mild weather compared to other years. Given the extra strain on the HVAC rooftop units in the hot summer months, we would prefer to catch or prevent any problems from occurring. For example, having low power voltage or current could damage motors, capacitors, or other electronic components. Blower belts could be cracking and subject to breaking. Coils may be dirty, reducing the efficiency of the units. In short, we want the RTUs to be able to perform at their peak during these hot summer months.
Maintenance Cost
Estimates will vary depending on your location and the quality of service you can expect. In our area, PM can cost anywhere from $100 to $180 per unit. Given the quantity of units we have, we do need to gather proposals from different companies to ensure we get the best price.
---
---