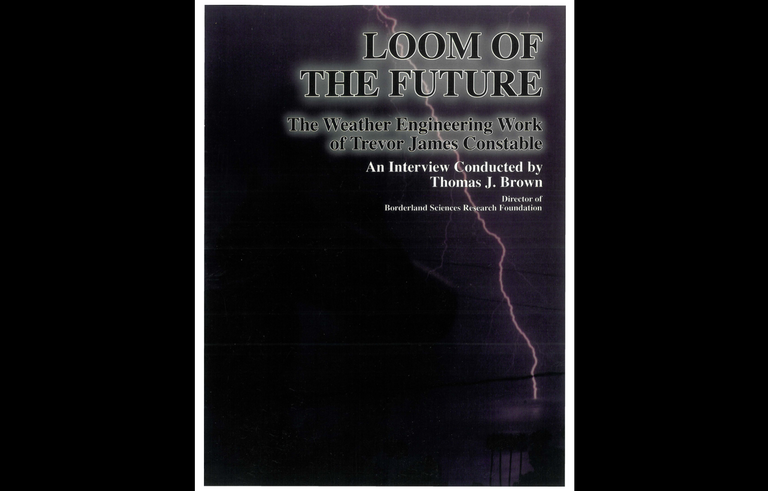 Those of us who are drawn beyond the boundaries of conventional thought owe a debt to one of the great natural scientists of the 20th century, Trevor James Constable (TJC). Originally an aviation and military historian, Constable became fascinated with the UFO phenomena, and began a decades-long quest into the unseen forces of nature.
Constable was astonished at what he had found (in the field of UFO phenomena) and resolved to learn as much as he could about the invisible world that was glimpsed in his photographs. Constable's journey is well documented in The Cosmic Pulse of Life, which delves into the work of several prominent researchers, including Rudolf Steiner, Ruth B. Drown and Wilhelm Reich.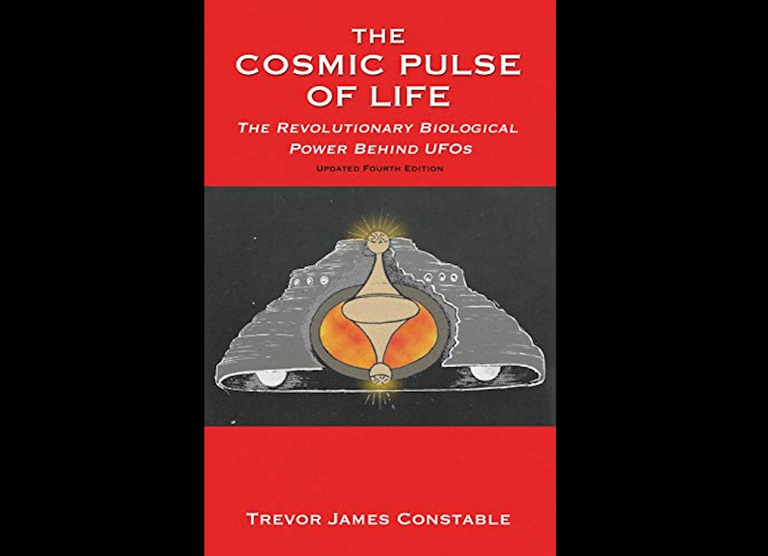 By studying the legacy of these scientists and their remarkable achievements, Constable acquired a basic understanding of etheric physics and the ways in which the subtle forces of nature interact with the sensible world. In addition, he learned how to construct the first generation of machines specifically engineered to interact with etheric forces: orgone accumulators and cloudbusters based on designs by Wilhelm Reich.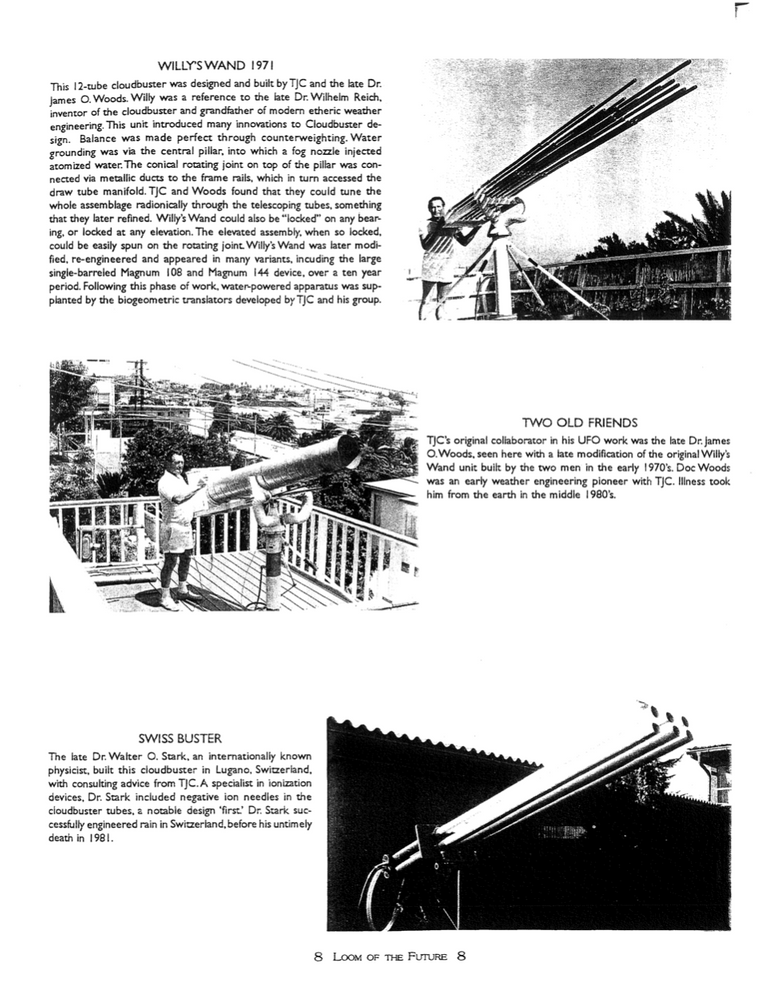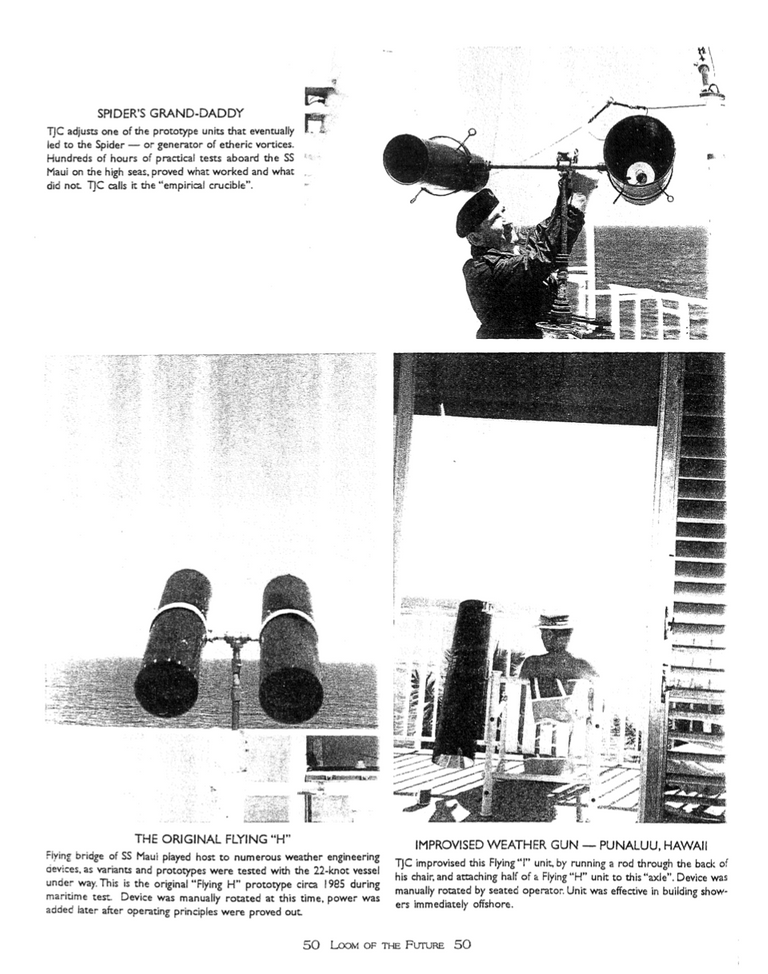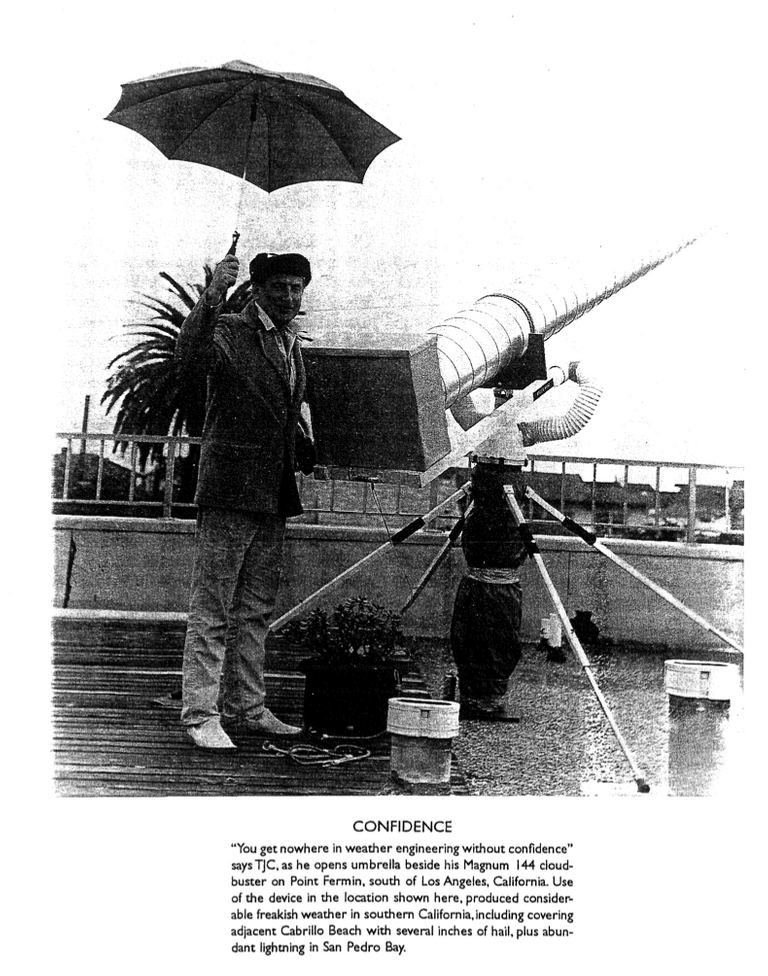 Constable applied this knowledge by launching an extensive program of field research to address two of the enormous challenges facing Southern California: drought relief and smog control.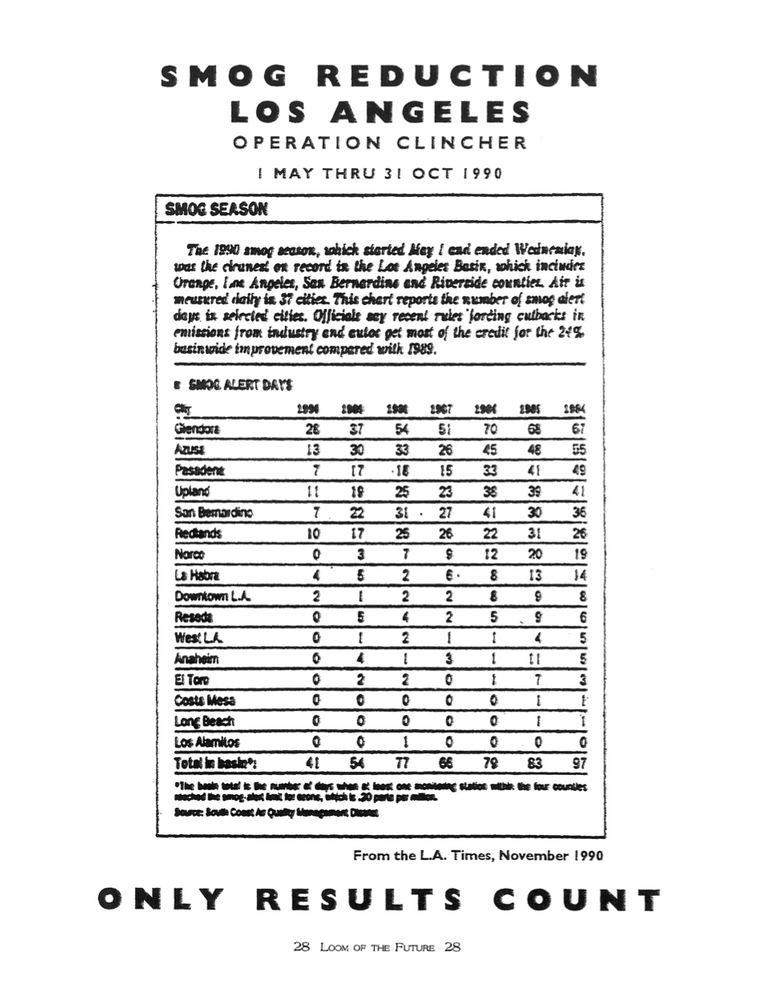 The Loom of The Future (1994) documents his 20+ years of research into etheric weather engineering, based on the principles of Steiner, Drown and Reich. The book contains dozens of photos and charts, and a lengthy interview conducted by Thomas J. Brown, Director of Borderland Sciences Research Foundation.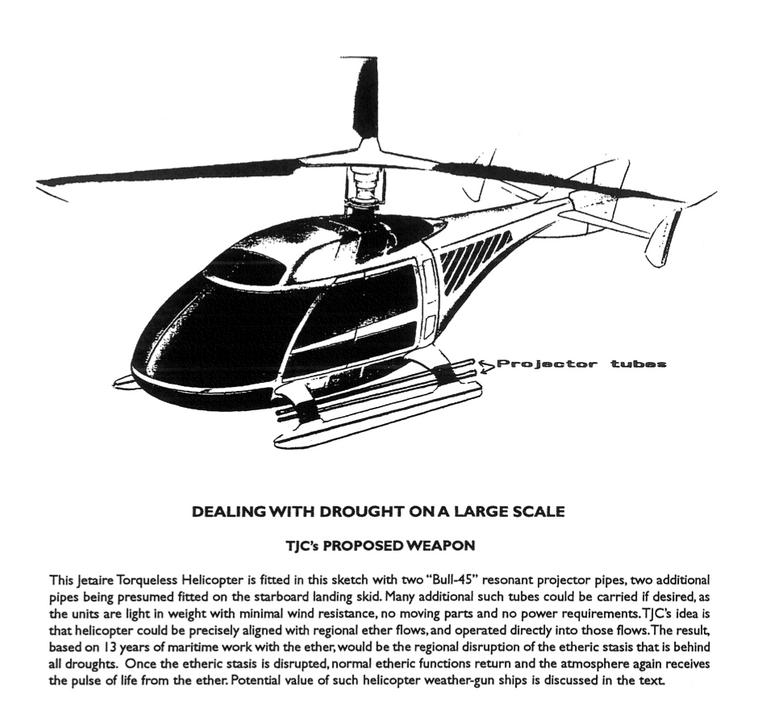 By the mid-1990s, Constable had developed resonant, self-powered devices that were relatively simple to construct and remarkably effective. He also discovered that light aircraft were the most cost-effective way to deploy them. And while the practice of weather engineering remains perilous in certain countries due to the influence of special interests, Constable's discovery of resonant etheric devices has profound implications for future technology in many fields. source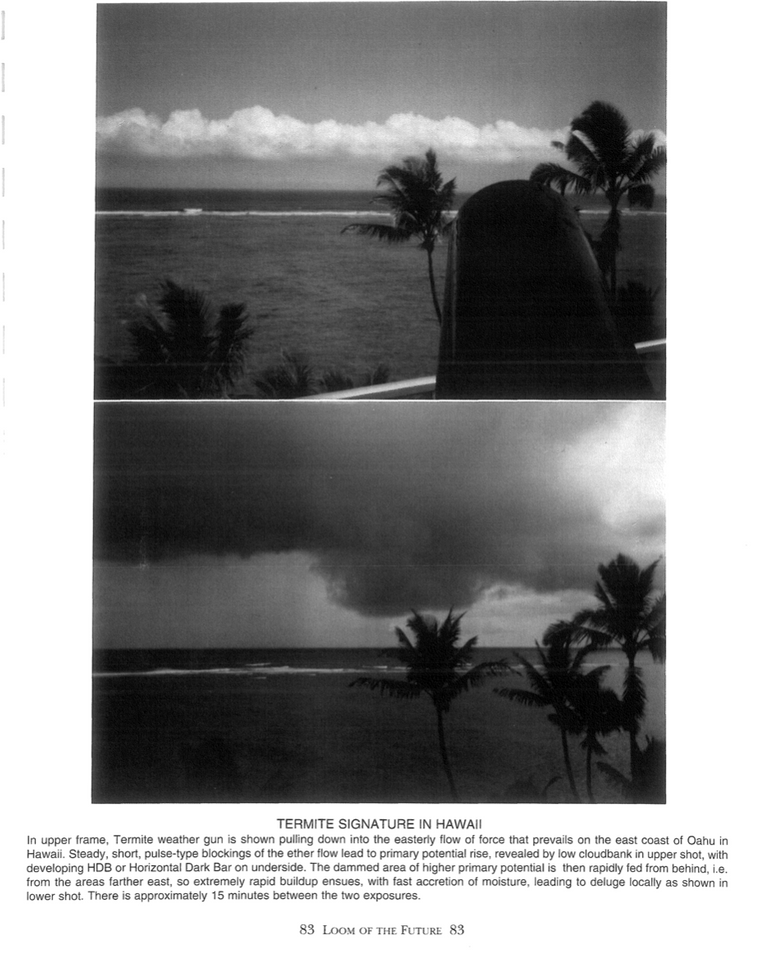 To view (and download) this book on Odysee follow this link
If you are new to Odysee you can support us by signing up with our referral link
We recommend you download as much as you can from our Odysee channel and store it on a small USB powered device (phone/tablet). With a basic solar charger you can then have the peace of mind that no matter what is happening in the world, you will always have access to this potentially life saving information.

---
Archived Publications
SAS Survival Handbook: The Ultimate Guide to Surviving Anywhere
Wild Edibles: A Practical Guide to Foraging, with Easy Identification of 60 Edible Plants and 67 Recipes
Blink: The Power of Thinking Without Thinking
The Resilient Gardener: Food Production and Self-Reliance in Uncertain Times
Aquaponics: Everything You Need to Know to Start an Expert DIY Aquaponic System from Home
How to Benefit from Everyday Herbs
Preserving Everything: how to can, culture, pickle, freeze, ferment, dehydrate, salt, smoke, and store fruits, vegetables, meat, milk & more
Preserving Food without Freezing or Canning: Traditional Techniques Using Salt, Oil, Sugar, Alcohol, Vinegar, Drying, Cold Storage & Lactic Fermentation
The Big Book of Preserving the Harvest: 150 Recipes for Freezing, Canning, Drying and Pickling Fruits & Veg
What Every Survivalist Should Grow in His Backyard
Vertical Gardening: Grow Up, Not Out, for More Veg & Flowers in Much Less Space
Vertical vegetable gardening: a living free guide
Vertical Vegetables & Fruit: Creative Gardening Techniques for Growing Up in Small Spaces
Healing Herbal Wines, Vinegars and Syrup
The Unofficial MacGyver HowTo Handbook Revised 2nd Edition
The Complete Guide to Edible Wild Plants, Mushrooms, Fruits & Nuts: Finding, Identifying & Cooking
The Wild Wisdom of Weeds: 13 Essential Plants for Human Survival
The Joy of Foraging: Gary Lincoff's Illustrated Guide to Finding, Harvesting & Enjoying a World of Wild Food
The Prepper's Guide to Foraging: How Wild Plants Can Supplement a Sustainable Lifestyle
Herbal Antibiotics: Natural Alternatives for Treating Drug Resistant Bacteria
The Handbook of Clinically Tested Herbal Remedies (Vol 1 & 2)
The Herbal Medicine Maker's Handbook
A Long Term Survival Guide: Survival Cabins
Prescription Alternatives: Hundreds of Safe, Natural, Prescription-Free Remedies to Restore and Maintain Your Health, 4 Edition
The Kitchen Garden Book: Complete Practical Guide to Kitchen Gardening, from Planning & Planting to Harvesting & Storing
Primitive Technology: How to build a Tiled Roof Hut with Underfloor Heating 🎥
Cold Weather Survival: A Way of Life
The Green Self-Build Book: How to Design & Build Your Own Eco-Home
Cure Tooth Decay: Heal & Prevent Cavities with Nutrition
The Edible Mushroom Book: A Guide to Foraging & Cooking
Mushrooming with Confidence: A Guide to Collecting Edible & Tasty Mushrooms
Wilderness Survival Handbook: Primitive Skills for Short-Term Survival and Long-Term Comfort
Encyclopedia of Homeopathy: The Definitive Home Ref Guide to Homeopathic Self-Heal
The Conscious Parent: Transforming Ourselves, Empowering Our Children
Edible Spots & Pots: Small-Space Gardens for Growing Veg & Herbs in Containers, Raised Beds & More
US Marine Corps Wilderness Medicine Course 2002
A Facilitator's Handbook for Permaculture
Fermenting Food Step by Step: Over 80 Recipes for successfully Fermenting Kombucha, Kimchi, Yogurt, Vinegar & Kefir
Tiny Game Hunting: Environmentally Healthy Ways to Trap & Kill the Pests in Your House & Garden
You Are The Placebo: Making Your Mind Matter (Dr. Joe Dispenza)
Bushcraft 8: Bush leatherwork by Ron Edwards
The Invisible Rainbow: A History of Electricity & Life
The Water of Life: A Treatise on Urine Therapy
The Way of the Superior Man: A Spiritual Guide to Mastering the Challenges of Women, Work & Sexual Desire
How to start seedlings in egg shells 🎥
Building Soil: A Down-to-Earth Approach: Natural Solutions for Better Gardens & Yards
Top Five Useful Knots for camping, survival, hiking & more
Tom Yum Recipe To Cure Almost Anything!
Electroculture by Justin Christofleau 1927
Ancient Mysteries, Modern Visions: the magnetic life of agriculture

Earthing: The Most Important Health Discovery Ever?
The Pyramid by Les Brown: How to build it, how to use it (1978)
---
This project is being run by @samstonehill