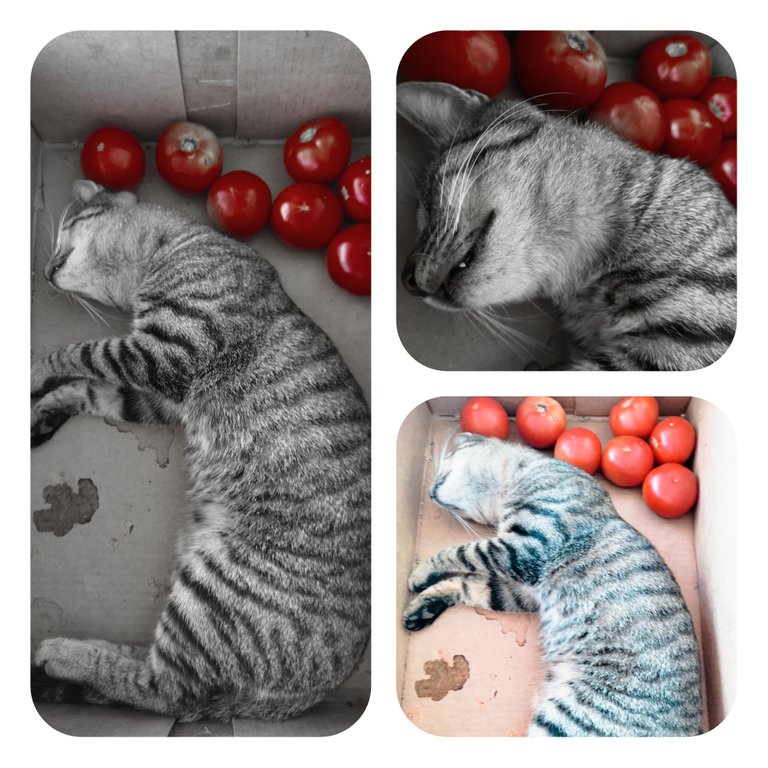 Español/English
---
🐱🐱🐱🐱🐱🐱🐱🐱🐱🐱🐱🐱🐱🐱🐱🐱🐱🐱
---
Hola amigos 🙋🏻‍♀️, hoy les traigo más travesuras de mi Mushi.
Hello friends 🙋🏻‍♀️, today I bring you more mischief of my Mushi.
Hace meses llegó a nuestra casa este pequeño gato, que nos ha llenado de travesuras y alegres momentos.
Months ago this little cat came to our house, which has filled us with mischief and happy moments.
Nunca antes habíamos tenido un gato en casa....y aún no sabemos de todas las cosas que hace si es normal o algo característico de él 🤭🤭.
We've never had a cat at home before... and we still don't know about all the things he does if it's normal or something characteristic of him 🤭🤭.
En varias ocasiones les he compartido fotos de su curiosas formas de dormir y cada día me sorprende más 🤣🤣.
On several occasions I have shared photos of their curious ways of sleeping and every day it surprises me more 🤣🤣.
En la tarde de hoy se nos despareció y no sabíamos dónde estaba, nos causó preocupación no verlo y comenzamos a buscarlo y llamarlo, pues por ese horario suele estar durmiendo en la casa, a los llamados de mi mamá... respondió 🤭🤭, al oír el miau en respuesta a..estoy aquí* 🤣🤣, nos llevamos una sorpresa al encontrarlo durmiendo dentro de una caja de cartón donde mi mamá tenía guardado unos tomates que compró hace días 🤭🤭.*
This afternoon he disappeared and we didn't know where he was, we were concerned that we didn't see him and we started looking for him and calling him, because because of that time he is usually sleeping at home, to my mom's calls... he answered 🤭🤭, upon hearing the miau in response to..I'm here 🤣🤣, we were surprised to find him sleeping inside a cardboard box where my mom had some tomatoes she bought days ago 🤭🤭.*
Cuando lo encontré estaba muy cómodo....acostado dentro de la caja y en algún momento tuvo un tomate en función de almohada 😌, inmediatamente corrí en busca de mi móvil para tirarle fotos y compartirlas con ustedes....espero que les gusten...y las disfruten como yo😁.
When I found it, it was very comfortable....lying inside the box and at some point it had a tomato as a pillow 😌, I immediately ran in search of my phone to take photos of it and share them with you...
I hope you like them ...and enjoy them like me😁.