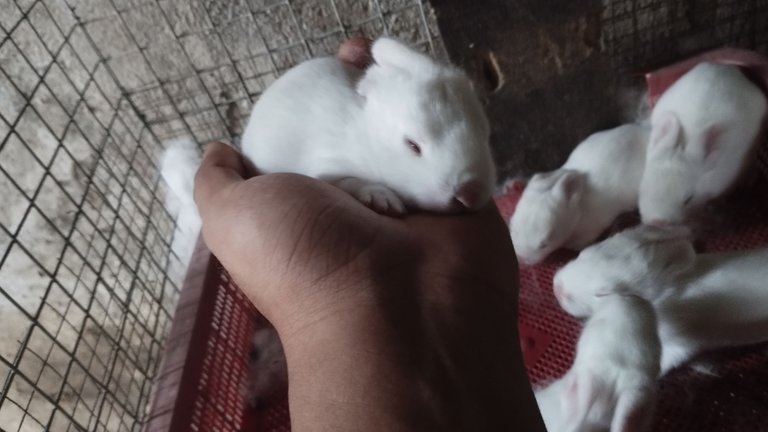 Five small baby rabbits were added to my animals, and I am really excited to watch them grow I have been expecting them for a quite long time now, I bred them last third week of September, and I am a bit anxious waiting, I thought that I might fail the breeding again, already judged that the sire was sterile because I did try three of the female breeder with just a day of the interval. But the date was due yet none of them showed the sign of pregnancy. I am also honest that my sire was young as it was used, but I really loved to see a positive result so I still risk my time breeding them.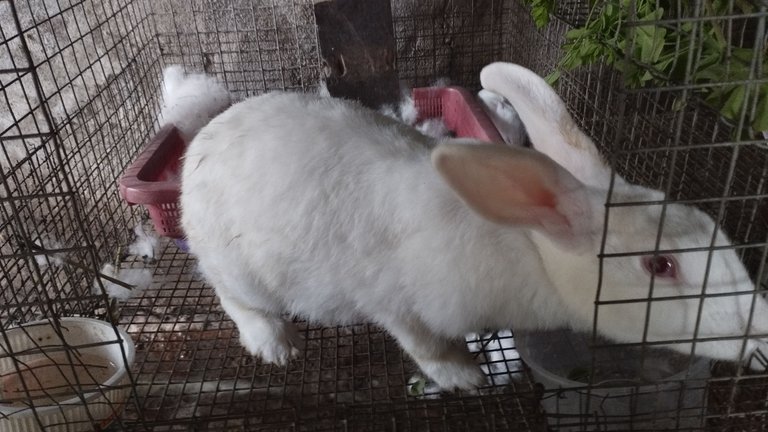 The Doe or the female gonna be two years old this January 2023, I am more on quality over quantity so I am strict in the way of practicing breeding, I am avoiding stress and sudden changes in their diet when I conditioned them for breeding. Breeding is easy; but the result might shock you, one of which is the size of the kits or small rabbit after a gestation (giving birth), and another is the quality and quantity of milk, also there is a risk in breeding as they were not conditioned. I am looking for quality rabbits, so I am a bit strict when it comes to positioning the diet on the day of conception.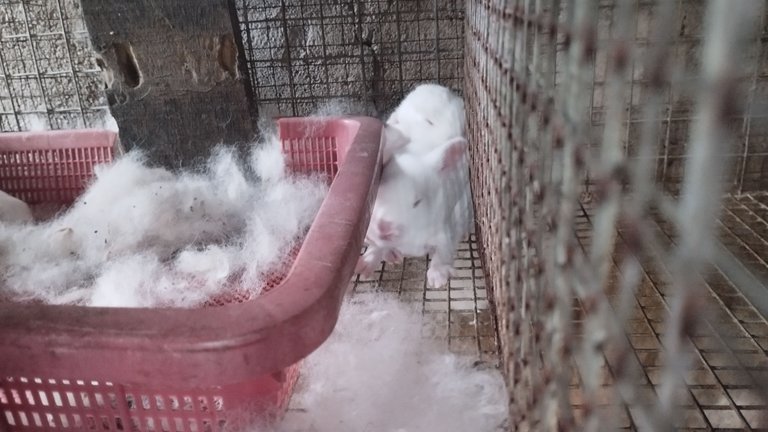 As I woke up this morning and goes to look for the babies, and supervised if there is strange things to see. I see two of the babies come out already at the nest box of their mother, and I remembered that they were now one week old, expected that they will be naughty and much curious about everything, so they begins to jump up and practice their legs, so some might unexpectedly go to the corner of where they could trap themselves. That's the problem begins, one week old they still do have not that good eyesight might they were a trap for the whole night and might they have not drunk their mother's milk the whole night.
The One Week Cycle.
Right after the breeding, when the mother rabbit was conditioned and well-ready, here comes the cycle of conception to gestation period for about 30 to 32 days, depending on the size of the babies they have. They will show up signs as they will are ready the giving birth, they show reckless personalities and showing nervousness, and start to shed their fur to make some nesting.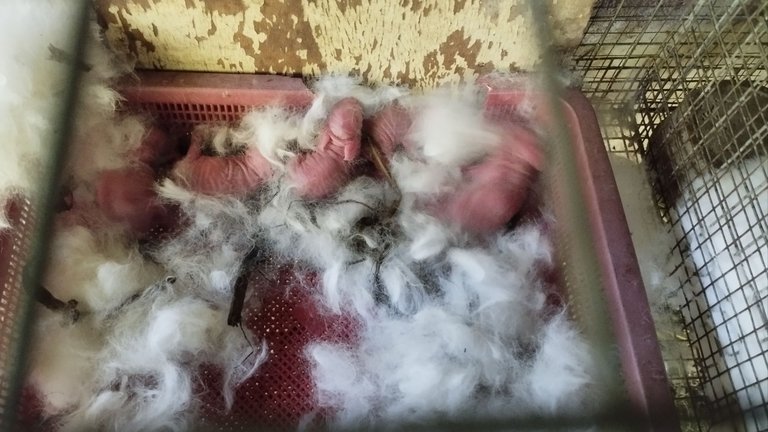 Day one after giving birth, this is how they look after three hours of being born. Experience Doe has a magnificent practice of giving birth, she could deposit all her babies within minutes when she reaches the point of time.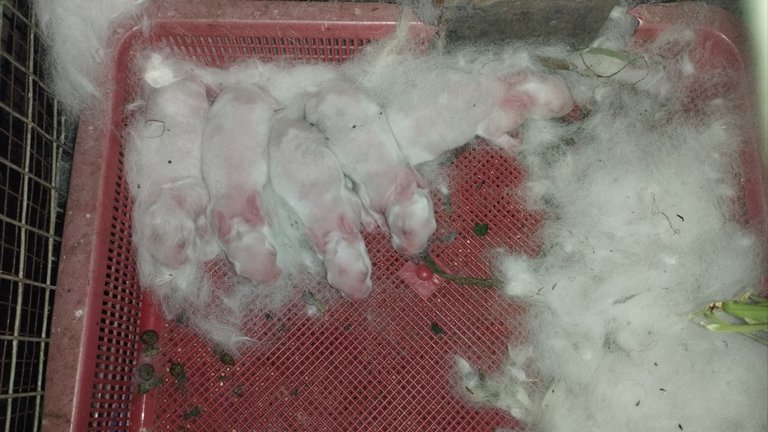 On the third day of birth, after taking the nutritious milk from their mother they began to form tiny fur in their body, at this stage they were fragile and cold. That's why the mother doe will shed her fur so she could give her babies some protection from cold.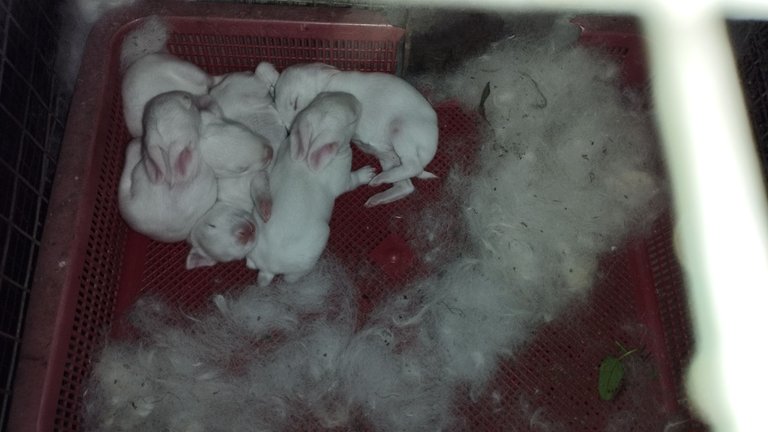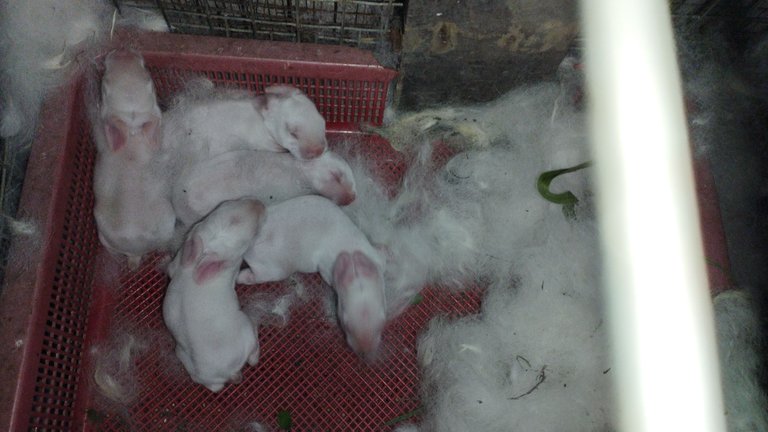 On the fourth day, they began to practice their crawling and legs. One small distraction will give them goosebumps and react to any simple move, as you could observe from 3DAB vs 4DAB (Days After Birth) the small fur from their neck begins to develop.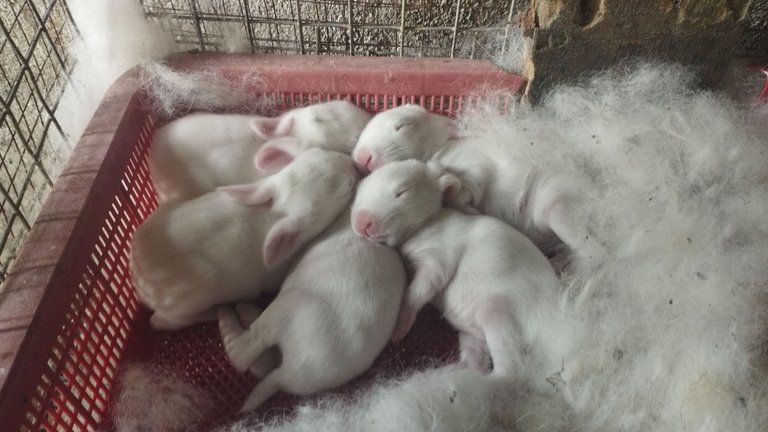 Day five and they were helping each other with the body heat. It's natural for the rabbit to be all alone, in the wild mother rabbit will just visit them at the night for just the milk and they will be gone again the whole day, rabbit milk was nutritious and even just they be fed once a day they will survive.
One week old, they began to be curious for they were now developing their senses such as sight, hearing, and feeling. They began to open their tiny eyes when you touch them they respond a jumping, they become naughty.
As a week old the chances were high that they could survive so I already removed the fur that covers them as their blanket when on the very first day of their birth. It will naturally be gone as they play and jump, but I choose to remove it to prevent more problems, such build-up of fungi and diseases from the wet fur added to their dung and urine.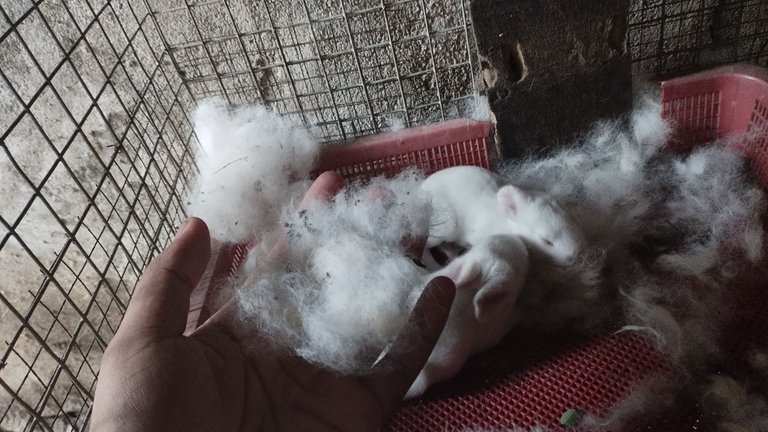 ---
Here are some more photos that might captivate you with their cuteness.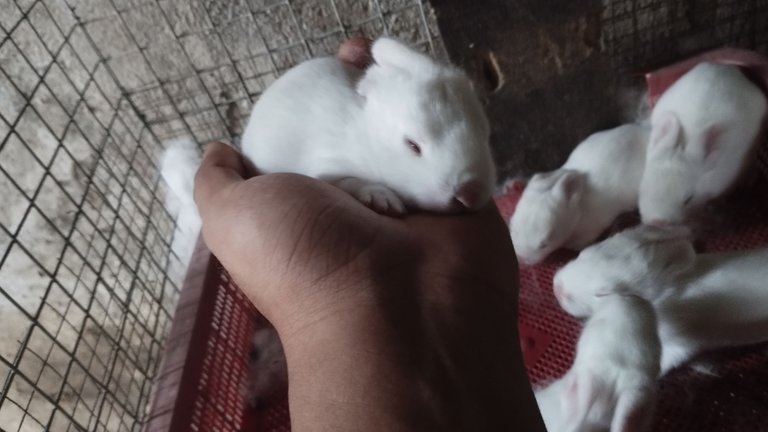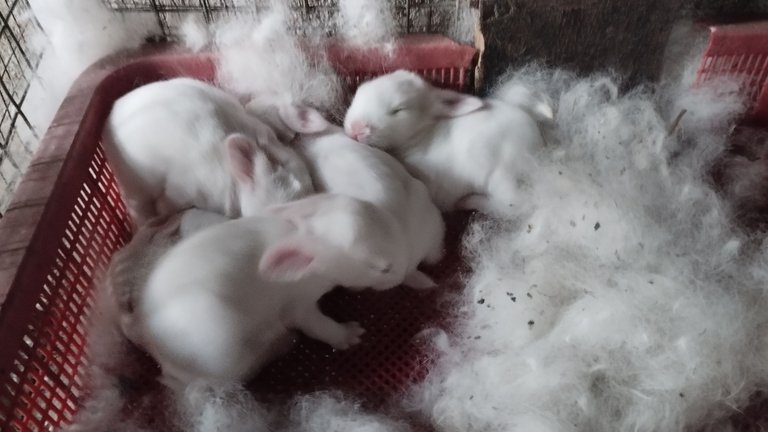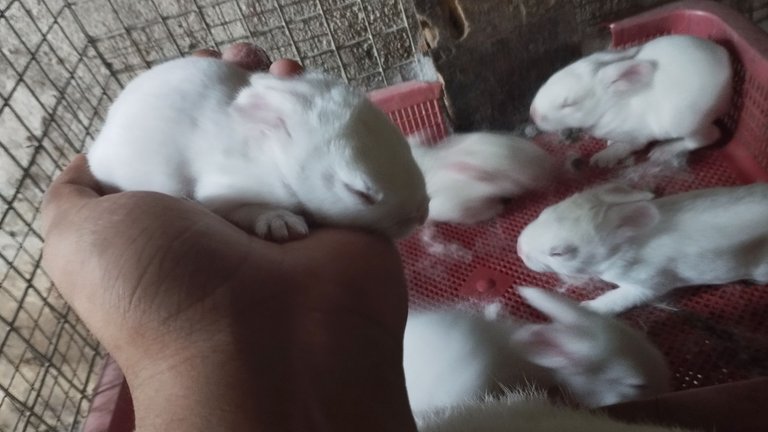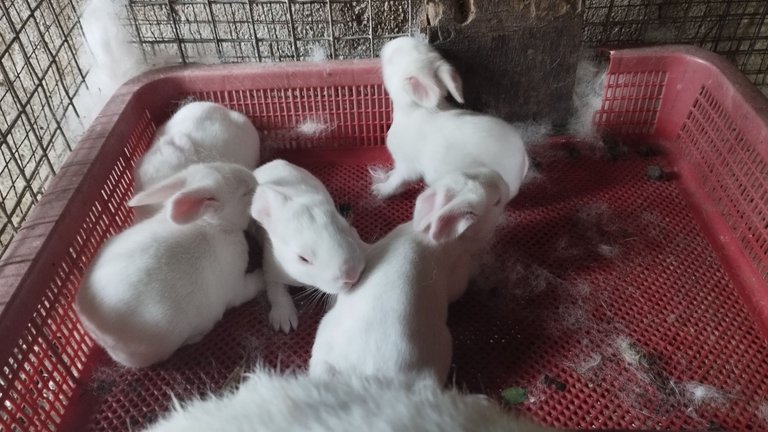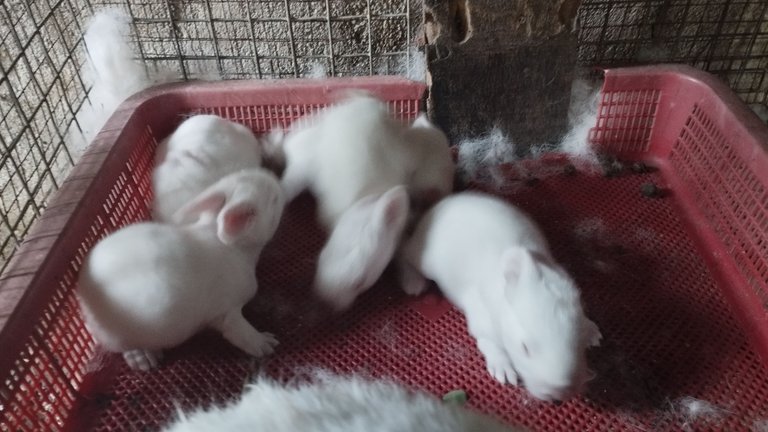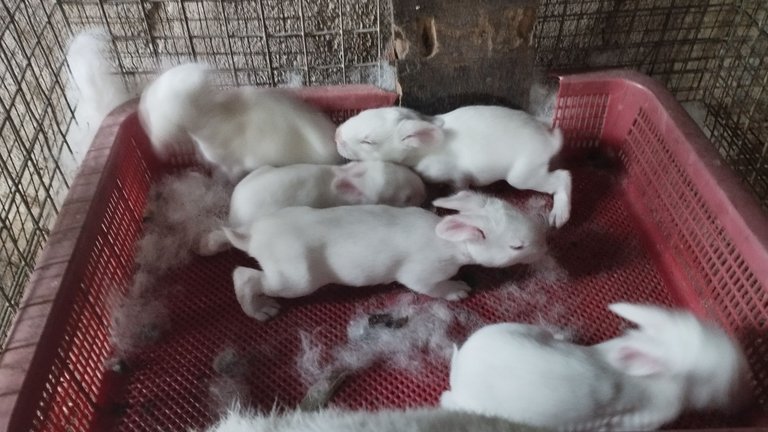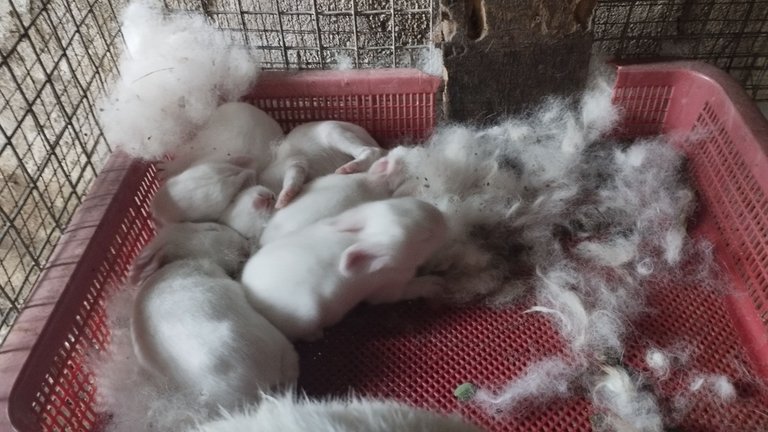 Next weekend I will share their two weak old journeys until they reach maturity.
ALL PHOTOS BELONG TO @eunoia101
| | Hi, eunoia101 is a Farmer, Registered Agriculturist, Agronomist, Farm Technician, Mushroom Cultivator, Entrepreneur, and soon Researcher. Suppose your problems or queries are in any of the fields, don't feel hesitant to comment. We will try to resolve that. Upvote and reblog are highly appreciated. | |
| --- | --- | --- |