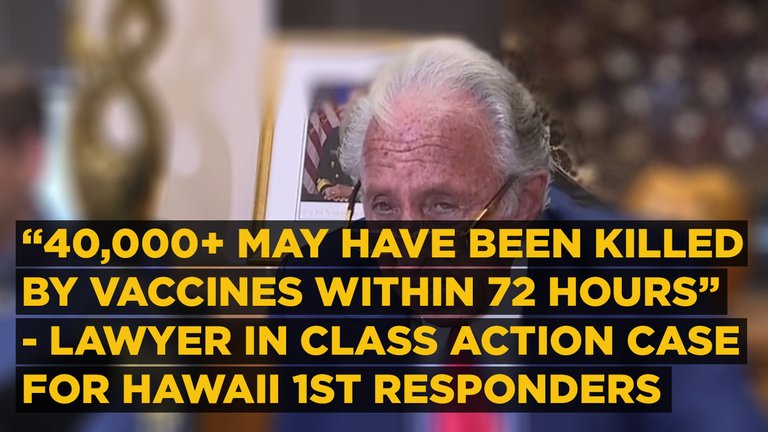 ---
A class action lawsuit has been filed in Hawaii on behalf of first responders such as firemen, police, medical staff and others who wish to remain unvaccinated for COVID19 due to concerns surrounding their safety.
As I have been recently recording, safety concerns surrounding the novel vaccines technology used in COVID19 shots have been continually mounting, with data of all kinds pointing to serious issues with both their viability and safety. Michael Green, an attorney in Hawaii states here, alongside a passionate first responder, that he has evidence that nearly 50,000 people have died in the US within 72 hours of receiving COVID19 shots.
Without seeing the evidence in question I am not able to comment on it precisely. However, I will point out that prior to COVID19 shots being rolled out, people would often point to the US VAERS database to show how safe vaccines are. Now that VAERS is showing such an epicly high level of adverse reactions and deaths following the COVID shots, people are claimingt that VAERS can't be used because it's not accurate enough! Which is it? You can't have it both ways.
The evidence in and focus on this case needs proper context. Not only are the people involved large numbers of emergency workers who are being threatened with losing their jobs if they refuse this 'medical experiment', but the background data ([Which I have been posting myself recently(https://peakd.com/hive-150329/@ura-soul/deeper-dive-are-vaccines-causing-dangerous-variants-of-covid19-and-increasing-mortality-follow-up)) shows that there is reason to think that the shots may be doing more than just killing people. Some experts think that the shots are lowing long term natural immunity and [my post from yesterday](shows that the shots may well be driving transmission of SARS CoV 2 and even putting pressure on the situation, causing it to evolve into new variants.
Whatever the truth here, the passion and emotion of the 1st responders must not be denied here.


Wishing you well,
Ura Soul
---

Read My User Guide for Hive Here
---
---
---
---
▶️ 3Speak