---
If you were to only listen to and believe mainstream media, politicians and pharmaceutical company CEOs, the 'scientists' employed at Pfizer and their ilk are heroic and stunning examples of the human species. In truth, however, many experts, insiders and researchers have exposed (for decades) just how warped and corrupt the scientific method and process can often become when touched by their hands.
Dr. Peter Rost MD was once Vice President of marketing at Pfizer, the company currently at the core of numerous massive scandals regarding their experimental gene therapy products that have been forced onto millions of people worldwide. Peter turned whistleblower after discovering unethical and illegal practices at both Pfizer and another of his previous employers - Wyeth.
Quote from this video:
"Everybody that I've encountered in my former career as a pharmaceutical executive are out there with their hands out. Everybody's begging for money. Nobody has any money. The government doesn't have any money. Universities don't have money. The only ones that have money are these big multinational corporations. And they have lots of money. And they use that money to, basically, buy influence. And the way it's done is, number one, you give these organizations and institutions grants for various kinds of research. You develop research together with them. You establish friends, you make sure that they become beholden to you. And you also pay individual professors and doctors and researchers directly. You may pay them as speakers to travel around the country… a thousand, two thousand dollars per day, sometimes more."
At Wyeth he spilled the beans on tax evasion and they demoted him, resulting in him settling out of court with them for an undisclosed amount.
After Wyeth he worked for Pharmacia, a company that sold Pfizer's human growth hormone drug Genotropin 'off label', meaning that it was promoted to people for uses which were not authorised or fully proven. He alerted Pharmacia to this and tried to get them to stop doing it but their intentions were clearly illegal and unethical, so they ignored him. Not long after they merged with Pfizer and his future employers tried to block his integration, knowing about his previous whistleblower status.
Rost opened a legal case against Pfizer for the illegal practices of Pharmacia, which had now become part of Pfizer. This was secret at the time. Pfizer gradually reduced his role from managing a team of 60 to him being forced to spend every day doing nothing. Whistleblower protection laws prevented him from being sacked, so the company placed him in a remote office with nothing to do all day and no information coming in or out! This pretty clearly shows that Pfizer not only didn't want someone who stuck to integrity laws in their organisation but would do whatever they could to try to shut down such people when they entered their corporation.
Once Rost's secret case against Pfizer was unsealed, Pfizer sacked him. He sued for wrongful dismissal and lost at appeal. Pfizer also escaped prosecution for Pharmacia's activities because they reported the crimes of Pharmacia to the US government two weeks before he opened his case.
Peter later wrote a book called The Whistleblower - Confessions of a healthcare hitman, spoke at a congressional hearing on pharma price exploitation and became a writer at Huffington Post. His book is a little slow but does a good job of exposing the culture of greed and exploitation that is the backbone of many pharmaceutical organisations at the top levels.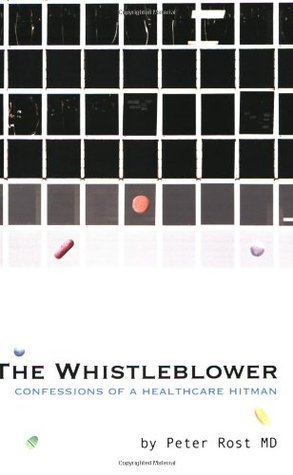 Given the scale of the normalised criminality in the pharmaceutical and 'health' industries, plus the related fields of academia - one might think that there would be many such whistleblowers, but in truth we rarely hear of them. This is partially because they can be bought off (or even threatened/harmed) to silence them and partially because the mainstream media and much of the web 2 internet is bought and paid for by the pharmaceutical industry. Dr. Mike Yeadon is another Ex VP of pfizer (Science) who has become extremely active during the COVID era, vocally describing those calling the shots as satanic mass murderers - yet he never gets heard through the mainstream, for obvious reasons.
More history of health and other key topics to come daily on 3speak here. Stay Tuned.
Side note: I have been experimenting with a blue checkmark on twitter but have found that I am still shadowbanned there. Please sub to me on twitter, retweet and turn on the notifications to help me build my profile there. I intend to reach larger audiences and to drive them to Hive.
Wishing you well,
Ura-soul
---
▶️ 3Speak