Dear All,
| | |
| --- | --- |
| | |
| the CanadianCovidCareAlliance, an alliance of 500 Canadian doctors, scientists, and health care practitioners, recently issued an excellent overview over the Pfizer/BioNTech clinical data that were used for the fast track licensure of its Covid injectible product (commonly called "vaccine"). This is a complete and utterly shocking level 1 evidence of scientific misconduct, manipulation and hidden evidence. This is not fake news, but all data stem from Pfizer itself, just some of it buried in appendixes, as the data clearly reveal, that this gene therapy product against the Coronavirus does more harm than good! | Die CanadianCovidCareAlliance, ein Zusammenschluß von 500 kanadischen Ärzten und Wissenschaftlern, publizierte kürzlich einen ausgezeichneten Überblick über die klinischen Daten zum Pfizer/BioNTech Gentherapieprodukt gegen Covid-19 (gemeinhin "Impfstoff" genannt). Es ist eine ausführliche und schockierende Evidenz 1. Klasse an wissenschaftlichem Fehlverhalten, Manipulation und Verschleierungen von Fakten. Das sind keine fake News, denn die Daten stammen alle von Pfizer selbst, einige allerdings bewußt versteckt. Sie zeigen, dass dieses Produkt (das sogar verpflichtend kommen soll) mehr schadet als nützt! |
| Since on top of it the evidence is remarkably well presented graphically so that it can be easily grasped by lay persons, I show you some key findings: | Da die Daten auch sehr gut grafisch aufbereitet wurden und somit auch für Fachfremde gut verständlich sind, zeige ich Euch in diesem post ein paar "Highlights": |
| | |
| --- | --- |
| Here is a visual about what all has been skipped in order to speed up the clinical development: | Hier eine Übersicht über das, was alles ausgelassen wurde, um die Entwicklung des "Impfstoffs" möglich rasch durchzupeitschen: |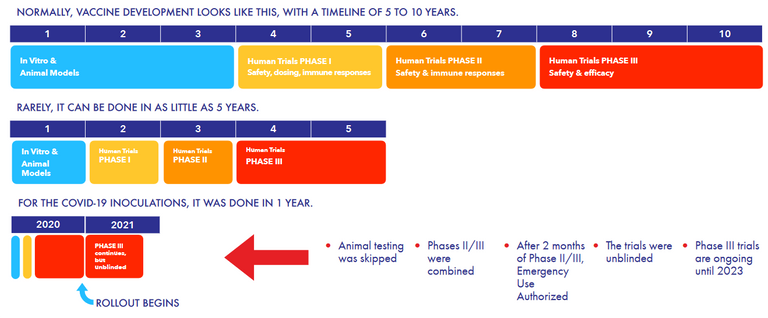 | | |
| --- | --- |
| Most of the people know this anyway, as this was covered in all media, but not all understand, that you can't buy time with even so much money and efforts. Only time will reveal the true safety profile of a drug. | Das ist zwar allgemein bekannt, denn alle Medien berichteten darüber, aber man muss verstehen, dass man Zeit auch nicht mit noch soviel Einsatz von Geld und Resourcen erkaufen kann - nur mit der Zeit erkennt man das Sicherheitsprofil eines neuen Medikaments. |
Misleading demographics / Irreführende Altersgruppen
Of course this rush comes at a cost, e.g. the demographics of the enrolled patients hardly represent the vulnerable patient pool (like it should):
Natürlich hat diese extreme Eile Folgen, z.B. entspricht die Altersverteilung unter den Studienteilnehmern in keinster Weise der Gruppe der vom Virus gefährdeten Personen:


| | |
| --- | --- |
| Instead the vast majority of trial participants was of a much younger age and thus would be less likely to need a vaccine and more likely to respond well to a vaccine, as the elderly have comparatively poor immune responses! Remember, this was THE ONLY TRIAL used for getting the market approval! But it gets worse: | Stattdessen war die große Mehrheit der Studienteilnehmer wesentlich jünger und daher im Schnitt eher resistent gegen Sars-Cov-2 und mit einer besseren Immunantwort (da Ältere eher wenig auf eine Immunisierung ansprechen). Nicht vergessen, trotz dieser Mängel war das die EINZIGE Studie, mit der die Zulassung erreicht wurde. Aber es kommt noch schlimmer: |
Tested on healthy, given to sick / An Gesunden getestet, den Kranken gegeben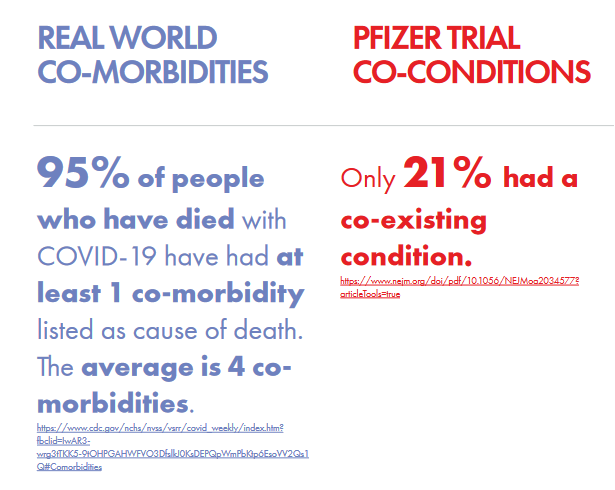 | | |
| --- | --- |
| In the Pfizer trial many health conditions were excluded, like pregnant or breastfeeding women, people with allergies, immunocompromised people, people with bleeding disorders, etc. Yet they are now not excluded from vaccine mandates and certificate requirements! The vaccines were basically tested on the healthy, and then immediately given to the frailest members of the society - the elderly with multiple health conditions. This is unscientific and highly unethical! | In der Studie waren viele Begleiterkrankungen bzw. -bedingungen ausgeschlossen (z.B. Schwangere, Allergien, Immunsupprimierte, Blutungsstörungen,...). Trotzdem gelten jetzt diese nicht als Ausnahmen von der Impfpflicht und Impfzertifikaten! Die Substanzen wurden im Prinzip an Gesunden getestet und sofort nach Zulassung an die Personen verspritzt mit den meisten Co-Morbiditäten - den Menschen in den Altersheimen! Das ist unwissenschaftlich und extrem unethisch! |
Early Unblinding -> No long term safety comparison possible /Vorzeitige Entblindung -> Keine Langzeitkontrollgruppe verfügbar

| | |
| --- | --- |
| Since after quite a short time already all the participants of the placebo group were given the experimental vaccine as well, there is no longer a control group available to compare the two groups e.g. in terms of overall survival! Again very unscientific and a breach of the protocol. Why? | Kurze Zeit nach den Injektionen wurde auch den Teilnehmern der Placebogruppe das Prüfmedikament injiziert, daher ist es nicht möglich, seine Auswirkung auf z.B. die Gesamtsterblichkeit mit der unbehandelten Kontrollgruppe zu vergleichen. Ebenfalls unwissenschaftlich und eine Verletzung des Protokolls. Warum? |
Wrong Clinical Goals / Falsche Studienziele ausgewählt
| | |
| --- | --- |
| The ultimate goal of any drug treatment is to improve illness and death overall, and not e.g. to cure a disease for the price of potentially inflicting another disease. Therefore modern trials look at the "all cause mortality". | Das Endziel jeder Behandlung ist es, Krankheiten zu heilen/verbessern und Tod zu verhindern, und NICHT, eine Krankheit zu heilen auf Kosten des Verursachens einer anderen. Daher schauen sich moderne Studien immer die Gesamtmortalität an. |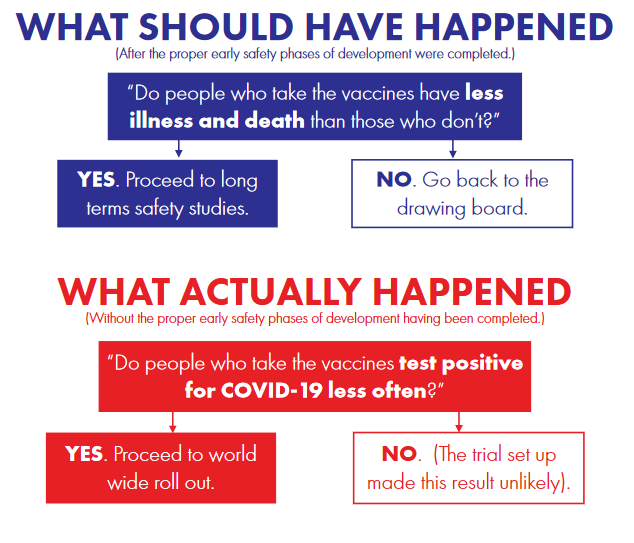 | | |
| --- | --- |
| However, in the Pfizer trial it was looked at illness + death from COVID-19 only, ignoring the negative impact of unintentional drug effects! This with a drug and a new mode of action, that was never used in large quantity in humans! | Aber in der Pfizer-Studie schaute man sich nur Krankheit und Tod durch Covid-19 an und ignorierte den potentiellen nagativen Effekt durch Nebenwirkungen völlig. Und das mit einer Substanz und mit einem Wirkprinzip, das noch nie zuvor am Menschen eingesetzt wurde! |
More deaths in the vaccine arm! / Mehr Todesfälle im Vakzin-Arm!
| | |
| --- | --- |
| In the 6 month´s report published by Pfizer it was shown (in the supplementary appendix only!) that the number of deaths (of any cause) was app. equal in the verum and placebo groups before unblinding, but after unblinding the ratio of deaths between verum and placebo was 5:0! If a drug protects from a deadly disease, it should be the exact opposite! | Im von Pfizer publizierten 6 Monats-Bericht war die Anzahl der Todesfälle (jeglicher Ursache) in beiden Armen gleich, aber nach der Entblindung kamen in der ehem. Vakzin-Gruppe noch 5 Todesfälle hinzu. Bei einer Substanz, die angeblich vor einer tödlichen Pandemie schützt, sollte es weit mehr Todesfälle in der Placebogruppe geben als umgekehrt! |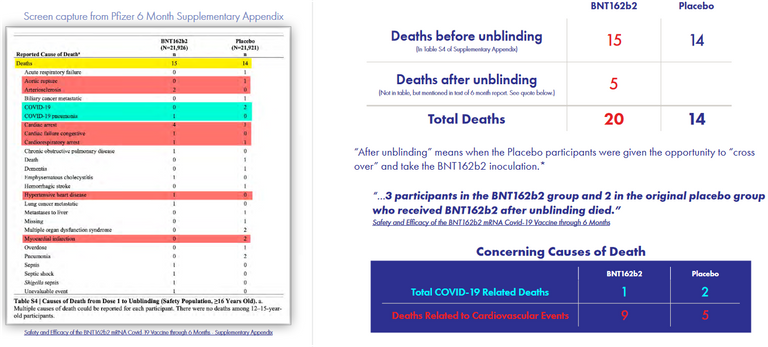 | | |
| --- | --- |
| Despite less patients died from Covid-19 in the verum group as in the placebo group (1 vs. 2!), much more died from cardiovascular events (9 vs. 5). Normally a new drug with such a catastrophic safety profile would never ever get a market approval! | Zwar starben in der Vakzingruppe weniger Teilnehmer an Covid-19 (einer anstatt zwei), aber viel mehr starben dafür an kardiovaskulären Ereignissen (9 ggü. 5). Normalerweise würde eine Substanz mit einem derart katastrophalen Sicherheitsprofil nie eine Zulassung bekommen! |
Obfuscation and whitewashing of side effect data / Verschleierung von Nebenwirkungen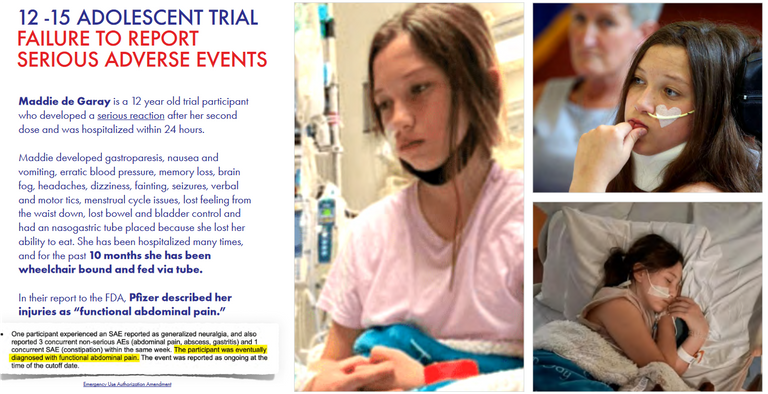 | | |
| --- | --- |
| Trial participant Maddie de Garay had extreme severe side effects and has been for 10 months wheelchair bound and fed via tube, and yet in the Pfizer report her case was described with "functional abdominal pain". | Studienteilnehmerin Maddie de Garay hatte schwerste Folgeschäden nach der Impfung, war 10 Monate an den Rollstuhl gefesselt und musste künstlich ernährt werden, Pfizer hatte ihren Fall aber nur als "funktionelle Unterleibsschmerzen" bezeichnet. |
Severe underreporting of side effect in the population rollout / Im weltweiten Einsatz werden Nebenwirkungen massiv zu wenig gemeldet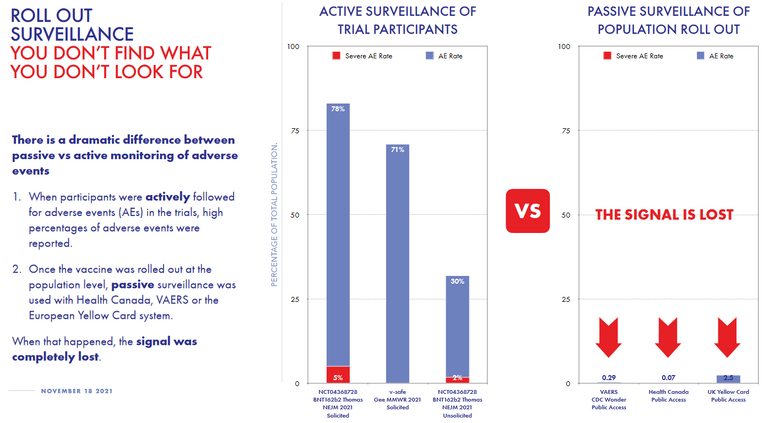 | | |
| --- | --- |
| While during the study follow up, adverse event (AE) rates were high and also serious adverse events were in the %-range, in the population rollout under real world circumstances the AE rates dropped sharply. Only conclusion: side effects are not reported that diligently anymore. This is very concerning for the population health. Some effect already can be seen now: | Während der Studienbeobachtungsszeit wurden hohe Raten an Nebenwirkungen berichtet und auch schwere NW waren im %-Bereich, im Masseneinsatz ging dann die NW-Rate massiv hinunter. Einzige Erklärung: Nebenwirkungen werden nicht aufmerksam genug gemeldet. Das ist alarmierend für die Gesundheit der Menschen als Ganzen! Einige Folgen zeigen sich jetzt schon: |
Rise of cardiovascular events in the vaccinated population / Anstieg der Rate an Herzschädigungen unter den Geimpften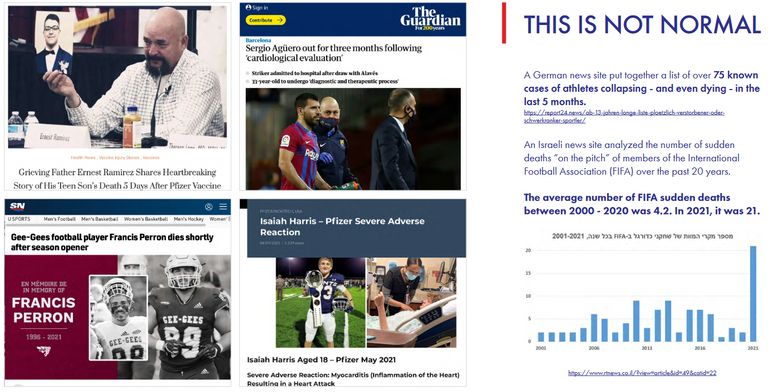 | | |
| --- | --- |
| Especially in athletes whose hearts must perform extremely, damages in heart muscle tissue by the vaccine-induced spike proteins had often dramatic effects. FIFA players suffering of sudden death were 2021 more than fives times higher than in previous years! | Speziell bei Spitzensportlern, deren Herzen auf Hochleistung angewiesen sind, können Vorschäden des Herzmuskelgewebes durch vakzininduzierte Spikeproteine dramatische Folgen haben. 2021 starben mehr als 5x so viele FIFA-Fußballspieler an plötzlichem Herztod wie in den vorigen Jahren! |
Pfizer´s own pharmacovigilance report lists 1200 deaths after vaccination / Pfizers eigener Sicherheitsbericht listet 1200 Todesfälle auf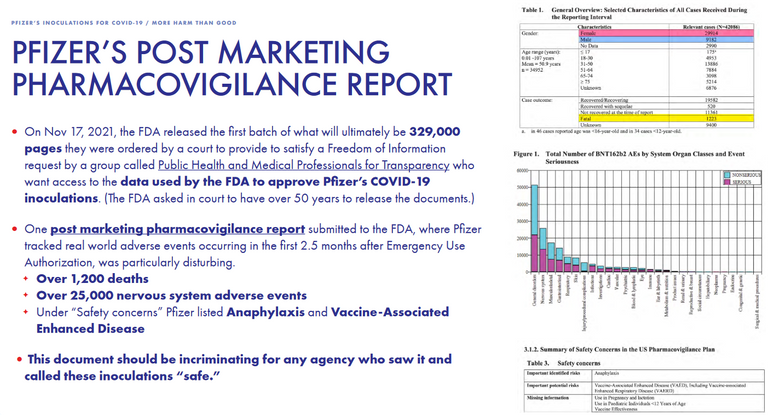 | | |
| --- | --- |
| A mandatory post marketing pharmacovigilance report by Pfizer sent to the FDA and containing safety data of up to 2,5 months after Emergency Use Authorization lists - despite the underreporting - 1200 deaths and 25,000 nervous system adverse events! How can someone claim this product is "safe"? | In einem von der US-Behörde verlangten Sicherheitsbericht 2,5 Monate nach der bedingten Zulassung listet Pfizer - trotz des Underreportings - >1200 Todesfälle nach der Impfung auf und allein 25000 Nebenwirkungen auf das Nervensystem. Wie kann danach noch jemand behaupten, die Substanz sei sicher? |
The CDC has redefined "Vaccine" to suit political and pharma interests / Die CDC hat den Begriff "Vakzin" umdefiniert, aus politischem und wirtschafltichem Interesse

| | |
| --- | --- |
| Shortly after it became clear that the "vaccine" does not prevent contagion and transmission, the CDC redefined the meaning of "vaccine" and removed the word "protection" (2)! Coincidence? | Kurz nachdem bekannt wurde, dass das "Vakzin" Ansteckung und Weiterverbreitung gar nicht verhindern kann, hat die US-Behörde CDC die Definition von "Vakzin" geändert, das Wort "Schutz" wurde gestrichen (2). Zufall? |
| Reminds me to the redefinition of "herd immunity" by the WHO in Nov. 2020 (3). | Das erinnert mich an die spontane Umdefinierung von "Herdenimmunität" durch die WHO im Nov. 2020 (3). |
| | |
| The facts are there, one just has to bring them to as many people as possible! | Die Fakten sind da, nur müssen sie auch an möglichst viele Leute gebracht werden! |
All pics / alle Bilder:
https://www.canadiancovidcarealliance.org/wp-content/uploads/2021/12/The-COVID-19-Inoculations-More-Harm-Than-Good-REV-Dec-16-2021.pdf
Sources:
(1) https://www.canadiancovidcarealliance.org/wp-content/uploads/2021/12/The-COVID-19-Inoculations-More-Harm-Than-Good-REV-Dec-16-2021.pdf
(2) https://www.citizensjournal.us/the-cdc-suddenly-changes-the-definition-of-vaccine-and-vaccination/
(3) https://allswritewiththeworld.medium.com/why-did-the-who-alter-its-definition-of-herd-immunity-d701abeb5a77