Inspirisan jako zanimljivim videom ispod,odlučio sam i sam da isprobam i provjerim da li je stvarno istina da se vakcinisani ljudi mogu očitati preko Bluetooth signala. Instalirao sam aplikaciju sa Play Store-a BLUETOOTH SCANNER i krenuo sa provjerom na poznanicima za koje znam da su dobili vakcinu. Ono što je jako bitno je to da na vašem telefonu morate imati uključen Bluetooth i GPS signal lokacije da bi ova aplikacija mogla pravilno u odnosu na vas da procijeni udaljenost ostalih uređaja.
Inspired by a very interesting video below, I decided to try it myself and see if it is really true that vaccinated people can be read via Bluetooth. I installed the app from the BLUETOOTH SCANNER Play Store and started checking on acquaintances I know who got the vaccine. What is very important is that you must have Bluetooth and GPS location signal on your phone in order for this application to correctly estimate the distance of other devices in relation to you.
---
Video by Mabus Channel (YT):
---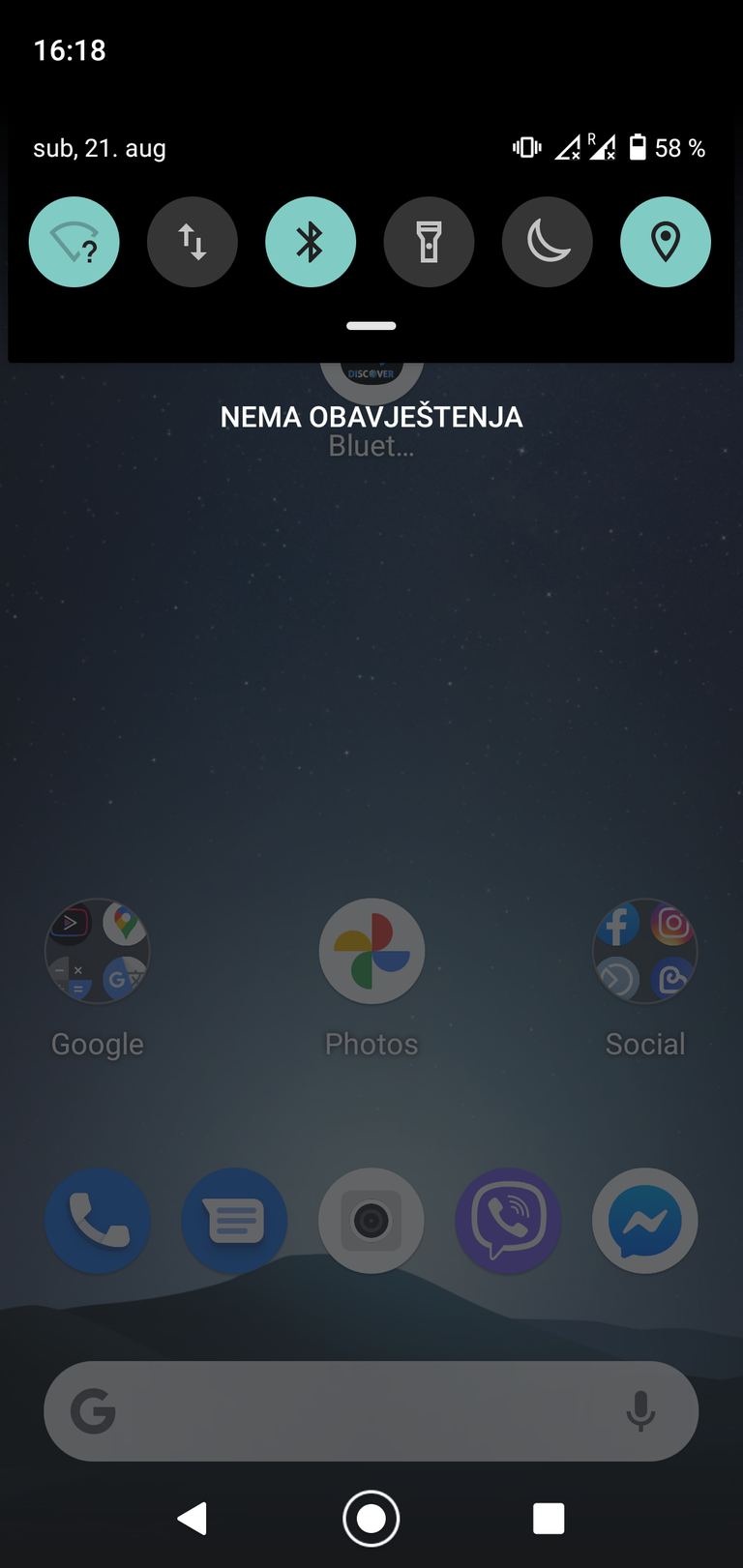 ---
Ovdje možete pogledati fotografije kako izgleda ta aplikacija kad se instalira.
Here you can see photos of what that app looks like when installed.
---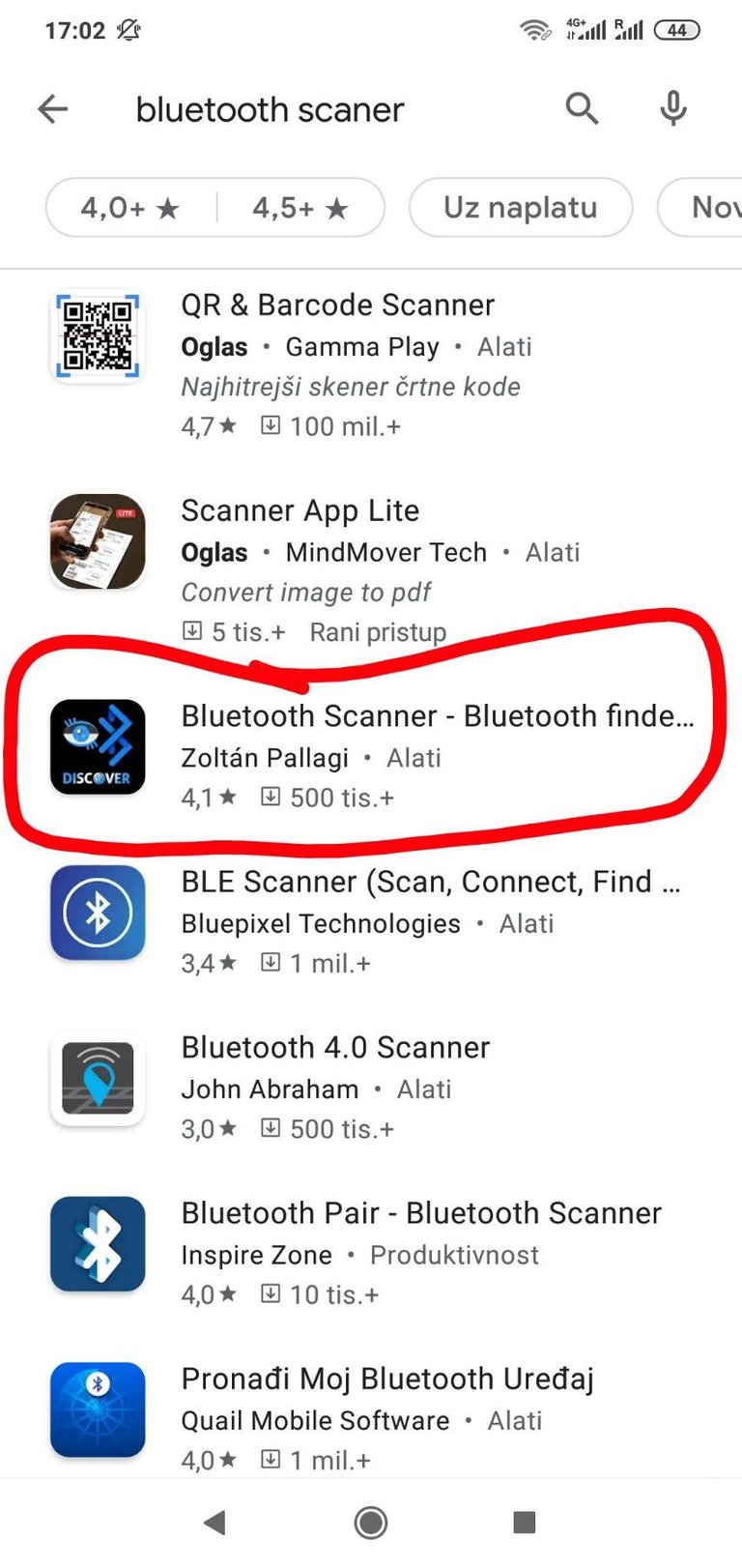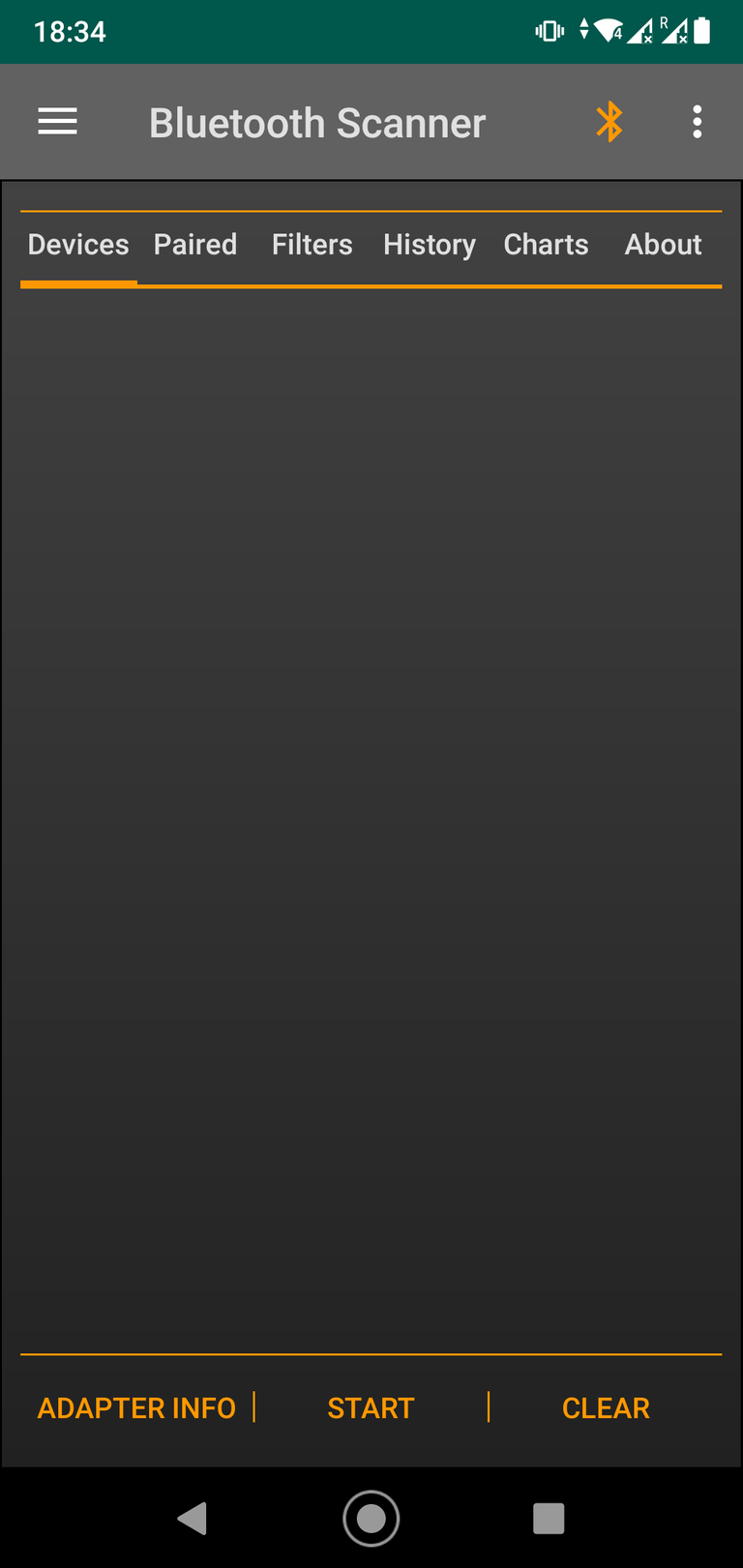 ---
Dok sve ostale uređaje aplikacija prepoznaje i imenuje (telefon taj i taj, pametni sat taj i taj, računar taj i taj, printer taj i taj, zvučnik taj i taj...) na dvojicu mojih vakcinisanih poznanika reagovala je tako što ih je očitala kao NEPOZNATE UREĐAJE koji imaju određene kodove (Unknown device).
While all other devices the application recognizes and names (phone this and that, smart watch this and that, computer this and that, printer this and that, speaker this and that...) reacted to two of my vaccinated acquaintances by she read them as UNKNOWN DEVICES that have certain codes (Unknown devices).
---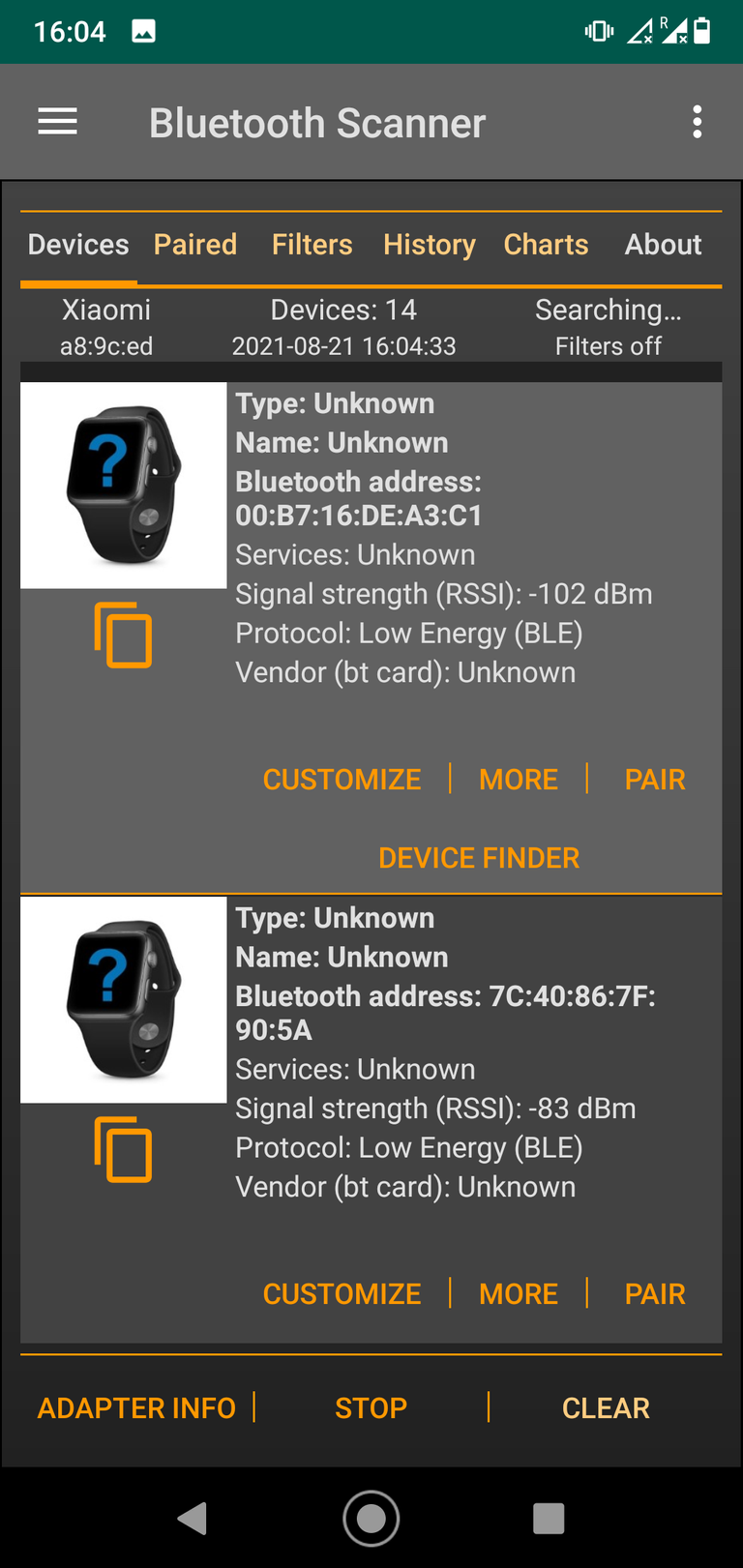 ---
Sledeći dan iskoristio sam priliku što smo na moru, na plaži i ponovo uključio aplikaciju očitavajući oko 12 - 15 nepoznatih uređaja u mojoj blizini.
The next day I took the opportunity to be at sea, on the beach and turned on the application again, reading about 12 - 15 unknown devices near me.
---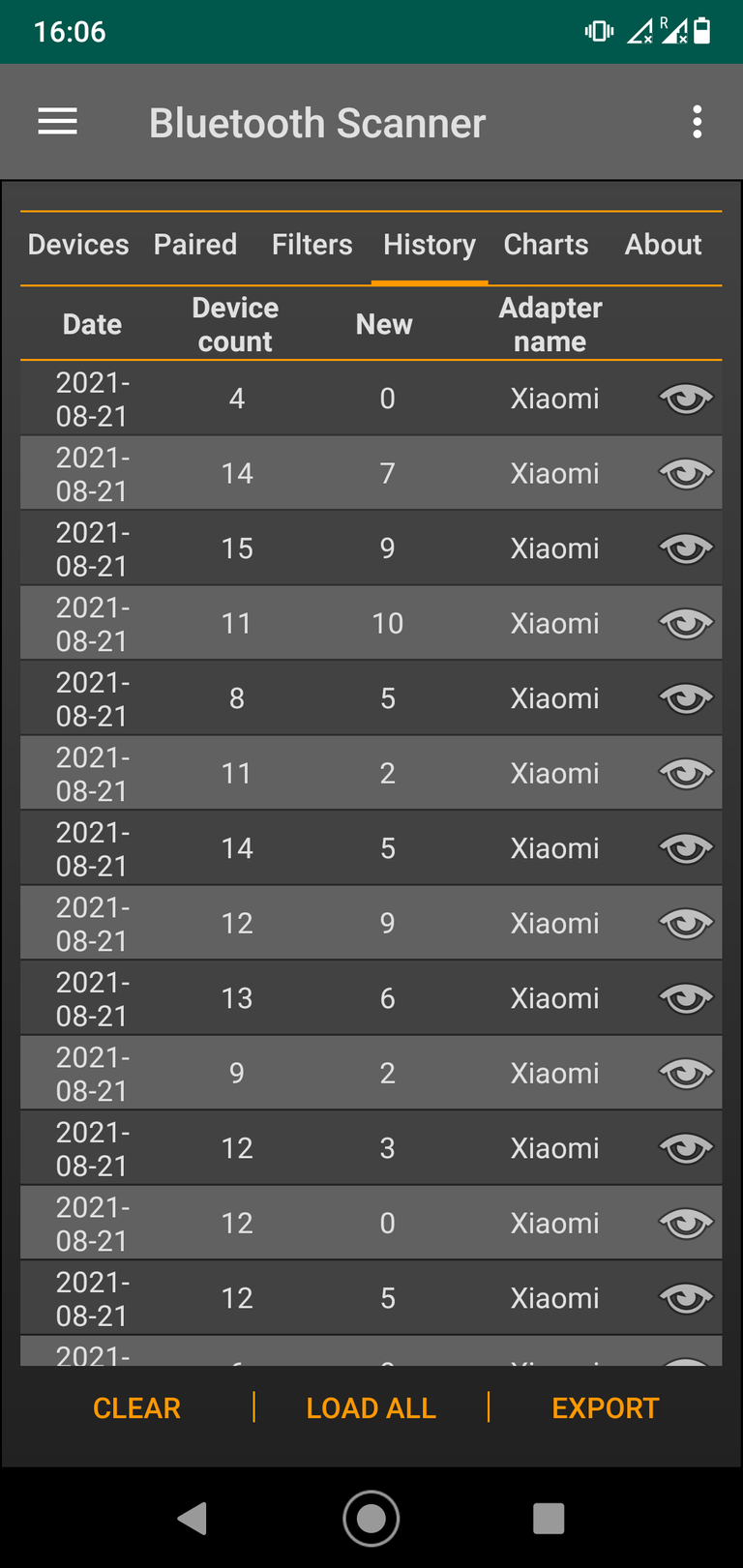 ---
Blouetooth scanner aplikacija je visoko osjetljiva i precizna toliko da prepoznaje i po imenu očitava svaki uređaj, pa čak i one male printere za štampanje fiskalnih računa. Pri prepoznavanju svakog uređaja ona izbaci ikonicu tog uređaja i njegovo ime što možete vidjeti na fotografijama u nastavku. A kada je riječ o vakcinisanim osobama, aplikacija izbaci ikonicu sata sa upitnikom, vjerovatno po automatizmu pretpostavljajući da se radi o nekom najnovijem pametnom satu kojeg ona nema u svojoj bazi.
The Bluetooth scanner application is highly sensitive and accurate enough to recognize and read every device by name, even those small printers for printing fiscal invoices. When recognizing each device, it throws out the icon of that device and its name, which you can see in the photos below. And when it comes to vaccinated people, the app throws out a clock icon with a question mark, probably automatically assuming that it is some of the latest smartwatches that it does not have in its database.
---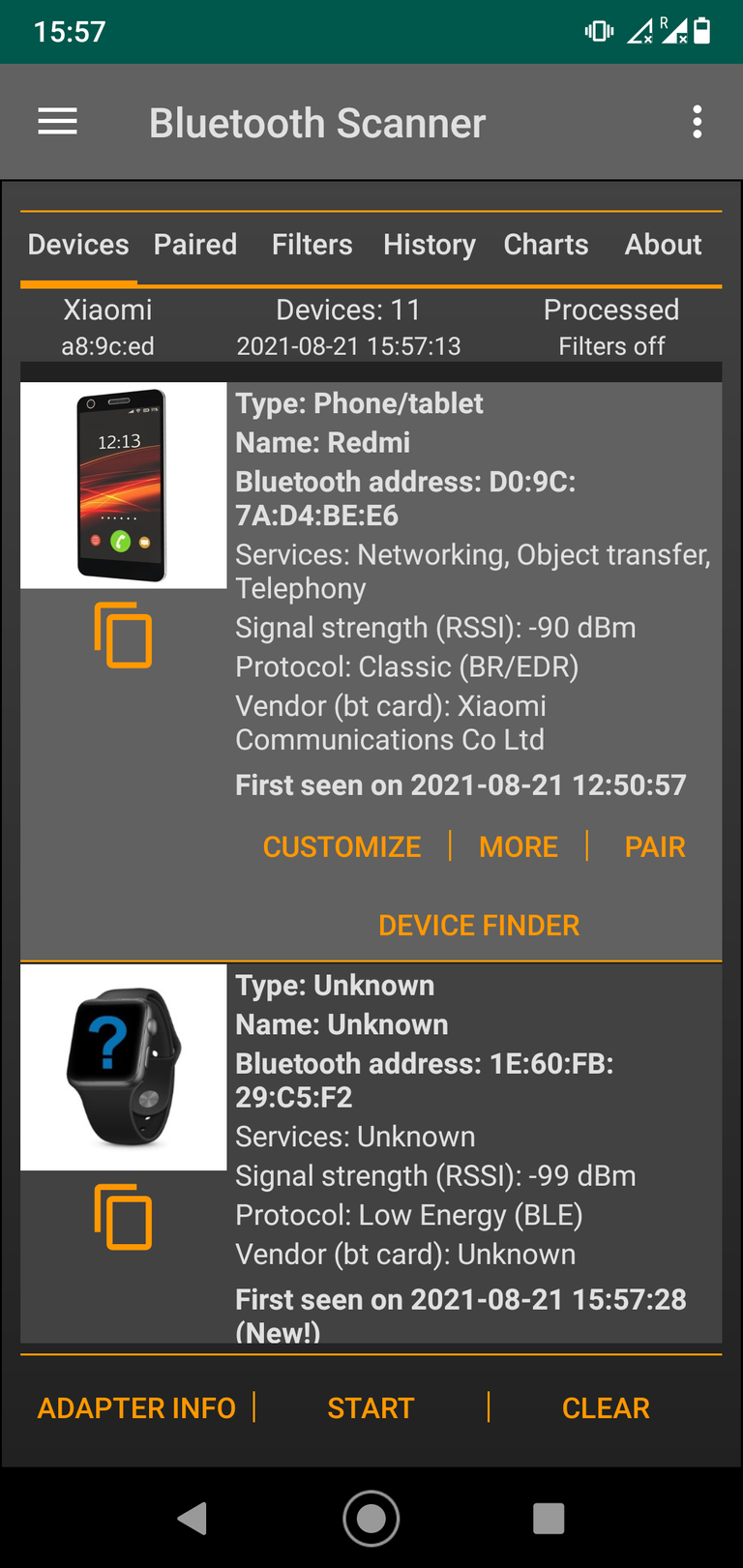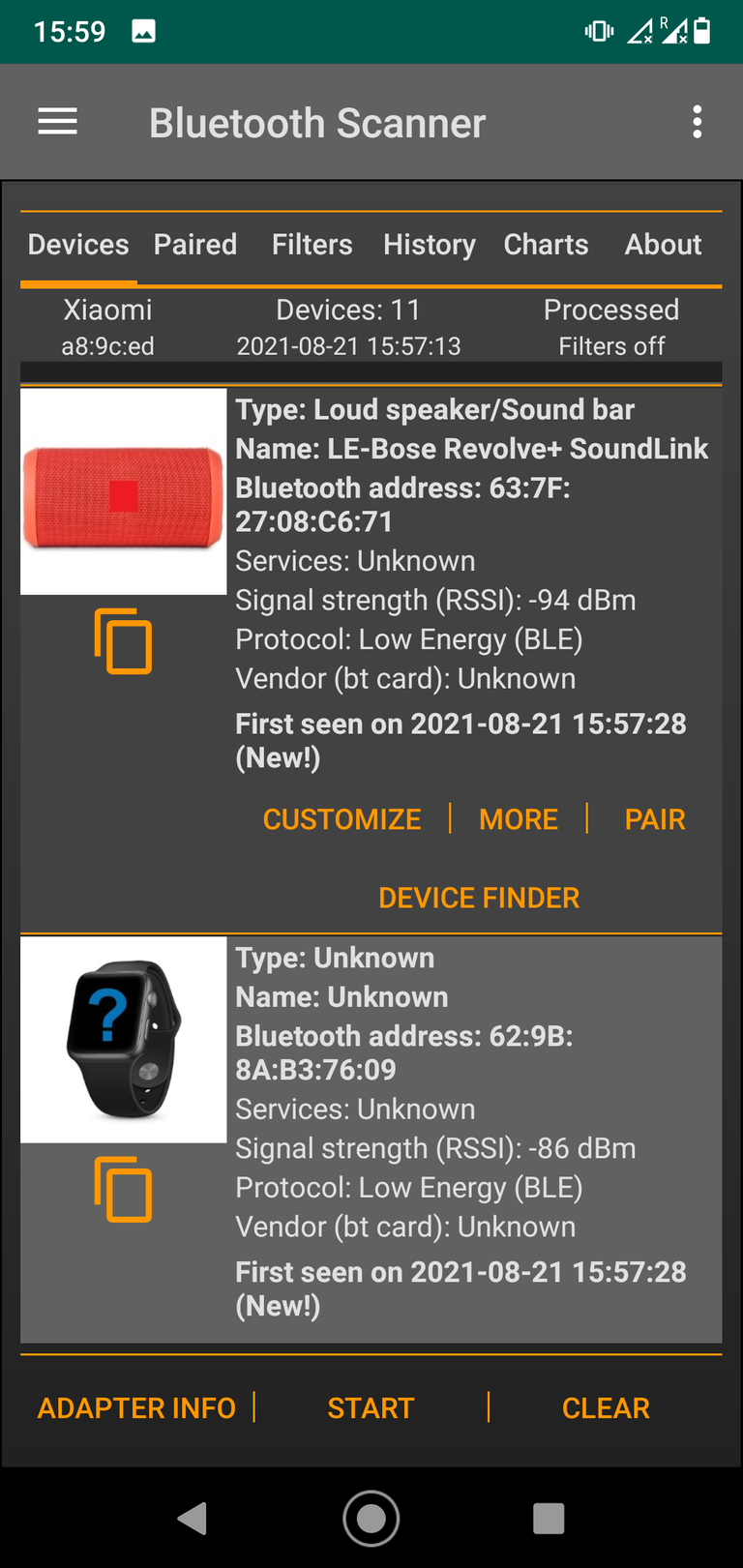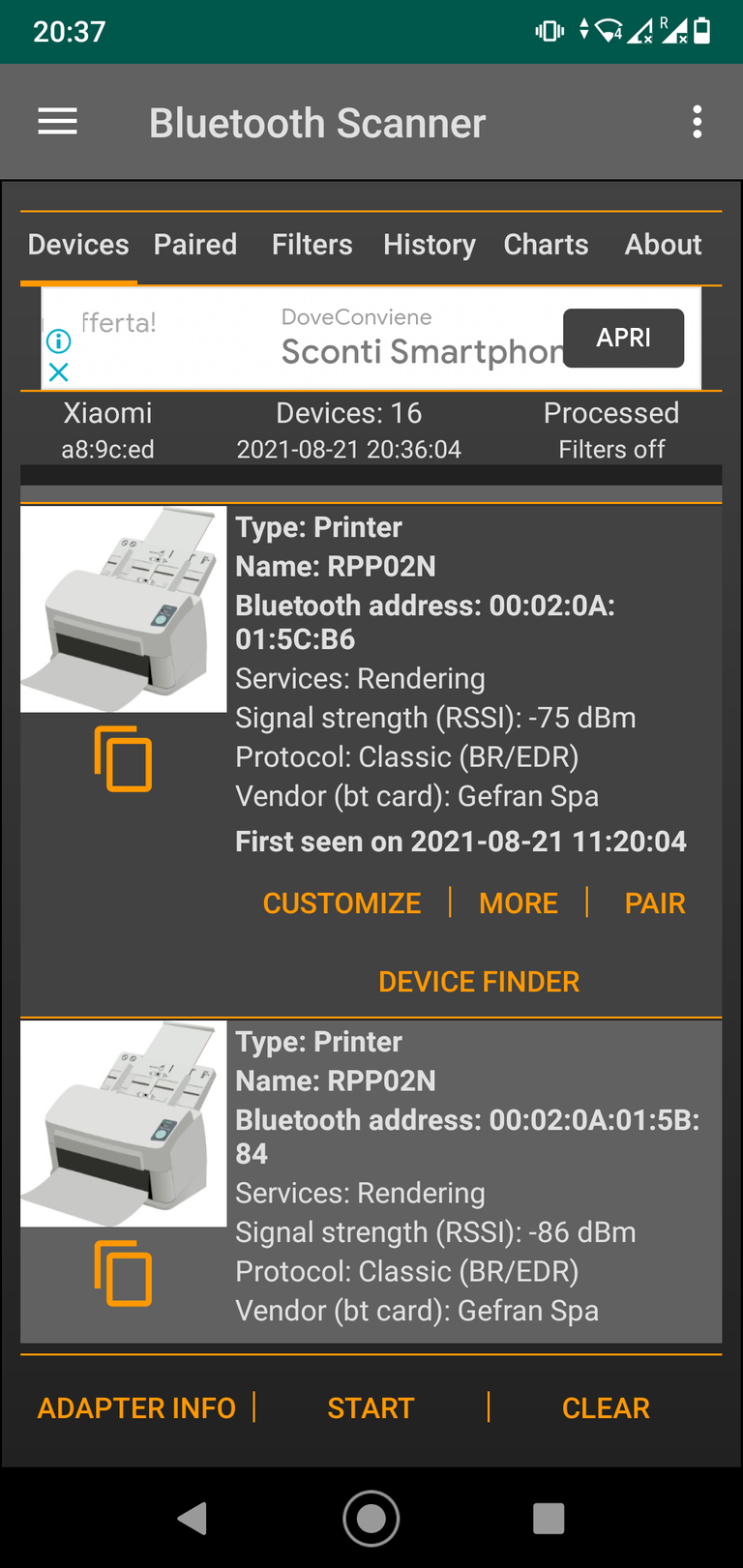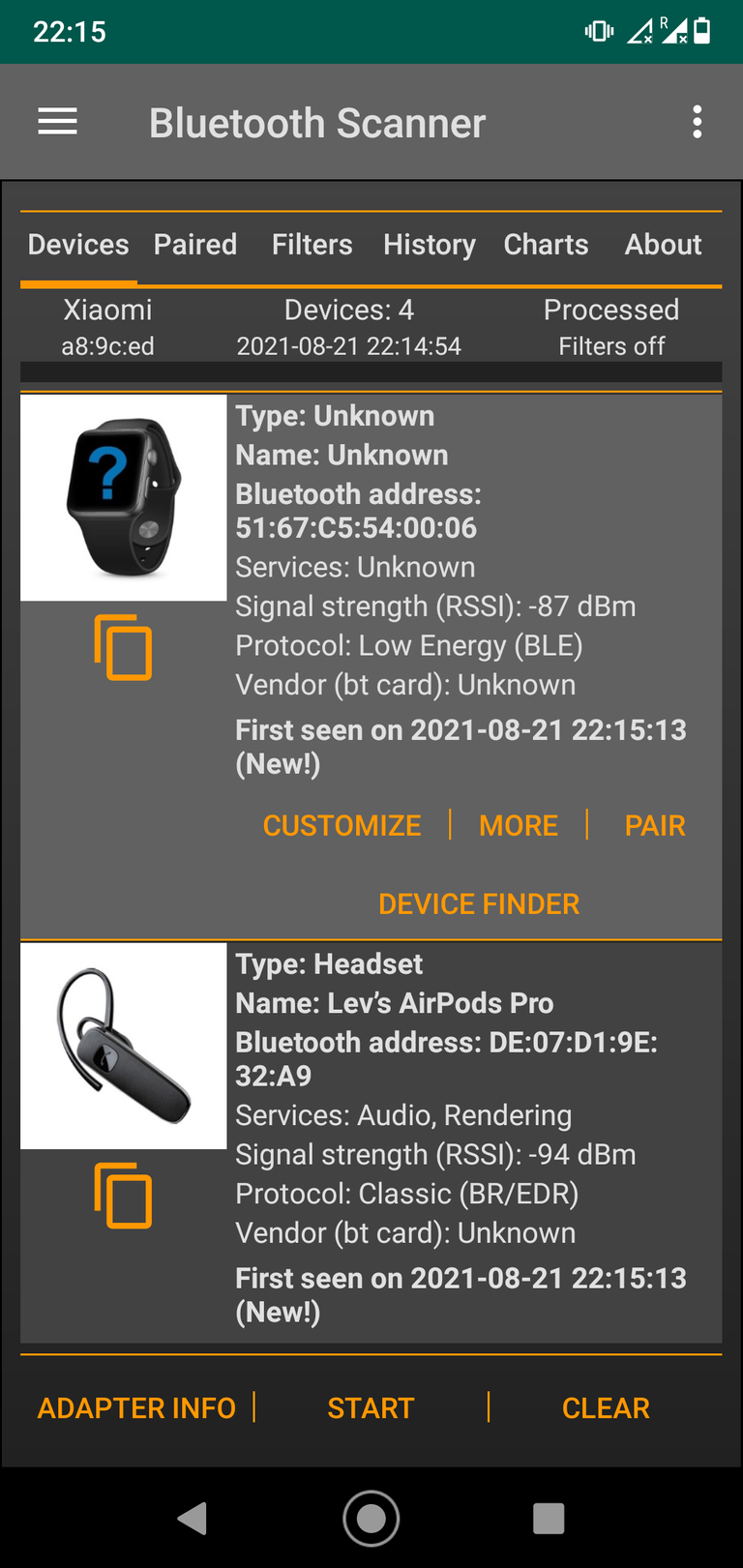 ---
Međutim da zaista ti signali nepoznatih uređaja nemaju nikakve veze sa pametnim satom govori činjenica da je veliki broj "očitanih" ljudi bio bez ikakvog sata uopšte a kamoli pametnog. Isto tako vjerovatnoća da 12 ljudi na plaži u mojoj blizini od par metara udaljenosti nosi najnovije pametne satove kojih nema u bazi podataka ove aplikacije a da se sve to dešava na Balkanu je jednostavno toliko malo vjerovatna da je možemo upotpunosti isključiti.
However, the fact that a large number of "read" people were without any watch at all, let alone a smart one, shows that these signals from unknown devices really have nothing to do with the smartwatch. Also, the probability that 12 people on the beach near me a few meters away are wearing the latest smart watches that are not in the database of this application, and that all this is happening in the Balkans is simply so unlikely that we can completely turn it off.
---
I na kraju - koja je razlika u vizuelnom prikazu kada aplikacija zaista prepozna pametni sat u odnosu na ove "nepoznate uređaje" odnosno čipove u ljudima možete vidjeti na sledećim fotografijama.
And finally - what is the difference in the visual display when the application really recognizes the smartwatch in relation to these "unknown devices" or chips in humans, you can see in the following photos.
---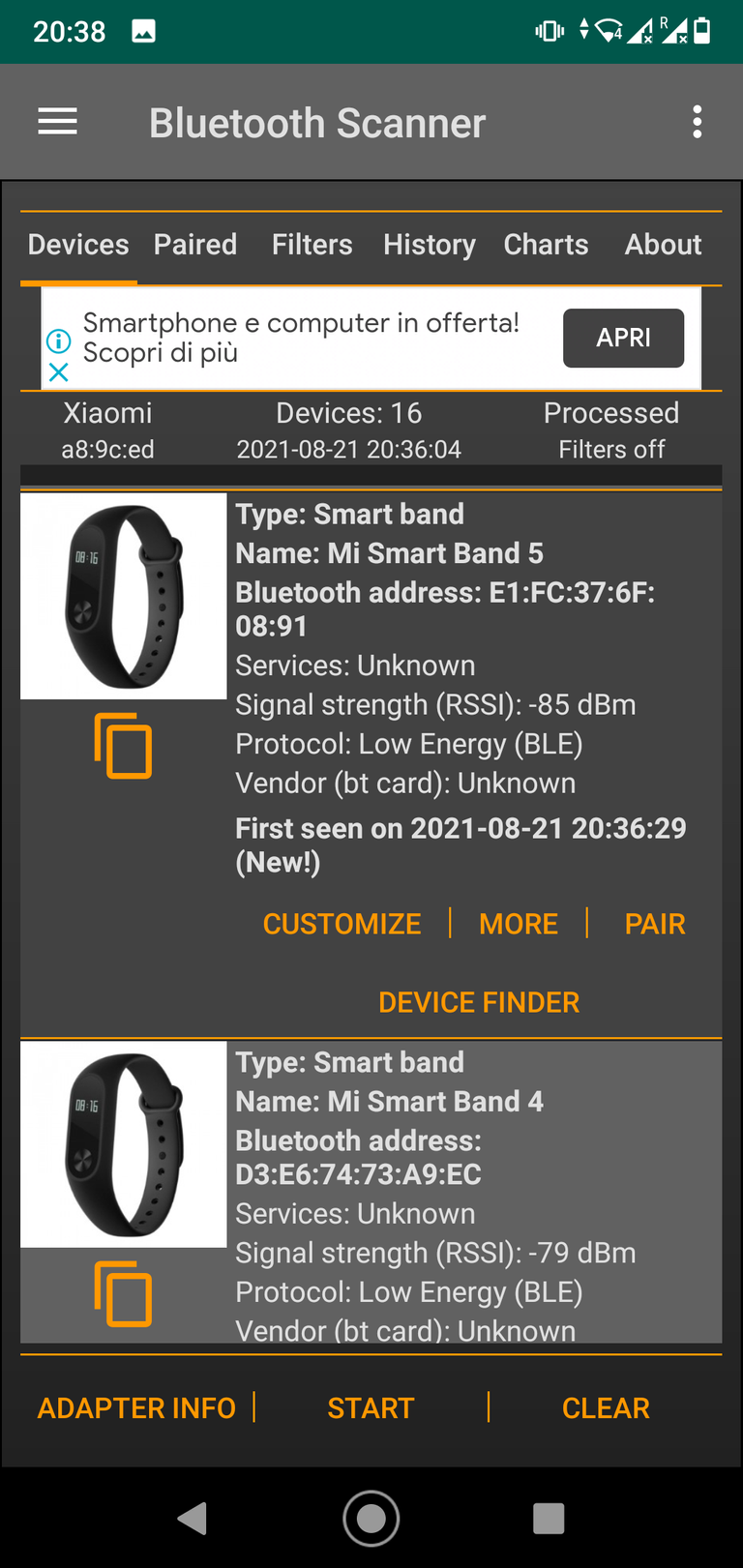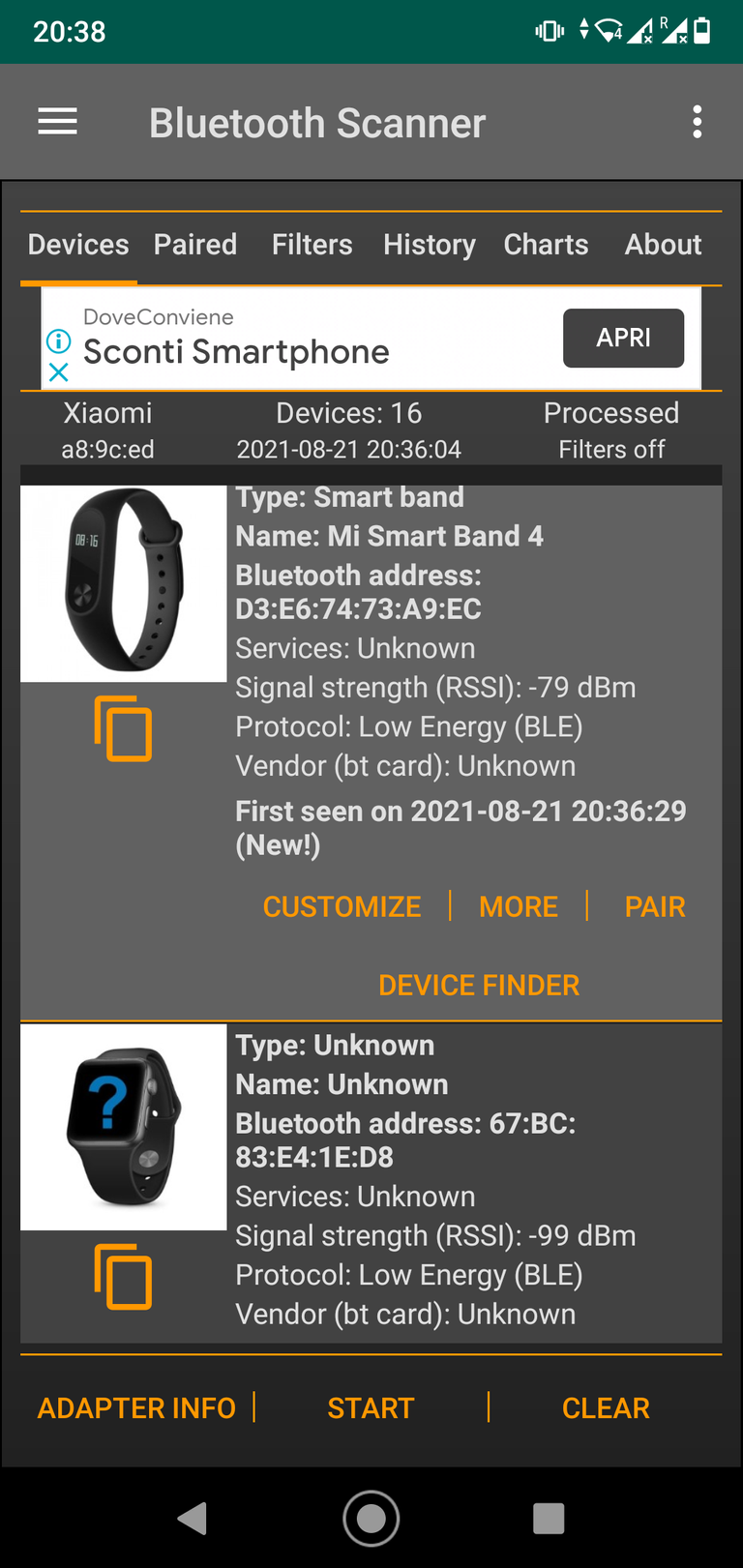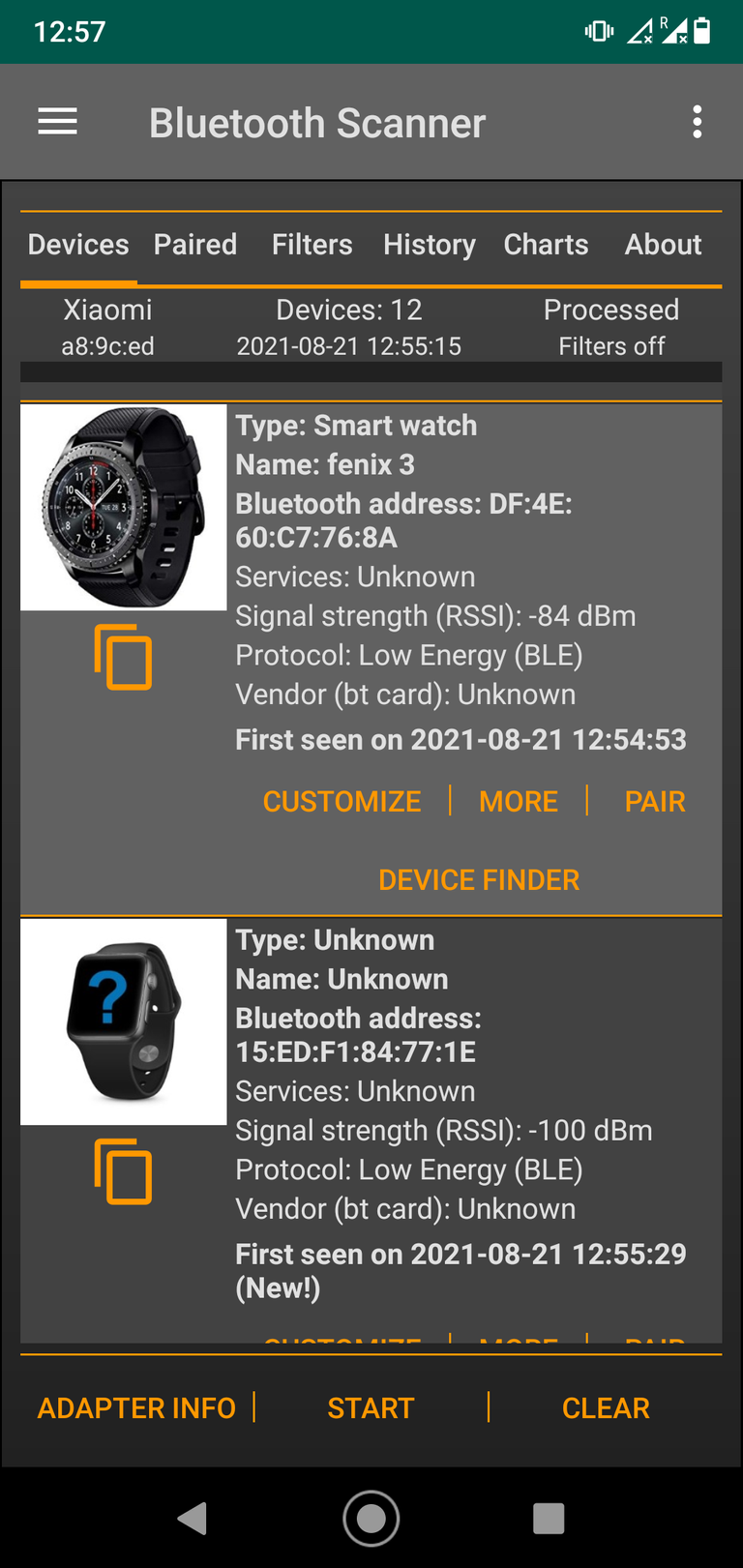 ---
Ako kliknete na opciju DEVICE FINDER, možete da pratite udaljenost signala od vašeg uređaja.
If you click on the DEVICE FINDER option, you can track the signal distance from your device.
---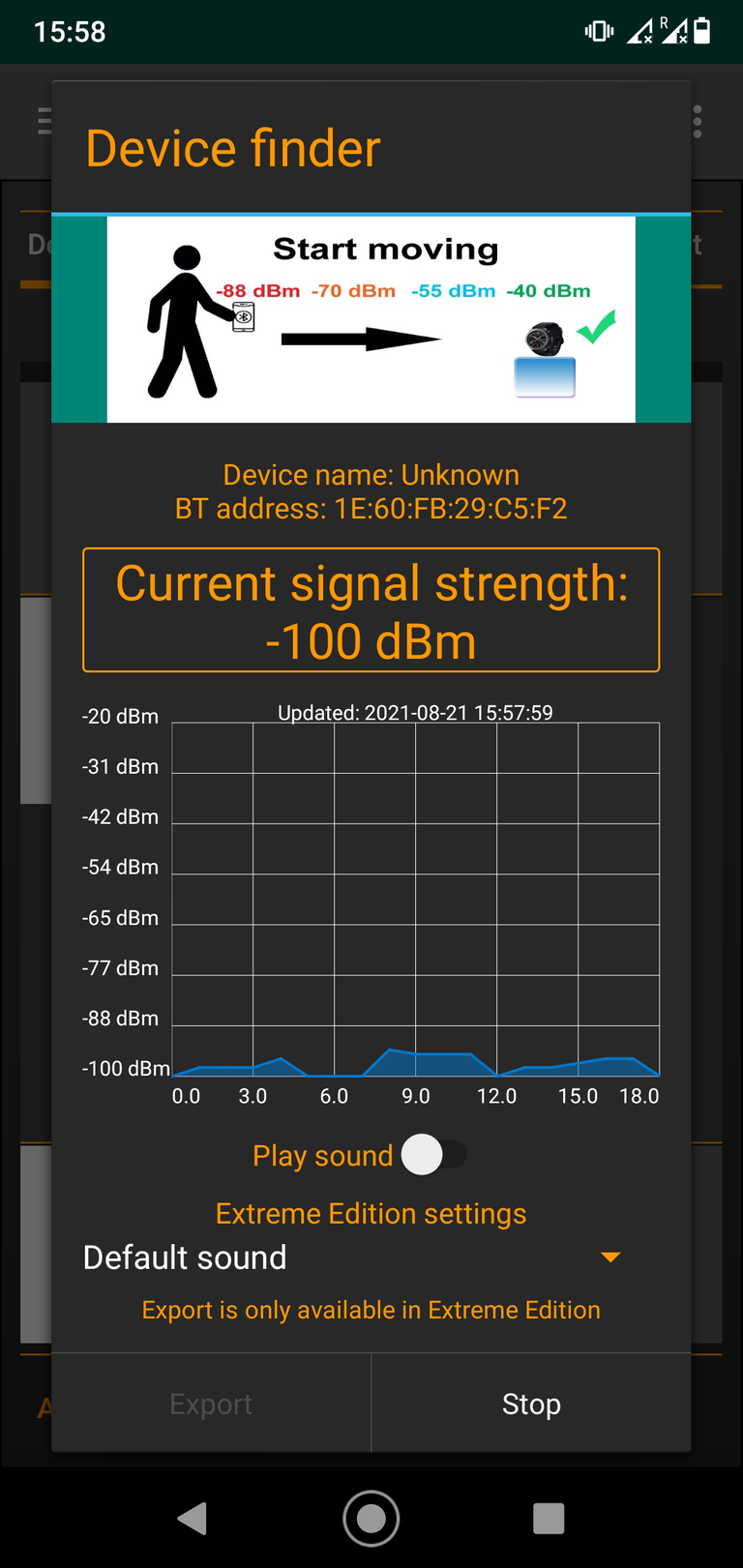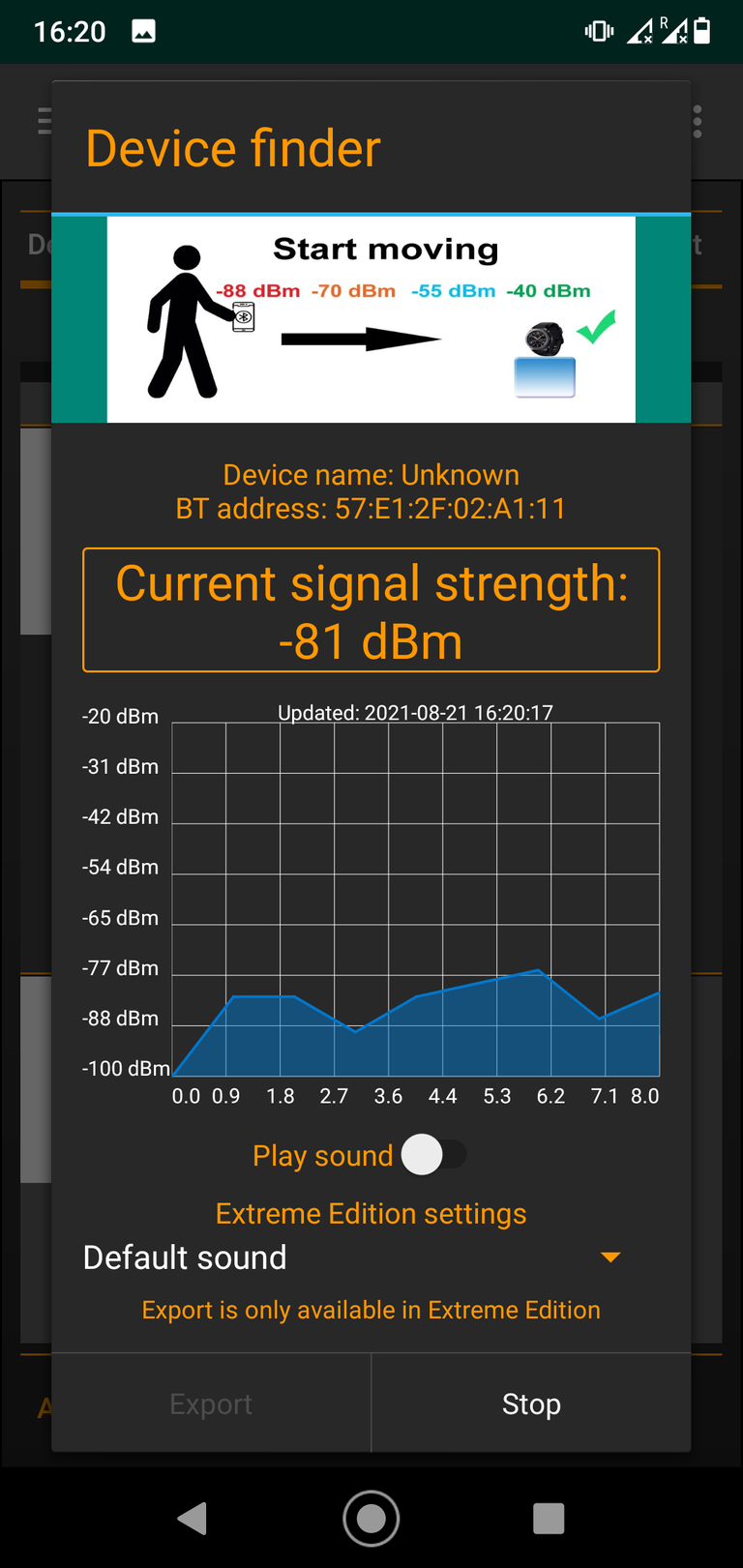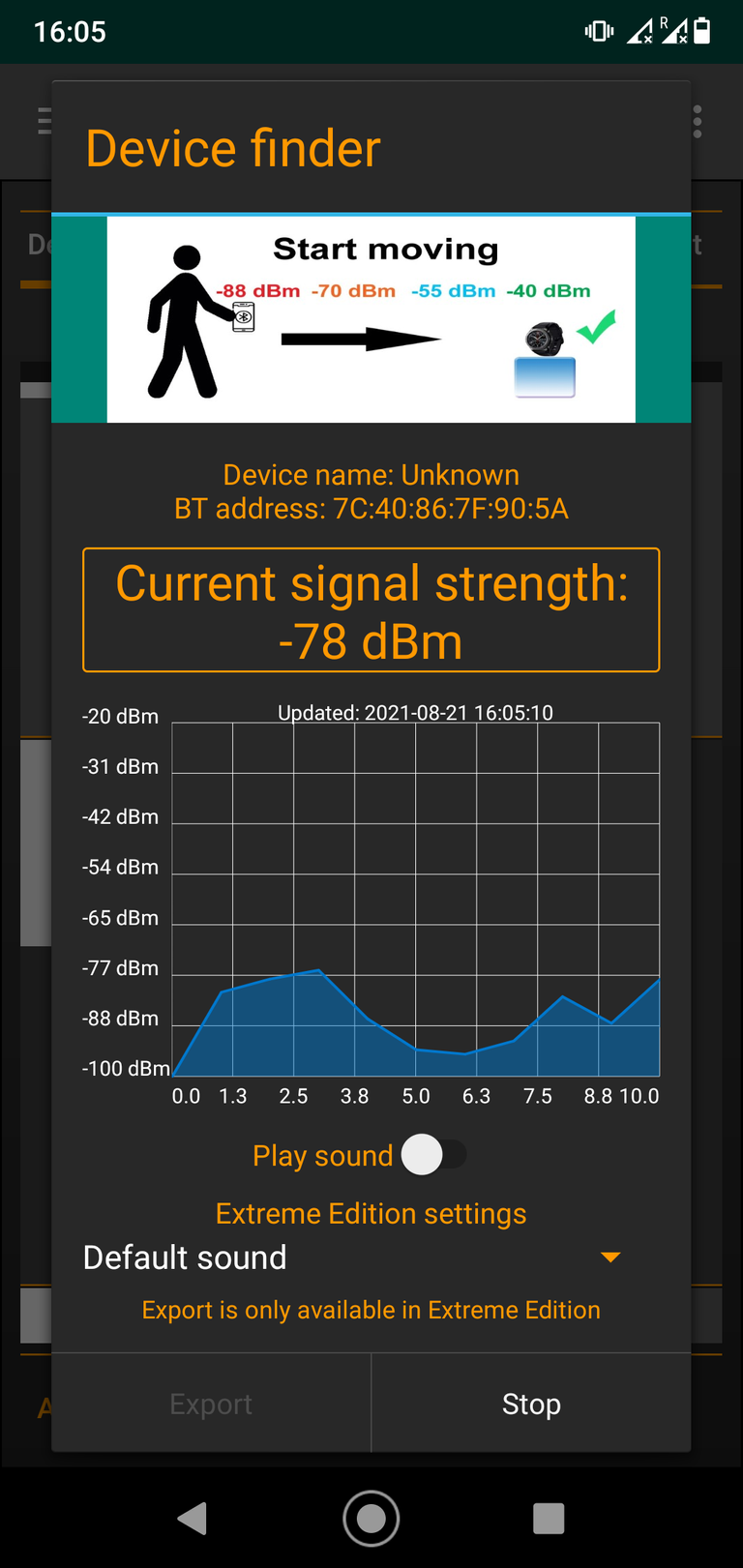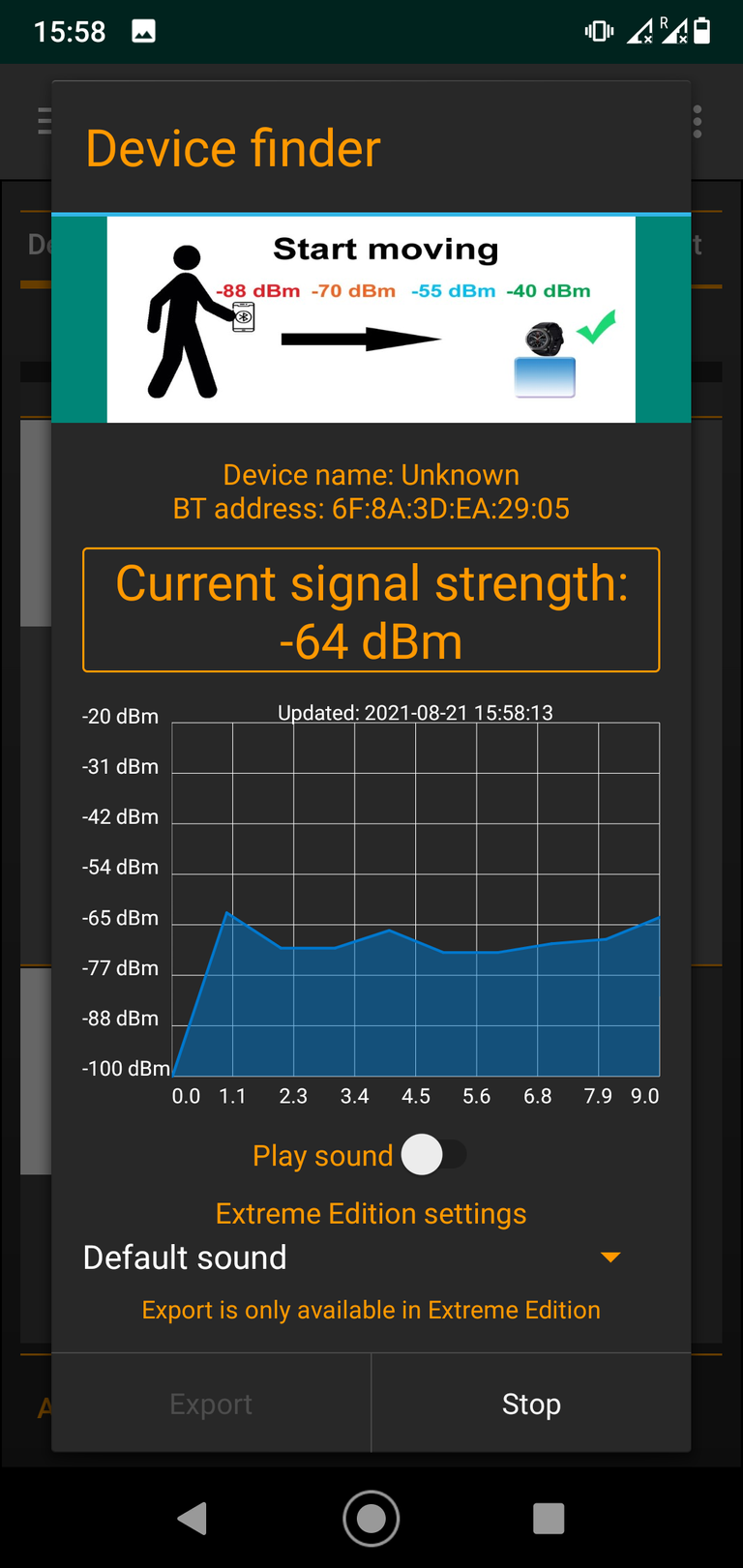 ---
Da to nisu samo priče ili neke teorije, već sasvim realna praksa može se uvjeriti svako ko to želi. Potrebno je samo instalirati aplikaciju Bluetooth Scanner, uključiti na svom telefonu Bluetooth i GPS signal lokacije, i otvorivši aplikaciju krenuti u potragu prateći signal na kojoj udaljenosti od vas se nalaze različiti tehnički uređaji a potom i vakcinisani ljudi.
Anyone who wants to can be convinced that these are not just stories or some theories, but a very real practice. All you have to do is install the Bluetooth Scanner application, turn on the Bluetooth and GPS location signal on your phone, and when you open the application, start searching for a signal at how far away you are from various technical devices and then vaccinated people.
---
*Ono što je još zanimljivo je to što mi neke vakcinisane ljude aplikacija uopšte nije očitala. Da li je u pitanju placebo, da li je do proizvođača vakcine, da li nekima još nije dodijeljena adresa? Nadam se da ćemo i to uskoro saznati...
*What is even more interesting is that the application did not read some vaccinated people at all. Is it a placebo, is it up to the vaccine manufacturer, are some not yet assigned an address? I hope that we will find out soon...