---
Chevaliers
Hier pendant le live sur Elite Dangerous, nous avons eu l'agréable surprise d'avoir notre second chevalier venant directement de la blockchain hive. @bambukah est le premier, et @tomco984 nous a rejoint.
Merci pour cela, car cela génère des revenus pour le programme caritatif, OUI, même si vous vous abonnez via Prime.
Premier Claim en Euro
Nous avons également pu expliquer en long et large le fonctionnement des ECU sur notre programme caritatif et avons même pu montrer en live le claim de @thefarc qui a choisi de transformer son stake ECU en euro via paypal.
Nous espérons que cette somme l'aidera dans ses projets de streaming, et permettra également de vous démontrer que notre programme est legit, honnête et n'a qu'un seul but:
Que nous puissions GRANDIR ENSEMBLE.
N'hésitez pas à acquérir, revendre, échanger, transférer vos ECU sur hive-engine
https://hive-engine.com/?p=market&t=ECU
Si vous n'avez pas encore votre compte HIVE, je me ferai un plaisir de vous expliquer comment faire, contactez-moi sur le discord.
Fortnite
Cet après-midi de 16h à 20h nous serons sur fortnite pour vous divertir, n'hésitez pas à nous y rejoindre, pour le FUN, le FAIL et le côté Friends.
Pour ceux qui n'auraient pas la référence, de ce détournement:


Délégations
Nous sommes heureux de voir certains délégateurs conforter leur position et d'autre rejoindre la liste, petit à petit. Nous avons dépassé les 3000 HP. Oserions-nous dire : ENTR'AIDE TO THE MOON.
Voyez @hive-143869 si vous désirez déléguer, et @entraide.rewards si vous voulez voir le fonctionnement et les récompenses.
Event
Pensez aussi à parler de nous autour de vous, entre autre pour notre BitsAThon du 23 mars, et plus généralement pour le bien de notre programme caritatif, vous pouvez utiliser cette image pour ce faire :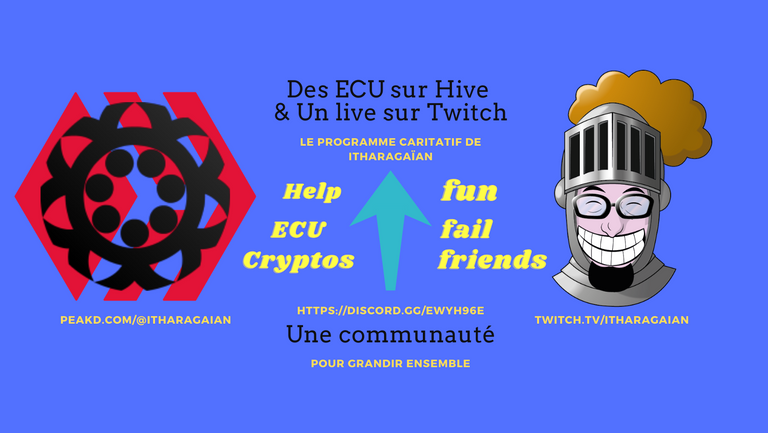 RDV cet après-midi pour le live et à fort bientôt pour le prochain post.
---


ENTR'AIDE - Communauté de IGNET
Grandir ensemble... C'est notre devise.
Discord : Discuter ensemble (Oral et écrit)
Lives : Notre chaîne Twitch
Monnaie Taverne : https://peakd.com/fr/@hive-143869/la-taverne-les-ducats-et-les-rangs
Delegations :
Délégations en un click: 10 HP | 50 HP | 100 HP | 500 HP |1000 HP | 5000 HP
Pour une délégation autre, copiez le texte et notez le nombre de HP à la place du mot montant.
https://hivesigner.com/sign/delegateVestingShares?delegator=&delegatee=hive-143869&vesting_shares=montant%20HP
Pour annuler vos délégations, vous pouvez remplacer montant par 0 dans la case HP, mais nous serions triste de ne plus plus vous compter parmi nos généreux délégateurs...