Vitamin A: Is it Essential for the Body?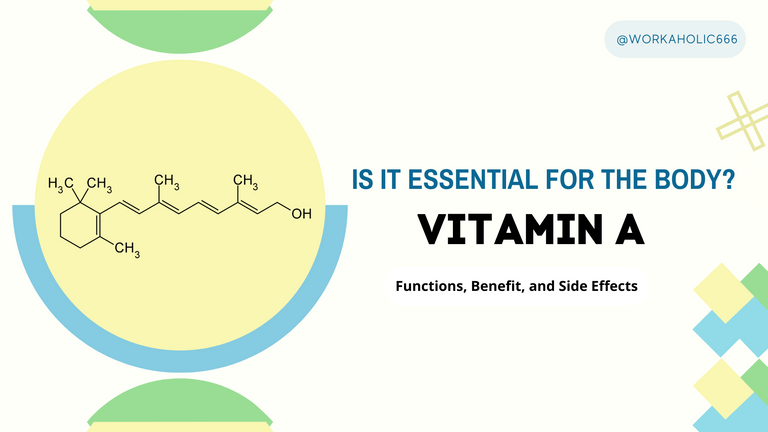 source Edited with Canva
In this post, I will discuss the types of Essential Vitamins needed by the human body, they are said to be essential vitamins because some types of vitamins cannot be synthesized by the body, and are only found in food to meet vitamin intake.
Previously I have discussed about amino acids, their types, benefits, and side effects for the body. You can read my post if you want to know more about essential and non-essential amino acids.
---
---
About Vitamin A
---
There are several types of essential vitamins, the first thing I will discuss is Vitamin A. Vitamin A is a type of vitamin known by another name Retinol or retinoic acid which plays a vital role in the health of the human body, vitamin A are so important in the process of body growth, vision organs, reproductive system health, and immune system.


source
Vitamin A
has two types with different names, Vitamin A which comes
from animal sources is called retinoid
, and Vitamin A which comes
from plants is carotene
. I started to find out about Vitamin A since my eyesight started to be nearsighted, I was looking for ways to nourish my eyes to avoid myopia, and intake of Vitamin A is one of the substances needed to maintain healthy eyes to avoid diseases like
nearsightedness or cataracts
.
In addition, vitamin A can also help reduce inflammation because the substances contained in vitamin A have antioxidant properties that can help the body fight free radicals, consuming vitamin A as needed can protect the body from the negative effects of free radicals. Another benefit of vitamin A is that this substance can help maintain skin health, help the healing process of injured skin and help produce collagen to keep the skin moist and not dry.
It is recommended to get sources of Vitamin A from whole foods like as meat or vegetables and fruit, if you feel you are not sufficient to meet your daily intake of vitamins you can use Vitamin A supplements as a nutritional complement to avoid all vitamin A deficiency diseases. But keep in mind, if you take a drug or supplement, you need supervision from a nutritionist or doctor so that you don't use it carelessly, excess Vitamin A can endanger your health, triggering dangerous diseases.
Use according to the doctor's prescription, and keep an eye on each medicine that will be used.
---
References
---
---
---